Table of contents: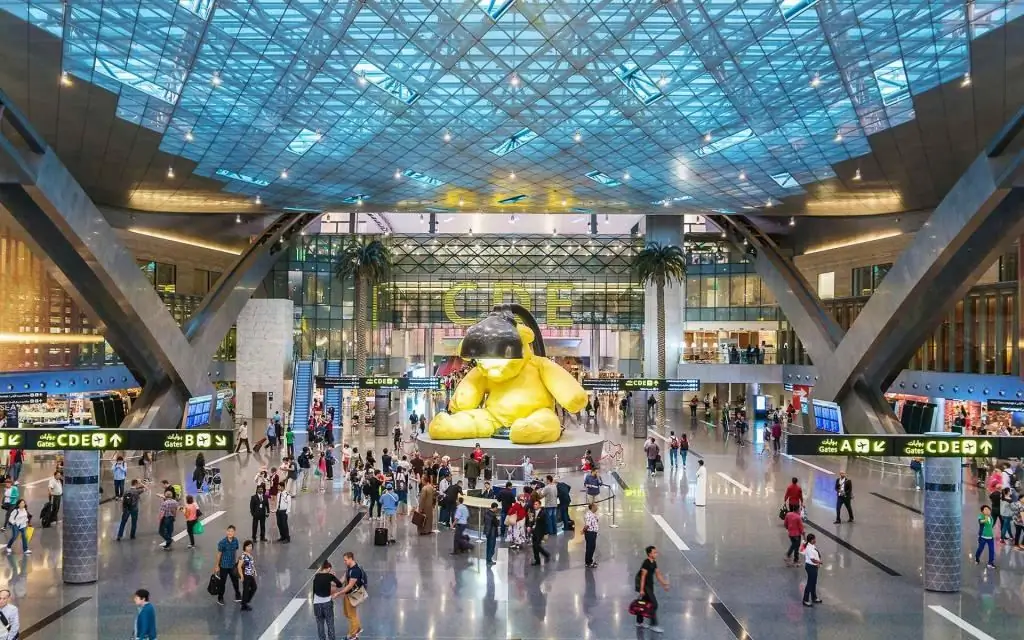 Today, the largest city of Doha is the capital of a developed Arab state - Qatar. At the international airport of this city, tourists traveling to Asian countries often make transfers. Practice shows that by traveling in this way, you can save a lot. What points should a Russian tourist pay attention to when planning a transfer in Doha? What to do during these few hours? You will find information about this below.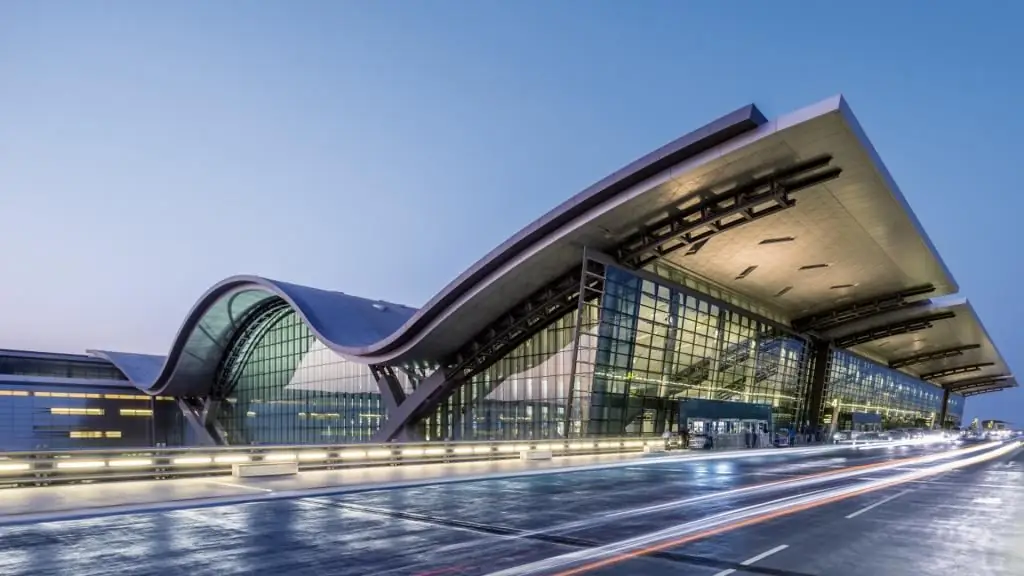 About airport service
When planning a transfer at Doha Airport, tourists should be aware of the basic conditions offered to them here. So, it is noted that the airport in question is quite large, and it is also clean and beautiful both outside and inside.
There is a duty-free shop in the building of the docking station, where all goods are presented at expensive prices for Russian tourists. Alcoholic drinks here are also much more expensive than in the Russian capital. It is important to note that it is strictly forbidden to drink alcohol within Doha Airport - a large fine of $ 2,000 (about 14,000 rubles) is due for this.
Experienced tourists note that in the duty free of the airport you can buy Apple equipment duty-free. Travelers from Russia, having visited the Doha airport terminal, often express a lot of positive emotions from the huge range of goods presented in duty free, including not only food, perfumes, souvenirs, alcoholic beverages and similar goods, but also cars.
Entertainment
At the airport, there is a large selection of entertainment that tourists can do while waiting for their flight. There are large installations in different parts of the building, near which guests often arrange photo shoots.
What should children and teenagers do at Doha Airport? For family tourists flying with children, there are play areas where kids can have fun. To feed their child or to ensure that he has a normal rest and sleep, mothers can use the services of the mother and child room.
The large hall features areas with free Internet access, as well as monitors broadcasting news programs, clips and educational programs, but in Arabic. Often, Russian tourists note that access to the Wi-Fi network at the airport is provided free of charge - forconnection, just enter the ticket number.
For the comfortable movement of passengers between the terminals at Doha Airport, a small train is equipped, which rests on a magnetic cushion - for the sake of entertainment, some tourists ride on it.
As for the play areas for adults, they are also available at Doha Airport. Here are the grounds for playing table football, chess, backgammon, checkers, etc.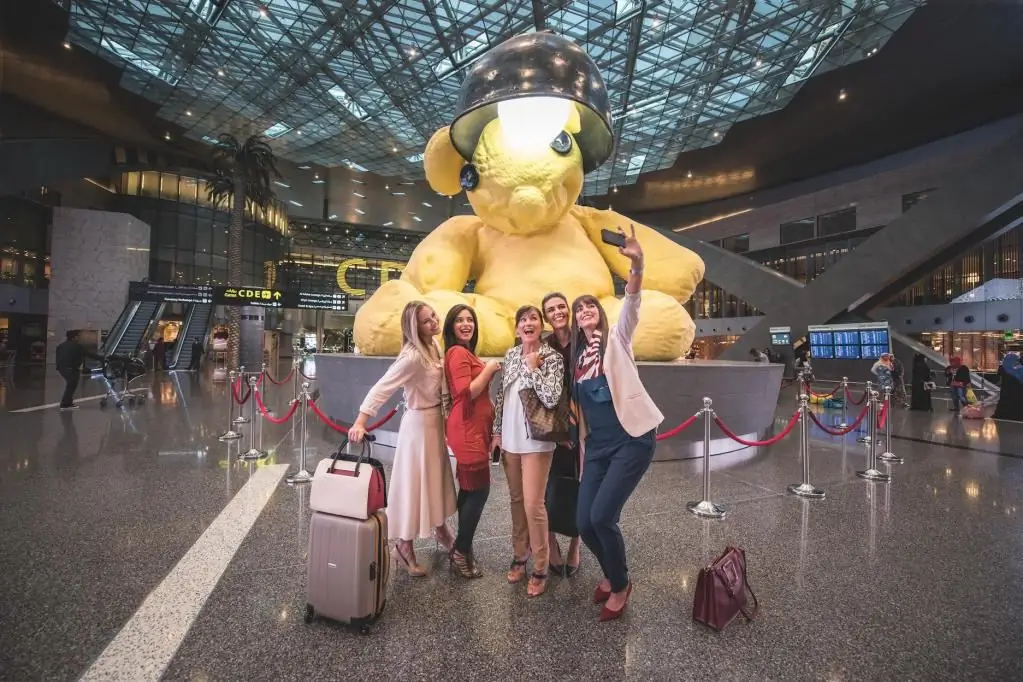 Where to sleep
When planning a long transfer in Doha, which falls at night, it is important to take care of a place to sleep in advance. It is important to note that only on the territory of the airport itself, tourists are offered a lot of options for places to sleep and relax, which can be used.
One of the most common is the waiting room. Although this option is far from the most convenient, it is free. The waiting room of the transport hub is equipped with fairly comfortable chairs with armrests, on which the most flexible tourists manage to lie down. Free rest is also offered in special "Quiet Rooms", some of which are divided by gender, and some are joint - they are intended for family time. Practice shows that, as a rule, there are no places in such rooms. Actually, this is precisely the main inconvenience.
Paid places for comfortable relaxation are lounge areas located in the airport building. The main advantage of such a place to sleep is that guests herea shower is offered. It is worth noting that Priority Pass loyal customer card holders have the right to visit this place for free.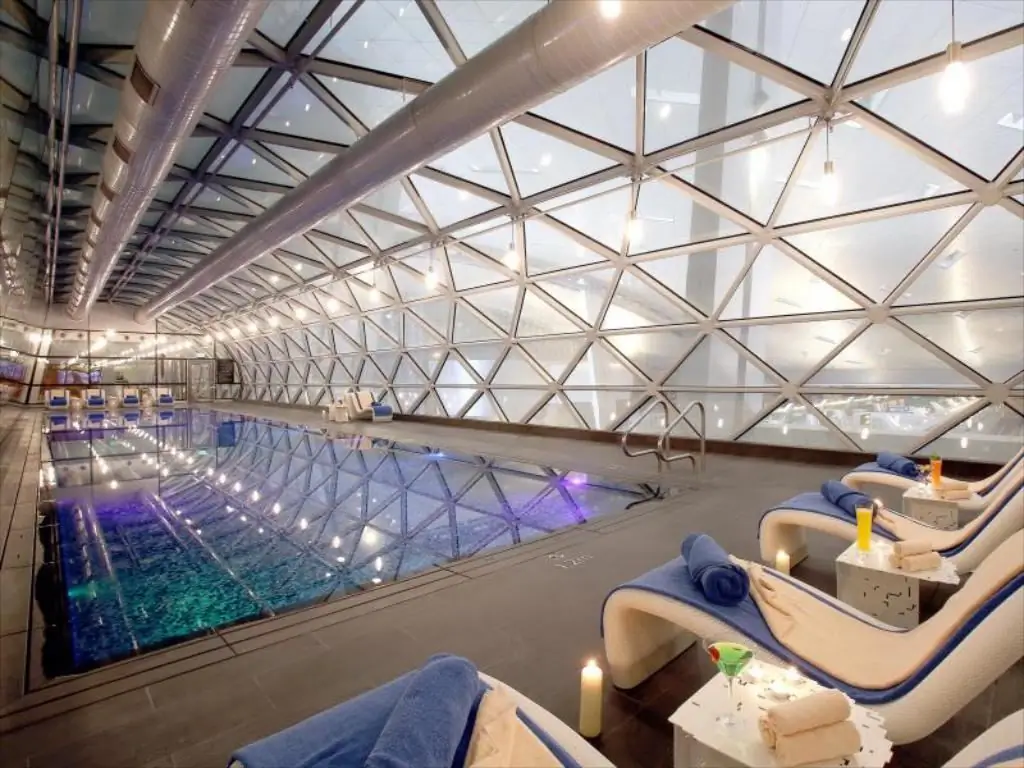 The most comfortable accommodation option is considered to be a transit hotel equipped at Doha Airport. Here you can take a shower, and sleep, and even watch TV. However, it is worth noting that this pleasure is paid, and vacation prices fluctuate around $120 (8,500 rubles) per person - according to seasoned tourists, you can rent a room within walking distance from the airport with the same amenities, but much cheaper.
How to eat
In the event of a transfer at Doha International Airport, most travelers have questions about catering options at the terminal.
It is worth noting that earlier the Qatari airline provided tourists whose next flight was expected no earlier than in 4 hours with special food vouchers - they were issued right at the entrance to the terminal. At the moment, unfortunately, there is no such possibility. Because of this, tourists are forced to independently think through the moments associated with food, providing all costs.
The airport has a large number of small restaurants and cafes, some of which offer exclusively Islamic menus. The pricing policy in such establishments is quite high - the cost of a burger is 30-40 dollars (2000-2800 rubles), which is very expensive for most Russians.
The advantage of catering establishments,operating in the Doha airport terminal is that almost all of them are ready to receive guests around the clock.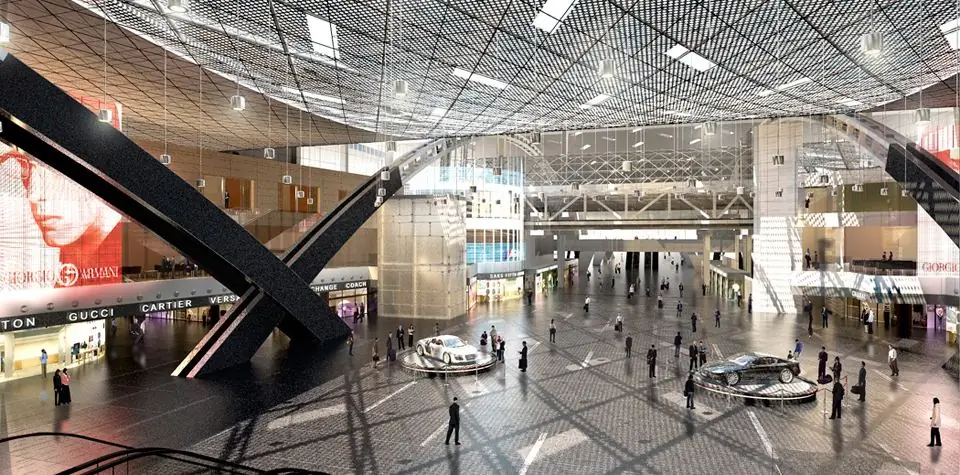 Should single girls go out into the city?
Qatar is known to be a Muslim country with strict laws. On this basis, many women planning a long transfer at Doha airport have questions about whether it is dangerous for girls to leave the territory of the connecting point on their own and walk along the streets of the capital.
It should be understood that Qatar is one of the five safest countries in the world. In view of this, tourists here simply have nothing to fear. Practice shows that local residents can occasionally make remarks to vulgarly dressed women (it must be remembered that short shorts in a Muslim country are considered provocative clothing).
How to get around the city
You can get around the city by public transport, which is inexpensive. A tourist who is in transit in Doha and wants to see several sights is best to purchase a plastic bus pass, which is valid for exactly one day and costs 20 rials. The drivers themselves sell the passes.
If you do not want to use public transport, any tourist can call a taxi. The cost of trips around the city is low - for a trip lasting 20 minutes you will need to pay about 450 rubles. Transportation is carried out on comfortable cars, each of which is equipped with a counter. It is worth consideringthat most drivers accept cash in local currency (Qatari riyal), which must be acquired in advance when entering the city.
What to see
The city of Doha is the capital of a large and very rich Arab state. Not surprisingly, this city has a lot of objects that will be of interest to many Russians.
What to do in Doha during a layover? Tourists waiting for their plane have a great opportunity to get acquainted with the main attractions of the capital of Qatar. To make visiting them easier and much faster, a prudent tourist can rent a car - the cost of this service is about $ 15 (about 1000 rubles) per day. Another great option is to order a taxi.
What are the main sights of Doha that a Russian can see in a few hours while waiting for a plane? The most popular among them are:
El Corniche;
Pearl-Qatar;
Katara Cultural Village;
Corniche and Mathaf museums.
Let's consider further the main features of the listed places.
El Corniche Embankment
The central promenade of the Persian Gulf "El Corniche" is a uniquely beautiful pedestrian zone, the total length of which is 7 km. Walking in this place, tourists can admire chic skyscrapers, beautiful cars, unique sculptures, buildings, as well as the Museum of Islamic Art, which can be visited duringwalks.
The first thing that catches your eye while traveling along the embankment is the most beautiful skyscrapers. It is worth noting that all of them, for the most part, were built within the last decade, and in the near future their number will only increase, since Doha, in fact, is just beginning to develop.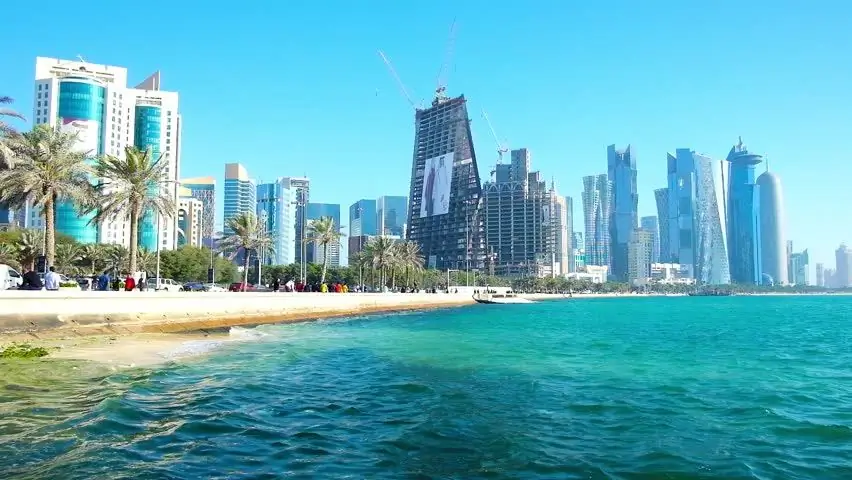 Pearl-Qatar
Pearl-Qatar is one of the main attractions of the capital of Qatar, presented in the form of an artificial island with a total area of 4 million m22.
It is important to understand that Pearl-Qatar is a separate part of the city with its own infrastructure. It is here that you can see a cluster of high-end boutiques (McQueen, Kenzo, Roberto Cavalli, Giorgio Armani, Balenciaga, etc.), as well as the best restaurants in the world, where you can taste perfectly cooked dishes from different nations of the world.
Pearl-Qatar translates as "Pearl of Qatar". As the tourists themselves note, a walk around the island will be unforgettable and filled with positive emotions.
Katara Cultural Village
Katara Cultural Village is a unique place that many tourists perceive as a small separate town in the capital of Qatar. This is an ethnic village, within which there are a lot of interesting cultural objects. In the evenings, you can meet talented musicians playing on the street and artists. Demonstrations and master classes in crafts traditional for the Arab world are very often held at the head of the square.
Katara Cultural Village is open 24/7 and best of all it's completely free.
Corniche and Mathaf
Corniche is a contemporary art museum in Qatar. Having visited this place, you should definitely get acquainted with the unique exhibits, the creation of which was carried out over 14 centuries. A number of interesting objects exhibit a large number of ceramic dishes, manuscripts, paintings, as well as several types of textiles. In addition to all of the above, in the Corniche you can see a large collection of paintings.
Thematic exhibitions are often held at the museum site, visiting which is possible only if a ticket was previously purchased to view the main exhibition. The Corniche Museum is open from 8:30 am to 7 pm.
Wanting to explore contemporary art, tourists waiting for their transfer can head to another museum - Mathaf. Its wide collection includes more than 6,000 exhibits reflecting the main trends in the development of the Islamic religion and statehood. The oldest exhibit presented here dates back to 1840. You can get acquainted with all this for free.
This museum is open from 9 am to 7 pm (Friday from 13:30 to the same time).
About short transfers
In Doha, an hour is enough to transfer from one plane to another - this has been proven by the practice of many travelers. Consider further the features of fast docking.
By choosing a flight with a quick connection, tourists need to be prepared for a rushtraffic on the airport building, which is very problematic, given its size. So, if only an hour is allotted for connection, tourists need to be ready to go through all the necessary procedures in just 10-15 minutes, because it is known that boarding a flight ends half an hour before takeoff.
In order to check in for a connecting flight, the tourist must go to the counter and get his green ticket, which indicates tourists traveling with a short layover at Doha Airport. It is worth noting that the employees of the transport hub always try to help holders of green tickets with boarding, guiding their movement in the right way.
When making a transfer in the capital of Qatar, you need to remember that luggage will be received only at the point of arrival. In Doha, you do not need to pick him up, as he travels in transit.
Tourists traveling with a short transfer at Doha Airport are transported through the airport in large comfortable buses. As practice shows, most often it happens that from the gangway of one plane they immediately get to the gangway of another, even without the opportunity to look into the terminal building.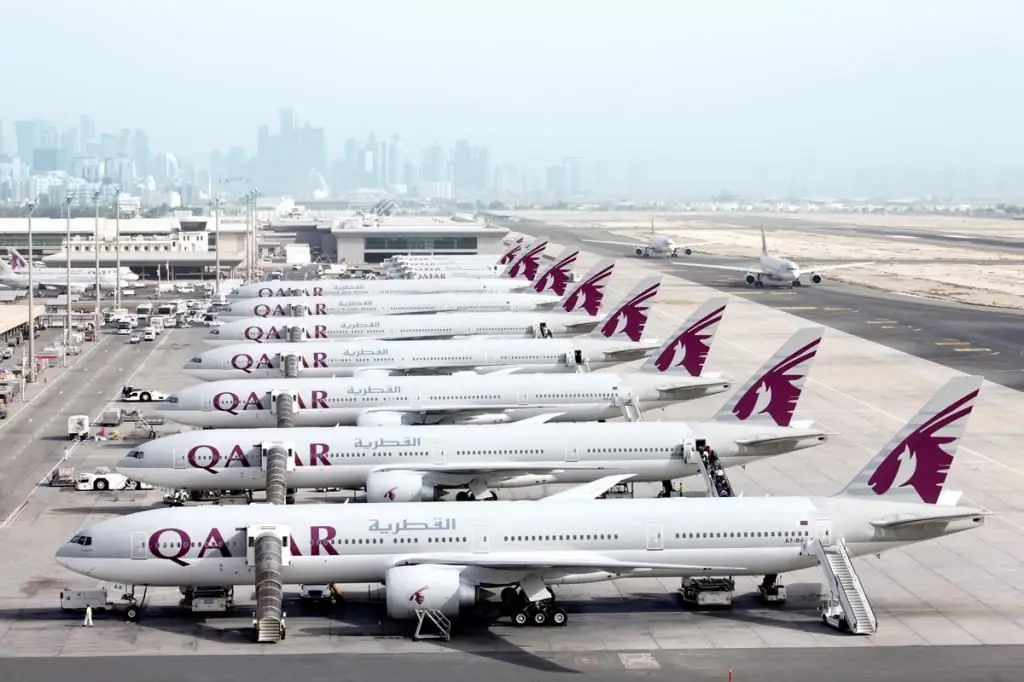 Do I need a visa for a layover in Doha?
Many tourists from Russia are concerned about whether they need a visa.
It is important to understand that Qatar is a friendly state for Russia. The countries have an agreement between themselves, the content of which states that the stay of Russian tourists in Qatar can be visa-free if this period does not exceed 30days. Entry and exit of Russians is carried out upon presentation of a valid passport, in which a special mark is affixed in the form of a stamp.
Practice shows that Qatar border guards are often interested in tourists about whether they have places to stay and overnight. In this situation, it is recommended to explain that you are a tourist in transit and do not need an overnight stay.
Do citizens of other countries need a visa to transplant in Doha? It is important to understand that if an agreement has not been concluded between the states on a visa-free regime for visiting, then obtaining a permit to cross the border of Qatar is mandatory. However, if the connection between flights is more than five hours, tourists can apply for an electronic transit visa for free by providing all the necessary documents in a special section on the airline's website.
Recommended: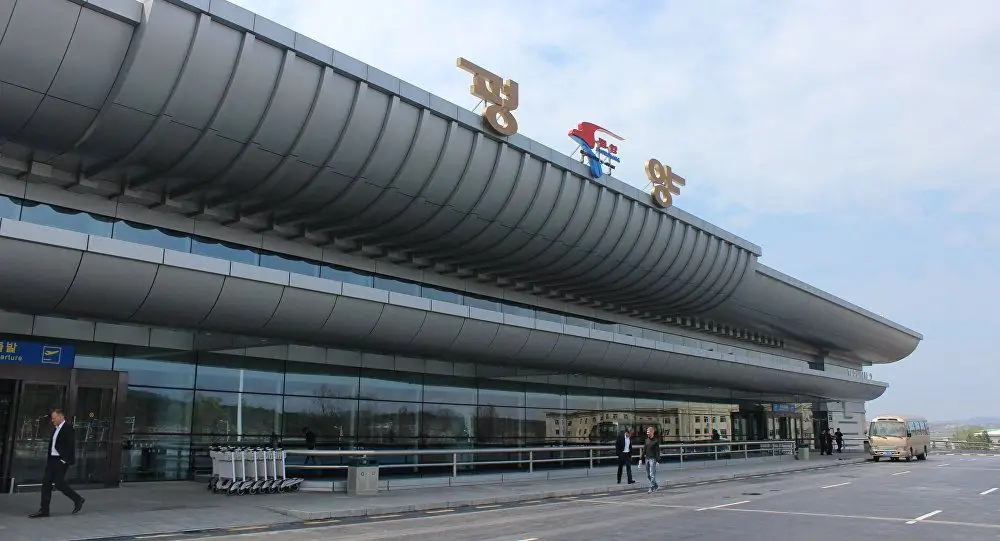 North Korea or, as it is also called, the DPRK is a closed communist country shrouded in an aura of mystery. International flights do not fly to Pyongyang Airport, and there are no transfers either. There is only one way to visit it - an official tour, on an old turboprop aircraft, crowded with state security officers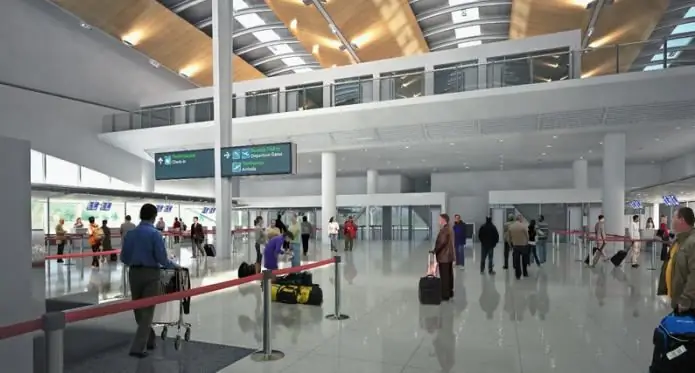 Strigino International Airport helps both residents of Nizhny Novgorod and its guests to reach the desired country and city in the shortest possible time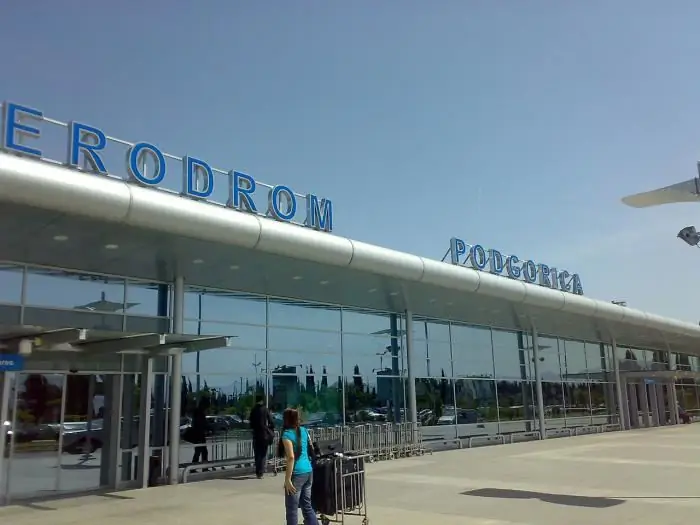 In 2007 Podgorica's TGD Airport received the award as the best airport serving up to 1 million passengers per year

Just seven miles from downtown Miami (USA) is Miami Airport. More than 40 million tourists pass through its gates every year. It operates 365 days a year. After reading the article, you can find out more detailed information about the major air gates of Florida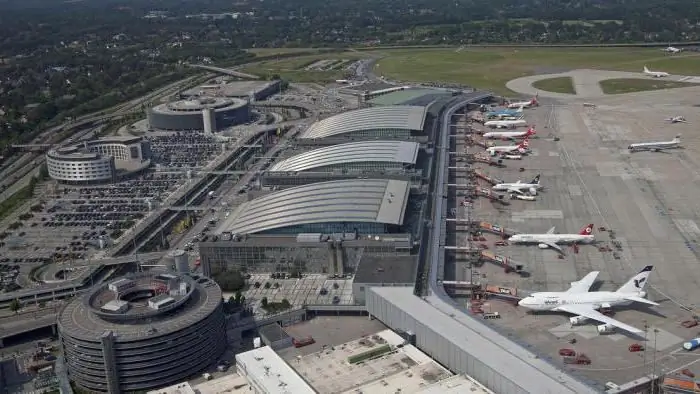 Hamburg Airport is one of the largest airport terminals in Germany. Passengers are often worried about how they can get to the city? What services await them at the airport? What should be prepared for so that there are no unforeseen surprises?