Table of contents: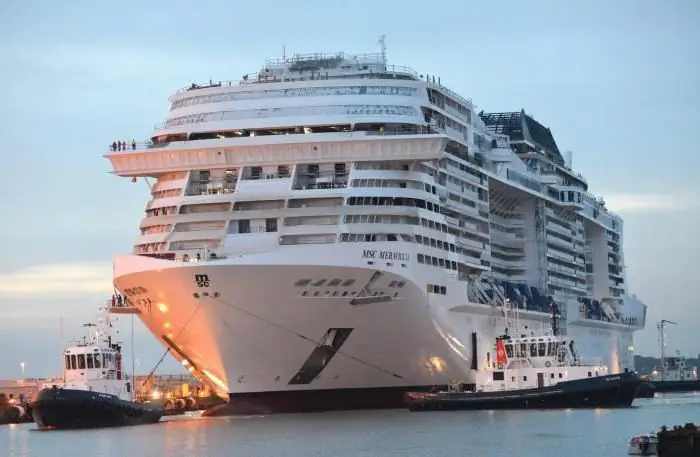 The tourism industry is currently at its peak. Travelers' requests are not limited to simple package tours (including flight, accommodation and insurance), individual tours have become widespread, which are compiled in accordance with the various desires of modern travelers.
Cruise tourism refers to water travel. It was believed that only very we althy people could afford trips of this kind (we are talking about ocean liners). The situation has now changed. For example, on the new MSC Meraviglia liner, you can set sail as early as April 2018, while the cost will be a little more than 30,000 rubles per person.
Cruise tourism today
This type of travel is the most ancient. Today, cruise tourism refers to long-distance voyages, coastal voyages from one port to another within the same country, as well as international trips. Around the world there are about 150 sea cruise companies in Greece, Italy,Spain, USA, Denmark, Norway and other countries. The most famous carriers in this type of tourism: Carnival Cruise Lines, Celebrity Cruises, Royal Caribbean International and many others. Most of them are united by the three largest holdings (Carnival Corporation, Royal Caribbean, Star Cruises). Every year, experts note an intensive growth in the number of such carriers, as well as the demand for sea cruises.
Most travelers are Americans, Germans and British. The number of Russian tourists in these statistics is extremely small. This is due to the difficulties in obtaining a large number of visas, long-term flight to the port. Recently, cruise routes have appeared, focused on Russian travelers. European liners are sailing with passengers landing in St. Petersburg and Sochi.
In our country they practice tours to the Arctic on icebreakers, sailing in the northern seas of the Arctic Ocean and around the islands. There are "warm" routes from Sochi to Trabzon (Turkey, by ferry), as well as to Greece, Croatia, Italy via the Bosphorus, the Sea of Marmara, the Dardanelles and the Aegean.
International cruise travels cover all the waters of our planet: the Mediterranean and Red Seas, sailing around Western and Northern Europe, the Caribbean, Hawaii, along the coasts of the Americas, South Africa, Australia and Oceania, New Zealand.
Modern cruise liners are huge floating houses, in which, in addition to comfortable cabins, there are a lot ofentertainment: golf courses, water parks, yacht clubs, huge swimming pools, shops, cinema halls. Shipowners are trying to make their offspring brighter, bigger, more interesting, more original. For example, the MSC Divina cruise ship has 150 fountains, the Queen Mary 2 specializes in historical themes, Allure of Seas surprises its passengers with a real park with sprawling trees.
Description and specifications of MSC Meraviglia
This brand new "giant", the brainchild of the STX France shipyard, was launched in June 2017 and made its first voyage across the northern part of Western Europe. Corporation MSC Cruises plans to release another similar liner with a displacement of 167,000 tons in two years. The MSC Meraviglia is 315 meters long and 43 meters wide. It is the largest liner built using innovative technologies. The double stern liner belongs to the VISTA MSC CRUISES class and is a truly state-of-the-art vessel. Roll stabilizers help to minimize the discomfort that travelers experience when the vessel is moving. MSC Meraviglia has a top speed of just over 22 knots.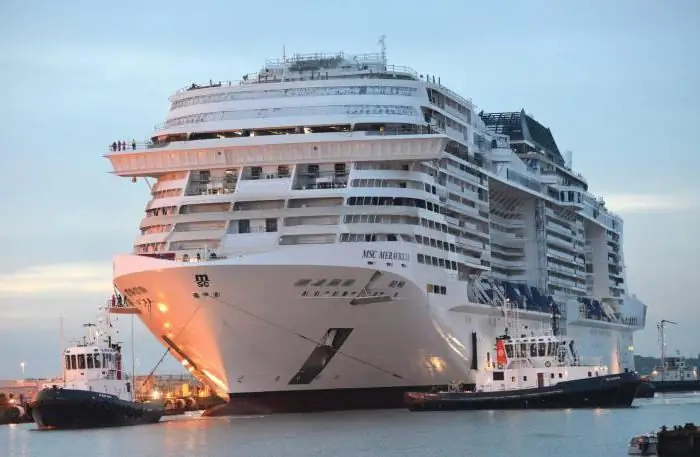 The total number of passengers that the "Meravilla" (translated from Italian as a miracle) can take is 5700 people. The maiden voyage was a success, with numerous travelers having an unforgettable journey on the safe, manoeuvrable, environmentally friendly and most advanced "giant".
Interior & Decks
First,what passengers see when they step on board the liner is a chic two-deck promenade with a ceiling, made using the latest technologies. The top of the walking area is a 450 m2 LED screen2, broadcasting fantastic images. Night and day landscapes showcase the rural flavor of the Mediterranean.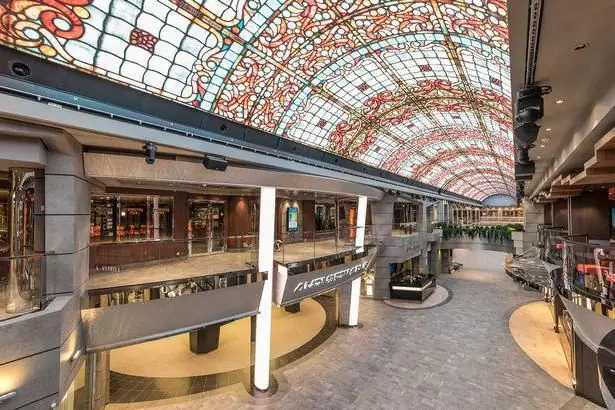 The number of decks on the MSC Meraviglia is 19. They are decorated according to different themes (for example, "Tajmahal", "Acropolis", "Pyramids", "Grand Canyon", etc.), they accommodate cabins, o which will be discussed below.
In the center of the ship is a delightful atrium: surrounded by LED lamps, there is a piano and several musicians nearby, illuminated metal spirals go up. To the right and left, stairs inlaid with Swarovski crystals rise to the upper decks. Transitions between floors have glass railings with illuminating lights. High-tech style can be traced throughout the design.
Grocery and souvenir shops, a library, a swimming pool, an outdoor water park and areas with attractions for children and adults, a yacht club, a large number of entertainment centers, a theater, a specially equipped area for performances of the world famous circus "Du Soleil", SPA-complex with a solarium, bars, restaurants and cafes.
Cabin Features
Position price level starts from 478 y.e. Cabins on the MSC Meraviglia can be classified into the followingcategories: Economy (with limited view), Standard (equipped with French balconies), Super Family, Connect cabins (several interconnected), cabins for people with disabilities, Suite Exclusive & Family Yacht Club, Aurea" with a panoramic view, two-level. In addition, cabins are differentiated by category, which will be described below.
The interior decoration is made in Art Nouveau style. Each cabin has comfortable beds with orthopedic mattresses, dressing rooms, tables and chairs, sofas that can be transformed into bunk beds, bathrooms with ultra-modern showers, lavatories, sinks and sets of towels, bathrobes and slippers, perfume compositions.
Catering for tourists
Vacationers can enjoy a variety of restaurants on "Meravilla", payment is made on a deposit using electronic multi-functional bracelets. It is difficult to list all the numerous food places. These are themed, luxurious a la carte restaurants, all kinds of bars, cafes and other establishments.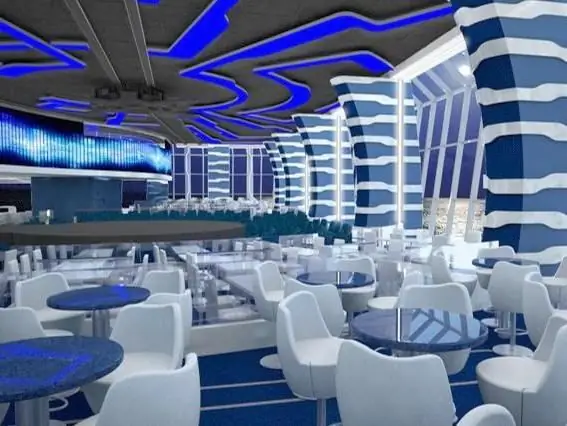 According to reviews of MSC Meraviglia, the food on the liner is not just delicious, but chic and amazing. The delicacies that are served can delight any gourmet with gastronomic delight. Plenty of seafood (mussels, shrimp, lobster, squid), red fish (salmon, trout), various meats and poultry are served daily(veal, marbled beef, turkey), tropical fruits and vegetables.
Bars abound with alcoholic and non-alcoholic drinks. Passengers are offered delicious cocktails, juices, wines, champagne and much more. According to reviews of MSC Meraviglia, ice cream and desserts (pancakes, chocolate) on the liner are especially delicious.
Entertainment industry
Water attractions in the water park are a lot of fun for children and adults. There are also indoor and outdoor pools, jacuzzi, where you can lie and enjoy the view through the panoramic windows. Passengers can visit massage or rejuvenation procedures, solarium, saunas and baths, ice room.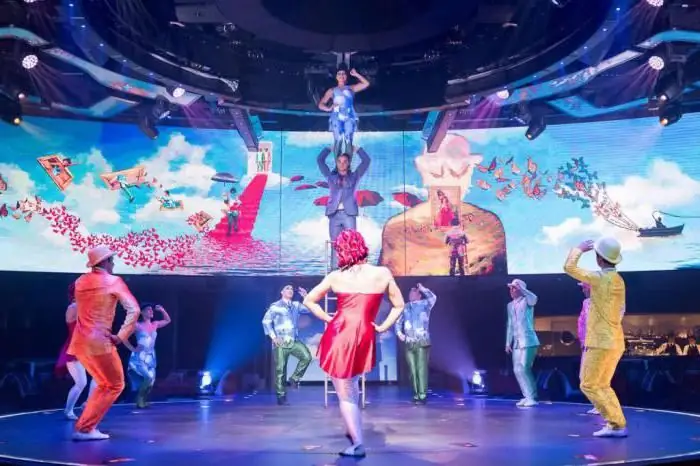 For lovers of extreme entertainment, there is an open-air "Rope City" where you can climb and climb at high altitude with safety ropes. Passengers of all ages enjoy forty minutes of performances by the famous Du Soleil circus troupe, who present a show especially for the ship.
Event programs
To begin with, each tourist is invited to download a special application for a smartphone in order to independently plan their leisure time. According to their various needs, customers on the ship can choose from various packages of services.
For example, there is a category "Wellness". Passengers who have chosen such a package can come to dinner at any time convenient for them, use the jacuzzi an unlimited number of times, take bottled drinking water in the right amount. Besides,a special program evaluates muscle and fat mass, calculates the optimal training system. As a gift, a passenger of the "Wellness" category receives sportswear. If you choose "Aurea", then the tourist can enjoy privileges at the exit to the port, a cabin on the top floor, etc. There are other options: "Flexible", "Fantasy", "Bella", etc.
How to brighten up a child's leisure time on the MSC Meraviglia cruise liner?
For a long time, children can be left in the club, where experienced animators (including Russians) look after them. Here your child will definitely not be bored: entertainment programs, games, competitions, spectacular shows in addition to magnificent swings, carousels, slides and trampolines. The clubs are divided into five age categories, so that children have the most interesting time with each other.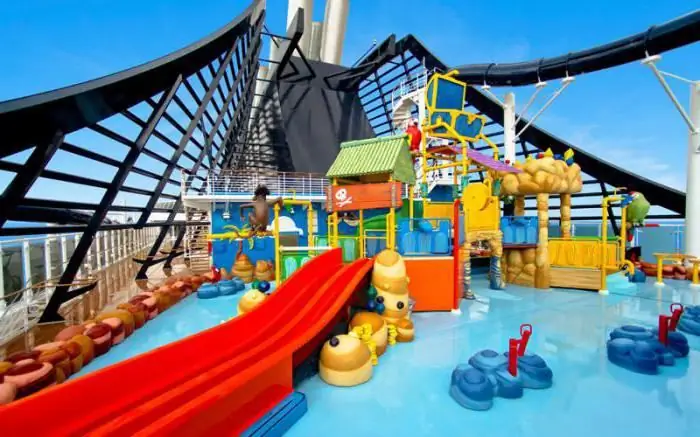 It can be difficult to pick up a child from a water park with all kinds of water fun. Children bathe, plop down, have fun under different "douches", "sprinklers". By the way, a special system of bracelets allows you to track the movements of the child, so it is impossible to lose him on this wonderful liner.
Sailing calendar
Short cruises on the MSC Meraviglia (8 days 7 nights) in the Western Mediterranean can be made from September 2017 to April 2018. For example, on September 22, sailing begins from the port of Barcelona (Spain) with calls to Marseille, Genoa, Naples, Messina, Valletta and back to Barcelona.
In mid-April and Maycruises around Europe are planned next year (British Isles, B altic, Scandinavia, Russia, Northern capitals, Fjords). A round-the-world trip on the VSC Meraviglia can be made during the summer months of 2018.
Cruise tour cost
Minimum price for 8 days 7 nights on the liner, for example, for November 2017, starts from 484 y.e. (approximately 33,000 rubles). This price includes accommodation in the selected cabin category, meals 24 hours a day, all port fees and taxes, additional services. The maximum cost for a round-the-world trip for June - August 2018 is 4159 y.e. (about 300,000 rubles).
The price depends on the type of package of free features that can be used throughout the trip. The following categories of cabins are distinguished on the liner:
- Bella - entertainment clubs for children of all ages, gyms, swimming pools, all-inclusive meals (excluding drinks), etc.
- Fantastica - the same as in the previous category, plus accommodation on higher and more comfortable decks, 24-hour service, additional entertainment and workshops.
- Aurea - respectable cabins on the highest decks with a beautiful view, SPA-complex services, All-inclusive drinks
- Wellness (see above).
- Yacht Club is the most privileged category. Guests can use their own open deck with a bar, jacuzzi and swimming pool, luxurious cabins on the uppermost decks in the bow of the liner, butler and concierge services,exclusive restaurant etc.
What things to bring on a cruise?
It all depends on the preferences of the passenger, but the main part of the wardrobe is casual wear. In respectable restaurants for an evening dinner, the audience dresses very decently and elegantly (evening or cocktail dresses for women and formal suits for men), there is no dress code in simpler establishments.
Be sure to take a swimsuit, sunscreen, moisturizers. If you plan to work out in the gym, a training uniform will come in handy. Warm clothes may be needed: it can get chilly on deck late in the evening or at night.
How was the starting swim?
The first voyage was more presentation, in addition, the ship had to be moved to another port for subsequent Mediterranean routes. The famous Italian actress Sophia Loren, who was called the "godmother" of the liner by the media, wished all the first passengers a happy journey in French Le Havre.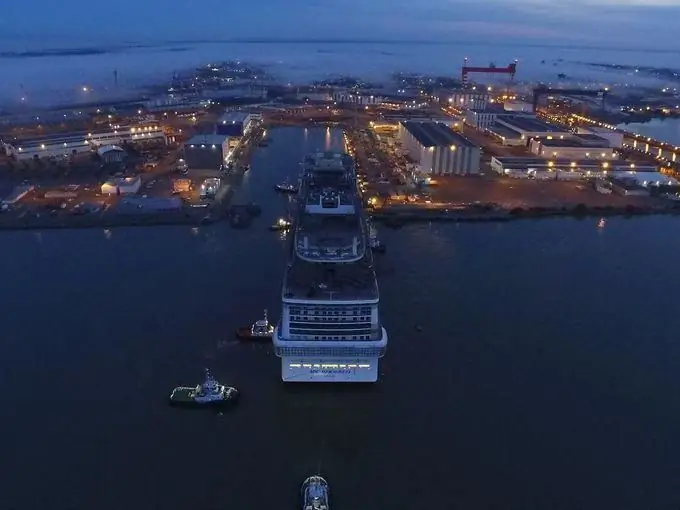 Further MSC Meraviglia followed through Genoa and Vigo to Lisbon, then stopped in Barcelona and Marseille. The duration of the trip was 8 days.
Reviews of the first lucky ones
Most of the travelers were satisfied, this is about 100% of the reviews. There are, of course, individuals for whom "the air conditioner was too strong and ruined the whole holiday" or "the cabin was not new and shiny enough." Such units, the rest of the reviews about the rest on the MSC Meraviglia cruise liner are full oflofty epithets.
Travellers are advised to take care of free cabins on a cruise ship in advance, it is best to book places 6 months before sailing. Schedule and prices are posted approximately one year in advance.
Tourists who sailed on the liner warn that it can be quite cold in the interior, and it shakes in the tail of the ship (on any floor).
After a vacation on the MSC Meraviglia cruise liner, pleasant nostalgia remains, you want to repeat such a tour again and again. The unforgettable atmosphere of luxury and comfort reigning on the "sparkling miracle" remains in memory for a lifetime.
Recommended: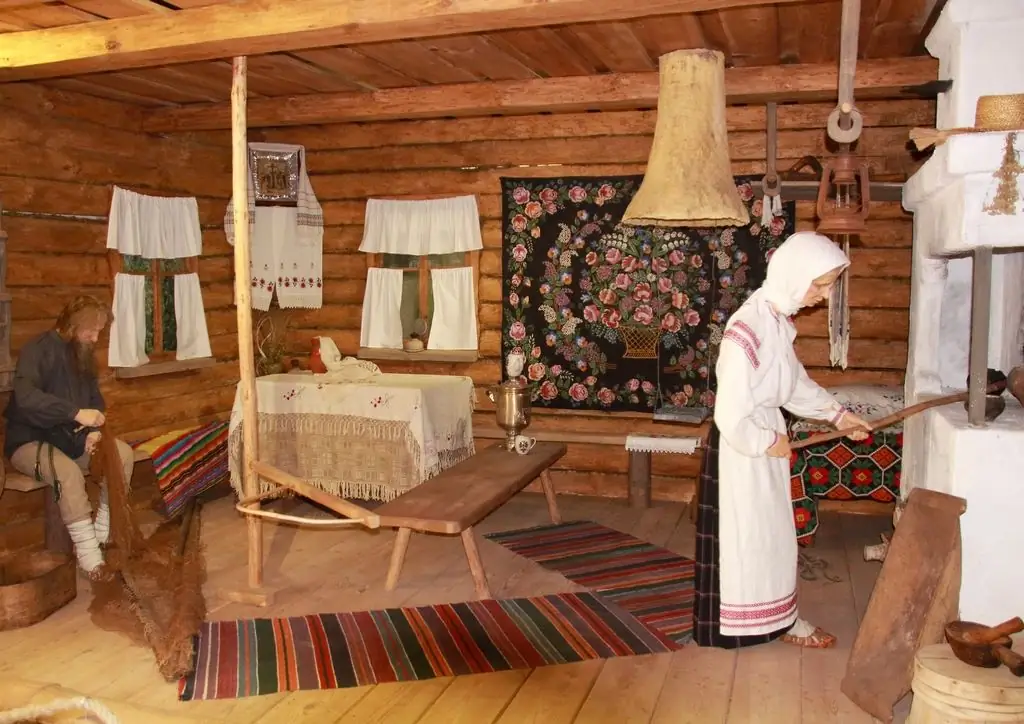 Belarus occupies a leading position in popularity among ecotourism lovers. Indeed, in this small but very picturesque country there is something to see. Unique nature, relict forests, water meadows, villages with a peasant life and stork nests on the roofs, sanctuaries and nature reserves teeming with animals - that's why tourists go to the republic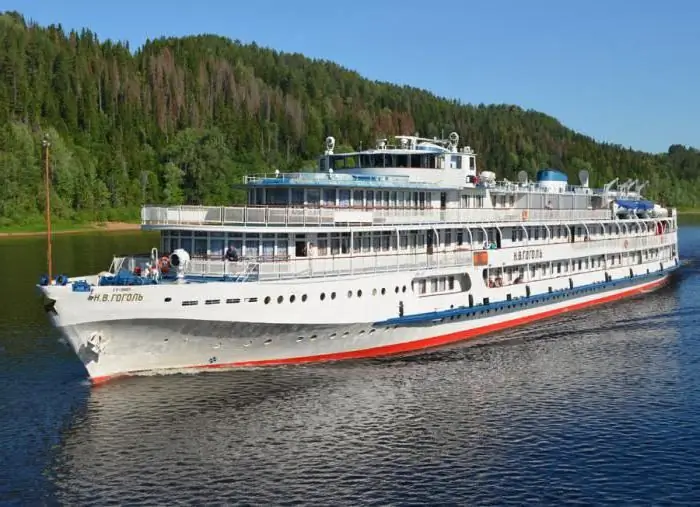 Our article will be of interest to those who are interested in cruises in Russia. Since the country is rich in natural beauties that can be seen during a water trip, it is worth taking the opportunity and going on a trip. The ship "Gogol" is just one of these ships, on board which you can make a pleasant voyage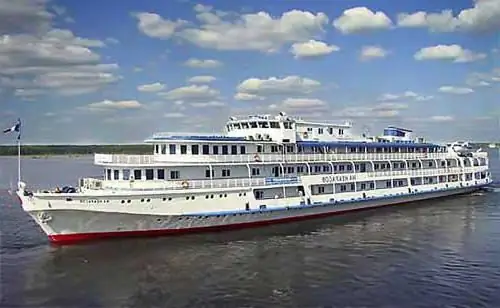 A cruise vacation is one of the most comfortable and respectable. It is so nice to sail on a cozy ship with all the amenities past beautiful places, go ashore for relaxation and sightseeing, while not getting tired and receiving full service on board. We will tell you about the ship "Nekrasov", which provides an opportunity to feel all the delights of a cruise trip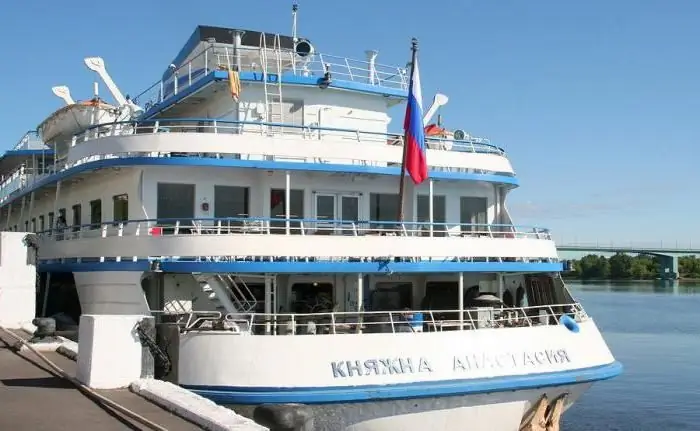 Looking for an interesting and inexpensive way to spend your holidays? Look out for river cruises. Today we will conduct a sightseeing tour of the ship "Princess Anastasia", and also find out the reviews of tourists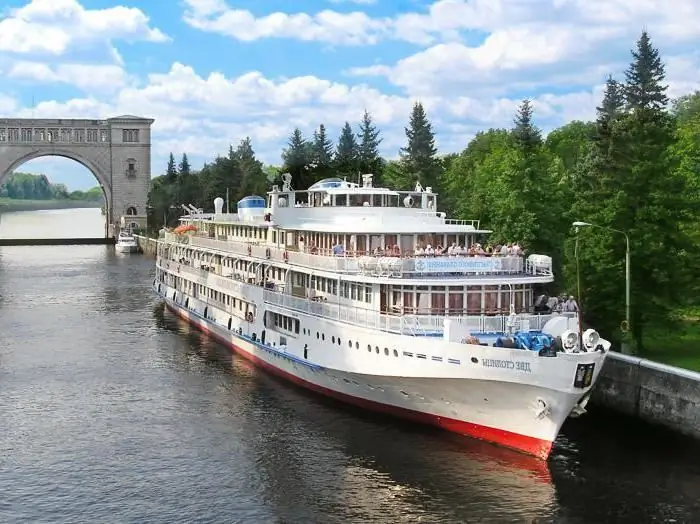 Planning to spend your vacation on a cruise? Then pay attention to the cruise company "Infoflot". She invites you to go on a trip on a huge three-deck liner with all the amenities. Moreover, the variety of destinations is limited only by your imagination