Table of contents: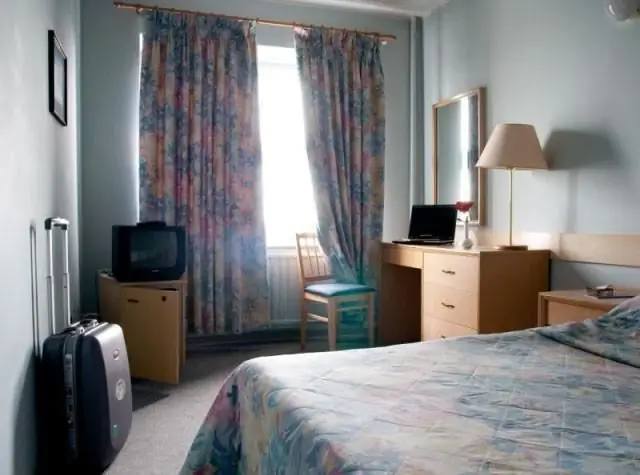 A trip to St. Petersburg is always an exciting and pleasant event. After all, the city on the Neva is enveloping with a special atmosphere, as if there is a different dimension, a different course of life. And it doesn't matter if you're here for a vacation, sightseeing, or signing an important contract - you'll need to find a decent place to stay. What does St. Petersburg offer? Hotel "Okhtinskaya" is an ideal place for those who are looking for a combination of a good price, quality of services and compliance with the category. It is located on the banks of the Neva and offers vacationers 293 rooms belonging to different categories. The hotel has been awarded the status of a three-star. In 2012, most of the rooms were renovated. Hotel "Okhtinskaya" (St. Petersburg) occupies a 13-storey building. Tourists are always warmly and hospitably greeted here.
Hotel address
Okhtinskaya (St. Petersburg) is located at: Bolsheokhtinsky Prospekt, building 4. Finding this place is easy. Dozens of routes lead to it.
How to get tohotels? Okhtinskaya (St. Petersburg) is not a hard-to-reach place. The city has buses that go to the hotel from different metro stations: Vosstaniya Square, Alexander Nevsky Square, Lenin Square, Chernyshevskaya, etc. You can always ask a question to local residents or taxi drivers who will suggest suitable options. It is noteworthy that a free shuttle bus runs from the Moscow railway station to the hotel every day. Don't know St. Petersburg? Hotel "Okhtinskaya" is known to every local resident, located in the city center, so you definitely won't get lost.
Rooms
As you already understood, the hotel has 293 rooms. At the same time, 504 people can live in the building at the same time. Smoking on the premises, including on balconies, is strictly prohibited by law. The hotel offers two types of rooms for vacationers: standard (138) and business (157). Let's consider each of them separately.
Category "Standard"
All rooms of this category are clean, comfortable, decorated in bright, cheerful colors, in a Scandinavian style. The windows offer a view of a quiet courtyard, the Bolsheokhtinsky Bridge or the Smolny Cathedral. All of them are located from the fifth to the eighth floor.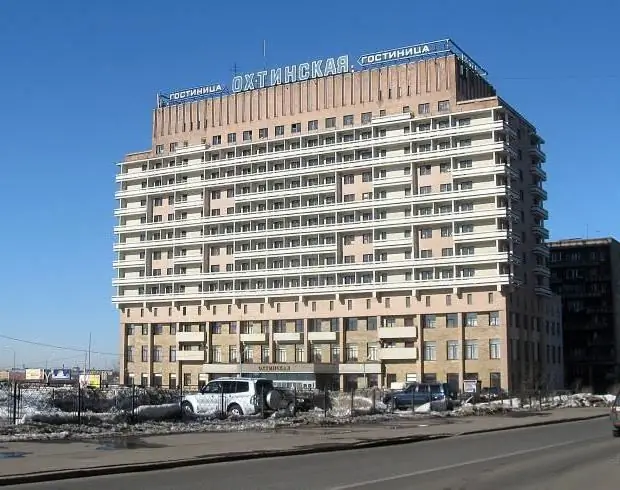 Single rooms are presented in the amount of 10 pieces, their area is 14 square meters. m. In each you will find a single bed, built-in wardrobe, bedside tables, chair, table, telephone, TV, large mirror. There istoilet and shower.
There are 114 double rooms of this category in the hotel. The area of each of them is 15 square meters. m. Basically, these are rooms with two beds. Six rooms have only one spacious bed (160 cm). Furnishings are the same as in single rooms.
Category "Business"
Arrived on business in St. Petersburg? Hotel "Okhtinskaya" offers you cozy rooms furnished with modern furniture. The interior is made in golden, terracotta, pistachio tones. Each has a LED TV, WI-FI, satellite TV, mini-bar, air conditioning. All rooms have comfortable beds, which in double rooms are transformed into a large bed. Vacationers are provided with hypoallergenic linen, there are curtains on the windows that let in light.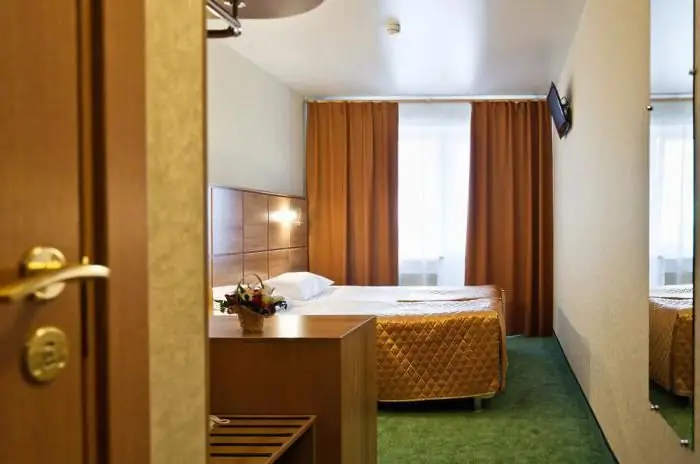 The hotel offers 145 double rooms of this category with an area of 16 square meters. m and 9 rooms "junior". It can be one- and two-room. Each area is 32 sq. m.
Food
What to eat when you arrive in St. Petersburg? Hotel "Okhtinskaya" in this regard offers quite comfortable conditions. European and Russian cuisine is waiting for you in the Bechamel a`la carte restaurant. The chef is famous for his signature dishes. The establishment is open daily from 11 am to 11 pm. From the windows of the restaurant offers a breathtaking view of the Neva and the Smolny Cathedral. It serves breakfasts, lunches and dinners at strictly defined hours for tourists. You can also visit the lobby bar, where the menu hasdesserts, snacks and drinks. This place is ideal for organizing business meetings.
Arriving at the hotel, you will have the opportunity to have a free buffet breakfast.
Services and amenities
The Okhtinskaya Hotel (St. Petersburg) receives grateful and enthusiastic reviews from guests. Most of them are. Tourists note that many additional services are provided here, without which the rest would not bring so much joy and satisfaction.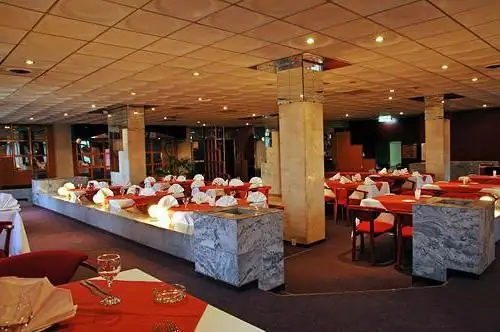 On the territory there is paid and free parking, car rental for those who want to move around the city without any problems. There is always an elevator, a gift shop, and vending machines. You can use the services of a tour desk at the hotel. The 24-hour reception has a safe, luggage storage space.
Other services include medical care, laundry, maid service, ticket office.
Best place for corporate clients
Hotel "Okhtinskaya" is twice the owner of the gold quality mark in the nomination "Complex of MICE-services". This applies to events, corporate programs, negotiations, meetings, seminars, conferences. The hotel has everything necessary for their holding.
Here there are modern conference rooms, the area of which varies from 35 to 310 square meters. m. Separately equipped rooms designed for negotiations. Their area ranges from 35 to 95 square meters. m. Event participantstransfer, technical support is provided. The halls for conferences and seminars are equipped with multimedia projectors, lighting equipment, projection screens, etc.
"Assembly" (from 3100 rubles), "Forum" (from 1500 rubles), "Audience" (from 1800 rubles), "Briefing" (from 1400 rubles), "Okhtinsky" (from 3100 rubles) - such halls are offered by the hotel. In addition to holding any event, you can order a buffet, banquet, coffee break, accommodation, meeting guests. This is the place chosen by people who come to St. Petersburg on business. Hotel "Okhtinskaya" offers quite adequate prices for corporate events.
Cost of living
Any tourist wants to find a hotel that would offer not only comfortable living conditions, but also reasonable prices. Hotel "Okhtinskaya" has an adequate pricing policy. Rooms of the category "standard" cost from 2800 rubles per day. The cost of "business" rooms - from 3300 rubles per day, "junior" - from 5300 rubles.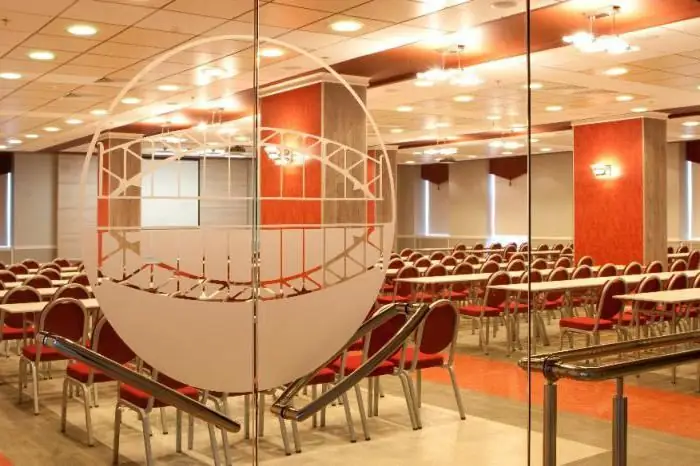 The Okhtinskaya Hotel in St. Petersburg offers prices (reviews confirm this) that are quite consistent with the quality of the services provided. In addition, there are always special offers. For example, "3 nights for the price of 2". Your benefit in this case is 30 percent. Discount for early booking - 15 percent. There is a special "Wedding Package" for newlyweds. And if you order a banquet at the hotel, you will receive a room as a gift.
Reviews
Having studiedreviews of tourists on the net, on various resources, we can make an unambiguous conclusion: the Okhtinskaya hotel is more praised than scolded. Tourists like the view from the windows, comfortable rooms, the availability of shops, attractions. Separately note the food, helpful staff. There are minor complaints about the technical condition of the building: leaking sinks, unrepaired balconies. But the hotel management is working tirelessly to eliminate such shortcomings.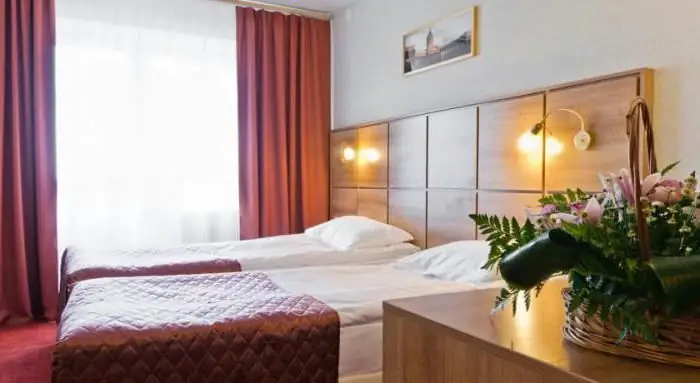 Attractions
If you came to St. Petersburg on vacation and stayed at the Okhtinskaya Hotel, you will not have any problems with visiting interesting historical places. Within a radius of 5 km from the building there are many attractions. For example, the Opera and Ballet Theatre. M. P. Mussorgsky, the Alexandrinsky Theatre, the Hermitage, the Winter Palace, the Tauride Palace, the multimedia complex "The Universe of Water", the Smolny Historical and Memorial Museum, the Smolny Cathedral, the Coffee Museum, etc. Right next to the walls of the hotel there is an embankment, ideal suitable for a promenade, there is a pier for water transport.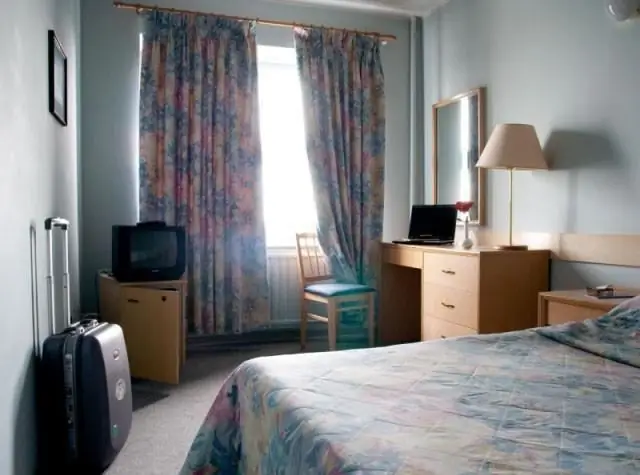 Hotel policy for vacationers
Check in from 14.00, check out until 12.00. Children under the age of 7 stay free of charge when using the existing beds in the room. For babies under two years old, the administration provides a bed for free. Pets are also allowed here, but only by prior arrangement.request.
Summing up
August 31, 2015, the hotel has successfully passed the certification for qualification, the status of a three-star has been confirmed. The administration claims that guests are the main value for all team members. The hotel takes care of their comfort and he alth. All the requirements for food quality, food preparation standards, and storage conditions are met here. Most recently, the hotel received a certificate confirming its full compliance with the HACCP international quality system.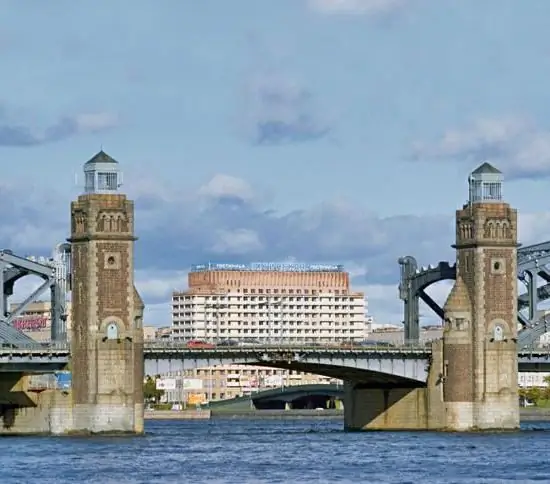 Going to St. Petersburg? Find in advance a cozy corner for your stay that would combine all your requirements for a perfect vacation. Hotel "Okhtinskaya" is ready to offer you exactly what you are looking for. It has everything: a good location, comfortable rooms, a full list of necessary services and amenities, friendly staff, and the charm of the legendary, famous and glorified city on the Neva for many centuries. Now you know how to get to the hotel. "Okhtinskaya" (St. Petersburg) is waiting for you. Welcome!
Recommended: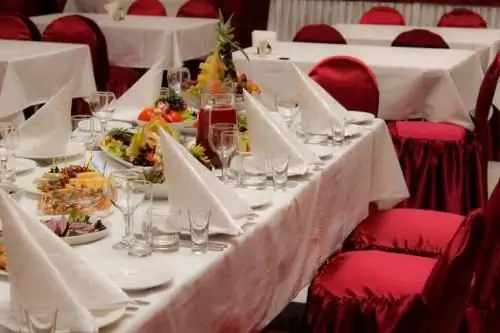 The Park Krestovsky Hotel was built relatively recently - in 2009, and in recent years has become popular not only among guests of St. Petersburg, but also among its permanent residents. "Park Hotel" on Krestovsky Island serves both to accommodate tourist groups and to hold various conferences, presentations, shows, as well as corporate events and weddings

When visiting the capital of Russia, many people have a question about where to settle. It cannot be answered unequivocally. Here financial opportunities and personal preferences play an important role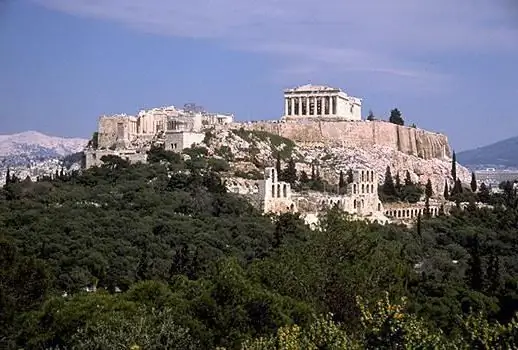 An amazing country is Greece. Reviews of tourists coming here from all over the world, invariably remain enthusiastic. We invite you to get acquainted with the main attractions of this country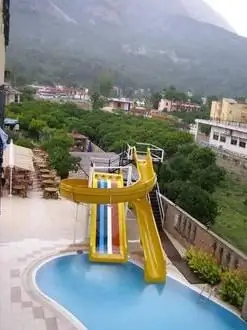 Umbrellas and sun loungers in large quantities are placed around the pool, there is a bar. Fans of active pastime can visit the sauna, as well as the Turkish hammam. In the evenings, discos are organized on the territory of the Matiate Hotel 4 , there are cheerful animators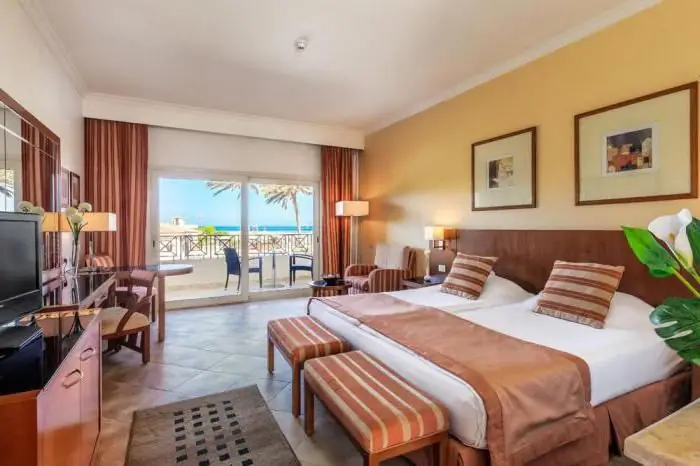 If you want to spend a great vacation on the Red Sea and prefer comfortable accommodation, then the Cleopatra Hotel (Makadi Bay, Hurghada) can be an excellent option