Table of contents: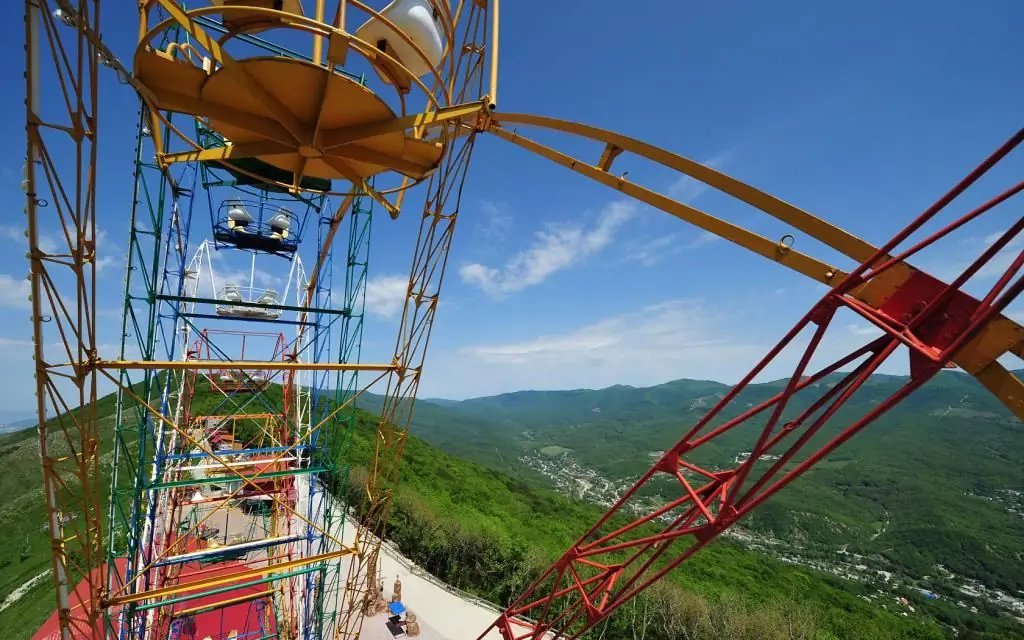 Gelendzhik is a resort town in the Krasnodar Territory, which is located on the Black Sea coast. It is located in a mountainous area and pleases tourists with breathtaking landscapes. The city is protected by the Markoth Range from the cold north wind, so it is an excellent option for a quiet family vacation. And the forest belts surrounding the resort are an excellent opportunity for a picnic with children or a hike in the mountains with friends.
Ferris wheel in Gelendzhik
Since 2005, the Olymp amusement park has been operating in Gelendzhik. It makes the rest of tourists at the resort even more interesting and joyful.
But the main attraction of both "Olympus" and Gelendzhik as a whole is the Ferris wheel built by specially invited foreign contractors. Every child who visits this attraction is delighted. The height of the Ferris wheel in Gelendzhik allows you to see the Black Sea coast at a glance.
Thanamazing this ferris wheel
The Ferris wheel in Gelendzhik is not like other similar attractions: it stands on a hill, and thanks to such a good location it can be seen from the entire central part of the resort, including the city embankment.
Every year, thousands of tourists and vacationers come to ride on this magic wheel, because from its top a wonderful view of the mountainous area opens up. Also, during a ride on the attraction, everyone can enjoy the beauties of the Black Sea.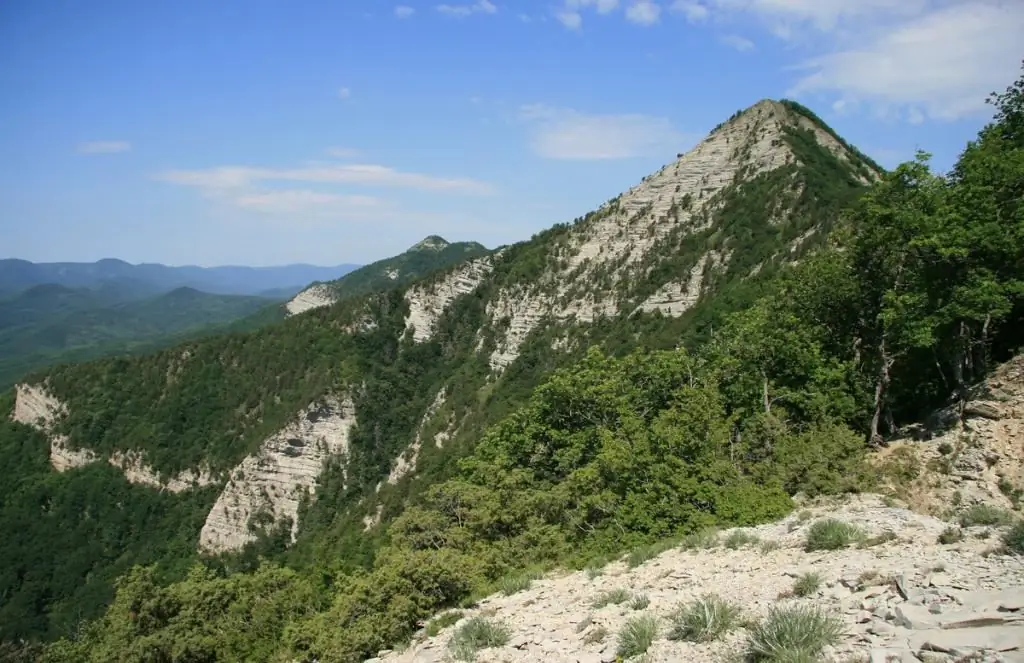 For the first time after the opening of the Ferris wheel in Gelendzhik, visitors were allowed to ride for free, but now you can buy a ticket at the park box office.
The main souvenir brought by tourists from Gelendzhik is a photograph taken from the highest point of the wheel. From this angle, you can capture on camera the territory stretching from the airport to the village of Sosnovy.
The size of the Ferris wheel in Gelendzhik is one of the largest in the area. Its diameter is 25 meters, but do not forget that it stands on top of a mountain range, so the maximum height reached by the cabin is 630 meters above sea level.
What you need to know before visiting
The best time to visit the Ferris wheel in Gelendzhik is in the evening, when the city is ablaze with bright lights. But during the day, vacationers will also be able to enjoy a wonderful view: the sea, mountains and the unique nature of the Krasnodar Territory.
It is advisable to bring warm clothes with you, as the temperature is highthe air is usually lower than on the ground.
Remember that safety rules prohibit the ride from loosening the booth, sticking your head out of it, unfastening, getting up and jumping.
While traveling, be careful and keep a close eye on children.
Recommended: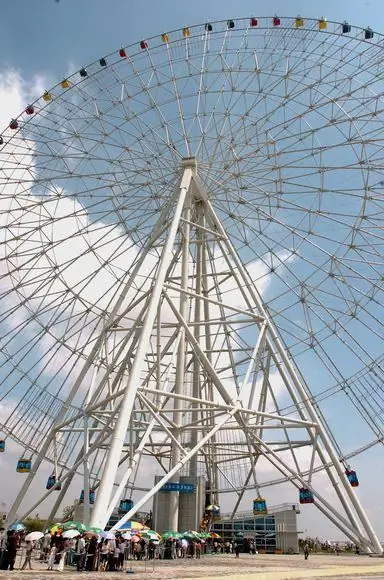 Do you know where the biggest Ferris wheel in the world is located? And the fact that, perhaps, it will soon appear in Moscow? To the attention of those who are interested in this topic, our article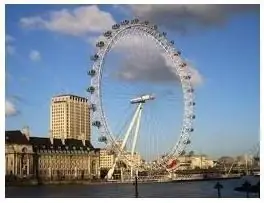 The article describes the Ferris wheel in London as one of the attractions of the city. Despite the fact that the wheel was built relatively recently, it has taken its place among other visited places in the city. Some technical data and the cost of the attraction are given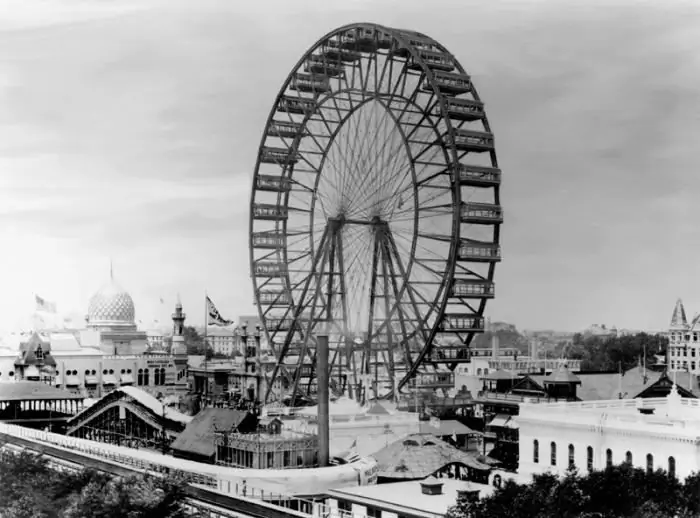 Quite often a person, looking at this or that invention, does not even think about why it looks or is called one way or another. Most modern parks have an attraction that is commonly referred to as the "ferris wheel", but very few vacationers know why this design bears such an ominous name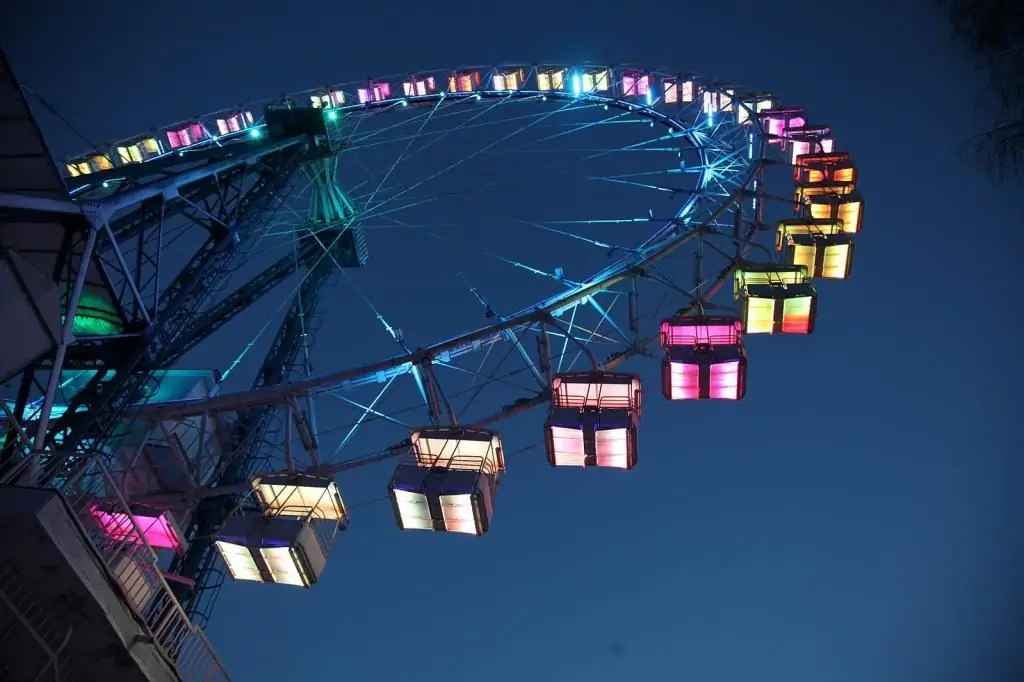 For the International Festival of Youth and Students in Moscow in 1957, a Ferris wheel was built in Izmailovsky Park. During this time, the name of the Partizanskaya metro station has changed three times. More than a million people rode the wheel. In all the years of its work, it has never broken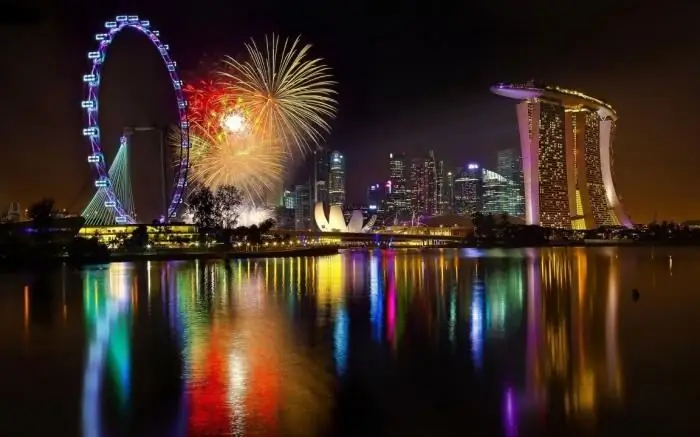 Since in the Soviet Union there were Ferris wheels in the parks of almost any major city, most of our compatriots managed to ride the slow ride more than once. But to try out the highest Ferris wheel in the world is a completely different feeling, which a person of the planet of any age can hardly refuse. The question arises: "Where is it?" As with any record holder, there are several answers to this question. It all depends on the evaluation criteria