Table of contents: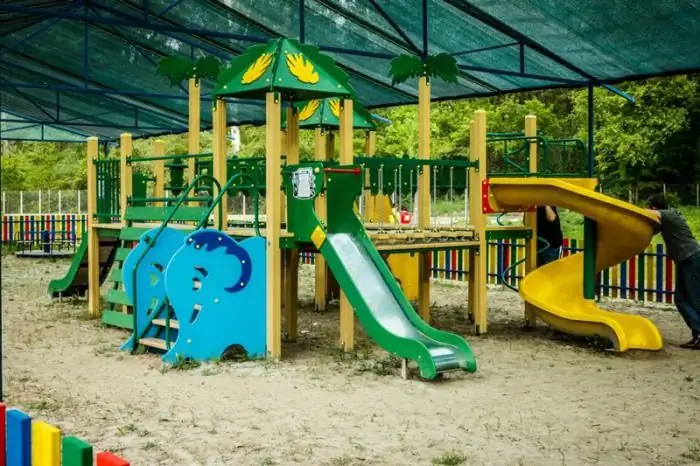 Today, many are interested in questions about where to spend a vacation or a weekend. And the recreation center "Cape of Good Hope" is considered a fairly popular place among tourists. After all, here residents are offered the best living conditions, excellent service and a lot of opportunities to spend time with benefit.
Recreation center "Cape of Good Hope": location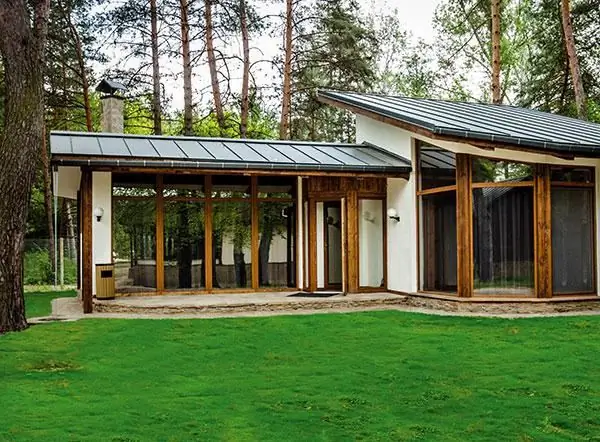 This recreation complex is located in one of the most picturesque corners of Poltava, very close to the river. The nearest settlement is the village of Petrovka. In fact, these are beautiful Gogol places, which, thanks to the stories of the famous writer, have become a real legend. For example, the village of Dikanka is located not far from the Cape of Good Hope base. Surely, everyone remembers this fabulous place from Gogol's stories.
Brief description of the base
"Cape of Good Hope" - a recreation center with a fairly large territory. After all, the complex is spread along both banks of the Vorskla River. The left bank is reserved for hotel rooms.rooms and cozy pavilions. But the entire right bank is occupied by a well-groomed beach, sports grounds, gazebos and other facilities for recreation and entertainment.
This place is popular with both residents of the area and visiting vacationers. It is suitable for both long holidays and colorful weekends. Youth companies, elderly people and families with children rest here, as all the conditions for a fun pastime are created on the territory of the base.
Residence conditions on the territory of the base: description of the rooms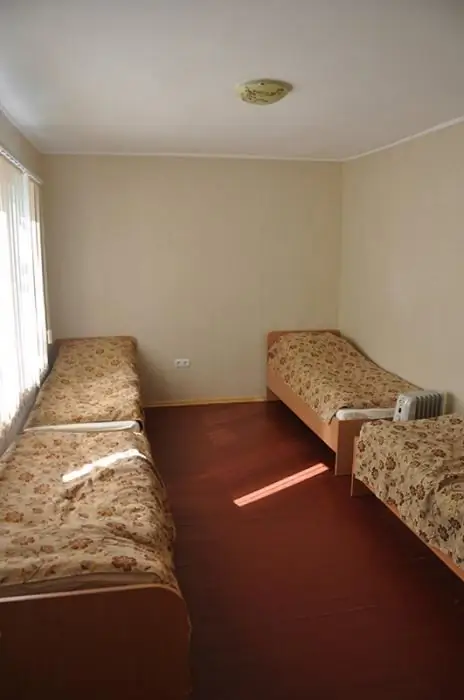 The recreation center "Cape of Good Hope" (Petrovka) offers its guests accommodation in two types of cottages - standard and deluxe. There are double and quadruple standard rooms. These are spacious rooms with the necessary set of furniture, including comfortable single beds, wardrobe and chairs.
As for the deluxe rooms, there are cottages with two or three separate rooms. In addition, the cottage has a spacious glazed veranda and a fireplace, which will make the evenings much more comfortable. Each such house is designed to accommodate 4-6 people.
It is worth noting that each room is equipped with the necessary set of household appliances. For example, there is a refrigerator, TV, safe, as well as a set of tableware. The luxury cottages also have a small kitchen, which is great for tourists who prefer to cook on their own. Each room has free wireless internet access.
There is also a toilet and a bathroom with a shower and a set of clean towels. By the way, inthe cost of living on the territory of the recreation center includes free entrance to the beach and breakfast at a local cafe.
Meal plan for vacationers
Next to the cottages there is a large cafe, which is open from 8 am to 11 pm. It is located on a cozy meadow and is surrounded on all sides by a pine forest. In the morning, breakfast tables are laid here for vacationers. The rest of the time the cafe is open on the menu. Here, customers are offered dishes of Ukrainian and European cuisines. By the way, the institution is quite roomy and is designed for 80 seats. This place is quite popular during the summertime, as banquets and festivities are often organized here.
On the beach there is a well-equipped bar with 120 seats. Here I serve drinks (both alcoholic and non-alcoholic), as well as light snacks, dried fish and grilled dishes.
Beach and water activities
As already mentioned, the base "Cape of Good Hope" (Poltava, Petrovka) was built on the very bank of the river. And here they equipped a beautiful beach for relaxing and swimming. Comfortable wooden sun loungers and umbrellas are placed on the shore, but you need to pay for their use separately. After paying the fee, you will be given a comfortable soft mattress. A beautiful water slide has also been built here, which will appeal to both children and their parents.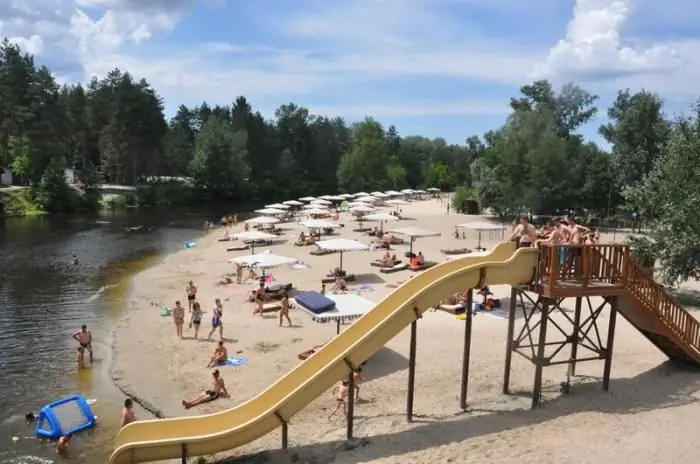 There is also a grill area next to the beach. There are 11 comfortable wooden gazebos with tables and benches. Each gazebo can accommodate up to eight people. central sectionreserved for barbecues and washstands - they can be used by guests who rented a tent. By the way, firewood can also be purchased at the box office, which is very convenient.
Also on the beach there are so-called "comfort" pavilions. These are really spacious wooden structures with soft, comfortable sofas and sun loungers. These gazebos can be booked in advance.
Sports and entertainment at the base
The base "Cape of Good Hope" was created primarily for the convenience and comfort of vacationers. And, of course, on its territory there is everything you need for an unforgettable vacation. For example, there is parking near the beach - in most cases, vacationers arrive here by their own transport.
On the territory of the base there is also a large playground with a fence for greater safety, there are slides, swings, and mazes. In short, the kids will love it. There is also a playground for adults - most often vacationers arrange volleyball or football tournaments here. By the way, the ball can be rented here, at the box office. There is even table tennis.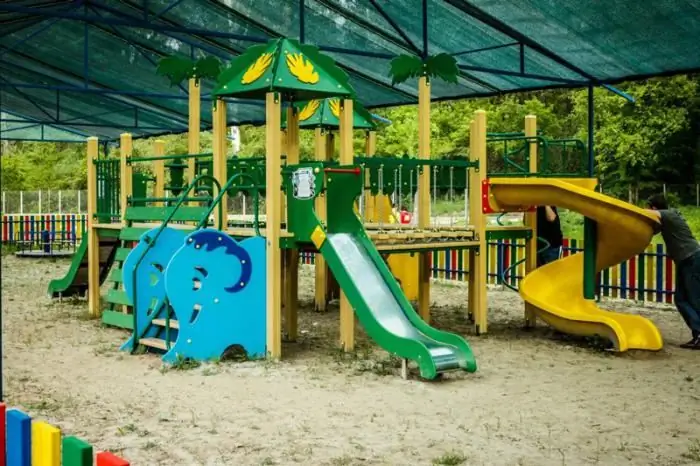 The base also offers its guests the opportunity to rent a mountain bike - there are regular walks in the surroundings and excursions for cyclists to interesting places. The recreation complex also has its own rope slope, where lovers of this sport can have fun, and beginners can try themselves.
Since the river is very close, it is no wonder that the recreation center offers a lot of water activities. For example, here you can rent a boat or kayak to swim along the river, having a lot of fun. It is also allowed to fish on the river - the fee for this is symbolic.
And, of course, do not forget about excursions to Dikanka and other interesting places, of which there are many.
Recreation center "Cape of Good Hope" (Poltava): prices for services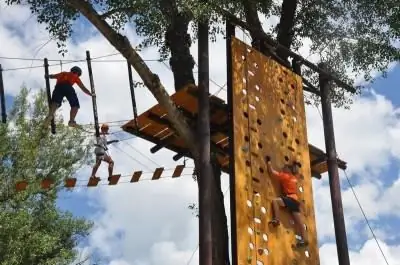 Of course, any traveler is primarily interested in the cost of living. And the recreation center "Cape of Good Hope" can please with relatively affordable prices. For example, a day of accommodation in standard rooms will cost (in equivalent) 900-1600 rubles. Multi-room cottages are more expensive. The price for a two-room suite is 3,500 rubles per day, and a three-room suite will cost 4,000. By the way, rooms can and even need to be reserved in advance.
Of course, the recreation center offers other paid services. For example, the entrance to the beach (for those who do not live on its territory) costs 70–130 rubles (more expensive with a sun lounger). And renting a gazebo, depending on its size and location, will cost 400-1500 rubles.
Reviews from tourists
It is worth noting that the reviews of tourists about the base are positive. Almost everyone likes to get out for the weekend from time to time, settling in the base "Cape of Good Hope". Poltava is an amazing place with an interesting centuries-old history, a lot of sights and beautiful nature. The living conditions are also at a decent level, as the rooms are always clean, the equipment is working,and the furniture is comfortable.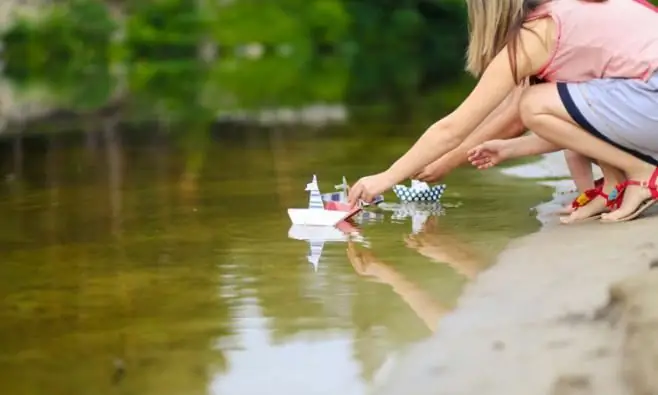 Vacationers also praise the service, as the base staff are exceptionally polite, pleasant and helpful people. And the possibility of water sports is also important for people who prefer active pastime. Rest on the territory of this base in Poltava will give you a lot of pleasure and leave only warm, pleasant memories of yourself.
Recommended: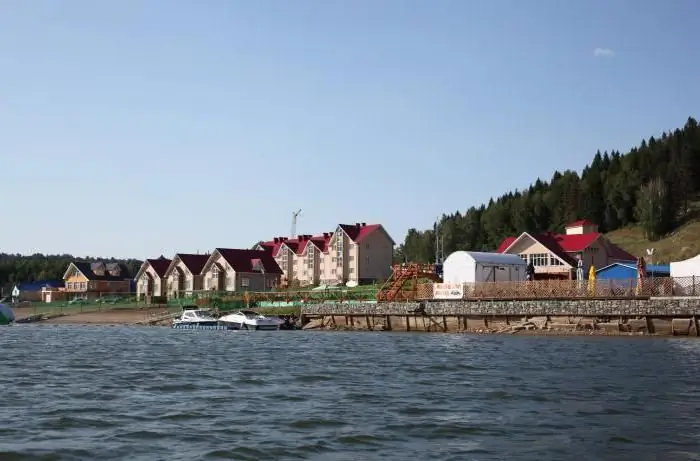 Pavlovsky Park (Ufa), open all year round, is a place where people tired of problems are fueled by energy, distracted from everyday routine and learn all the delights of relaxation. Let's take a look at all this in more detail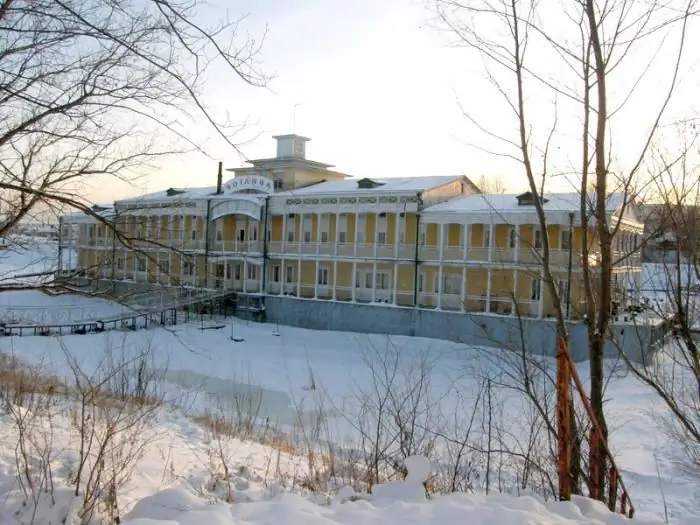 If you want to spend your vacation in a picturesque Russian corner on the banks of the Volga, pay attention to one wonderful place. It will be not only unforgettable, but also quite a budget holiday in Samara. The recreation centers of this city offer excellent service at affordable prices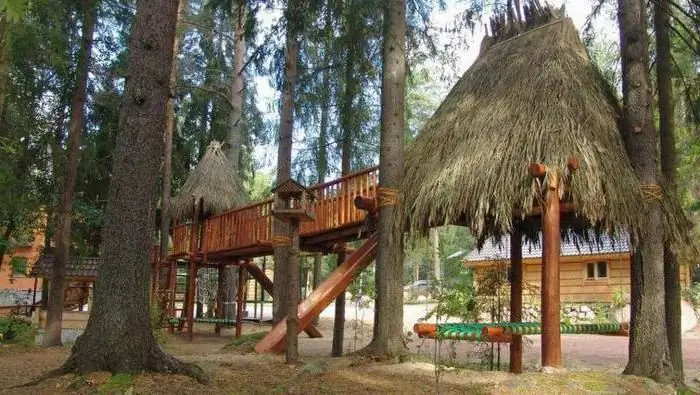 Karelian-Finnish myths tell about a fabulous forest state called Tapiola. The ruler of this country, Tapio, is a forest god with a gray beard who patronizes hunters. The recreation center "Tapiola" is called this magical toponym. Guards - the village where it is located. The surroundings of Guards are really fabulous. Lake Lesnoye is framed by picturesque rocky shores

A popular resort is located on the African continent, where almost ideal conditions are created for vacationers. Exotic Cape Town, whose sights delight everyone, has earned fame as the main tourist center of South Africa due to its unique location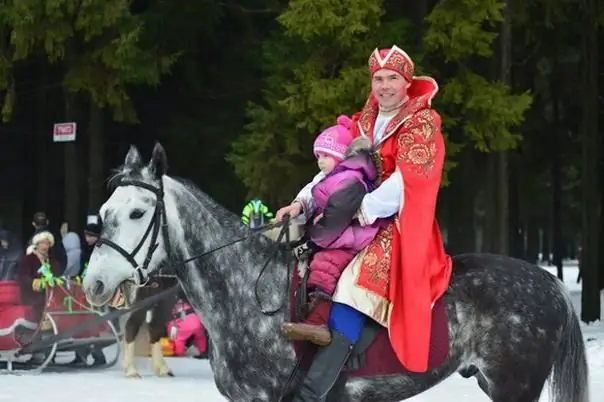 The sports and tourist complex "Poroshino" in the suburbs of Kirov offers visitors skiing, cycling, horseback riding routes, gazebos and barbecue grills. A large play complex for children allows you to leave the child there for several hours