Table of contents: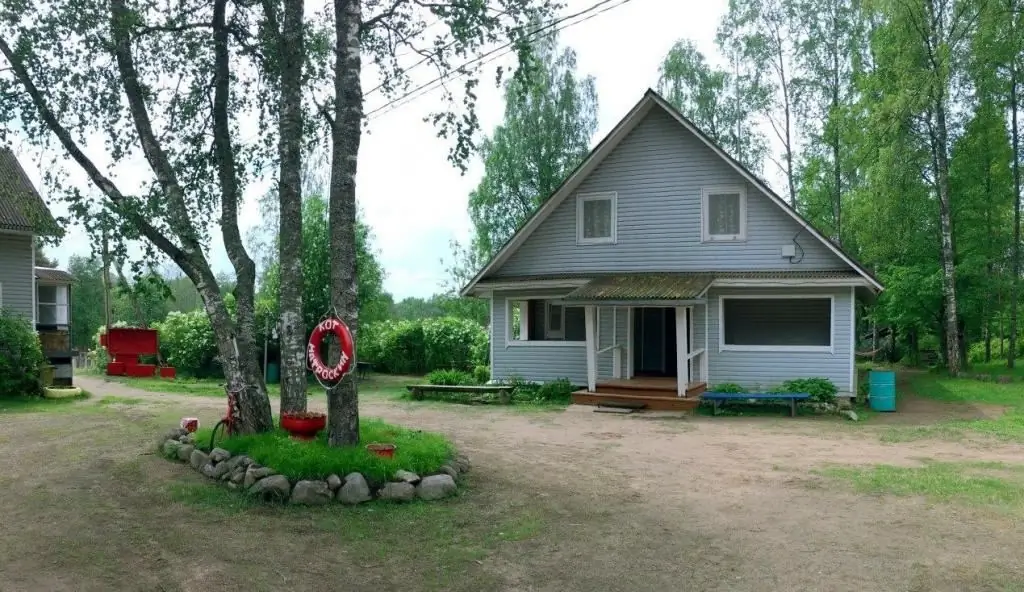 The recreation center "Kot Matroskin" in the Leningrad region is a picturesque place on the lake with comfortable cottages. Its main advantages: affordable prices, stunning nature, relatively close location from St. Petersburg. And most importantly, the place is equally good for families with children, close friends, as well as for corporate events.
Residence conditions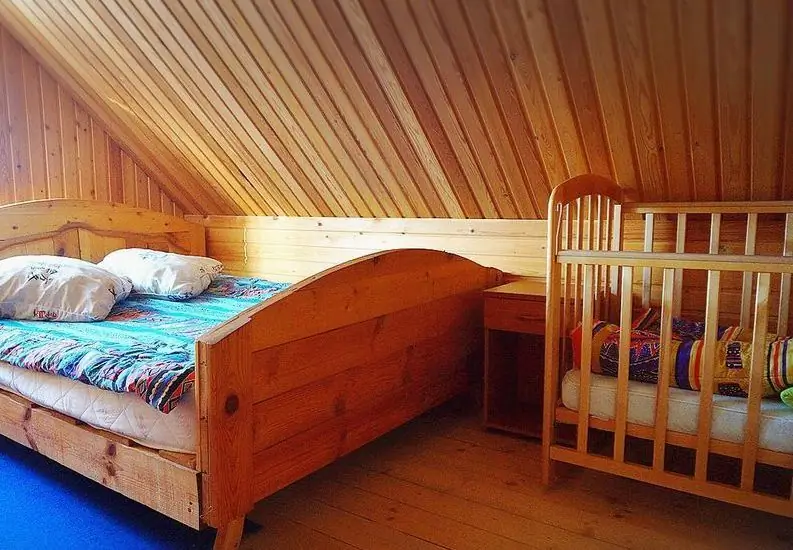 Guests of the base "Cat Matroskin" are accommodated in rest houses on the shores of a picturesque lake. One- and two-story cottages are located at a short distance from each other.
Houses of various sizes, designed for 4 to 14 guests. The total number of rooms in the recreation center is 80 people.
All cottages have bathrooms with showers, air conditioning and heating. Interior decoration - natural wood. The cozy bedrooms have single and double comfortable beds, as well as bedside tables and a wardrobe. Each house has its own spacious kitchen with necessary appliances, utensils and a large dining table. Lounge area with TV anda folding sofa is equipped, depending on the type of cottage, either on the first or on the second floor.
Meal options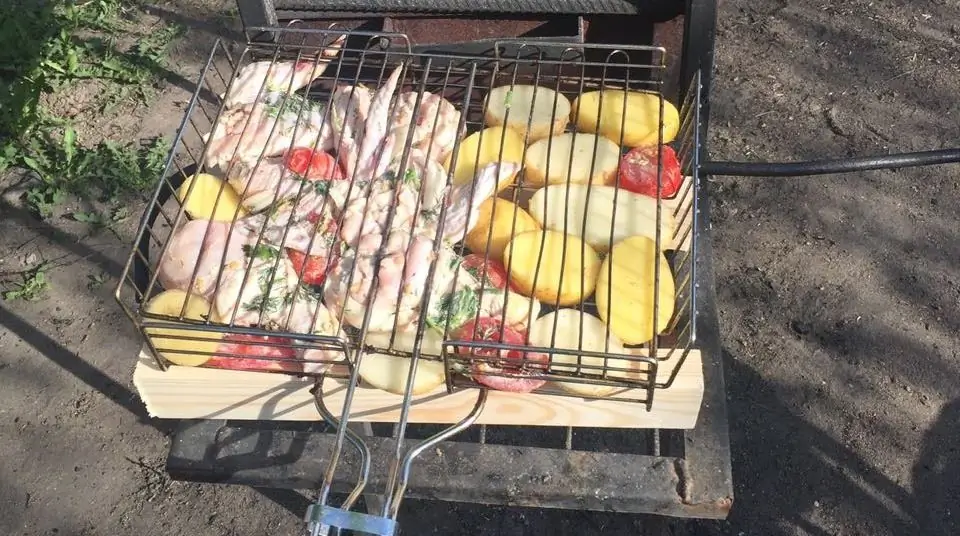 For self-catering, all cottages are equipped with kitchens, and next to the houses there are barbecue facilities. The necessary equipment for cooking barbecue and eating on a fire, if necessary, can be rented.
Also on the territory of the recreation center "Cat Matroskin" there is a cafe and a banquet hall. So you can easily order two meals a day (lunch and dinner) or organize a celebration.
Affordable Entertainment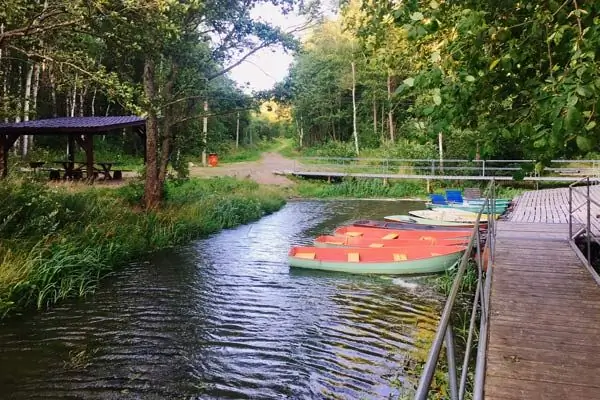 Recreation center "Cat Matroskin" is, first of all, a place for outdoor activities. Therefore, there is a rental point for winter equipment, boats and catamarans, bicycles. For large companies, laser tag, paintball, bumperball and mafia games are constantly held.
On the vast territory of the recreation center there is a football and volleyball field, tables for table tennis, darts, badminton courts.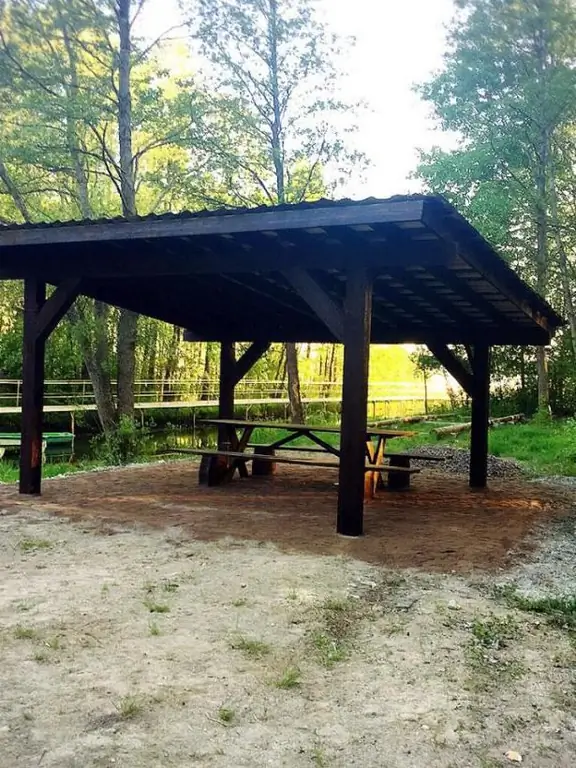 There are places for fishing on the lake for everyone. You can fish not only from the pier, but also from a boat. The lake is home to roach, ruff, perch, pike (in winter). If you do not have your own inventory, fishing rods and everything you need can be rented at the base.
Children will love the petting zoo, which operates year-round on the territory of Kota Matroskin. Here you can watch and interact withrabbits, raccoons, ferrets, squirrels, hedgehogs.
In winter, you can use the shuttle service to the Korobitsino ski resort (twenty kilometers away), and all year round - to the rental of horses and ponies.
Wishing to relax at the recreation center "Cat Matroskin" offer to visit the traditional Russian bath on birch wood. Cost - from 2500 rubles for two hours. For an additional fee, you can take brooms, sheets and other bath equipment.
Cost of a holiday outside the city
Depending on the size of the cottage, the cost of accommodation is from 3 thousand rubles on knocks on weekends and from 2100 rubles on weekdays (house for three or four).
Renting a house for a company of 14 people on weekends will cost 11,500 rubles per day, and on weekdays - 8,500 rubles.
The price includes: a set of towels and bed linen, toiletries, parking and barbecue area.
Extra beds - from 600 rubles per day. For accommodation with animals - an additional charge of 500 rubles.
Reviews about the recreation center "Cat Matroskin"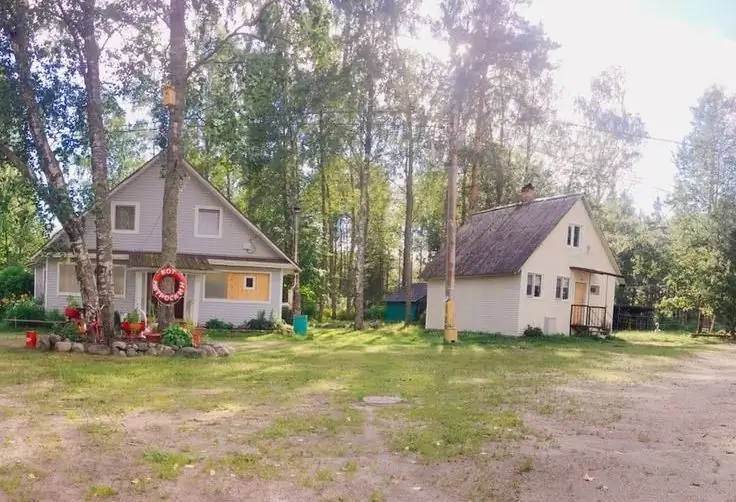 This recreation center is very popular. Moreover, there are enough people who want to relax here not only on weekends, but also on weekdays. If we analyze all the reviews of the guests of Kota Matroskin, we can highlight the following points that attract people so much:
A huge area surrounded by a mixed forest of spruce and birch on one side and a lake on the other.
The opportunity to organize a corporate holiday,seminars, trainings and also family celebrations (weddings, birthdays, children's parties and so on).
Spacious cottages with everything you need for a comfortable stay.
Clean houses, fresh linens and towels.
Large green area.
Friendly staff.
Various leisure options.
Playgrounds for children, petting zoo.
Provided on the territory of the recreation center benches, trash cans, the presence of a public toilet, so that if necessary, you do not have to run to the house.
Forest where you can walk and pick fragrant berries, mushrooms.
Possibility of accommodation with pets. Enclosures are provided for large dogs.
Good location of the cottages, thanks to which the neighbors are practically invisible and inaudible.
Affordable prices. Discounts for accommodation on weekdays, so you can organize a small vacation close to home.
Children under 6 stay free.
Location of the country base
The recreation center "Cat Matroskin" is located in the Leningrad region, in the Vyborg district, in the village of Krasnoselsky.
To get here by car, you need:
Drive along the 3SD highway towards Vyborg or along the Vyborg highway.
At the VTK gas station, turn onto the old Vyborg highway.
Guide along the road to the village of Krasnoselskoye.
Drive to the bus stop and turn at the corresponding sign towards Pravdino.
Drive twokilometers along the forest road to the banner with the entrance to the territory of the recreation center.
Public transport is not very convenient. By train you need to go from the Finlyandsky railway station to the Kirillovskoye railway station, and by minibus number 675 - from the Parnas metro station. You will have to get further to the recreation center itself either by taxi or by ordering a transfer.
Recommended: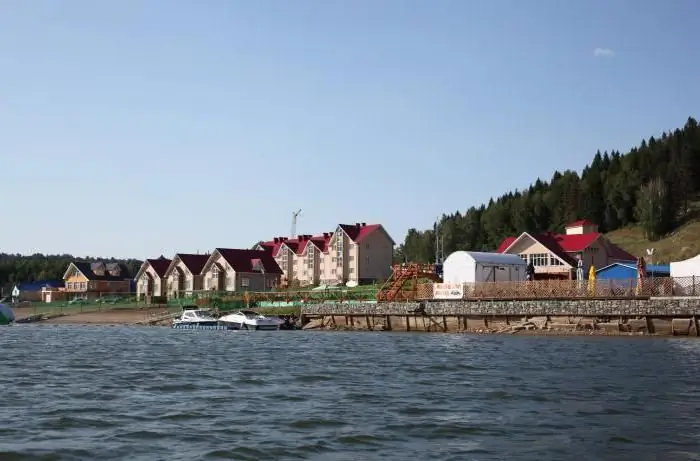 Pavlovsky Park (Ufa), open all year round, is a place where people tired of problems are fueled by energy, distracted from everyday routine and learn all the delights of relaxation. Let's take a look at all this in more detail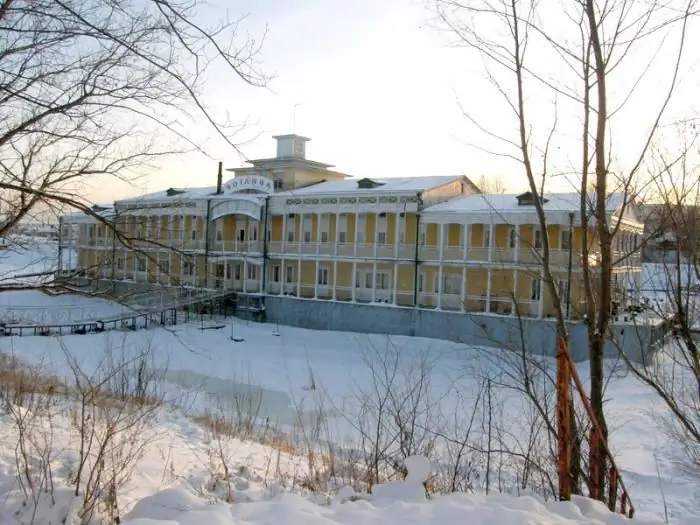 If you want to spend your vacation in a picturesque Russian corner on the banks of the Volga, pay attention to one wonderful place. It will be not only unforgettable, but also quite a budget holiday in Samara. The recreation centers of this city offer excellent service at affordable prices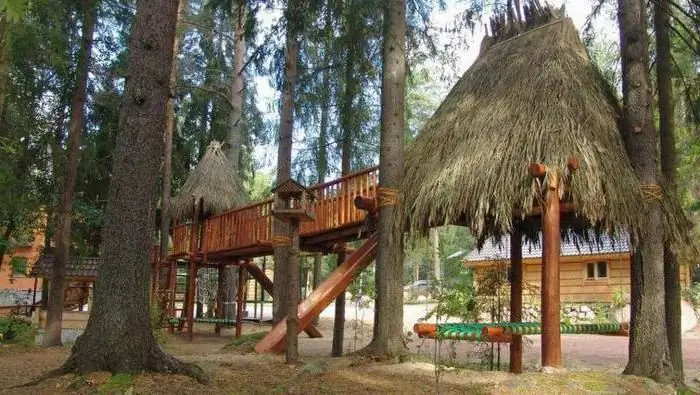 Karelian-Finnish myths tell about a fabulous forest state called Tapiola. The ruler of this country, Tapio, is a forest god with a gray beard who patronizes hunters. The recreation center "Tapiola" is called this magical toponym. Guards - the village where it is located. The surroundings of Guards are really fabulous. Lake Lesnoye is framed by picturesque rocky shores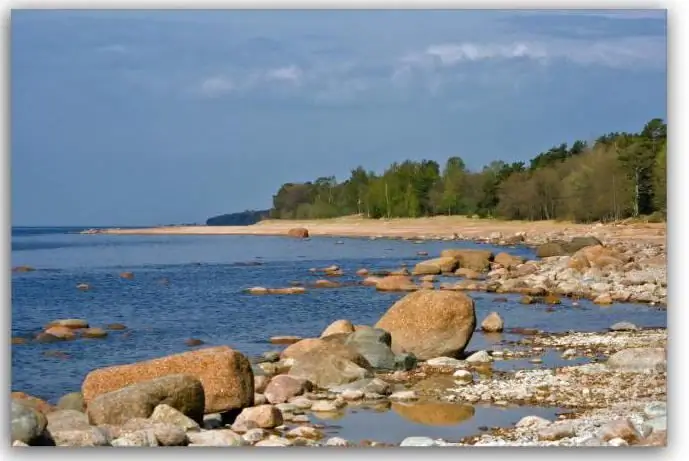 Despite the greatness and beauty of St. Petersburg, its residents at least sometimes want to relax outside the city, surrounded by nature, enjoying the summer sun and magnificent landscapes. Fortunately, in the Leningrad region there are a huge number of places for the realization of this desire, and one of the most famous among them is the recreation center "Pikhtovoye", located in the Vyborgsky district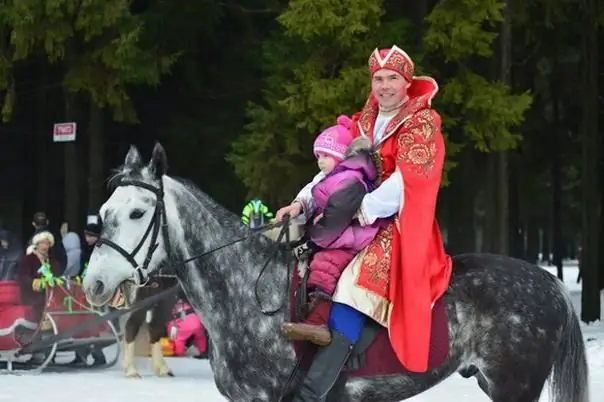 The sports and tourist complex "Poroshino" in the suburbs of Kirov offers visitors skiing, cycling, horseback riding routes, gazebos and barbecue grills. A large play complex for children allows you to leave the child there for several hours