Table of contents: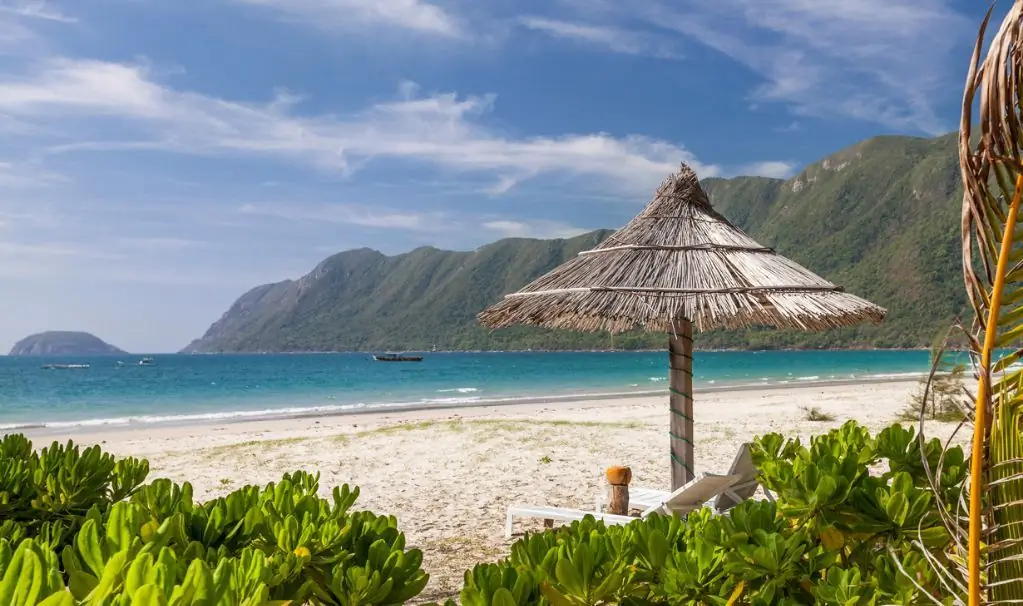 Have you ever heard of Con Dao Island in Vietnam? This is an amazingly beautiful and cozy place where you can spend an unforgettable week or two, relaxing or doing a variety of exotic entertainments, of which there are many. And at the same time you can see local sights with your own eyes. In a word, having been here once, you will never forget these days!
Geographic location
The island of Con Dao (Vietnam) is located almost a hundred kilometers from the coast of the country, in the South China Sea. Although this name has been assigned to it, Con Dao is actually a small archipelago consisting of sixteen islands.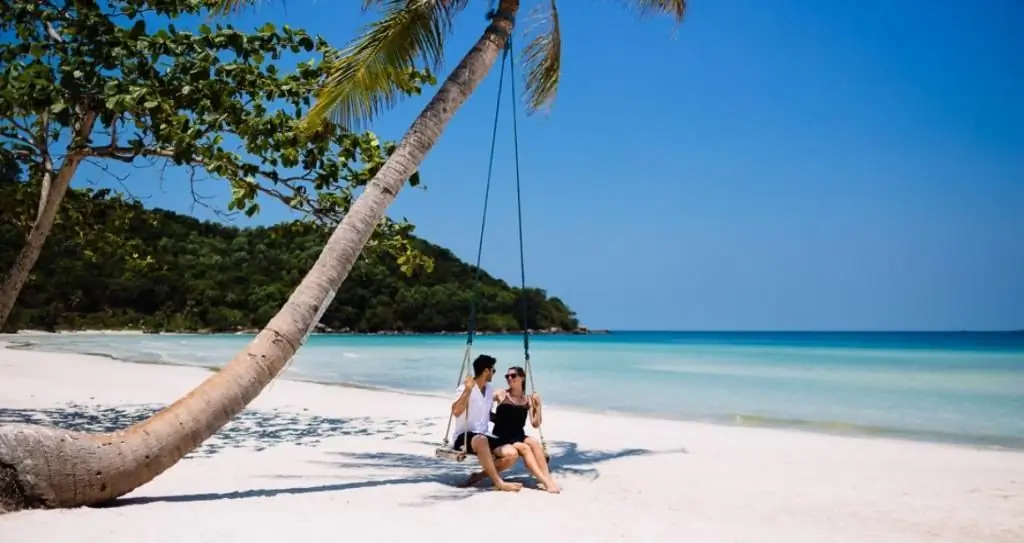 Their total area is about 76 square kilometers. Moreover, most of them (51 square kilometers) fall on the largest of the islands - Con Son. Once it was a prison island, but today it is one of the most popular resorts in Vietnam. Usually, when tourists say that they rested on Con Dao, they mean Kon Son.
Climate
Due to its location Con Dao pleases touristsgreat warm climate all year round. The temperature changes very little throughout the year. True, in winter the amount of precipitation is sharply reduced, but in summer the probability of spending the entire vacation in a hotel, escaping from torrential tropical rain, is quite high. Tourists should take this into account when planning their vacation.
In general, the dry season lasts almost half a year - from December to April. It is at this time of the year that the largest influx of tourists is observed. Precipitation is almost non-existent, and the temperature is not too high - suitable for swimming, but you still don't have to suffer because of the sweltering heat. However, in November you can also visit this island - the rains here do not come too often and usually last only a few hours.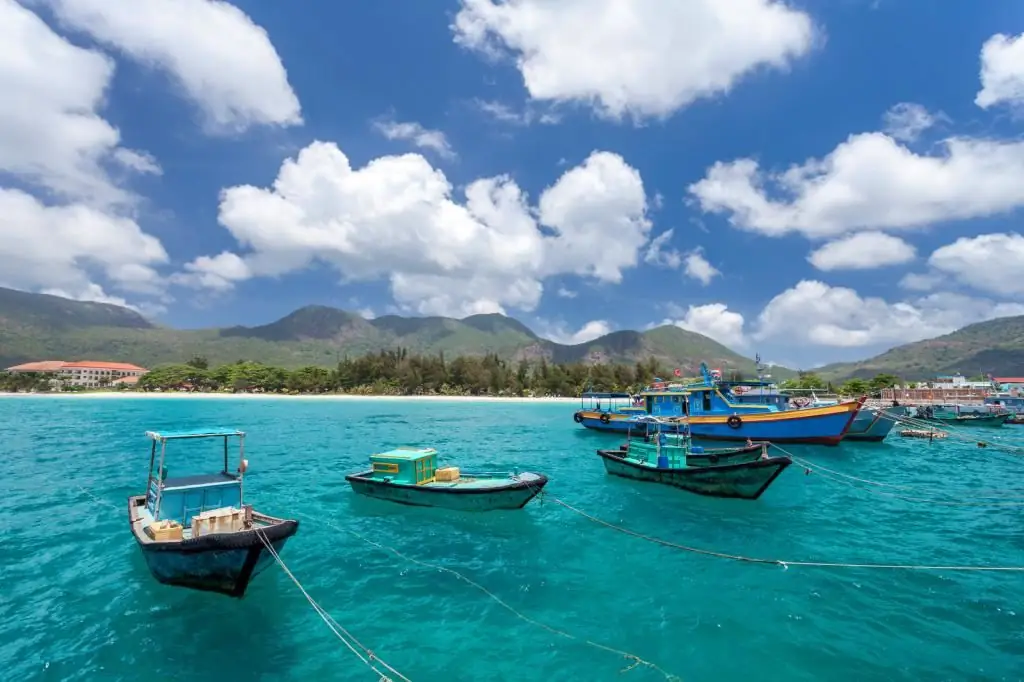 However, some tourists do not come here at all to swim and sunbathe. For example, have you ever dreamed of seeing thousands of turtles crawling ashore, rushing to lay their eggs in the sand wet from the tide? Then it is best to visit here from May to October. But for diving, it is advisable to come here from February to July - during these months the waters of the South China Sea are surprisingly transparent. At a depth of 20-30 meters, you can easily see any little thing.
How to get here?
Many tourists have a question, how to get to Con Dao in Vietnam? This can be done in two ways. The fastest is by plane. Con Shao has an airport with regular flights from Kanto, Hanoi and Ho Chi Minh City. Moreover, there are several flights a day from Ho Chi Minh City. And the cost of the flight is justfunny - about 35 dollars (or 750 thousand dong - Vietnamese currency). Planes fly from Kanto and Hanoi 3-4 times a week, depending on the season and the influx of tourists.
From the airport to any hotel you can take a taxi for a fairly small fee - about $ 3.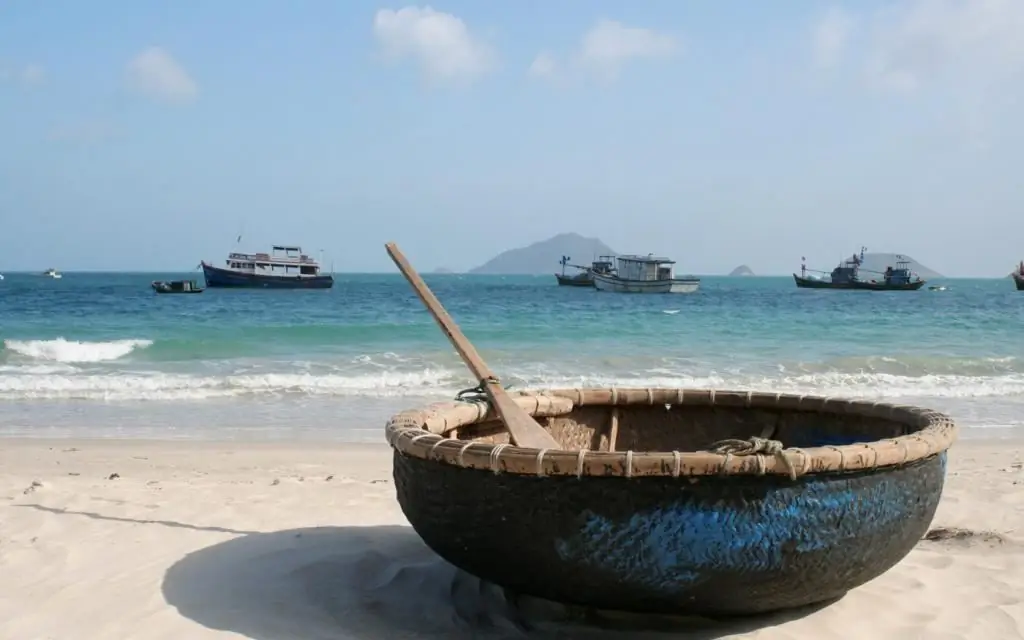 But if you want to immerse yourself in the atmosphere of Vietnam, it is better to take a ferry instead of an airplane. It leaves Vung Tau daily and goes for 12 hours. Yes, quite a long time. But such a voyage will give unforgettable memories to you and your loved ones. Yes, and it is quite inexpensive - about 10 dollars. And you can get to Vung Tau from Ho Chi Minh City, there are usually no problems here.
Hotels in Con Dao
Of course, not the last question that worries tourists is a place where you can stay for a few days. Fortunately, hotels on Con Dao in Vietnam are quite inexpensive, so you won't have to pay astronomical amounts for a modest room.
However, the rooms here are really modest - one cannot hope for a chic reception. And it is advisable to book even such rooms with a good margin (three to four weeks, or better, a couple of months) or buy ready-made tours from serious travel agencies so as not to be left homeless. Still, there are not too many hotels here, and affordable prices attract a large number of tourists. But today there is an active development - soon several large hotels will appear on the island. Most likely, after their commissioning, the situation with the lack of places will change dramatically.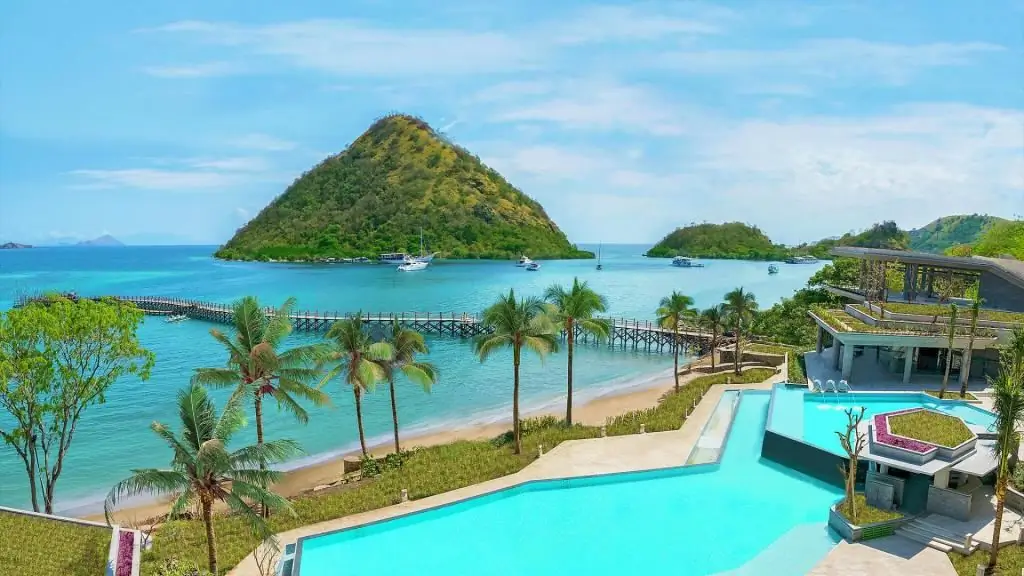 Well, today, even if you can't rent a room, you can spend the night in a tent, at a campsite. Although this is not free, but for a modest fee.
Attractions
In general, there are not many attractions on the island. One of the most interesting is the old prison. For tourists, they even play theatrical performances, showing the conditions in which people were kept who broke the law or were guilty of something before those in power. The conditions are really inhuman - few people survived here for a long time. Take at least one of the most commonly used punishments. People were put into shallow holes dug in the ground, and covered with a sheet of iron on top. In the sun, it quickly heated up, turning the pit into a real branch of hell.
There are also many interesting buildings built by the French on the island - once this island was their colony. Some of them were built at the end of the nineteenth century - you should definitely take a look at them, since you decide to visit Con Dao Island in Vietnam, the photo of which is attached to the article.
This is where the list of attractions ends. However, do not be afraid that you will get bored - there is enough entertainment here.
Beaches
Of course, one of the reasons why Con Dao Island in Vietnam gets such great reviews from tourists is the gorgeous beaches.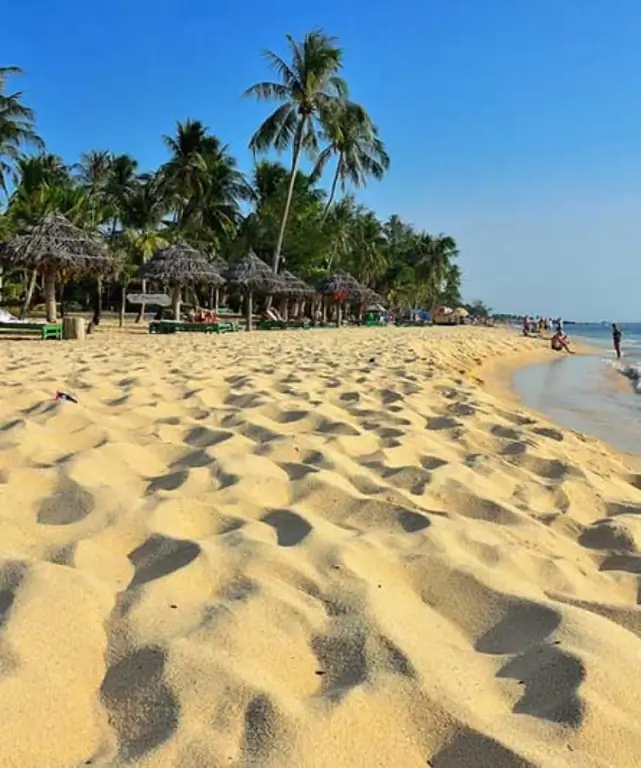 Despite the small size of Con Dao, the number of beaches here is impressive - about twenty pieces. Well, the most popular of them is Ong Dung - primarily because of the whitesand. By the way, it is here that turtles come out in the season to lay their eggs in the damp, sun-warmed sand. And after some time, tiny turtles hatch from them, hurrying back into the water with all their might. Local authorities are closely monitoring that tourists who decide to admire this spectacle observe silence, and also do not consume alcohol and tobacco.
The beaches are quite clean - their condition is closely monitored not only by government officials, but also by hotel owners, so as not to scare off picky tourists. So you can enjoy warm water and hot, clean sand.
What to do here?
Many tourists come here for the turtles. Someone - solely because of affordable prices and delicious unusual food. Some like the clear sea and gorgeous beaches. But the list of benefits doesn't end there.
Also worth noting is the chic wildlife. Almost two-thirds of the largest island is occupied by a national park, where a piece of wild, unspoiled nature is preserved. Of course, it is advisable to visit it only with a guide. It's fun and safer.
Another reason to visit the island is diving. As mentioned above, in some seasons, visibility in the water reaches 20-30 meters. So you can fully enjoy the underwater beauty. Yes, and there will be no problems with finding equipment - there are quite a few small companies that rent out everything you need. They are suitable for both experienced divers and beginners. You can always get detailed advice from experts who will tell you about all the subtletiesscuba handling. Well, for those who prefer to dive without scuba gear, but only with a mask and snorkel, snorkeling awaits. Swim among underwater beauties, chase colorful tropical fish, admire long algae - you will definitely not forget all this!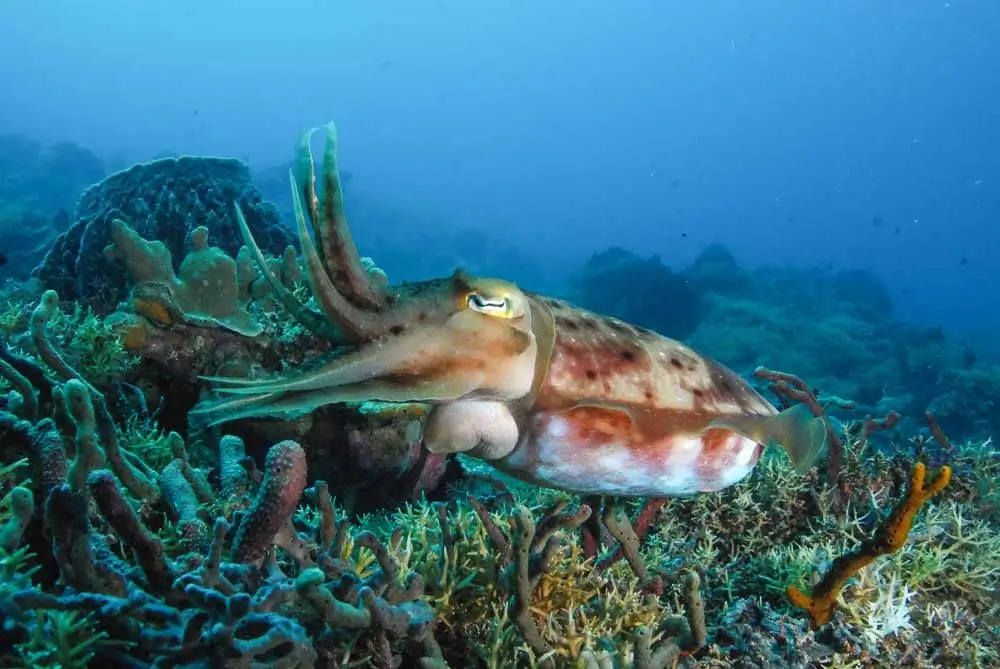 Fishing lovers won't get bored either. According to locals, the choice of marine life here is greater than anywhere else. Indeed, experienced fishermen say that with luck, it is quite possible to catch a shark here. And not far from Nyat beach there are large squids. Want more extreme? You can hunt a sea cow or a dugong. But before that, you need to get permission so as not to go to the local prison for poaching. And do not forget - this is a rather dangerous animal, quite capable of fending for itself.
Reviews from tourists
Most people who visit the amazing island of Con Dao are satisfied with the time spent. Many note affordable prices, good service and delicious food. Indeed, the cuisine here largely consists of seafood, so if you like to eat squid, shrimps and fish, then a visit to the island will be a good decision. Tourists also note clean beaches with golden and white sand, as well as warm water. The service is top notch - hotel employees are ready to do everything to make visitors like them and visit their establishment again.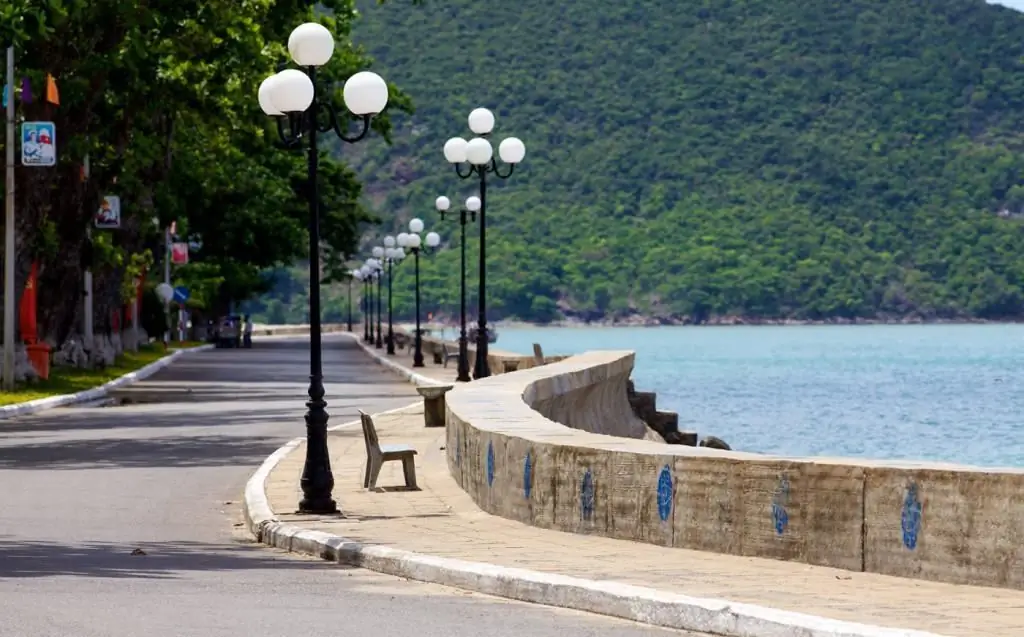 Cons usually come down to bad weather. However, here tourists are usually to blame themselves, choosing the wrong time forvisit to the sunny island. Sometimes there are reports of poisonings. But most often this happens not because of stale products - it's just that the food is very specific, not every person can get used to it. By the way, everyone should take this into account so that the long-awaited vacation is not hopelessly ruined.
Conclusion
This concludes our article about the amazing island of Con Dao. We hope that you have learned enough from it to be interested in this piece of paradise with untouched nature. Perhaps one day you will have the desire and opportunity to visit it.
Recommended: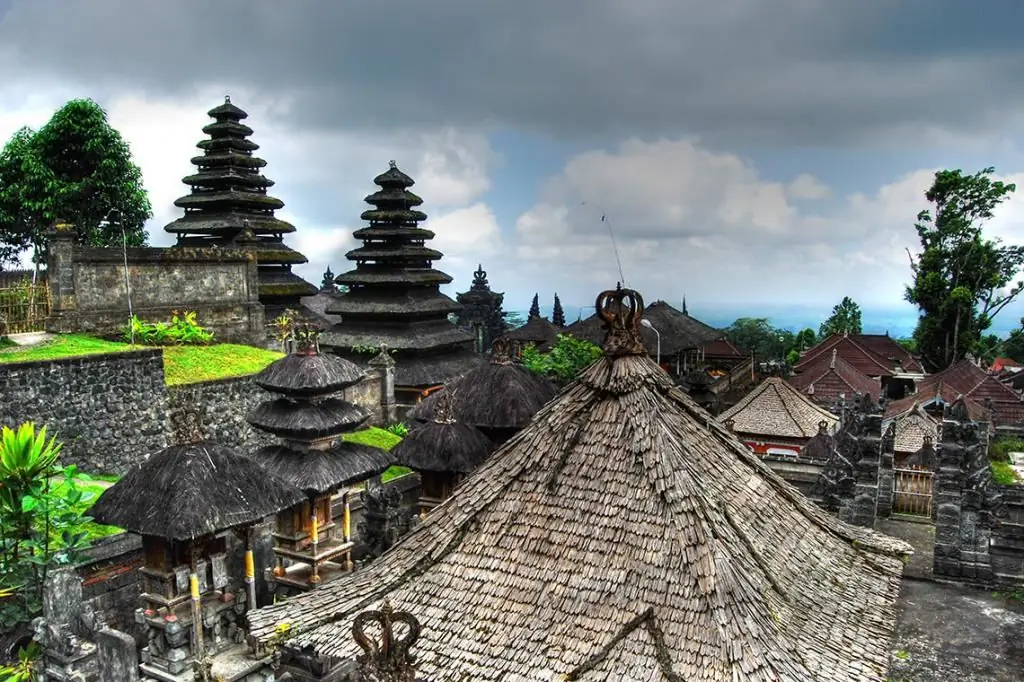 Indonesia is a Muslim country. But if on other islands tourists see only mosques with minarets, then in Bali - a stronghold of Hinduism in an Islamic state - they are met by a variety of temples. There are a million gods in the pantheon of this religion. This means that there should be no less temples dedicated to them. These sanctuaries vary from majestic huge religious complexes to small altars in the courtyard of the house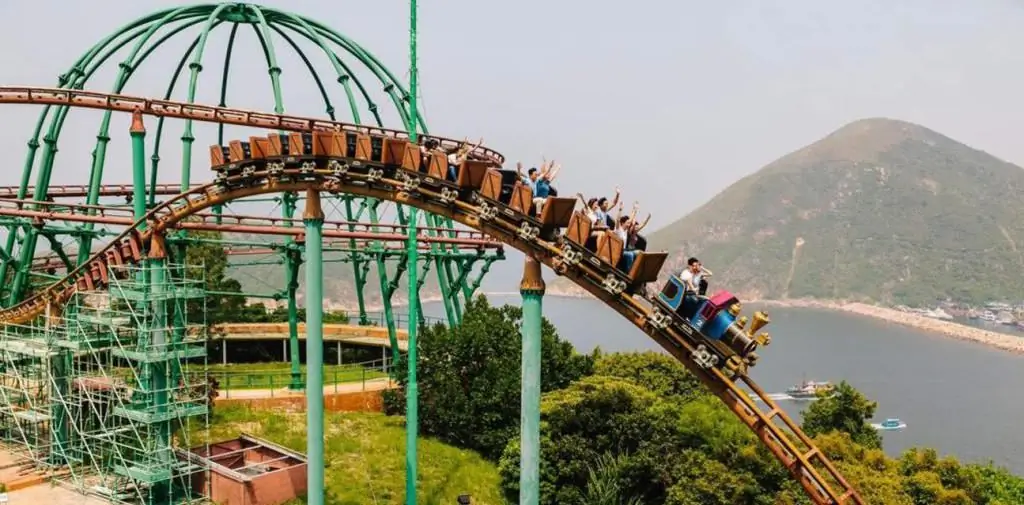 If you are planning a trip to Hong Kong, then you will certainly be interested in local attractions and entertainment. Among the latter, the most interesting is Ocean Park in Hong Kong, which is one of the two largest entertainment complexes in the city. There is simply no better place for a family holiday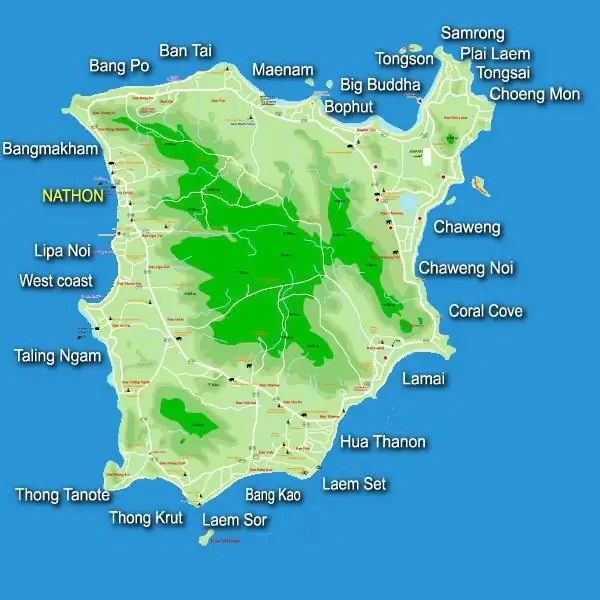 Are you going to go on vacation to Thailand, namely to visit Koh Samui? Then this article is for you. It will consider the most popular beaches of Koh Samui. But first, a little about the island itself

If you make a short tour of the resort towns of Greece and Spain, then the best reviews are about those located on the islands of these states. In Greece, there are three whales of an island holiday - Crete, Rhodes and Corfu. In Spain, these are the Canary Islands, located 1,200 kilometers from the mainland and surrounded by the Atlantic Ocean. The article provides information about the best holiday destinations and amazing beaches in the resorts of the islands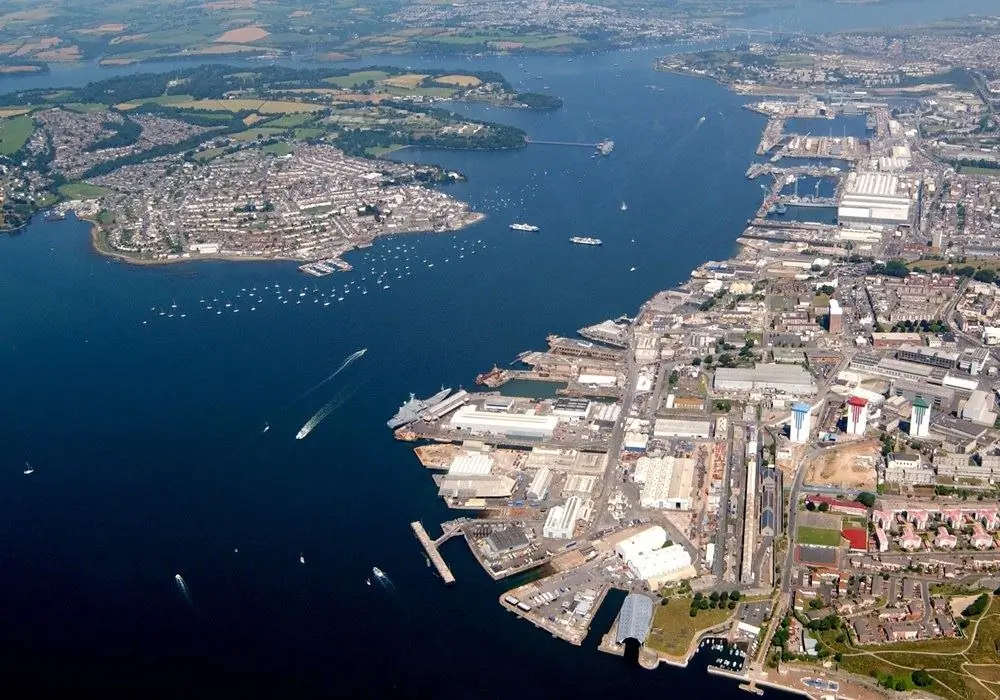 Plymouth is a city in England located on the south coast of Devon. This is the largest settlement in the south-west of the country, famous for its traditions of navigation and fishing. Mild climate, comfortable bay for yachts, ancient architecture attract thousands of tourists here