Table of contents: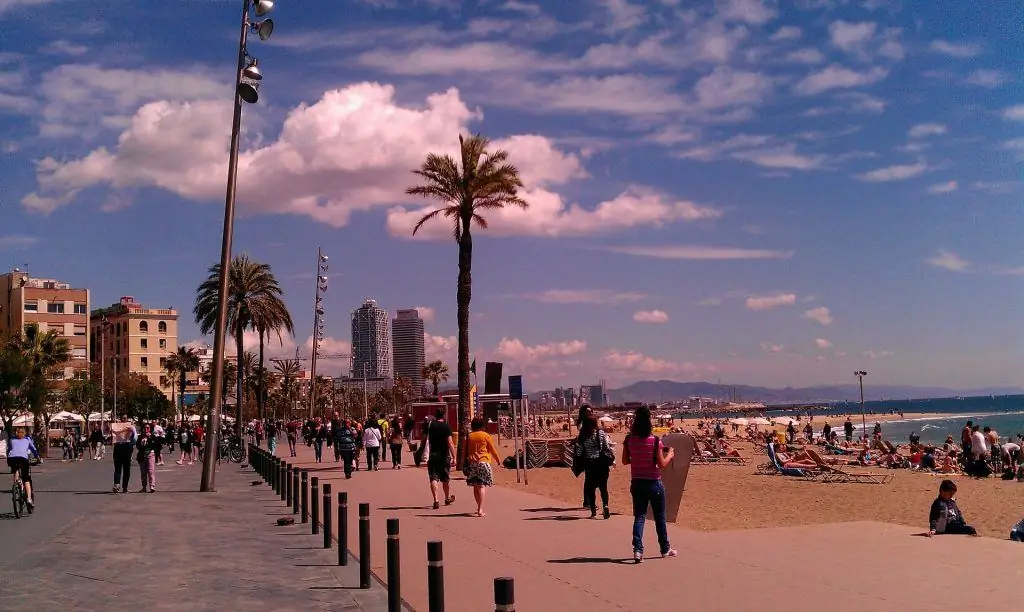 Barcelona knows no end of visitors. The capital of Catalonia welcomes guests around the clock 365 days a year. With a population of one and a half million inhabitants, more than 30 million tourists visit this city every year. Every traveler finds a place to stop and rest in hotels in any of the ten districts of Barcelona.
Old City
This is the most attractive area of Barcelona, consisting of four parts:
Gothic Quarter. Situated between Via Laetana and La Rambla. It got its name from buildings that have survived from the Middle Ages (approximately XIV-XV). Narrow crooked streets, mostly pedestrian, keep their secrets and legends. Walking between the buildings, on the way you can meet the Cathedral of the Holy Cross and Saint Eulalia, the Royal Palace, the Four Cats art cabaret, where Pablo Picasso and Gonzalez ate.
Barceloneta. A picturesque area with many seafood restaurants and beach hotels in Barcelona stretches along the coast between the port and the Olympic Village.
The neighborhood of La Ribera, Sant Pere and Santa Caterina. Herethere is the French Station, the temple of Santa Maria del Mar, the old market, Ciutadella Park, the Barcelona Zoo.
El Raval. The unofficial name is "Chinatown", received for the Chinese diaspora, who have chosen this place along with people from other countries.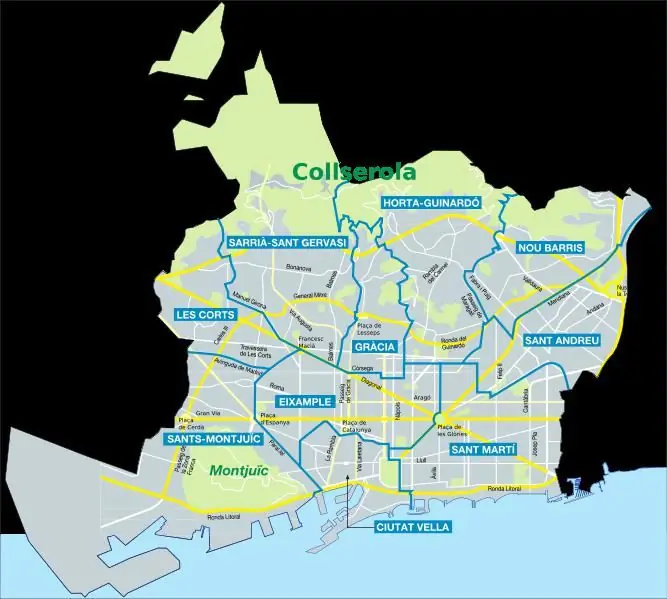 The Old City area attracts with the spirit of history that permeates the air and the walls of buildings. Tourists are happy to accommodate in this part, there are enough offers from apartments and hotels in Barcelona.
Olivia Plaza Hotel
50 meters from La Rambla, overlooking Plaça Catalunya and the Church of Santa Ana, is the Hotel Olivia Plaza. Guests are offered comfortable rooms, clean and quiet. The bathroom has a complete set of accessories - from a toothbrush to bathrobes and slippers. Friendly staff will make everyone feel welcome for only 22 thousand rubles a day.
Deco Apartments – Born
The apartment is decorated by a tasteful designer who created a cozy space with an original combination of wood and stone. The kitchen has a refrigerator, coffee maker, microwave, dishes. At night, the terrace offers a wonderful view of the city and the starry sky. A couple of minutes walk from Ciutadella Park and metro station, zoo and aquarium. Cost - from 23,000 rubles per day.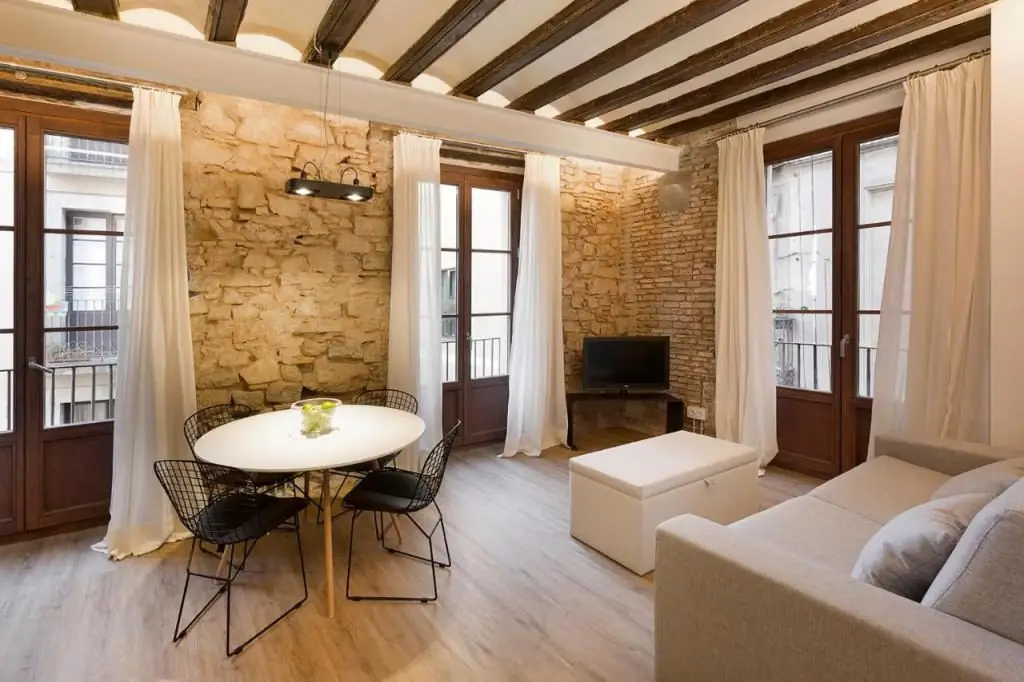 Eixample
This is the center of the city and its largest quarter. The streets of Eixample, converging, form squares in the form of octagons. Here are concentrated the mostthe famous buildings of Barcelona are the creations of the great Gaudi: the Sagrada Familia, the houses of Batllo, Calvet, Vicens, as well as the hospital of the Holy Cross and St. Paul, the Barcelona Aquarium. Eixample is home to the main hotels in Barcelona, which are most often reviewed by travelers on information resources.
Sixtytwo Hotel is a 19th century hotel located next to Paseo de Gracia Station. 45 spacious rooms will comfortably accommodate weary travelers and offer a welcome bottle of wine and cheese, delicious breakfasts, wonderful views. Cost - from 25,000 rubles per day.
Almanac Barcelona is a boutique hotel for 65,000 rubles per night, which is a pleasure to stay. It offers clean, soundproofed rooms with a minibar and a seating area. Bathroom with marble sinks. Wellness center with sauna, fitness room, swimming pool.
The Ramblas Hotel in Barcelona is located on the famous Las Ramblas. Here the traveler will be accommodated in an air-conditioned room with a terrace. Will offer to use a mini-bar, safe, satellite TV, toiletries. Guests noted delicious breakfasts, cleanliness, beautiful views. Nice price - from 7 thousand rubles per day for a double room.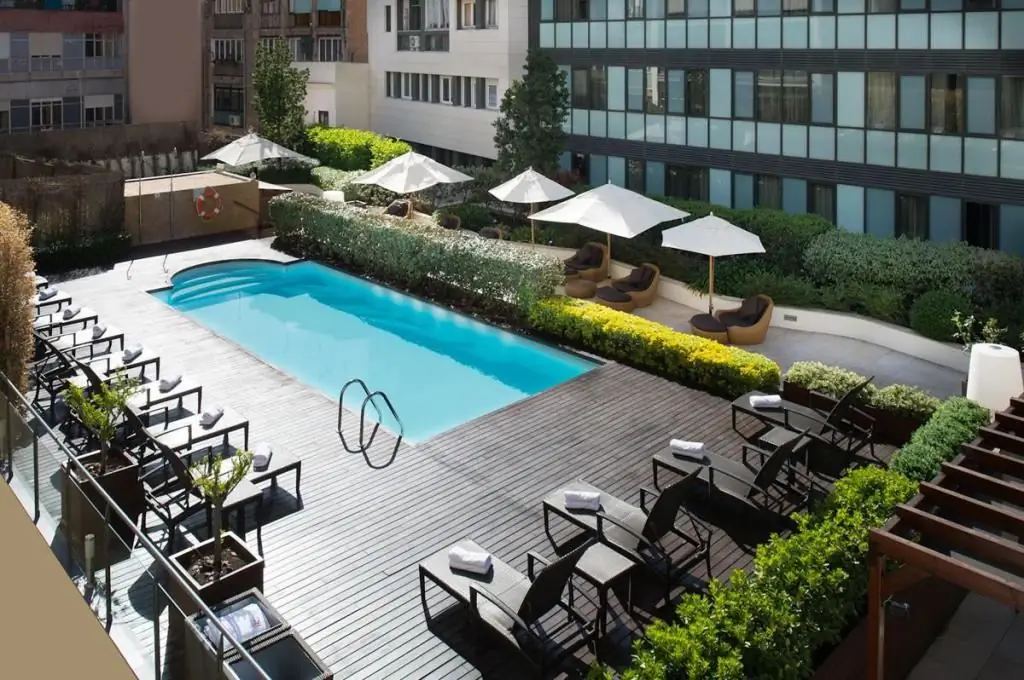 Apartments Sixtyfour is a stylish apartment in front of Casa Batllo on Paseo de Gracia Boulevard. The kitchen has everything you need, including a dishwasher and cutlery. Originally decorated breakfast is served in the room. Grocery stores, metro station,cafes, interesting places - everything is within walking distance. Cost - from 24,000 rubles per day.
Gracia
A bright and lively area in the northern part of the Eixample, often hosting exhibitions, concerts and other events. In August, the Fiesta Mayor festival is held here, which annually attracts thousands of tourists. Another creation of Gaudi is located in this place - Park Güell with its fantastic buildings.
Barcelona's top-rated Gracia hotels according to guest reviews:
Hotel Casa Fuster G. L Monumento. Housed in the Fuster House, an architectural monument included in the UNESCO list. From a family room to a honeymoon suite, the hotel caters to all types of travellers. Among the hotels in Barcelona in the reviews, guests especially highlight the Hotel Casa Fuster G. L Monumento due to its design, location, service, beautiful views from the windows, a rooftop bar and a pleasant atmosphere. Cost - from 15,000 rubles per day per room.
Casagrand Luxury Suites. The Art Nouveau apart-hotel relies on service and comfort: professional staff, room equipment, a range of services and cleanliness of the premises - everything is at the highest level. From 34,000 rubles per day.
Sants-Montjuic
This area rises above the city at a height of 173 meters with a fortress at the top. On the mountain there is an observation platform, a children's amusement park, a botanical garden. A great choice if you prioritize architecture and delicious food. There is also an open museum Spanish Village with copies of buildings from different regions of the country. Housing forHolidays in Sants Montjuic are as popular as Barcelona hotels in the city center.
Catalonia Barcelona Plaza
The highlight of the hotel is the panoramic view and the rooftop pool. The restaurant serves a variety of buffet meals in the morning. Large air-conditioned rooms with satellite TV, free Wi-Fi access. There is a fitness room, a beauty salon. Cost - from 19 thousand rubles per day for a double room.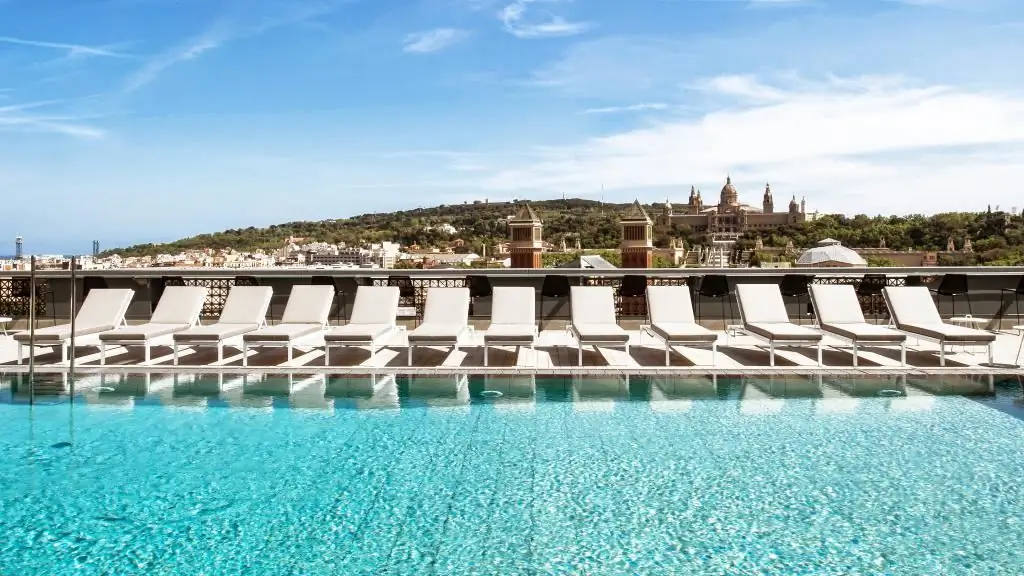 Crown Plaza Barcelona Fira Center
Not far from the Magic Fountain is the Crown Plaza Barcelona Fira Center, which offers bright and comfortable rooms, relaxing by the pool with a dining area on the roof of the hotel. The Museum of Contemporary Art, the Joan Miro Foundation, is just a couple of minutes' walk away. From 26 thousand rubles per room per night.
Aparthotal BCN Montjuic
Designer aparthotel close to Las Arenas shopping center and the Olympic Stadium. There is a sun terrace and an outdoor pool. The seating area has a seating area with a TV. The kitchen is equipped with a stove, microwave and washing machine. The cost will be from 10,000 rubles per room per night.
Les Corts
Includes Les Corts, Maternitat y San Ramon and Pedralbes. In this district there are cozy restaurants, squares and shopping pavilions. Maternitat i San Ramon is also known in Europe for the Camp Nou stadium. Pedralbes is the concentration of schools in Britain, USA, France.
Barcelona hotels in Les Corts will not disappoint the seasoned traveler:
NH Collection Barcelona Constanza. The hotel offers accommodation in modern rooms with comfortable wide beds, coffee machines, and a rain shower in the bathroom. On the roof of the hotel there is a terrace, swimming pool, spa. Guests note the quality and variety of the buffet. Price - from 15 thousand rubles per day with breakfast.
AC Hotel Diagonal L`illa, a Marriott Lifestyle Hotel. AC Hotel Diagonal L`illa deserved high praise from visitors for excellent service, staff assistance, and convenient location. The guests appreciated the spacious rooms, excellent quality bed linen, restaurant dishes from professional chefs. It is located one and a half kilometers from Camp Nou. From 16,000 rubles per room per night.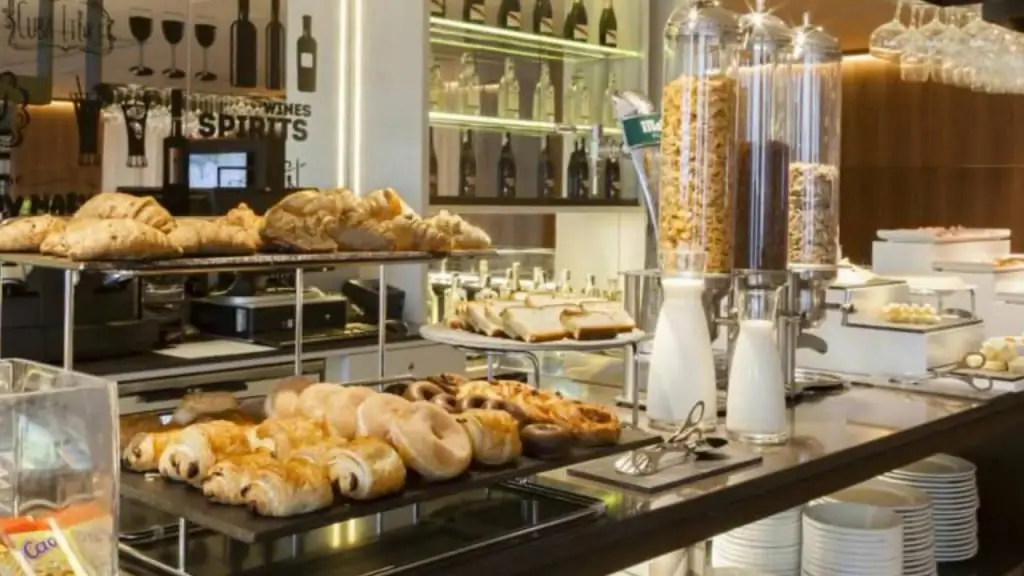 Catalonia Rigoletto. Cozy and quiet rooms will accommodate football fans and sightseeing lovers in comfort - a convenient location suitable for everyone. All rooms have a safe, a comfortable wardrobe, a mini-bar, a coffee machine. Varied breakfasts, delicious pastries. The cost of the room is from 14,000 rubles per day
Sarria-Sant Gervasi
This is the most respectable part of Barcelona, where celebrities and millionaires live. In the northern part is Mount Tibidabo, the top of which can be conquered using the popular Blue Tram route - the Tibidabo funicular. On the slope there is Tibidabo park with attractions, the temple of the Sacred Heart. This place is home to the CosmoCaixa interactive museum, international schools and many restaurants.
The best hotels in Barcelona in Sarrià-Sant Gervasi,according to the recommendations of travelers, are represented by the following options:
Gran Hotel La Florida is an atmospheric five-star hotel with superb panoramic views of Barcelona and the Mediterranean Sea. The unique building built in 1925 is included in the list of architectural monuments. It features outdoor and indoor pools, a spa, hot tub, sauna and exercise equipment. Free shuttles run to the city center three times a day. Cost - from 15 thousand rubles for a double room per day.
Belleview Villa. Villa Belleview is located one and a half kilometers from Mount Tibidao, which offers a beautiful view from the windows. The villa has everything you need to receive and accommodate travelers: an equipped kitchen, an outdoor pool, a hot tub, barbecue facilities. From 20 thousand rubles per day.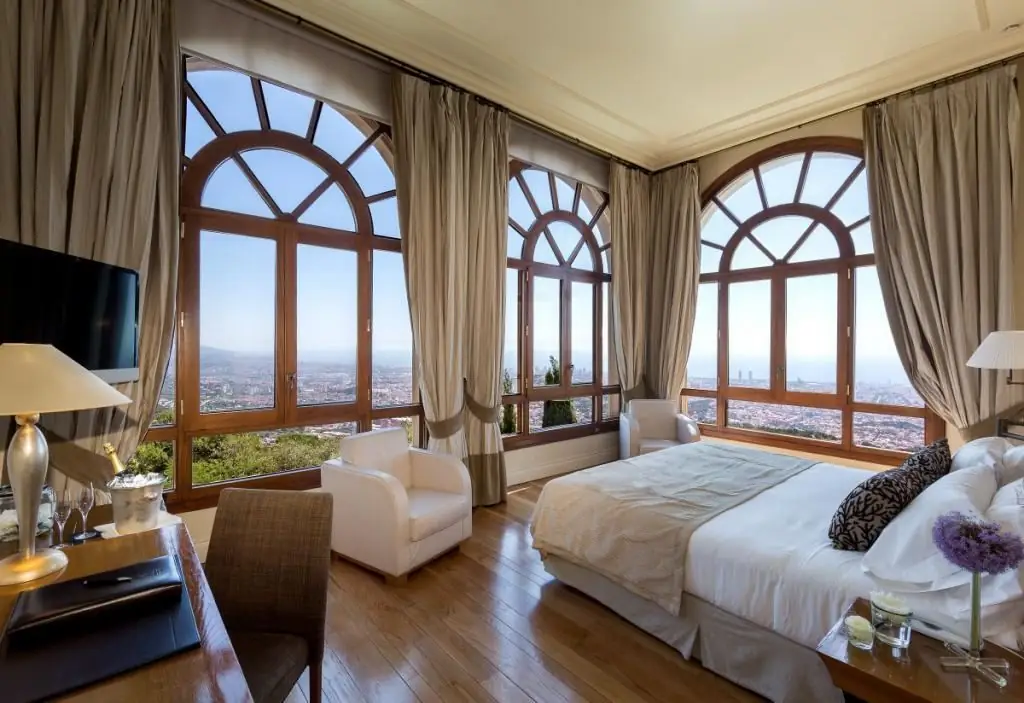 Tibidabo Apartments. Located in the Sierra de Collserona, the Tibidabo apartments are housed in an old villa with a lovely garden. Getting to the city is more convenient by car, although the nearest metro station is only a 10-minute walk away. These apartments are suitable for people who value comfort, peace and quiet. Price - from 8,000 rubles per day
Orta-Guinerdo
Orta-Guinerdo is a green area in the north-west of the city. There are three parks here at once: Collserola with an area of eight hectares, Creueta del Col with fountains, lakes and the oldest garden-museum "Orta Labyrinth". Hotels in Barcelona Horta-Guinerdo attract privacy, peace and quiet. It is worth paying attention to the five-star GranHotel La Florida, Flaugier Apartments, House by Pillow, Ilunion Bel-Art.
Nou Barris and Sant Andreu
In these districts of Barcelona, only the Central Park is represented among the sights. But there are a large number of shops, cozy cafes. From the presented hotels, guests rated NH Barcelona La Maquinista, Apartment Meridiana, Hotel Laumon.
St. Marti
The quarter is especially popular due to its access to the sea. The name of the Diagonal Mar area is well known to Russian buyers of apartments and houses in Barcelona. The Olympic Village, Drassanas shipyard with the Barcelona Maritime Museum, shops and casinos - there is something to see and do. For those who have not yet managed to purchase a home, Barcelona hotels by the sea in Sant Martí will offer their services.
Hotel Arts
Arts Hotel, part of The Ritz-Carlton hotel chain, invites you to feel like a celebrity. The spa offers top-notch services with city views. The hotel has the opportunity to see a collection of modern art, dine in a restaurant from the Michelin guide. Rooms of the hotel of the appropriate level: TVs and stereos, bathrooms with hydromassage showers. The cost is from 30 thousand rubles per day.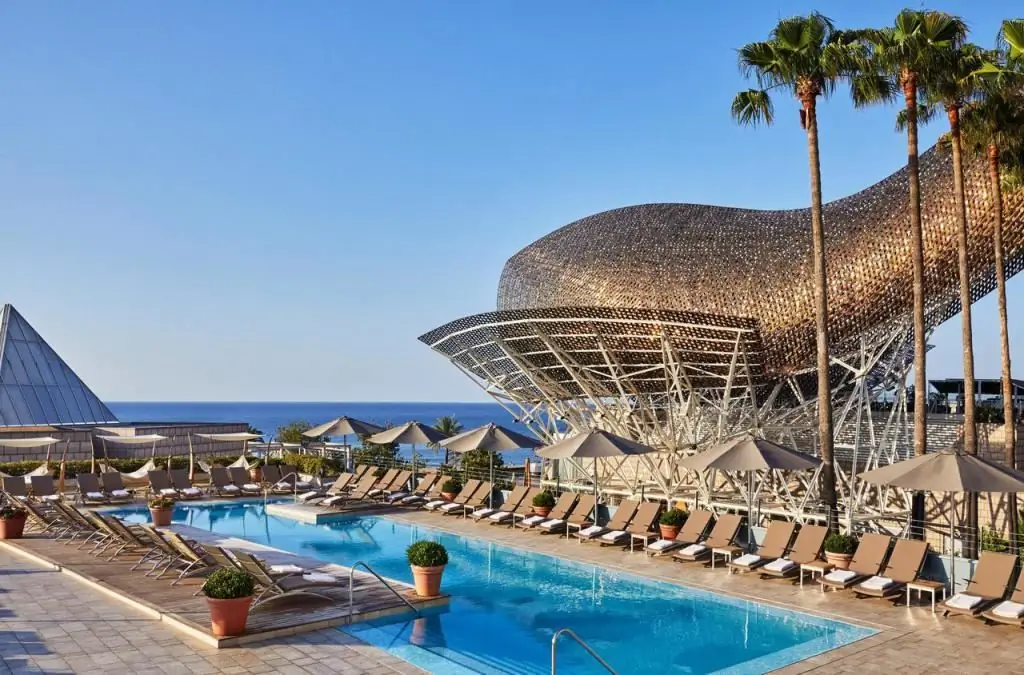 Barcelona Princess
The hotel offers accommodation in comfortable bright rooms, a ten-minute walk from the beach. Among the amenities - two heated pools, one of which is located on the 24th floor. Barcelona Princess is one of the Barcelona hotels with rave reviews: guestsloved the view, great breakfast, comfortable beds, free minibar. From 19 thousand rubles per room per night.
Hotel SB Diagonal Zero Barcelona
For 15,000 rubles a day, hotel guests will receive air-conditioned rooms with TVs, free Wi-Fi, ironing facilities, a touch-sensitive lighting and temperature control system. The spa includes a Turkish bath and Finnish sauna, and a rooftop infinity pool.
Alternative accommodation options
Barcelona (Spain) hotels are not only luxury apartments and five-star hotels. Travelers on a budget will easily find a place to stay at one of the hostels and guesthouses, of which there are many, such as Ten to Go Hostel in Sants Montjuic, Casa del Mediterraneo and Yeah Barselona Hostel in Eixample, The Moods Catedral Hostal, Guesthouse Barcelona Gotic in the Old City.
How to find the perfect hotel
To search and book hotels, it is convenient to use aggregators that not only compare prices, but also post reviews of tourists and real photos of Barcelona hotels. On these sites it is possible to choose accommodation according to preferences: hotels, apartments, villas, guest houses. Most often, such resources offer the lowest prices and do not require prepayment.
Popular topic