Table of contents: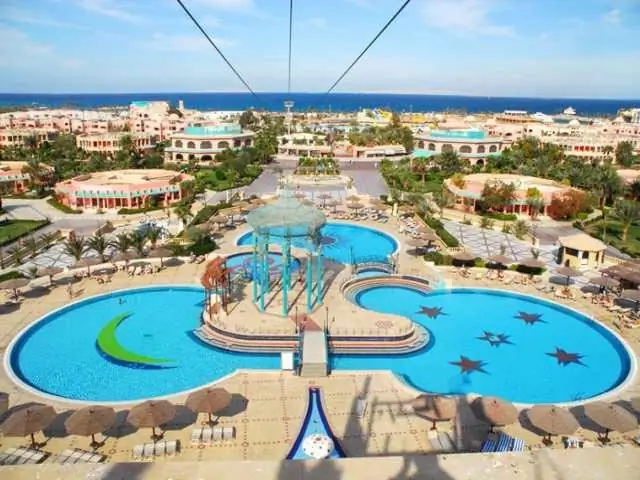 The Golden 5 City hotel complex, managed by Princess Egypt Hotels, in Hurghada, has a vast area. It combines several comfortable hotels. The beautiful Golden 5 Paradise Resort (For Families Couples Only) is located in the central part of the resort complex.
Its guests can use the services included in the all-inclusive package free of charge for the entire Golden 5 City complex, which consists of seven hotels of different categories. It is not forbidden to use them and services that require additional payment. This means that vacationers have full access to the infrastructure of neighboring hotels (by and large, they cannot get only into their room stock).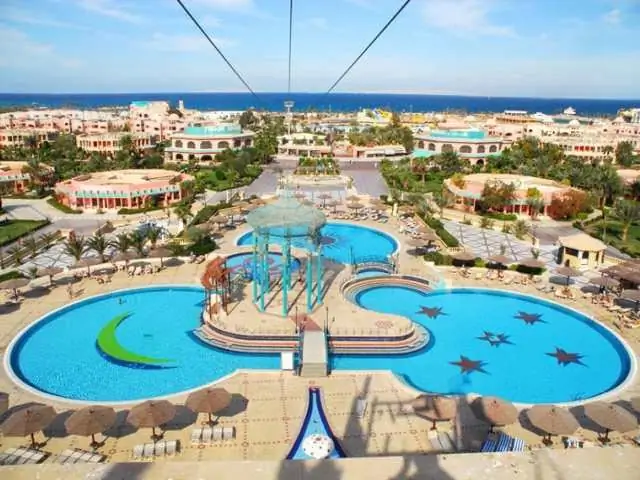 Guests, once in the territory of neighboring hotels, relax in bars, enjoy food in restaurants. They relax by the pools, luxuriate in sun loungers on a many-kilometer long beach, and have fun in the Aqua Park. They are welcome at the diving center and wellness center. Tourists with greatenjoy the services of water sports and horse riding centers. They are allowed to play on tennis courts, football and golf fields, in billiard rooms.
Those who are bored with entertainment in the hotel complex go to the resort town of Hurghada. Golden 5 Paradise Resort, a hotel with excellent service, becomes for them only a place where they can have a delicious meal, clean up and sleep sweetly, tired of active holidays.
Hotel location
Comfortable hotel Golden 5 Paradise Resort 5 is adjacent to the beach line. It is surrounded by a dancing fountain, a main pool and lush greenery that forms a magnificent park. The hotel is adjacent to the dancing fountains, the water park and the mosque, the Maritime Museum and the aquarium.
Next to it lies a street with shops, bars and restaurants crammed along it. A large shopping and entertainment center is a five-minute drive away. The central part of Hurghada is 18 kilometers away from the hotel, and the international airport is 10 kilometers away.
Hotel Features
Golden 5 Paradise Resort operates on an all-inclusive basis. The cost of the apartments includes the cost of food and drinks offered by bars and restaurants. In addition, guests are en titled to free use of certain types of recreation and entertainment programs. In addition, guests pay for special order food and drinks and services that are not included in the all-inclusive package.
Description of the apartment
Golden 5 Paradise Resort 5It is formed by the main building and additional two-story buildings with L-shaped shapes, and a building called "Andalusia". The number of rooms is formed by 466 air-conditioned apartments with a terrace or a balcony. They overlook the garden and outdoor pool.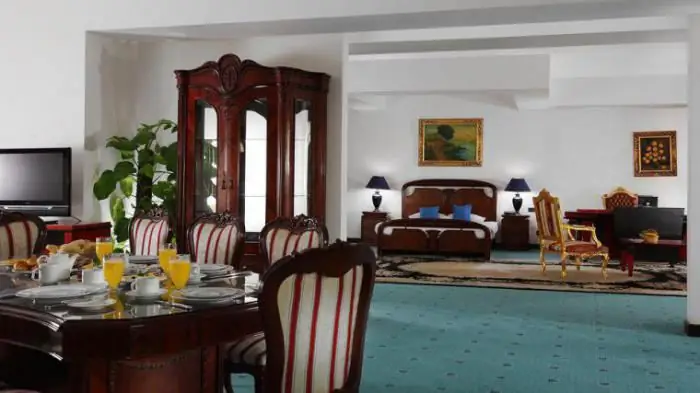 Guests, not constrained by finances, relax in royal and presidential suites. In them, the bedrooms pass into the living room with an office corner. Less demanding guests are accommodated in standard suites and connected rooms apartments with living rooms and bedrooms not separated by a door. Tourists with children are offered accommodation in family rooms, which include two bedrooms with doors, a bathroom and a kitchen equipped with appliances and utensils. Family apartments are located in L-shaped buildings.
For a comfortable and carefree holiday, the apartments at the Golden 5 Paradise Resort have certain amenities. Seating areas are equipped with free minibars and safes, bottled water (at no extra charge), individual air conditioning, plasma or LCD TVs, sofa areas and dining tables. Guests periodically order lunch or dinner to the apartments.
Satellite TV allows guests to watch familiar channels in their own language. The rooms have a desk and a telephone. Dressing tables, armchairs and beds (one double, two or three single beds) are furnished in the bedrooms at the Golden 5 Paradise Resort 5 (Hurghada). A photo of their interiors gives an idea of the comfort of rooms inrooms. The beds in the bedrooms are equipped with Select Comfort mattresses. They are covered with Egyptian cotton bedding.
Bathrooms are equipped with more than just rain showers. They were equipped with regular and deep baths for bathing. Little things have not been forgotten here, having provided the bathrooms with hygiene products and a hairdryer. The apartments have a tea or coffee maker. Ironing boards and irons are available upon request. All apartments are cleaned every evening and towels and linen are changed.
Hotel infrastructure
Golden 5 Paradise Resort is a 5-star hotel offering a variety of services. Rehabilitation and rejuvenation courses are offered at the Golden Spa. It has well-equipped treatment rooms, various indoor spa-baths - some look more like a jacuzzi, others, decorated with small mosaics, resemble mini-pools. Still others are in the hall, where the floors, ceilings and walls are finished with brown marble, Egyptian vessels are placed on the podiums.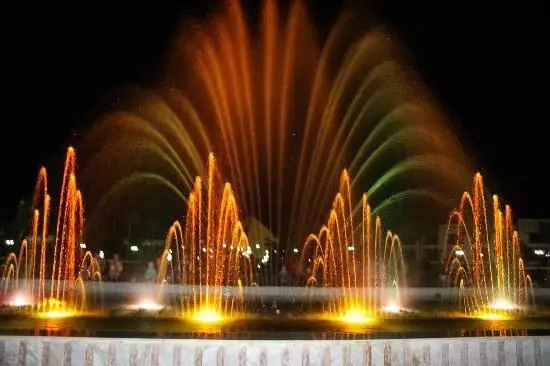 For entertainment, the hotel has a vast area of 100 square meters. The territory of the institution, immersed in the greenery of exotic plants, is so large that it is impossible to look into every corner of it during one vacation. Guests can take advantage of the services of a doctor, laundry and dry cleaning. The hotel has a shop, a currency exchange office. In one of the buildings there is a wonderful Internet cafe. On the territory of the hotelequipped sports grounds. It has its own marina.
A stone's throw from the Golden 5 Paradise Resort 5 has a huge outdoor pool with several independent rounded bowls. In the center of the pool there is a beautiful rotunda, for passage to which decorative bridges are thrown over the pool bowls. Vacationers note that the pool is divided into zones: a pond for children is organized in it, next to which a compact water slide is installed. For adults, a huge attraction is located in another part of the pool. There is a bar near the edge of the pool.
Public areas are equipped with Wi-Fi with free access. The Golden 5 Paradise Resort (Egypt) is equipped with four business centers and a conference hall that can accommodate from one hundred to a thousand people. They are equipped with floodlights, slide show equipment and other necessary equipment.
The hotel has an executive car rental service and self parking, which is included in the all inclusive package. In the parking lot after checking into the hotel you can get privileges, but you will have to pay a separate fee for them. The hotel has a tour and travel agency.
Sports areas
Golden 5 Paradise Resort's large fitness room is equipped with all kinds of exercise equipment. Tennis courts are illuminated at night, so tourists who prefer outdoor activities linger on them until late. Guests have the opportunity to play table tennis, mini golf and mini football. Guests can enjoy aerobics classes at the beach, by the pool and inwater. You can rent tennis rackets and balls, bicycles, children's cars.
At the Water Sports Center, vacationers are offered parasailing, windsurfing, snorkelling, banana or catamaran rides. The riding center introduces horseback riding.
Entertainment
The hotel has wonderful animation programs, live music sounds. The Night Flight disco takes place in a hall with colorful floors finished with a bright mosaic canvas. Entrance to the disco is free, drinks at the bar must be purchased. There are several tables in the spacious billiard room for the enjoyment of guests. Guests arrange darts and arm wrestling competitions, and play giant chess in the open air.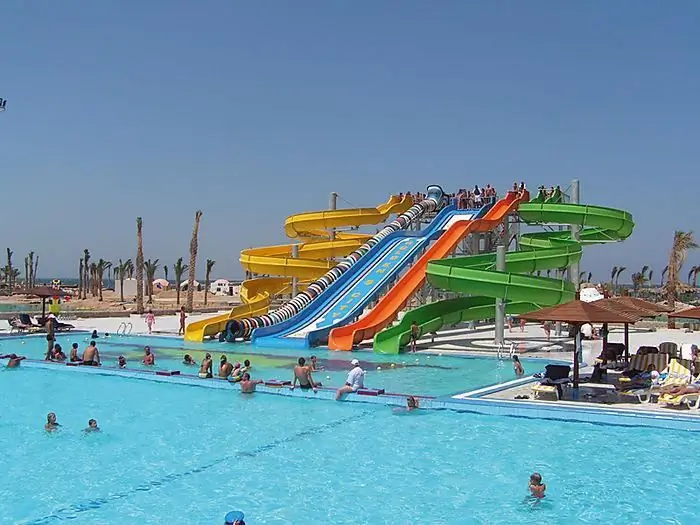 Aquapark Golden 5 City welcomes all guests free of charge. It is equipped with five slides for adult tourists and a heated pool. For young guests, it has three heated pools with water slides. On the territory of the institution there is a sand area with children's slides. The water park has two all-inclusive bars.
Beauty and he alth
He alth, rehabilitation and rejuvenation procedures guests have the opportunity to spend in the spa-center, beauty salon, massage rooms, which are available at the Golden 5 Paradise Resort 5hotel. You can also restore strength in the jacuzzi, sauna, steam room, restore beauty in the hairdresser.
Beach vacation
Sand spit related toterritory of the complex Golden 5 City, stretched in length for one and a half kilometers. Vacationers on the beach are provided with free umbrellas, sun loungers, mattresses and towels. The beach is equipped with volleyball courts. There are bars and cafes nearby. The beach has a good entry into the sea along the sand.
Child Service
Young guests are taken to the mini-club. They have a great playground for them. Young guests are invited to animation programs and discos. In the main pool, a special swimming area with a safe slide is equipped for them. Restaurants make a special menu designed for baby food.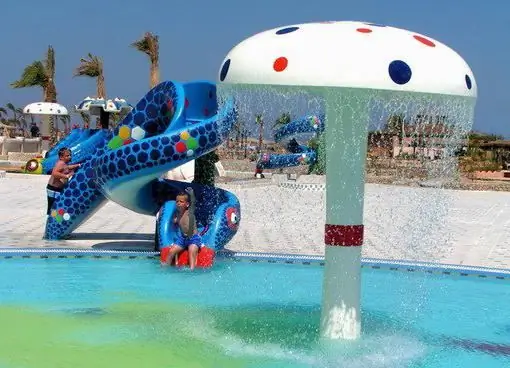 The Tuf-Taf train runs around the complex every forty-five minutes. Baby cots are available in the room if required. Parents at the Golden 5 Paradise Resort 5 are offered babysitting services, kindly freeing up time for them to relax and recuperate. One child under the age of five is provided with the opportunity to stay free of charge if a separate bed is not provided for him.
Restaurants
The main restaurant serves international cuisine. It serves on the system "all inclusive". Guests pick up any dishes they like from the buffet. In addition to the main restaurant, the hotel has nine more A la Carte establishments. The right to sign up for free at the reception in any of these restaurants is provided to residents of the Golden 5 Paradise Resort. The photo of each establishment shows its luxurious interiors inOriental style.
Tourists eat German, Russian, Egyptian, Mediterranean, Italian and Turkish cuisines in restaurants. The international restaurant serves Indian and Asian dishes. Excellent meals are prepared in the barbecue restaurant. Excellent food is served at the seafood restaurant.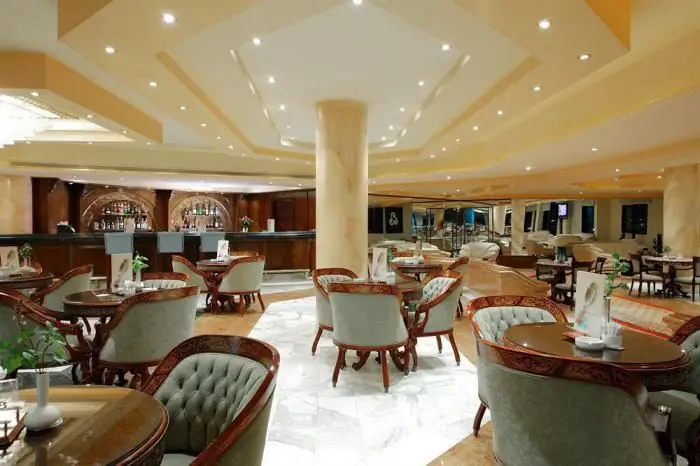 Bars
Day and Night bar serves snacks and drinks prepared in the best traditions of international cuisine. The Billiard Bar establishment works on an all-inclusive basis. The Piano Bar also offers a fine selection of popular international dishes. The pool bar serves guests free of charge.
Reviews of tourists
Tourists have no consensus on the Golden 5 Paradise Resort. Reviews of vacationers directly depend on their claims and understanding of what a five-star hotel should be. To some travelers it seemed quite worthy for a holiday, to others it brought nothing but disappointment.
Transfer at the hotel is good, they deliver from the airport without delay. Porters meet us in the hall and immediately pick up the suitcases. Check-in to the room lasts from a few minutes to several hours. The front desk staff smiles meaningfully. Tipping speeds up placement time and provides an opportunity to get a decent room.
For all its Oriental pomposity, the hotel is rather old. The interiors of all rooms look beautiful only from afar. The need for repair, change of furniture and plumbing in the Golden 5 hotel is obviousParadise Resort (Hurghada). Photos, reviews only together give an idea of the comfort of the hotel. According to many tourists, rooms with old, in places shabby furniture are mostly drawn to a solid C grade.
But few people complain about the service at the hotel. The staff clearly monitors the change of bed linen and towels, airing the apartments, tries to bring perfect cleanliness, especially if they receive a small tip in gratitude for their efforts. Using bedspreads and towels, the staff builds amusing crocodiles, elephants and snakes on the beds. Funny little animals cheer up.
The territory of the Golden 5 Paradise Resort 5 is fragrant with exotic vegetation. Reviews of tourists indicate that long alleys are broken in the park. They are densely planted with large old strong trees. The park is decorated with sculptures, it has a small lake filled with fresh water. Cleanliness is everywhere here.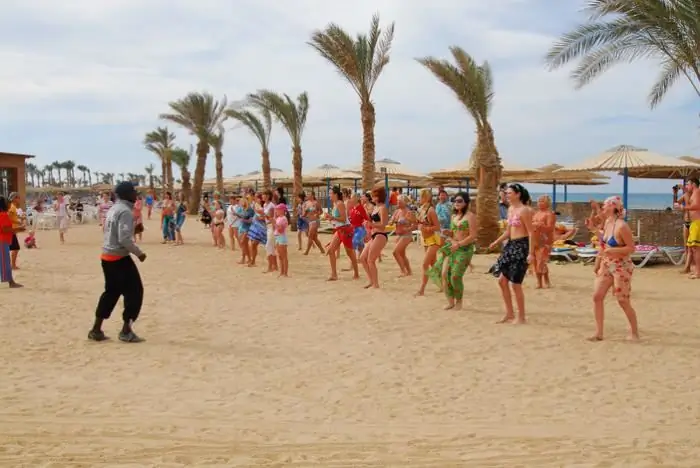 There are always a lot of vacationers on the big beach. Sometimes there are problems with sun loungers, they are not enough for all tourists. Therefore, many bask in the sun, spreading beach towels right on the sand. However, the guests themselves are to blame for this. Many tourists, leaving an insignificant little thing on a sunbed, leave for an indefinite time, no one knows where. It turns out that the sun lounger is busy, although no one is resting on it.
There is a huge coral near the coast. Because of it, you have to go down into the sea in special shoes, otherwise you can injure your legs. Just a couple of meters from the shore in a transparentflocks of fish scurry about in the water.
The hotel is located on the territory of a huge resort complex. Tourists who love a noisy holiday are attracted by numerous entertainments, the opportunity to join a fun resort party, and enjoy shopping. Both guests of the hotel complex and tourists who have settled in other resorts flock to the musical fountains, located at the main entrance, to watch a spectacular performance.
Beautiful animation at Golden 5 Paradise Resort. Reviews about her are only good. Entertainment programs are full of competitions. They are always very fun. Animators work until late, involving guests in dances, competitions and performances. They amuse vacationers, charge them with cheerfulness and positive mood. Here they delight with salsa, bachata, belly dancing lessons. They offer yoga, marine gymnastics, water polo. All entertainment is full of humor and enthusiasm. It is in this hotel with the onset of twilight that tourists from neighboring hotels gather for evening shows and discos.
Guests do not make any special claims to food in the establishments of the hotel Golden 5 Paradise Resort 5. Reviews form the hotel's rating. The status of the institution is affected by everything related to comfort and pleasure, including the food system. Although the restaurants do not have a wide variety of dishes, tourists say, no one starves here.
The buffet includes fish, chicken and beef dishes, soups and salads, sweets and drinks. There are cuts of sausage, cheese, fruits and vegetables. Pastries are especially admired by guests. Meat is served separately.rolls, tuna dishes and baked beef. Fried eggs and pancakes are baked.
Eating is optional only in the main restaurant. By appointment, tourists are served in other establishments A La Carte. It's disappointing that you have to book a table in advance. Restaurants are constantly overcrowded, so without booking a table, you have to wait a long time for a seat to be vacated and put in order. The mixed restaurant serves very tasty meat dishes. Establishments near the beach offer hamburgers and french fries for snacks. The bars adjacent to the beach line are full of entertainment. Big noisy companies like to relax in them.
Tourists spend a lot of time on excursions. Visit Luxor and Cairo. Tours are well organized. They do not overwork tourists. Comfortable buses come for guests. Vacationers inspect cultural and historical monuments, learn a lot about the country, gain vivid impressions. Travelers are shown the halls of the Cairo Museum, pyramids and other sights. For them, unforgettable dinners are organized on the banks of the Nile and holidays on the Paradise Islands, where there is no trace of civilization.
Popular topic