Table of contents: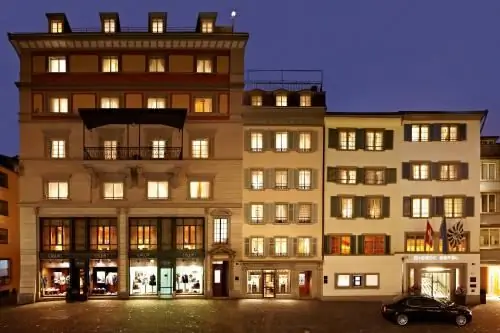 In the delightful capital of Switzerland, Zurich, hotels can be chosen according to taste, needs and budget. There are about 200 hotels in the city, pleasing with cleanliness and service. You can stay in the city center, closer to nature or to your workplace if you are traveling on a business trip.
Favorite hotels of tourists
According to the Telegraph, the best hotels in Zurich are
Widder Hotel.
Storchen Zürich.
Baur Au Lac.
LADYs FIRST.
Marktgasse Hotel.
The Dolder Grand.
Hotel Florhof.
Kameha Grand.
Park Hyatt Zürich.
Romantik Hotel Europe.
These are hotels that can surprise with their luxury, modern services, caring service.
Famous Widder
One of the best hotels in the city center of Zurich, the Widder is a mix of 15th century townhouses, cleverly designed to house 49 unique rooms.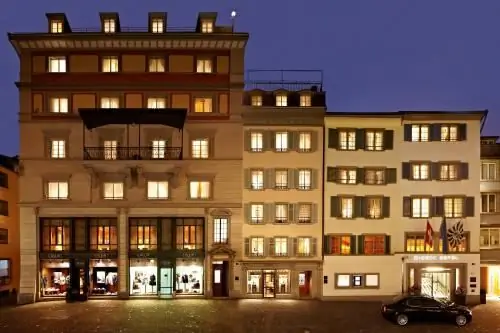 You may not noticethe closed facade of the "Widder" in the Augustiner quarter of Zurich, 700 m from the center, but the location of the hotel is ideal. The train station is a five-minute walk, the financial district is around the corner, and the sights of the old town, including the Grossmünster panoramic park and Lindenhof, are in front of the entrance. This suite has a terrace with 360-degree views of the luxurious rooftops.
The best hotel in Zurich behaves according to European traditions: you can hardly feel their presence with a smile, and the service is not too formal, but not intrusive either. Its purpose is to make you feel at home.
Facilities include an attractive stone and wood library stocked with local history books, two restaurants and a bar. The gym, supported by huge antique pillars, contains a good selection of the latest Technogym equipment.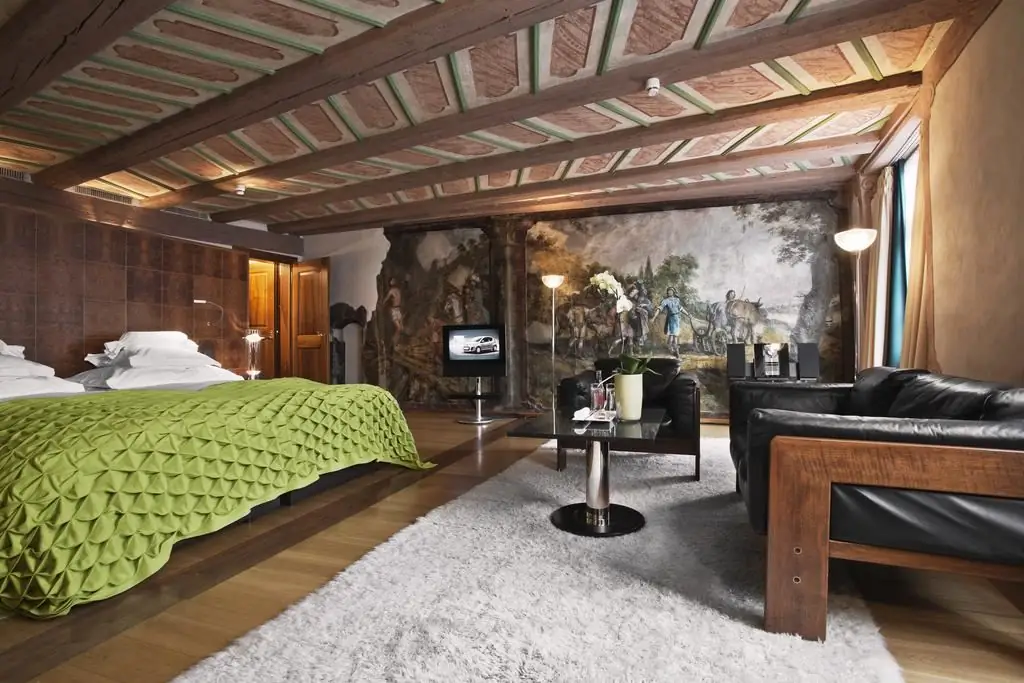 Each of the 49 impeccable rooms and suites is unique. For example, room 403 is pierced by heavy wood beams adorned with cornflower blue details and contains a Le Corbusier sofa and a writing desk with a view. At the same time, Family Suite A17 boasts baroque frescoes and a high-tech Dornbracht shower.
The rooms are thoughtfully decorated with plenty of light, good soundproofing, climate control and TVs. Bang & Olufsen radios are built into the bathroom mirror.
Breakfast includes delicious à la carte items such as Norwegian-style boiled eggsor porridge with bananas and dates, and in good weather served on the terrace. The bar offers over 1,000 spirits and 280 Scottish single m alts. Accommodation in refined luxury will cost from 300 euros per night.
This hotel in the center of Zurich is very popular and needs to be booked in advance.
LADYs FIRST
LADYs FIRST Hotel in Zurich, built in Art Nouveau style, is located a few steps from the waterfront, while you can stay here for 100 euros per night.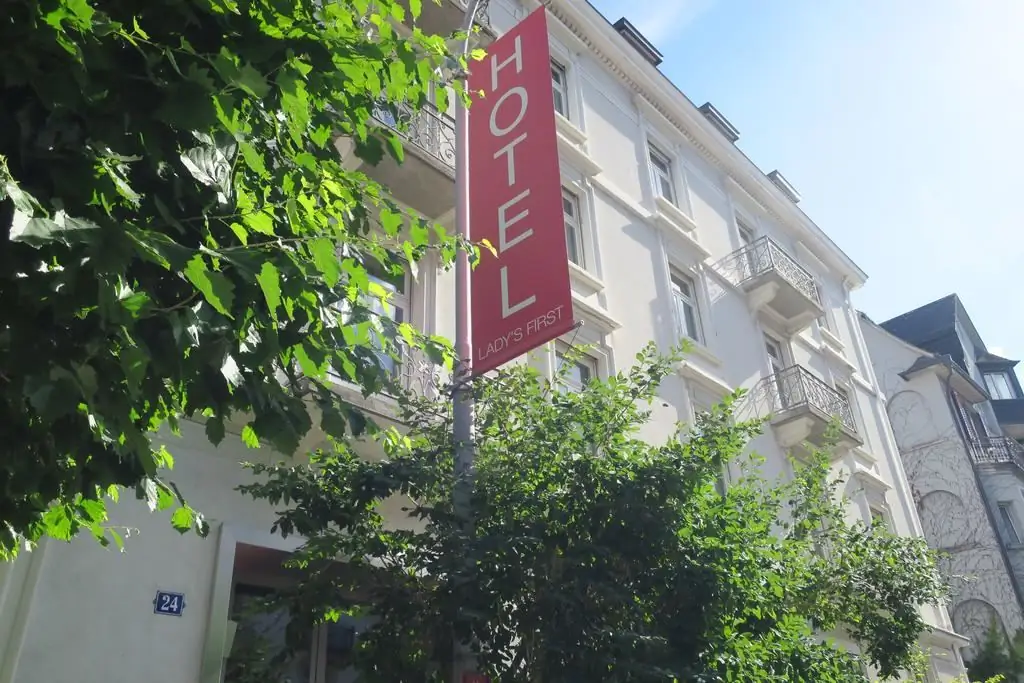 You can relax near Lake Zurich, just a short tram ride from the sights of the city, 500 meters from the Zurich Opera House.
As the name suggests, the hotel has a special place for women, but men are also welcome. One of the best hotels in Zurich in its price range, it is a stylish place to stay. Many historic details, from high ceilings and mosaic tiles to parquet floors and spiral staircases, have been painstakingly restored. The interiors are bright and decorated in a soothing palette of tones. Formerly a girls' boarding school, the home is now designed for women in need of quality relaxation.
You can relax in the women's spa, which has a Moroccan style. It is pure bliss after a day in the city, with a hammam, steam room, sauna and cherry stone beds heated to body temperature.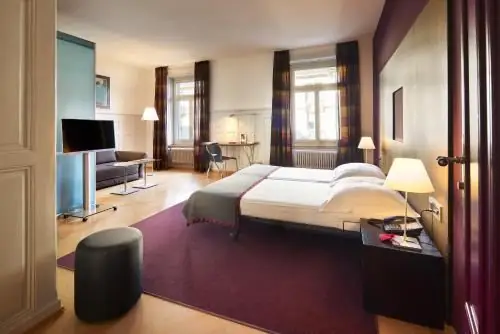 Kettle, mini-bar, bathrobes and slippersare included as standard in the rooms. Bathrooms with bathtub or shower are equipped with Fairtrade toiletries and in some cases are housed in a modern glass cube.
Delicious breakfast and he alth care
Served in a sunlit room, breakfast features a good selection of freshly baked bread, homemade pie, boiled eggs, local meats and cheeses, vegetables, cereals, birch milk muesli, yogurt, and a gluten-free menu.
According to the reviews of tourists, rest here helps to quickly recuperate and spend time interestingly and profitably.
Marktgasse Hotel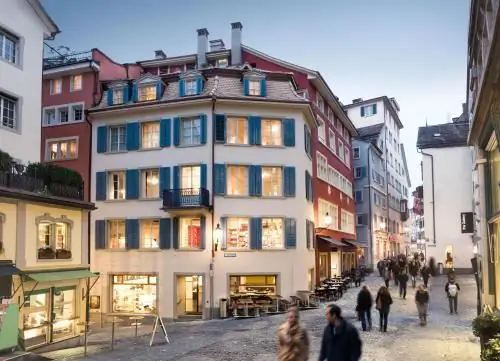 Marktgasse is one of the oldest hotels in Zurich, located in the heart of the city. The 39-room boutique hotel successfully combines modern minimalism with ancient heritage, warm and welcoming. There is also a lively bar and the exceptional restaurant B altho.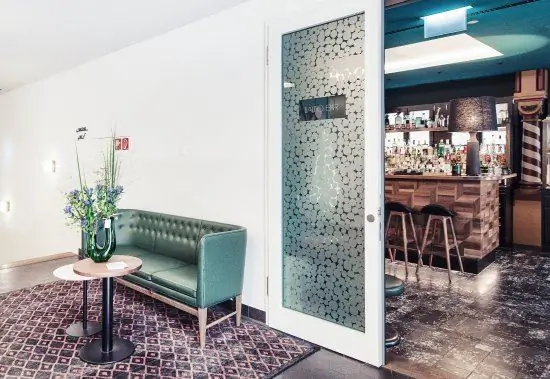 Young staff are friendly and competent. There is a library with board games and books. The reception also doubles as a seating area with newspapers, coffee and couches under a beautiful stucco ceiling. The fitness and wellness center is a 2-minute walk and is available to guests free of charge.
The hotel has rooms for non-smokers and people with disabilities. Tourists who have visited this hotel recommend taking an adapter for a European socket with them, they note the good quality of the Internet, the dazzling cleanliness of the rooms and excellent breakfasts. Living in this luxury willcost about 300 euros.
Dolder Grand - luxury and visiting card of Zurich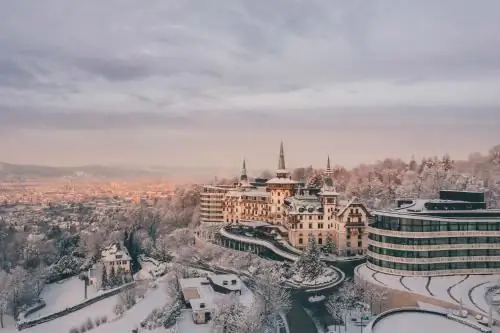 If you want to enjoy fantastic landscapes and breathe fresh mountain air, you need to check out the magnificent Dolder Grand hotel in Zurich in Switzerland.
The majestic towers make this award-winning resort a landmark in the city, while the modern ambience is created by two wings designed by Norman Foster. Gallery-quality artwork, a 4,000 m2 spa and a Michelin-starred restaurant are some of its highlights.
To get to your hotel in Zurich, you need only 15 minutes by tram from the center, take the charming historic funicular from the train station, or use the shuttle service from the resort to Münsterplatz in the city center, which takes about 10 minutes.
Dolder originally opened in 1899 and boasts distinguished guests including Winston Churchill, Roger Moore and Sophia Loren. Currently, its reputation as one of the best hotels in Switzerland in Zurich is maintained.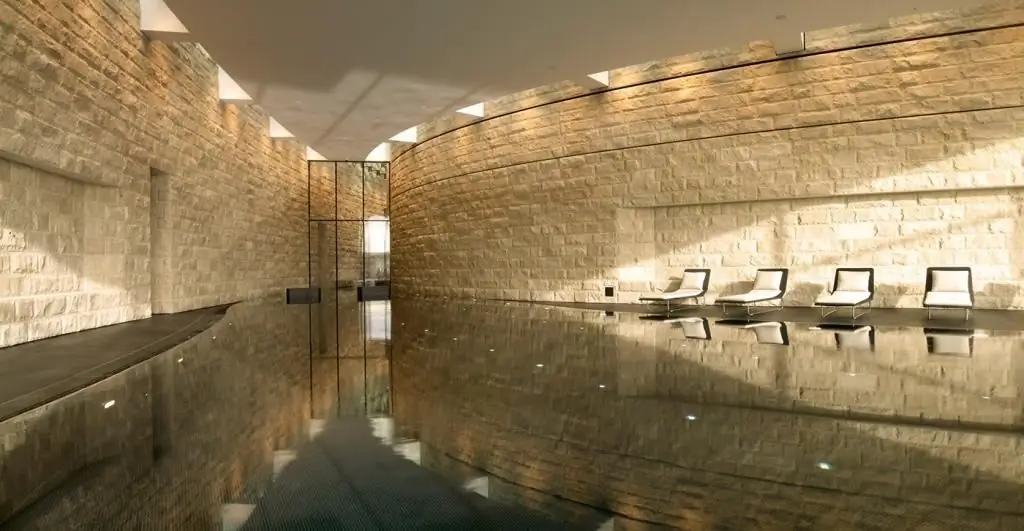 Inside, Swarovski crystal chandeliers, high ceilings and oversized flowers exude luxurious style, but more striking is the gallery entrance. The combination of 19th-century elements such as Corinthian columns and ornate ceilings is an outstanding private collection of works by artists such as Salvador Dalí and Henry Moore.
Where to stay nearairport
If you need to stay at a hotel in Zurich at the airport while waiting for your flight or if you arrived at night, then dozens of comfortable hotels are offered to tourists.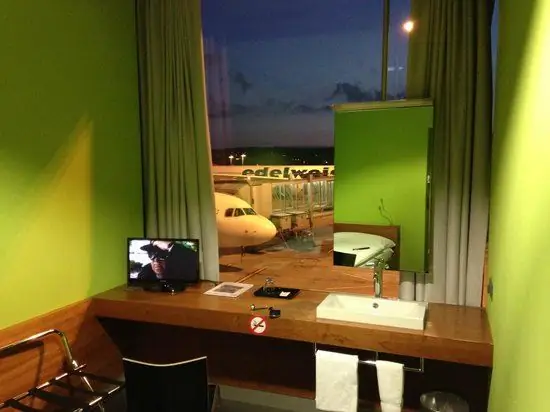 This is Zurich Airport Transit Accommodation, which is 300m from the terminal, it offers cheap accommodation, amenities, smoking and non-smoking rooms.
From the Hotel Allegra Zurich Airport 4, next to which the complex with swimming pools is located, you will need to walk about one kilometer. If you have time to relax in comfort, then you can choose the popular Dorint Airport-Hotel Zürich 4.
Recommended: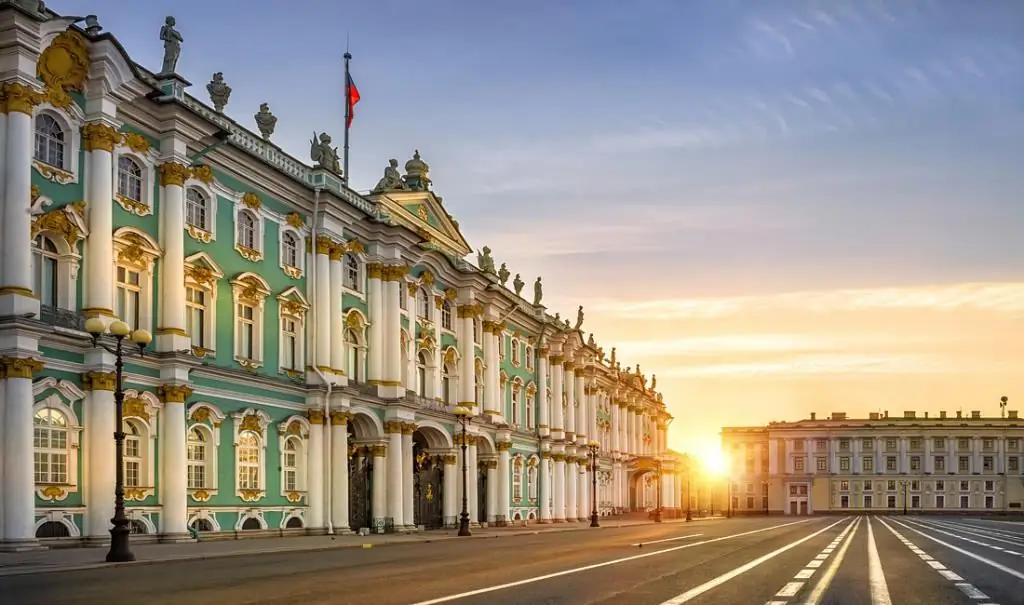 The northern capital is not a world-class resort, but this does not prevent it from receiving thousands of tourists from all over the world every year. People come here not for the warm sea, white sand and tropical climate. Peter attracts cultural "gourmets", for whom museums and ancient architecture are more important than the sea coast. St. Petersburg hotels (5 stars) offer European-level service, which is confirmed by numerous reviews of guests and tourists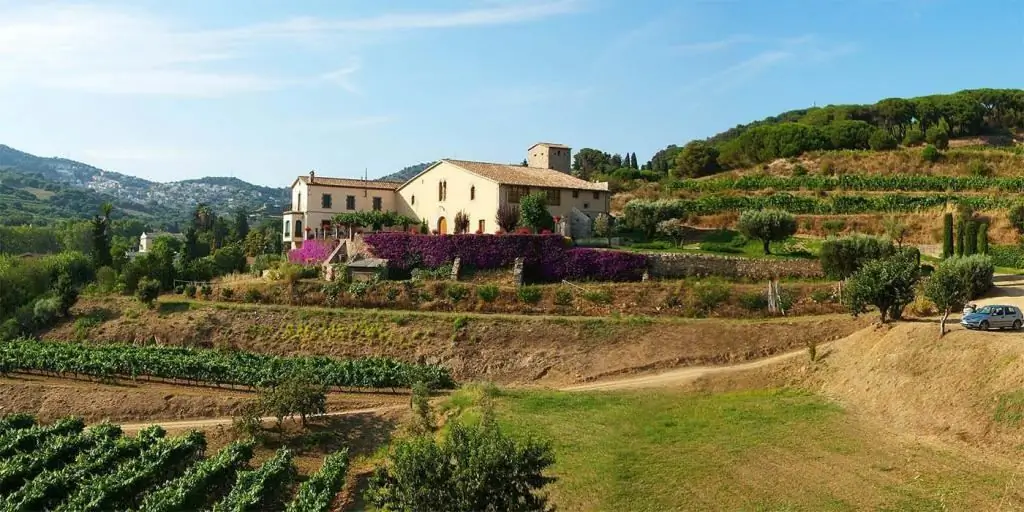 The charming capital of Catalonia is a true tourist paradise. One of the most impressive places in Europe remains forever in the hearts of admiring tourists. Romantic, daring, headstrong, Barcelona is a holiday city with a great vibe. However, the suburbs, located a few hours away, are of great interest to travelers seeking to get to know as many sights as possible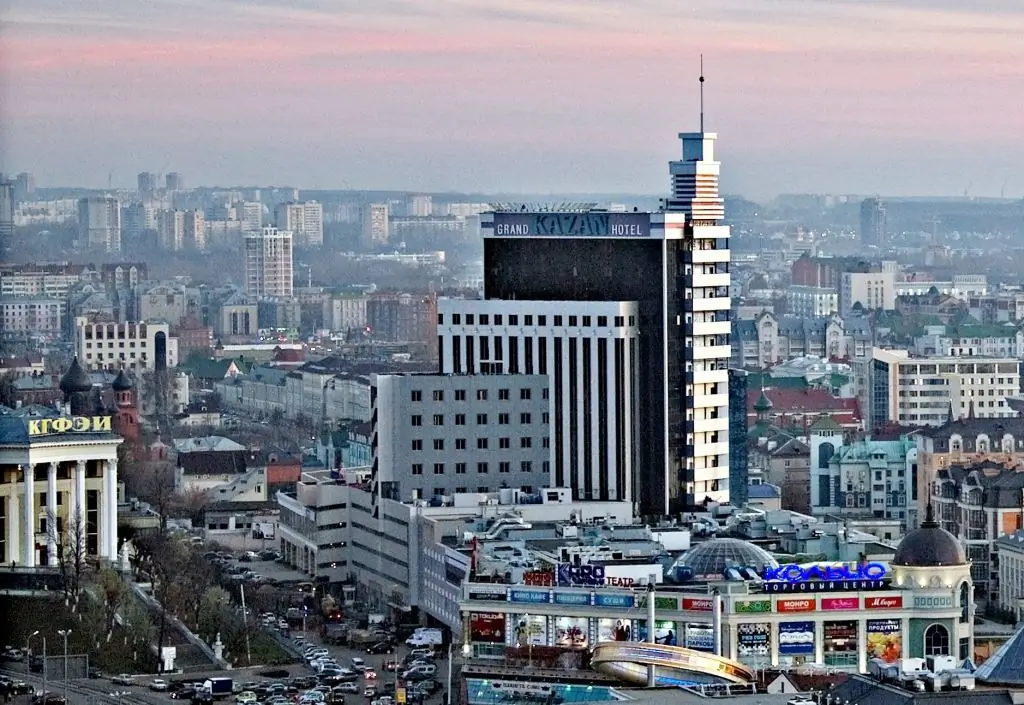 Are you interested in cheap hotels and hotels in the center of Kazan with breakfast? In the article you can get the answer to this intriguing question. For more information on where to stay in the third capital of Russia, read on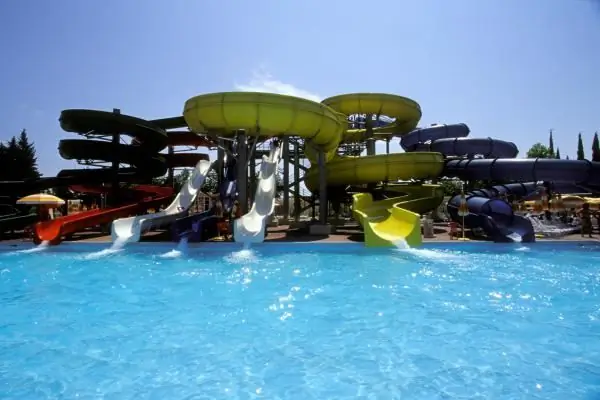 Today, Adler is the front facade of the entire Black Sea coast of Russia, a practically exemplary city built almost from scratch for the 2014 Winter Olympics. Of course, we are not talking about old areas that have undergone minimal changes. Tourist interest in Adler has increased many times after the end of the competition, although it did not suffer from a lack of tourists before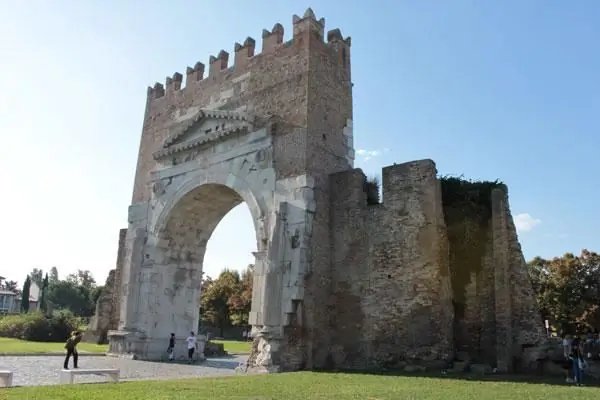 Rimini is located in the northeast and is considered the largest settlement in Italy on the Adriatic coast. And although the resort is primarily famous for its pristine sandy beaches, there are many interesting places that will be interesting to see. In this article we will talk about the sights of Rimini and reviews of tourists about them