Table of contents: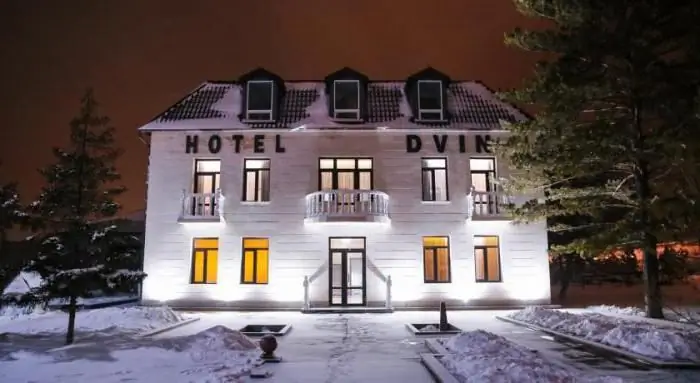 Pavlodar is one of the most beautiful and interesting cities located in the north-eastern part of Kazakhstan. Only 335 thousand people live here, but this does not prevent new hotel complexes from appearing. By the way, there are more than 20 hotels in Pavlodar, but it is extremely difficult to choose a truly worthy one, because the administrations of all facilities claim that their institution is one of the first to visit.
Today we will discuss in detail the best and most interesting hotels in Pavlodar, which are not so many here. We will also find out their exact addresses, approximate prices for renting rooms and other useful information that will definitely come in handy for you. So, let's start discussing the best hotels in Pavlodar!
Dvin
This tourist complex is one of the best in this city. The institution has only seven rooms, where there is everything for a great pastime. Wireless Internet is available throughout the hotel, and the hotel itself is located just 3 kilometers from the famous Irtysh River. At the same time, the railway station of this settlement is 1 km away. It is also worth noting that on the territory of the hotel complexthere is a parking area where any guest has the opportunity to leave their car for free.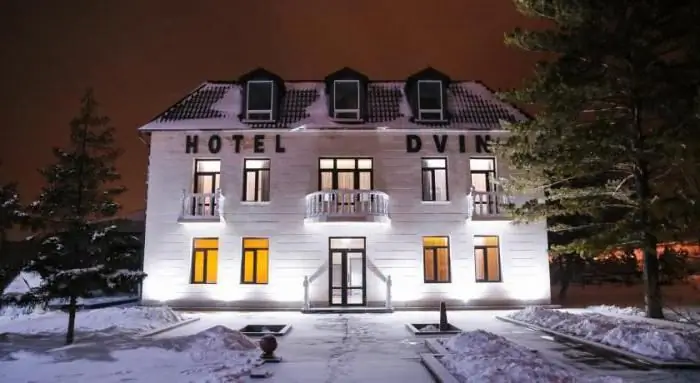 In every room you will be able to use a flat-screen TV and a refrigerator. In addition, all rooms have their own bathrooms, where cosmetic accessories are offered for each client. This hotel has many advantages, among which the possibility of ordering drinks and food directly to the room should be highlighted. At the same time, other hotels in Pavlodar cannot provide their guests with such an opportunity, and this is already a minus!
On the territory of the hotel complex there is an excellent restaurant "Dvin", which includes a small summer cafe. There, anyone can enjoy the best culinary masterpieces of European and Armenian trends.
Reviews
Comments in Runet left by the guests of this hotel complex testify to impeccable service. In addition, quite often the hotel's clients note the possibility of visiting 2 saunas and several indoor pools located on the territory of the Dvin project. The reception is open around the clock, so the client can clarify any information or ask any questions to representatives of the mini-hotel at any time convenient for him.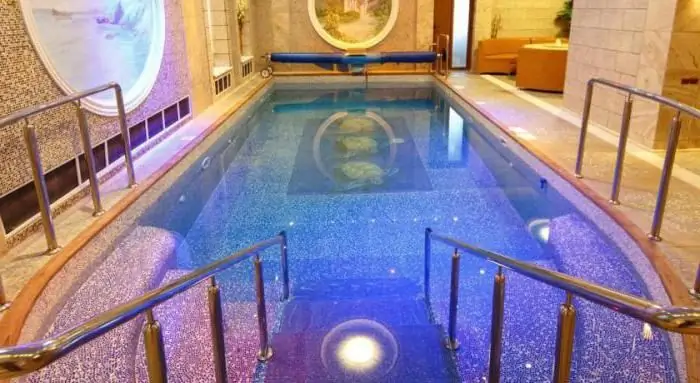 Also, visitors to this hotel consider its location quite successful, because the local airport is only 17 kilometers away.
Rooms
In this casethe tourist complex is represented by only 2 categories of rooms. Any hotel visitor can stay in a double room with one bed for 2,374 rubles. alone or for 2,499 rubles with your soulmate.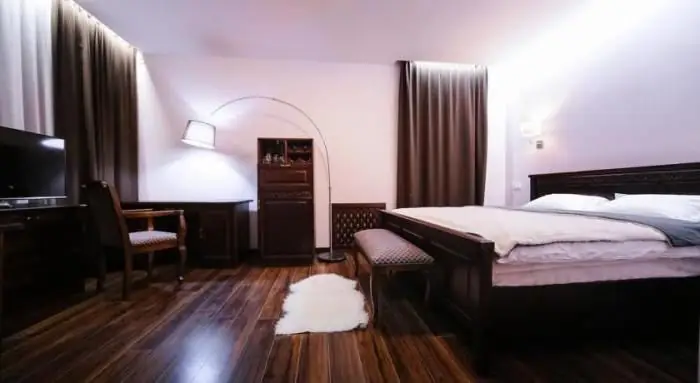 In addition, the same room is also available for rent, but with two single beds. The cost of a daily stay is no different.
Be sure to note that the price of hotel accommodation includes breakfast at a local restaurant. By the way, this hotel is located in Green Lane (40th building).
Friendship
If you are looking for inexpensive hotels in Pavlodar, then this complex should suit you. This establishment is one of the most unpopular in the city and does not have an official website, and the prices for accommodation here are quite low.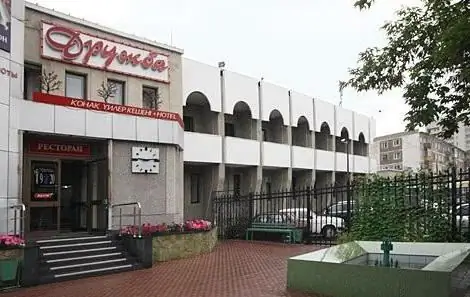 The Druzhba Hotel (Pavlodar) on Kutuzova Street (21st building, 1st building) includes a small restaurant, a laundry room and a parking area. Reviews about this hotel indicate an acceptable level of service and very low prices. Not all visitors are happy with this establishment, but it is still ideal for those who want to save money.
North
This tourist complex is also quite an interesting place where you can stay in rooms of different categories. In this case, the hotel has only 63 rooms, each of which is equipped with everything necessary for living. In almost all rooms you canuse cable TV, telephone, hair dryer, minibar and shower. All rooms are air conditioned.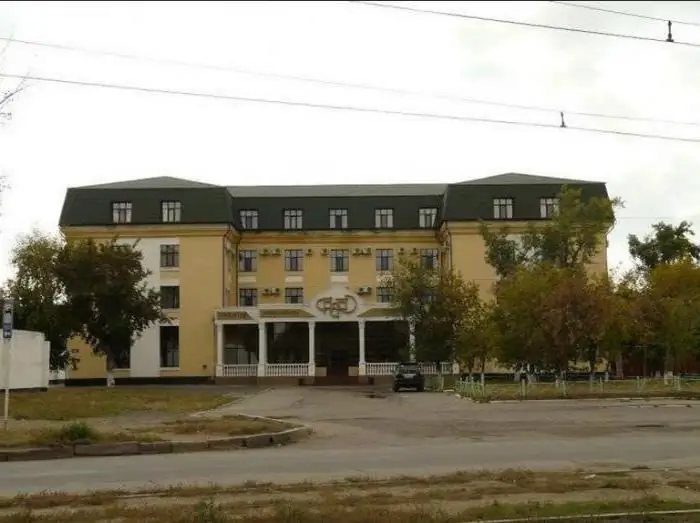 The Sever Hotel (Pavlodar) operates around the clock and is located just 2 kilometers from the city center at the following address: Mira street, 39th building. In addition, reviews about this complex are quite positive. People are satisfied with a good level of service and rental prices. In general, the "North" is an interesting hotel with its own atmosphere!
Altyn Adam
This tourist site is a mini-hotel where anyone can stay in one of the 6 rooms available for rent. In this case, there is excellent Wi-Fi throughout the hotel, and there is a special parking area for customers by car.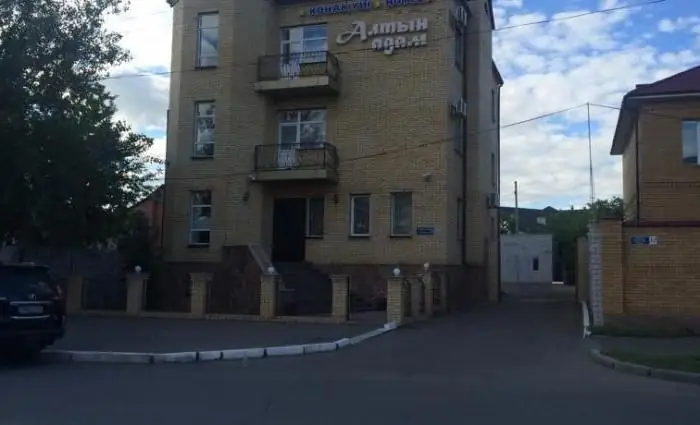 Each of the hotel's rooms has a modern interior and is equipped with all the amenities for living: air conditioning, plasma TV and so on. In addition, some rooms offer great views of the city or the river. It is also worth noting that all rooms of the institution have their own bathrooms, where a shower or bath is installed. Each guest is individually provided with slippers and a bathrobe.
The reception desk is open 24 hours a day, which means that you can ask the administration for any information at any time. By the way, the distance to the local airport is quite small - only 13 kilometers.
Reviews and room stock
Similarhotels in Pavlodar, the prices for renting rooms are low, otherwise there will be very few customers. You can stay at the Altyn Adam Hotel in a double room with two single beds for only 2677 rubles.
At the same time, the cost of renting a spacious single room is exactly the same. By the way, please note that in both cases breakfast is included in the price.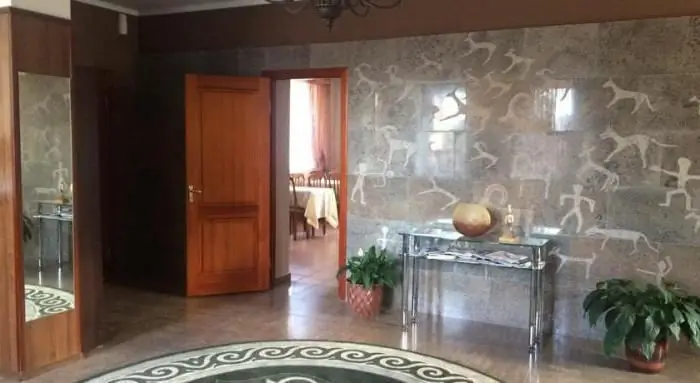 Comments from Runet users who have ever visited the Altyn Adam Hotel testify to the excellent level of service. Clients of the hotel leave positive feedback, which refers to the fact that there is a modern interior and a fairly reasonable pricing policy. In general, the complex is excellent!
Finally, we note that this institution is located on Yestaya Street (30th house).
Pavlodar hotels: rating
So, our article is already coming to an end, so let's make a short ranking of the best tourist complexes in this city, which are worth paying attention to for those who plan to have a great time in this city:
"Dvin".
"Altyn Adam".
Respect (Toraigyrova Street, 79th house, 1st building).
"Sary Arka" (Toraigyrov street, 1).
"North".
"Friendship".
Have a nice holiday and good mood!
Recommended: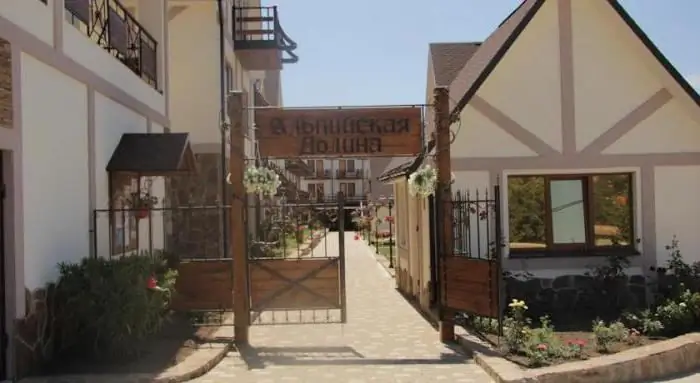 The cottage village "Alpine Valley" is located in the small village of Malorechensky, which is located 35 km from Alushta. Surrounded by the picturesque Demerdzhi mountain range, this hotel fully justifies its name - you only need to look at it once. The cottage village is ideal for those who want to spend time in silence, secluded with nature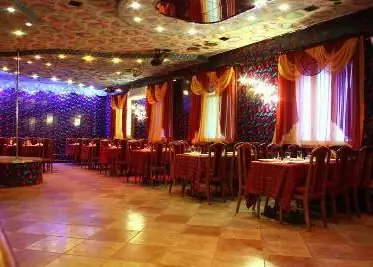 Let's take a virtual tour of the ancient city of Kinemsha together. First of all, today we are interested in hotels and hotels, which will be discussed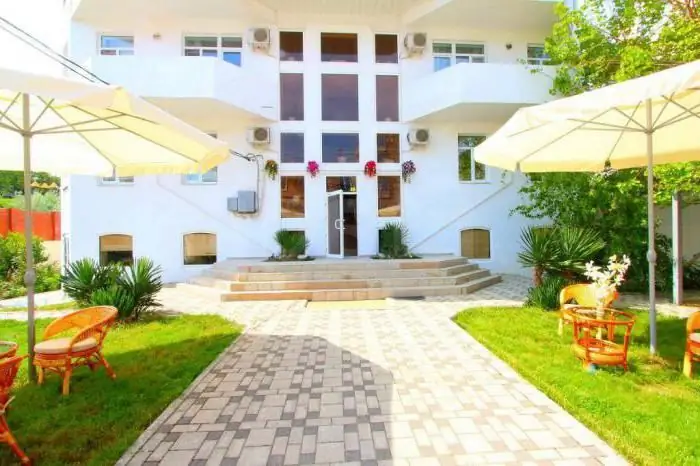 The hotel on the seafront in Vityazevo is located in close proximity to the golden sandy beach and annually opens a modern, but at the same time sincere and warm world for a carefree holiday. The territory of the sanatorium is an amazing space in which everything is so cozy and rosy that the worries and fatigue of the working year are left behind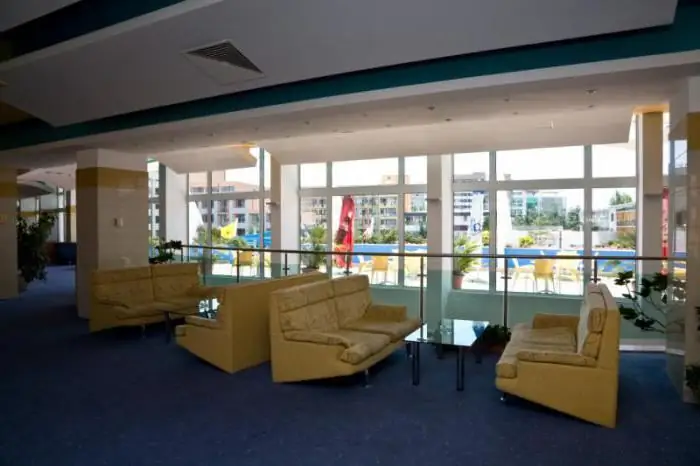 One of the largest and most popular seaside resorts in Bulgaria is Sunny Beach. Among the hotels located in its central part, a nine-story building in the form of a white and blue ship stands out from the architectural point of view. This is a modern hotel Trakia Plaza 4(Sunny Beach)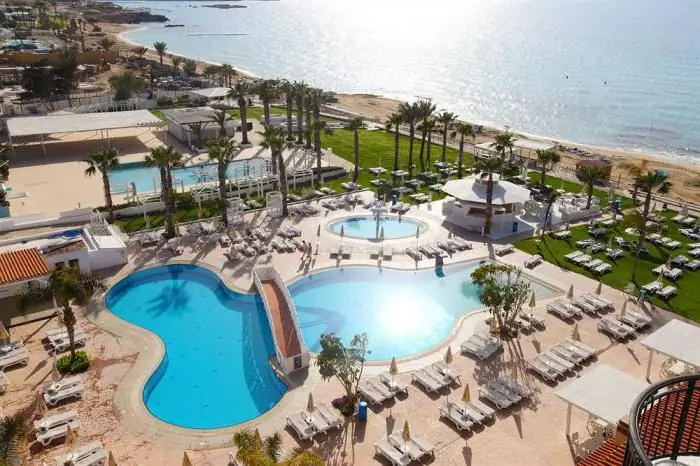 If you are planning to spend an unforgettable vacation in Cyprus and are looking for a comfortable, but not very expensive hotel with a private beach on the seashore, then pay attention to Constantinos The Great Beach Hotel 5(Protaras)