Table of contents: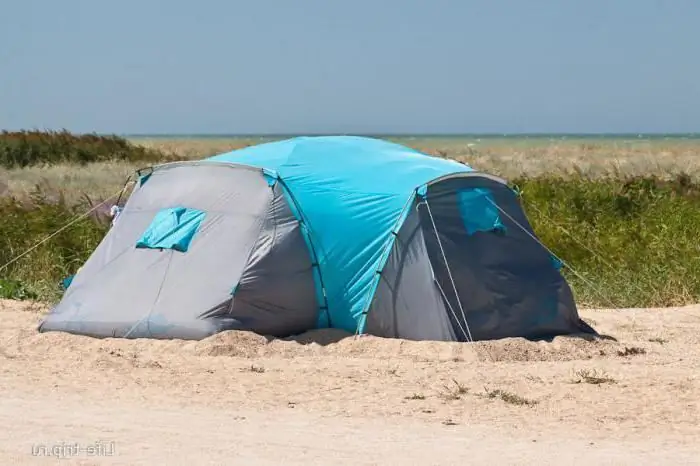 How to spend a vacation or a weekend at sea and not experience financial hardships? Many Russians have found the best solution: camping.
Ideal for those who want to stay close to the sea coast of the Sea of Azov near Yeysk, there are many campsites, accommodation conditions are democratic, and therefore the rest will turn out to be economical and fun.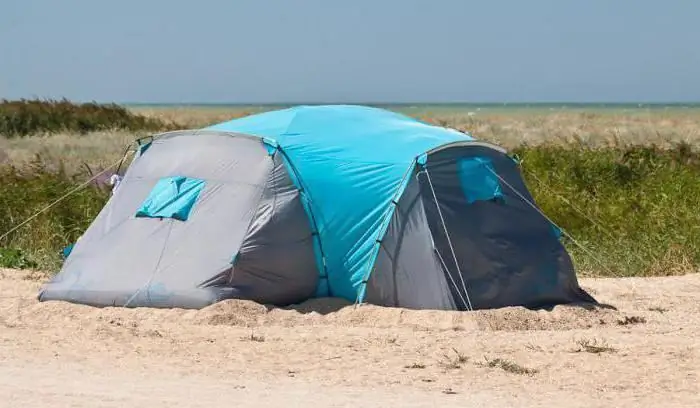 Dolzhanskaya Spit is an amazing place to travel with a tent
A unique beach area is located 35 km from Yeysk in an ecologically clean area. Dolzhanskaya Spit is a great place to relax with tents. The Dolzhanskaya Spit, which goes into the sea for 15 km, separates the waters of the Sea of Azov and the Taganrog Bay, so the wind always blows here, but the sea surface remains calm.
On the spit there is a place for everyone, because the width of sand and shell beaches is from 5 to 25 m.
Having settled down in a car camping, you can wake up next to the sea and fall asleep, inhaling the coniferous aromas of a pine forest growing on a spit - what could be more useful! The water in the shallow Sea of Azov warms up already in May, the entrance to itgently sloping, shallow and safe for children.
Most of Yeysk car campings are located on Dolzhanskaya Spit.
Variety of campsites on Dolzhanskaya Spit
Worth knowing when choosing a vacation on the Sea of Azov: in Yeysk, camping can be paid and free.
Free campsites are located on the so-called wild beaches, where there are no amenities of civilization - toilet, shower, water and electricity, not to mention Wi-Fi. There are no awnings, umbrellas, cafes on wild beaches. Having chosen free camping, you will have to worry about the safety of the car and your belongings, water supply and garbage collection.
The resorts of Yeysk practice the opportunity to park a car on the territory of a recreation center, and then set up a tent on an undeveloped shore.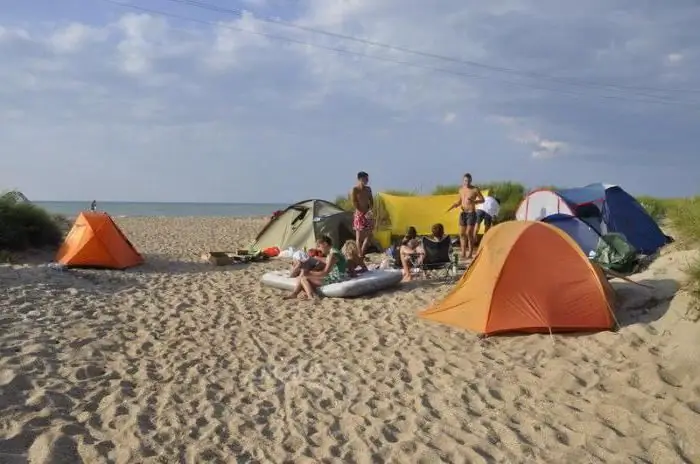 When choosing a campsite in Yeysk, you should familiarize yourself with the services provided in advance. So, some campsites offer accommodation not only in tents, but also in stationary houses with amenities.
Autocamping "Shura-Mura"
Shura-Mura camping is quite popular in Yeysk, located in a quiet place in the village of Dolzhanskaya. There is no track nearby, noisy clubs, discos - only peace and quiet.
In a fenced area, you can not worry about the fate of the car, placed under a special shady canopy. And in general, here is what you need for a pleasant summer pastime:
shady gazebos for barbecue and relaxation;
changing rooms and showers;
toilets;
sportsplaygrounds (and equipment can be rented).
Playgrounds with shallow pools are equipped for children.
Camping "Uyut" on Dolzhanskaya Spit
"Uyut" - this campsite in Yeysk, reviews are only positive, because guests here are offered really cozy rooms in wooden houses, 1- and 2-room, where you can comfortably accommodate the whole family.
In the protected area of the campsite are:
parking;
gazebo;
tables and benches;
braziers;
toilet;
shower room.
Resting in the "Comfort" with children, you do not have to think about their leisure time. On the territory there is a magnificent children's play complex in the form of a sea ship, as well as a swing and a sandbox. In the camping you can play basketball, gorodki, ball.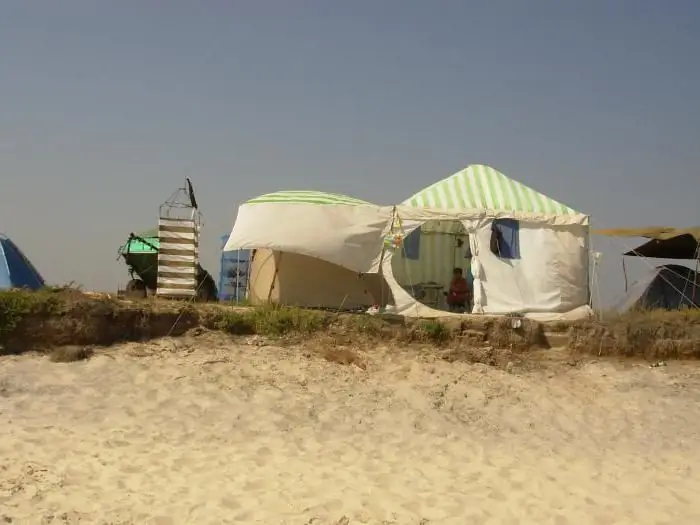 Storm
Another well-known campsite in Yeysk is Storm. It accepts 80 cars. Nearby there is a shop, a bank branch, a pharmacy, and a variety of water activities on the beach. There are showers, toilets in a protected landscaped area, it is possible to charge phones. Barbecue and gazebo rentals are included in the cost of accommodation at the campsite. Lunch can be prepared in the shared kitchen or ordered from the café.
Yeisky Forest Park
In the pine forest, where you can meet pheasants and hares, there is a camping site "Forest Park Yeisk". You can camp on its territory both in tents and in vans. Autocamping accepts an almost unlimited number of visitors.
Territorywell landscaped for summer holidays:
there are toilets;
locker rooms, showers;
canopies, benches;
braziers (coal can be purchased right there);
volleyball court;
cafe.
Where else can you relax
Numerous car campings in Yeysk allow you to save a lot on summer holidays. The cost of parking and setting up a tent is low and starts from 100 rubles.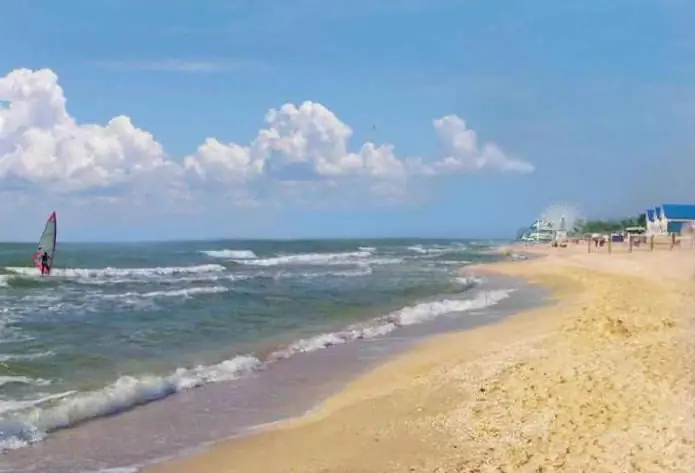 In addition to those listed above, there are other campsites on Dolzhanskaya Spit:
"Assol";
"Cascade";
"Gold Coast";
"Yana's";
"Alexander's";
"Dolzhanskaya fortress";
"Danis";
"Relax" and others.
In some of them you can rent a tent and bedding, book fishing or sailing lessons. The choice is yours!
Recommended: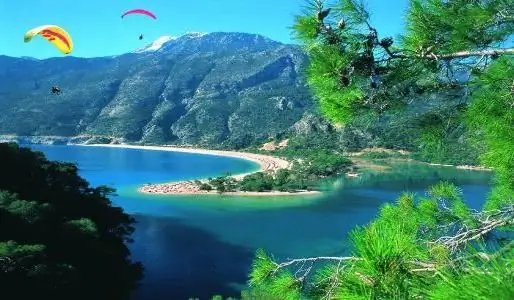 Choosing a holiday destination, many people ask themselves: "Which is better - Turkey or Egypt?" After all, these countries are somewhat similar to each other. In addition, they are one of the most popular places among Russian tourists due to the low cost of tours and the good level of service offered in hotels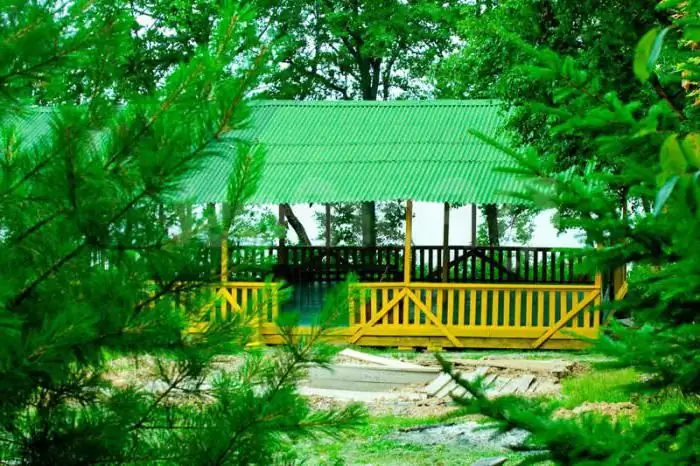 Khabarovsk is a city built on the right bank of the great Russian river Amur. This waterway is an important resource, not only in industrial and transport terms, but also in tourism. Every year the city welcomes a large number of visitors. They can see the sights and enjoy plenty of beach activities. Numerous recreation centers are located on the coast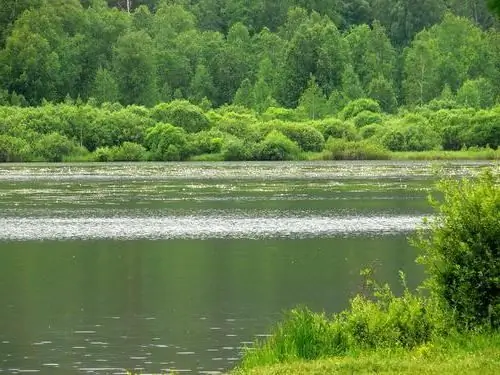 In the Altai Territory, at the foot of the mountains Malaya Sinyukha and Sinyukha, on the right bank of the Katun River, there is a picturesque reservoir - Manzherok. The lake is one of the most beautiful places in this region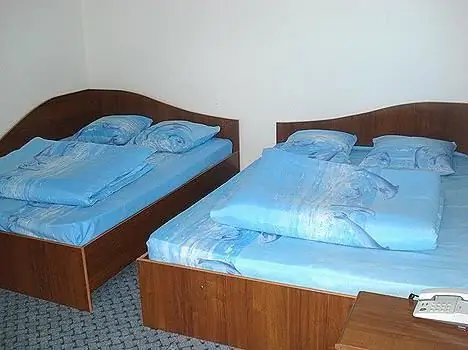 The status of a resort city was assigned to Yeysk in 2006. In 2007, its inhabitants declared their desire to develop the Yeysk Peninsula as a resort of federal significance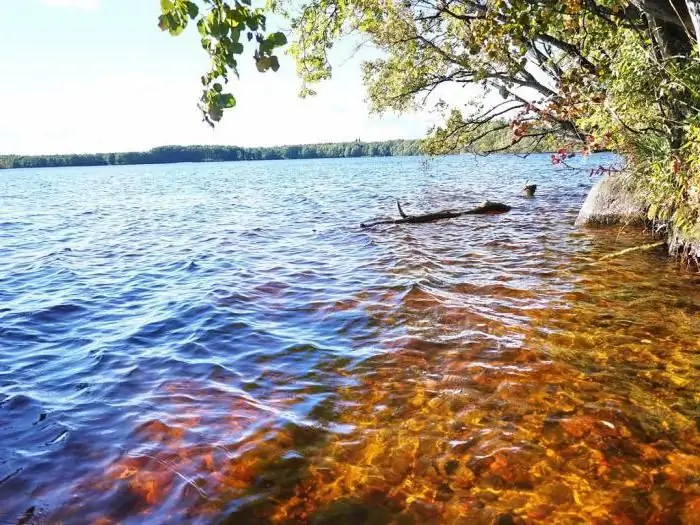 Gorovaldaiskoye Lake, reviews of which are only positive, has a village on the coast on one side and a highway on the other. In 1676, a mention of a reservoir appeared on a map compiled according to special Swedish materials. Then its name was somewhat different - "Swede"