Table of contents: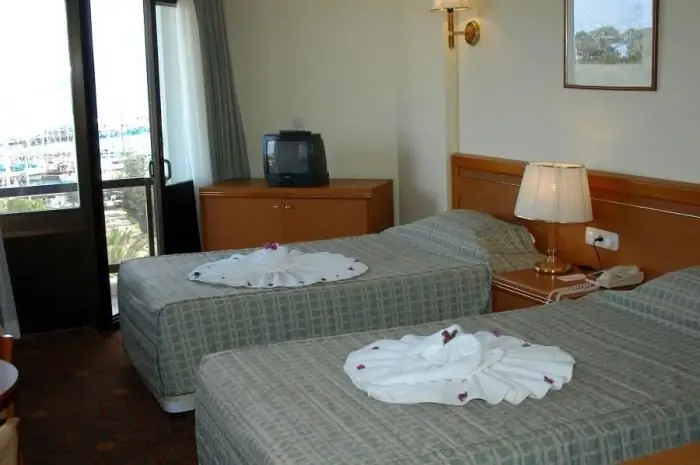 When choosing a place for a long-awaited vacation or annual vacation, many people prefer hot countries and swimming in s alty healing waters. However, some tourists would like to pay attention to sightseeing pastime. These two different directions are successfully combined in one of the popular resorts in Turkey - Kemer. In addition to getting a dark tan, here you can expand your horizons and visit a lot of attractions. However, travelers choose this place not only due to a wide range of entertainment. Fresh air, beautiful landscapes, pure nature - what attracts thousands of tourists to the colorful Turkish lands.
The five-star Ozkaymak Marina Hotel is an institution that will give a carefree vacation, good mood and first-class service to each of its visitors. Friendly and helpful staff, varied and hearty cuisine, as well as a good location, according to vacationers, are the main advantages of this hotel complex.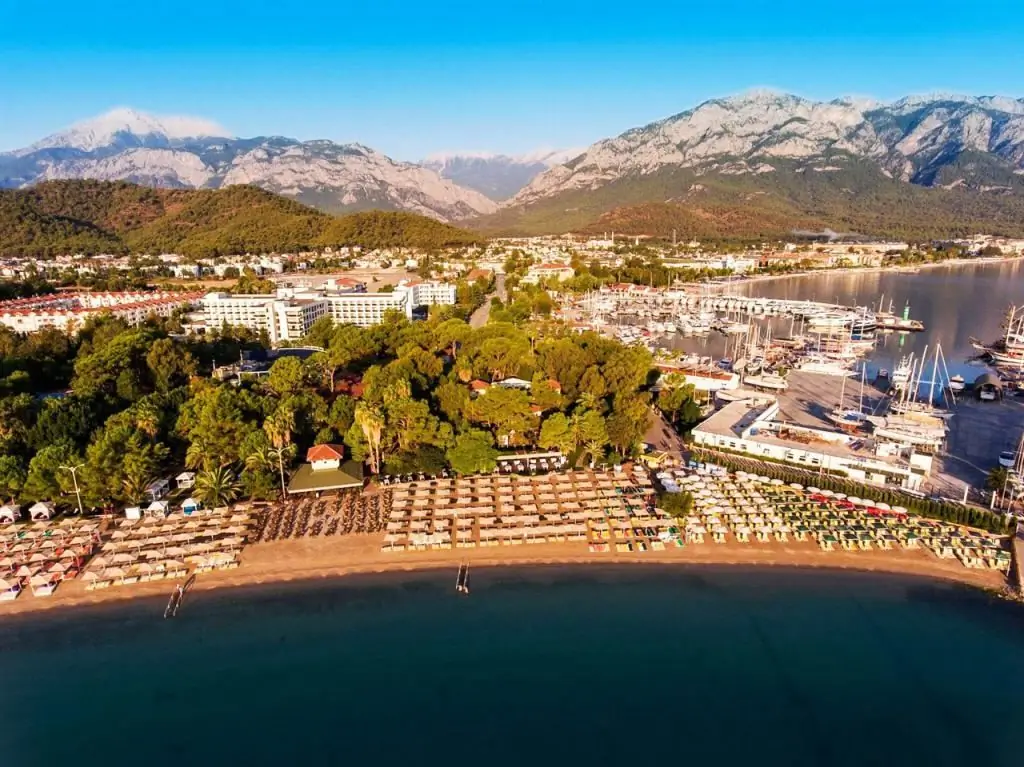 General characteristics
Ozkaymak Marina Hotel 5 opened its doors to travelers in 1996. And for more than twenty years, it has been improving and transforming from year to year. The last global renovation was made in 2014. The total area of 20,000 square meters includes two buildings, a yard area and a swimming area. Green plants, fragrant flowers and spreading palm trees fill the alleys and the garden area. Walking at any time of the day in the fresh air, according to experienced people, brings a lot of pleasure and enjoyment. The main building and the Annex building are five-story buildings equipped with elevators. The lobby features a small fountain that greets guests with its relentless bubbling.
Location
The good location of the Ozkaymak Marina Hotel Kemer 5notes most tourists in their reviews. The hotel complex is located in the heart of the resort town of Kemer. Within walking distance are the yacht club, discos, bars and boutiques. The distance to the nearest international airport is 55 km. Overcoming such a distance is not at all tiring after the flight.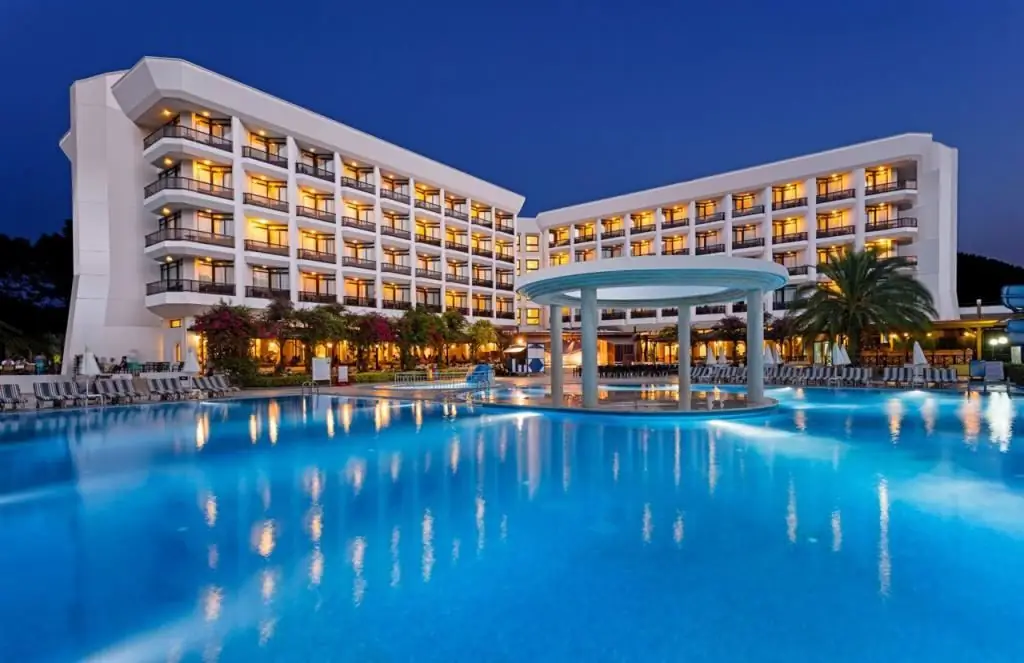 Accommodation Features
Checking in with pets in apartments of all categories is unacceptable. There are rooms for the disabled, equipped with all necessary facilities. There are adjacent rooms, which allows you to stay on vacation with a large company. Smoking is strictly prohibited throughout the property. Standard check-in time is 14:00. You must leave the walls of the rooms before noon. The staff speaks Russian, which makes it easy to resolve emerging issues.
Rooms of the hotel complex
For arriving guests, 330 apartments are offered for check-in, which are divided into several categories: Standard, Suite, Family and King Suite. Only standard class apartments are one-room, with a minimum area of 26 square meters and a capacity of 3 people.
The interior of the rooms is surprisingly modern. Every detail and every element of decor is thought out here. The combination of warm colors with light brown wooden furniture creates an atmosphere of coziness and comfort. The walls are hung with paintings. Panoramic windows saturate the room with light and freshness. The floors are covered with carpet. There is an exit to the balcony, where plastic furniture is located. Here you can spend a romantic evening in solitude, seeing off the sunset and meeting the dawn.
Cleaning is done daily by tidy maids. Putting things in order and changing towels is their main task. As noted by many guests, everything in the hotel sparkles with cleanliness. Linen is changed three times a week. Room Service is a paid service available 24 hours a day.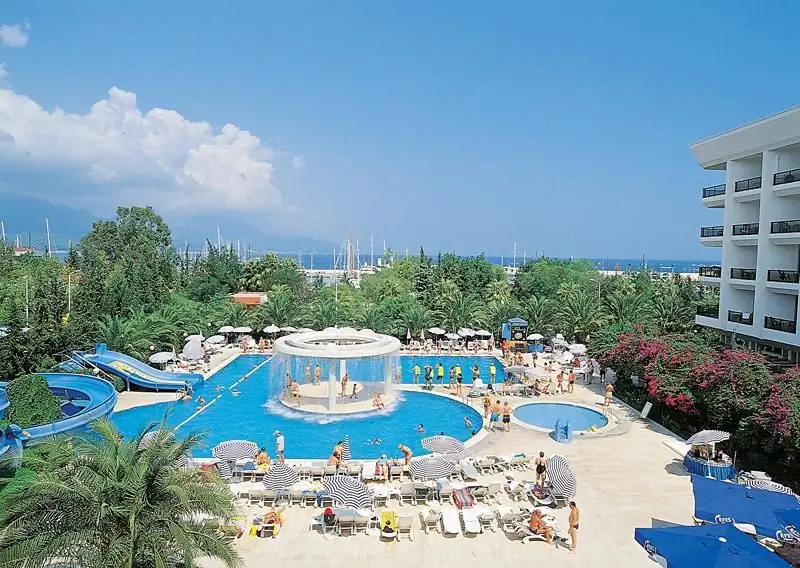 Decoration
The furniture set includes standard items, namely: double beds with soft mattresses, a table with a mirror, a luggage cabinet, a wardrobe and chairs. The rooms are equipped with central air conditioning, which regulates the temperature in the rooms. For instant communication with the reception worksphone, located on the bedside tables. Free evenings can be spent watching multi-channel TV with Russian-language channels. Use of the safe is free of charge. The lack of worries about important documents and gadgets allows you to enjoy your vacation to the fullest. Wi-Fi is common and free throughout. The minibar is replenished daily with drinking water and soft drinks free of charge.
The bathroom is finished with ceramic tiles in light shades. It is equipped with everything you need: a shower, a sink, a mirror, a bathroom and a hair dryer. A complete set of personal care products is updated daily. The number of snow-white towels meets the established standards.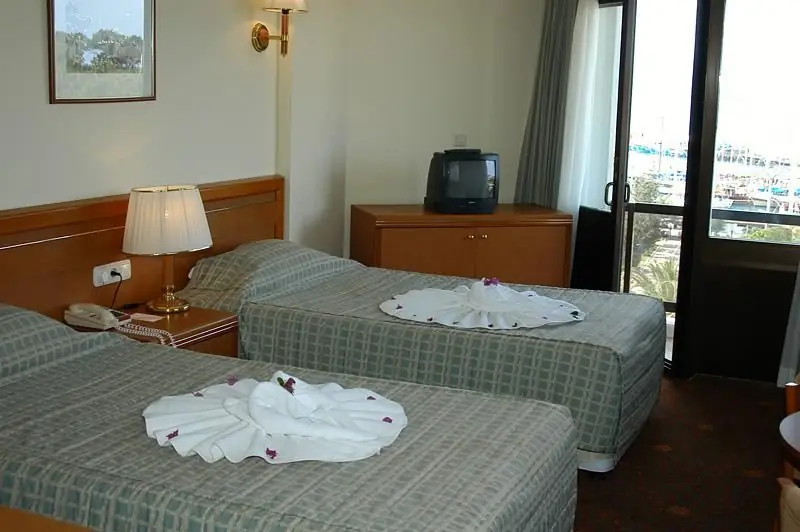 Power system
Incredible abundance and satiety of dishes are noted in their reviews of Ozkaymak Marina Hotel 5 by many guests. Five meals a day are organized in the form of a buffet. Each vacationer has the right to independently choose visually liked masterpieces of local chefs and fill his plate with them in the required quantity. As many guests note, the food here is hearty and amazingly tasty. It's simply impossible to stay hungry. According to a predetermined schedule, meals take place in the main restaurant, the interior of which promotes an increase in appetite and easy communication. White ceilings with spotlights, numerous windows and sconces on columns fill the hall with light and a warm atmosphere.
In addition to this institution, there is afish restaurant, the doors of which are open only for dinner. Advance table reservation and dress code required. During the day, you can enjoy a variety of snacks at the snack bar.
You can quench your thirst in one of the four bars located on the beach, by the pool, in the lobby and in the restaurant. There is a diet and children's menu. Freshly squeezed juices, foreign drinks and bottled drinks require additional payment.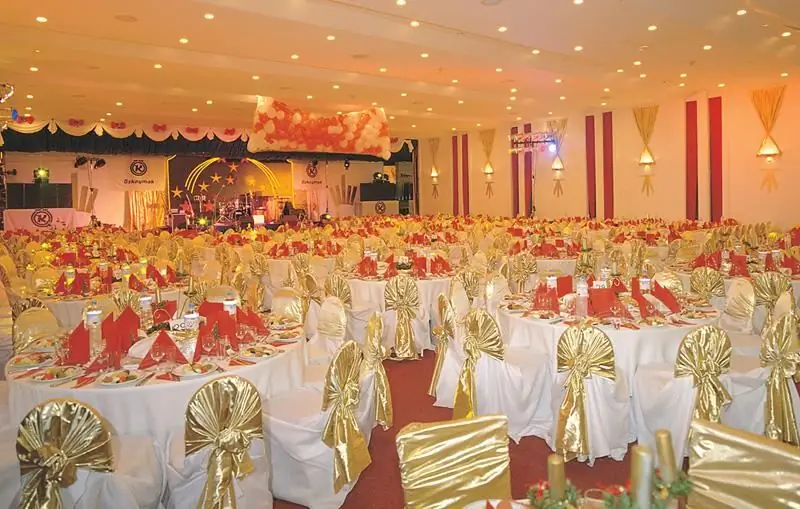 Aquazone
One of the important activities on vacation is bathing and swimming. The latter is incredibly he althy and has a beneficial effect on almost all vital systems in the human body. That is why the spacious swimming area attracts travelers to the walls of the hotel complex Ozkaymak Marina Kemer Hotel 5(Kemer). There are two outdoor pools here. Their area is 600 and 900 square meters. They are not equipped with a heating system and are filled with fresh water. Their surroundings are numerous sun loungers with umbrellas. Regular water aerobics classes, conducted by professional instructors, keep the body in good shape and improve mood.
Another important advantage of the Ozkaymak Marina Hotel 5(Kemer) is the presence of a mini-water park, which is represented by three bright slopes for children and adults. Skating brings a lot of smiles, joy and positive to every guest.
Tourists can use the heated indoor pool during winter.
Beach
Hotel complexOzkaymak Marina Hotel 5(Turkey, Kemer) is located 300 meters from its own beach. There is a roadway between them, but there is no underpass. The width of the coastline is 100 meters. Artificial bulk beach - sand and pebbles. The entrance to the sea is gentle, mostly pebbly. The water is amazingly clean and transparent. Snorkelling and scuba diving in the deep spaces are not only exciting, but also in demand among both experienced divers and beginners.
The coastline is dotted with sunbeds and mattresses. Numerous umbrellas are installed for lovers of shady spaces and those wishing to hide from the sun's rays. The beach infrastructure includes changing cabins, beach towels and showers.
Volleyball is one of the most common pastimes here. Every day, tourists gather on the equipped field to fight for the team championship. Banana and scooter rides are for lovers of drive and extreme sports.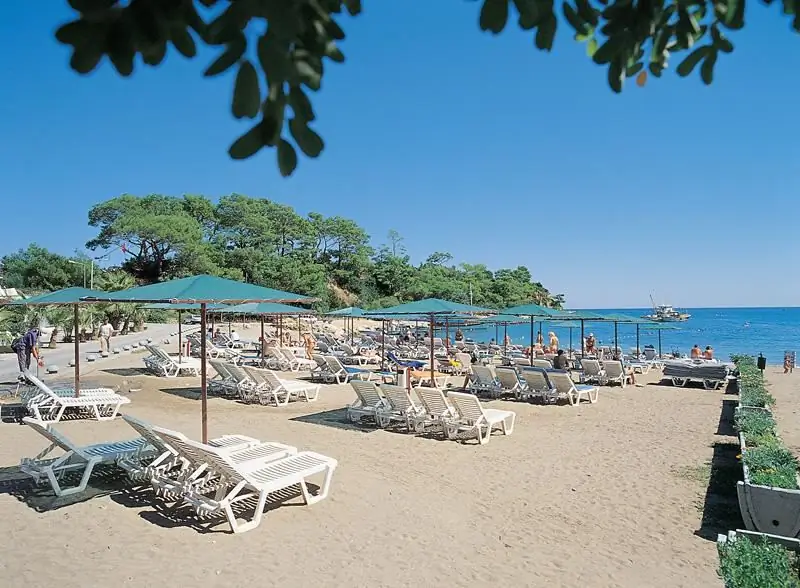 Children's leisure
Ozkaymak Marina Kemer Hotel 5 very often receives positive reviews from tourists who come on vacation with their children. Here, the organization of children's leisure is treated with full responsibility. Kids spend most of their free time in the pool. However, they can diversify their leisure time by playing in the children's mini-club, where, under the guidance of experienced teachers, kids frolic, draw, play outdoor games and watch cartoons. In the open air, numerousslides, swings and carousels, where children simultaneously expend energy and recharge with new energy for future achievements. Throughout the day, a professional team of cheerful animators amuse the little ones.
Baby services are also available. Parents can leave babies of any age in the care of professionals. Restaurants have high chairs. A child under 5 years old, without providing him with a bed, lives with his parents free of charge.
Entertainment
The doors of the fitness center are open all day long for sports lovers. A well-equipped room with mirrors allows you to keep your body in good shape, and, if necessary, lose a couple of extra pounds. Such a prospect is to the liking of vacationers. The entire training process is accompanied by experienced instructors who help in the distribution of loads.
In addition to exercise, tourists enthusiastically compete for the championship in billiards and table tennis in their free time. A visit to the sauna and jacuzzi restores strength, heals the body and breathes new life into it. Magic hands of professional massage therapists give true pleasure to every cell of the body. Facial and body treatments are incredibly popular among female vacationers.
Racket rental or playing with a coach on the concrete tennis court is an additional charge. The evening ends with an animation program with competitions and a disco.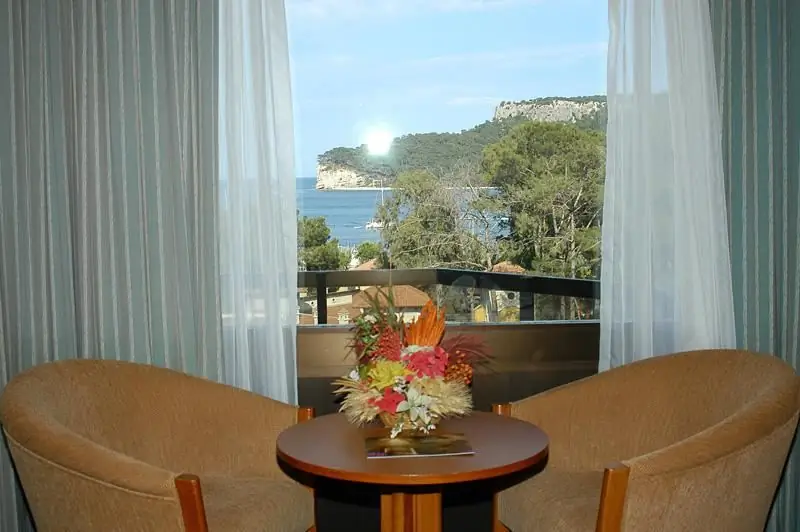 Additional services
For people who combine work and celebrationsolemn event with relaxation, there are banquet halls and a conference hall. The capacity of the latter is 600 people, and the area is 522 square meters. All the necessary equipment for holding seminars, meetings and conferences is available in the required quantity. Doctor's services are paid. Car and bicycle rentals are available. Parking spaces are provided free of charge. Laundry and dry cleaning on request. A visit to the hairdresser will give a new look and good mood to every visitor. There is a currency exchange office and a library.
Recommended: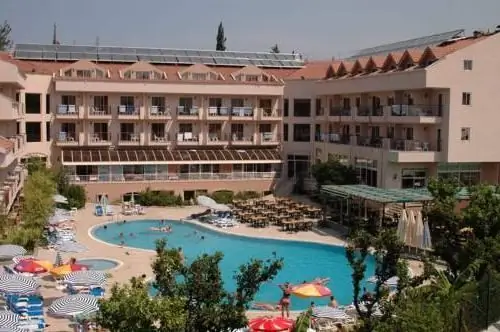 The doors of the four-star hotel Dream Beach Resort, located in Kemer, are open all year round for guests who want to enjoy their vacation. A lot of entertainment, comfortable conditions and high-level service, as experienced people say, are the main advantages of this institution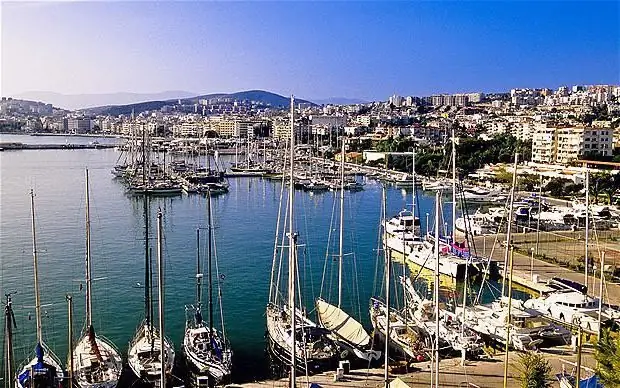 Very often, novice tourists ask about which Turkish resort is better. After all, if you take into account the many directions, it is actually quite difficult to make a choice. And professionals, thinking, answer that they are all wonderful, although each has its own characteristics and charms. Only after visiting at least a few of them, the traveler understands where to go next time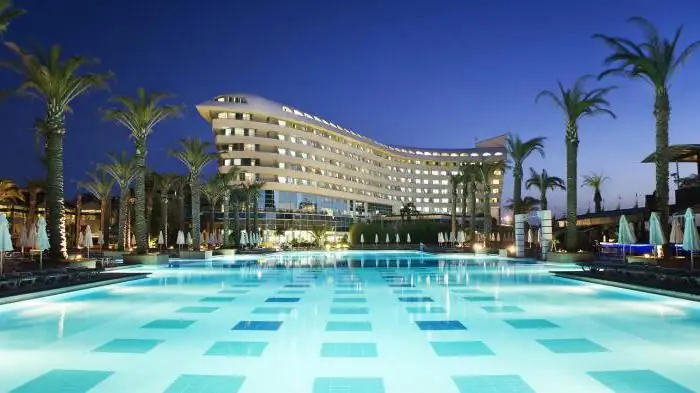 Who said that holidays in Turkey are banal? Can this country seem boring if it has so many entertainments, while there are a lot of interesting excursions and attractions? Of course, the degree of comfort everywhere and always equals the amount of money that a person is willing to pay for it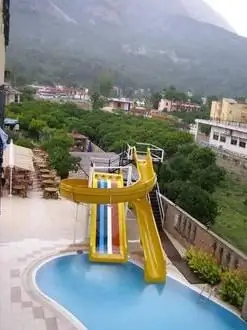 Umbrellas and sun loungers in large quantities are placed around the pool, there is a bar. Fans of active pastime can visit the sauna, as well as the Turkish hammam. In the evenings, discos are organized on the territory of the Matiate Hotel 4 , there are cheerful animators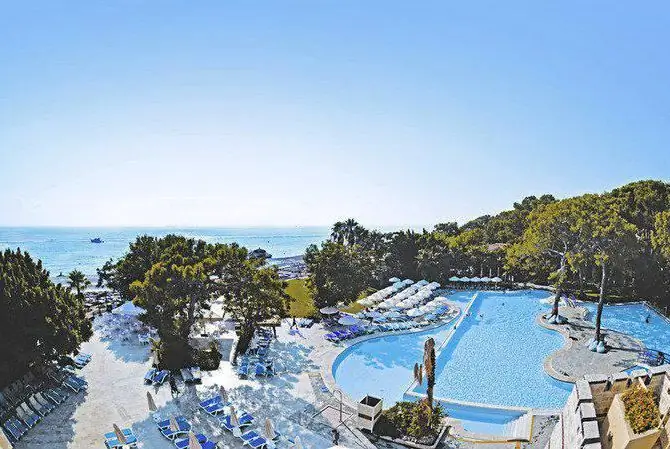 Kemer is a major entertainment center in Turkey, which is visited every year by tourists from different regions of the world. Prices for holidays here are relatively low, but the level of service is pleasantly pleasing. There are many excellent hotels in which tourists are always welcome. One of them is "Ulusoy Kemer Holiday Club"