Table of contents: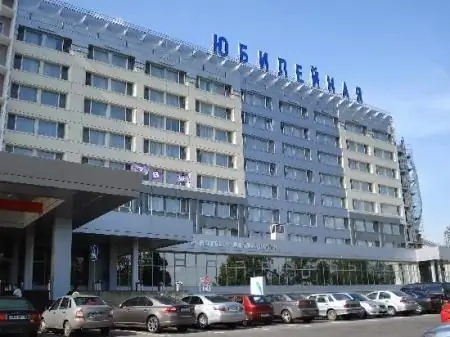 The city of Brest is located in the southwestern part of Minsk, the capital of Belarus. This area is a landscape flat surface located in a lowland. At the same time, there is a vast forest park zone around the entire city, there are many squares and parks on the territory of Minsk.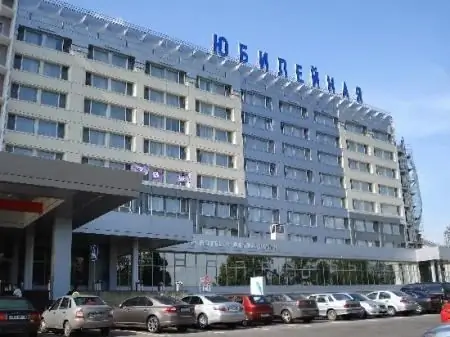 The area and suitable climate are conducive to the natural growth of trees, and also become excellent conditions for the growth of various artificial plantations.
If you want to visit this beautiful city in the near future, you need to take care of your place of residence in advance so that your trip is not overshadowed by the search for housing. In this article we will look at the most popular hotels in Brest.
Vesta Hotel
This hotel in Brest has a very favorable location - in the city center. Nearby is a park area, the Berestye Archaeological Museum, the Brest Hero Fortress (memorial complex), the Museum of Railway Engineering, as well as theaters.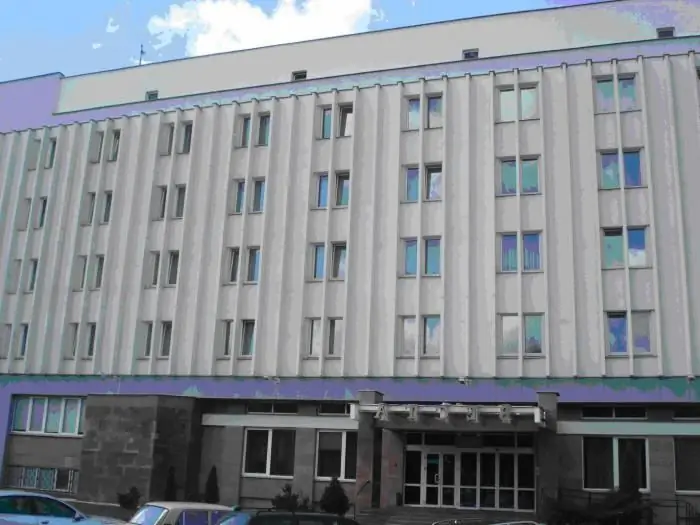 Hotel rooms:
1-seat;
2-seat;
3-seater;
lux C;
Lux B;
luxury A.
Service:
internet;
cafe;
dry cleaning;
mail services.
Cost: from 1800 rubles/day
Intourist Hotel
This is a 3-star hotel complex. There are 228 comfortable rooms of various categories. A significant advantage of the institution is its location in the heart of the city.
This hotel in Brest has the following additional services:
bar;
restaurant;
cafe;
currency exchange;
card payment;
conference room;
guarded parking;
excursion service;
luggage storage;
transfer.
Cost: from 3200 rubles/day
Hotel "Builder"
Stroitel is a hotel located 7.5 kilometers from the city center. The hotel offers guests 16 rooms.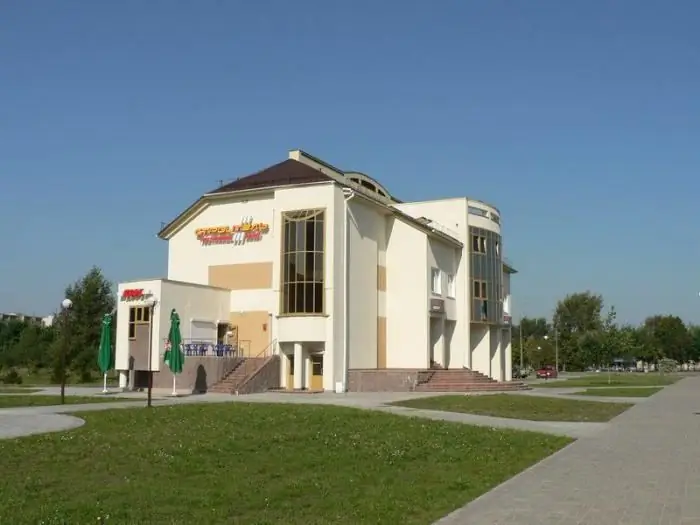 Each room of this Brest hotel has:
satellite TV;
toilet;
refrigerator;
room service;
shower;
Internet (Wi-Fi).
Additional services:
excursion service;
cafe;
booking/delivery of air and train tickets;
dry cleaning;
guarded parking;
luggage storage;
sauna;
beauty salon;
solarium.
Entertainment and sports: gym, billiards, outdoor tennis court.
Cost: from 2800 rubles/day
Hotel Yunost
If we consider the hotels of Brest next to the Brest Fortress, it is worth highlighting "Youth". Its total capacity is 152 seats.
Currently, rooms of the first, highest, second, third category and without it are offered.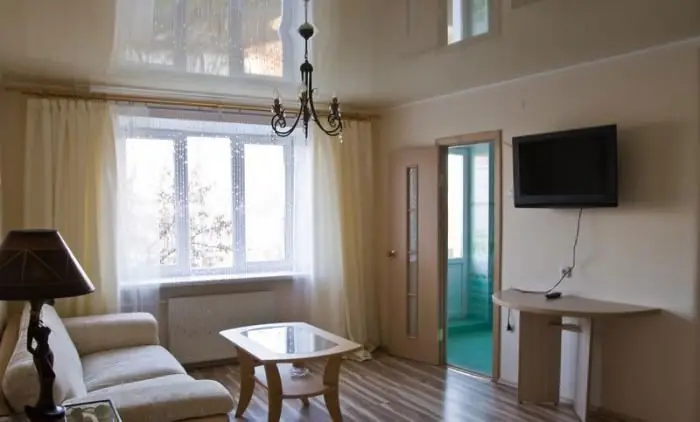 The hotel "Yunost" has an international telephone, a left-luggage office, a household room for free round-the-clock use (electric kettle, microwave oven, iron, ironing board, refrigerator).
Café Iva was opened here for guests, which is open every day, seven days a week. This place provides a lunch menu at very low prices. For organized groups, by agreement, there can be an early breakfast.
Cost: from 1800 rubles/day
Belarus Hotel
This economy class hotel in Brest has an excellent location - it is located in the city center, near the embankment, while almost all the sights are within walking distance.
It is an eight-storey building with 143 rooms. At the same time, the rooms of the highest category have air conditioning. Each of them has new plumbing, double-glazed windows, TV, telephone, refrigerators in some, while the quality of the finish fully complies with European standards.
You can also use transport services, in addition, order excursions, meals inrestaurant, book tickets.
Cost: from 3500 rubles/day
Hermitage Hotel
We offer 55 rooms for guests, including Studio, Twin, Lux, Junior Suite and 2-level Apartment. The rooms can simultaneously accommodate 115 guests. Thanks to the latest technology, several rooms can be combined to form a multi-room apartment.
Infrastructure of this hotel in Brest:
Gourmet room;
restaurant;
bar;
Ex-Libris conference room;
terrace;
karaoke club "Solo";
ATM (ATM);
gym.
Not far from here are the Brest Academic Theater of Music and Drama, the Museum of the History of Brest, St. Nicholas Church, May 1 Park.
Services:
guarded car park;
Wireless free Wi-Fi on site;
luggage storage;
breakfast buffet;
dry cleaning, laundry, ironing;
room service;
delivery and ordering flowers;
booking tickets;
shipping and ordering correspondence;
tourist and excursion service;
transfer.
Price: from 3600 rubles/day
Silver Thaler Hotel
This modern hotel is located in the center of Brest. The hotels here are always very popular with tourists, and this one is almost always full. It has 17 rooms decorated in a contemporary style.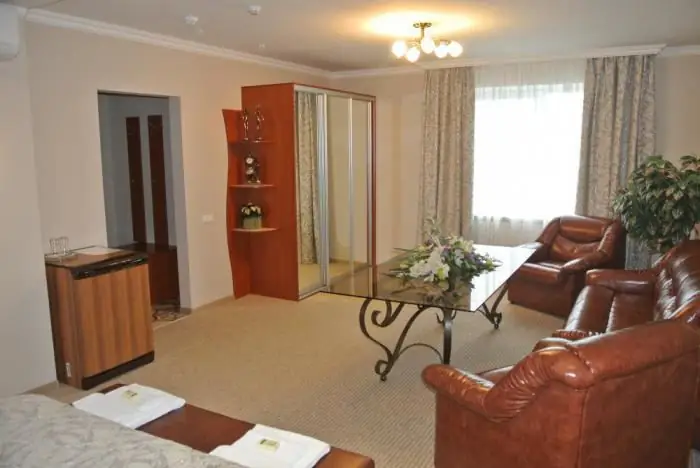 Chiefthe principle of the institution is to anticipate any desires of the guests. The rooms are equipped with every comfort, allowing you to stay here for business people, couples with children, as well as people who just came here to relax.
For the convenience of guests, free guarded parking is provided.
Each room has free internet, ventilation, TV, telephone, air conditioning, private bathroom.
In addition, the hotel provides a wide range of services: leisure, corporate and business events, as well as entertainment.
Inside the hotel there is a pub and a cozy restaurant where you can enjoy a delicious breakfast and spend the evening enjoying music surrounded by a modern, stylish interior.
Price: from 2400 rubles/day
Worker Training Center Hotel
This is an economy class hotel with 144 beds. It is located 10 minutes from the city's train station. Located in a residential area.
This hotel is a great alternative to hostels.
There are several types of numbers here:
three-bed rooms with TV in the lobby and amenities (toilets and showers) on the floor;
rooms for four people with a TV in the lobby and amenities on the floor;
single room with amenities located in the room (washbasin, bath, toilet), as well as an electric kettle and TV;
double rooms with private facilities, TV and electric kettle in the room.
It is also possible to use shared kitchens,which are equipped with refrigerators and electric stoves.
Good transport links with any part of the city, low prices make the hotel very attractive for tourist groups, sports delegations.
Almost all sights, including the Brest Hero Fortress (memorial complex), the Regional Museum of Local Lore, the Berestye Museum, the Art Museum, railway equipment, the history of the city of Brest, as well as the Brest Academic Theater of Music and Drama, are within walking distance.
Cost: from 1400 rubles/day
Dream Hostel
Dream Hostel offers hotel services to its guests. It is located a 7-minute leisurely walk from the station, and not far from Sovetskaya Street, the main street of the city.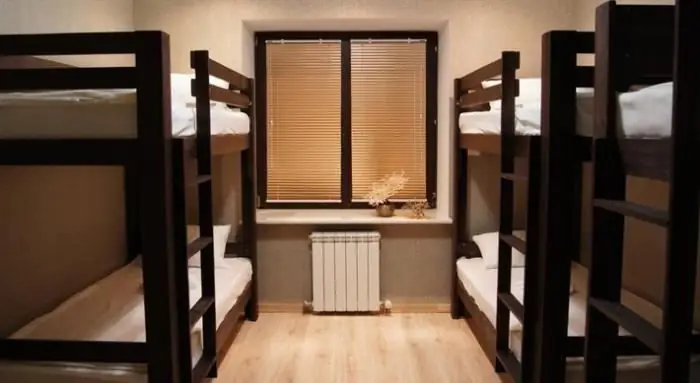 Services:
personal free lockers;
24-hour front desk;
bottled water and tea;
Wi-Fi.
Guests can use the tumble dryer and washing machine. At the same time, the tour desk of the hostel will always help in organizing various programs for visiting Belovezhskaya Pushcha, Brest Fortress, Belaya Vezha.
Cost: from 1200 rubles/day
Brest hotels: reviews
Reading the reviews of tourists about hotels in Brest, you can understand that many of them are distinguished by a good level of service, affordable prices for accommodation and the availability of the necessary conditions for a comfortable pastime. If you read negative statements, you can highlight opinions aboutthe fact that the quality of repairs and furniture here for the most part is not high enough.
Popular topic