Table of contents: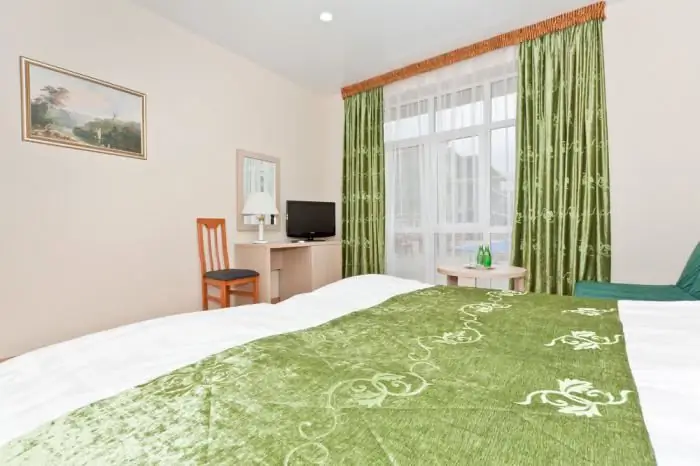 With the approach of summer, many residents of Russia are thinking about a vacation at sea, and often the village of Dzhemete becomes their choice. Hotels located in this village are very popular with tourists, as most of them have a favorable location, quality service and reasonable prices. In addition, guests of this village can at any time go on an excursion to Anapa, which is literally nearby.
White Sand Hotel
White Sand is one of the most popular hotels in Djemet. Nearby hotels also often attract the attention of tourists, but this one attracts vacationers with two swimming pools and a sunbathing area located on the roof of the building. In addition, it offers a magnificent view of the sea.
The hotel itself is presented as a four-story building, which houses comfortable rooms. It offers guests one-room standards and two-room suites. Rooms of both categoriesequipped to the highest standard. At the request of guests, they can be settled in a room with a balcony. For an additional fee, tourists can eat at the local restaurant.
The hotel is located on the first coastline, thanks to which vacationers can be on the beach in a few minutes. Not far from the hotel there is a tour desk, a dolphinarium, souvenir shops, a pharmacy.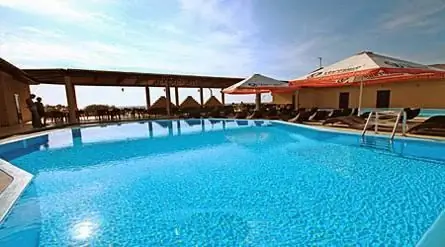 Atlas Hotel
This hotel is located 100 meters from the sea. Dzhemete beach, where Atlas guests can be in just 5 minutes, is able to please them with opportunities for a luxurious holiday. And the hotel itself will surprise you with modern comfortable rooms, an outdoor pool, as well as the proximity of numerous entertainment facilities, including a dolphinarium, many cafes and a tour desk.
Rooms in the "Atlas" are presented in the standard category, but they can be with or without a balcony. All rooms are equipped with electronic locks and beds with orthopedic mattresses. There is also a separate bathroom, TV, hair dryer, refrigerator and safe. Any room can accommodate an extra bed.
Breakfasts, lunches and dinners are not included in the price of accommodation, but it is possible to order complex meals for an additional fee. At the same time, hotel guests receive a huge selection of dishes from meat, fish, seafood, salads, fruits and wines.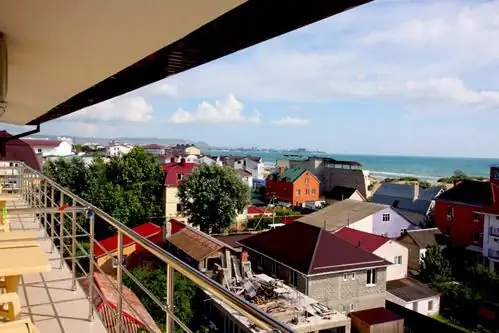 Cruise Hotel
Cruise is another comfortable hotel located on the seashore inthe village of Dzhemete. Hotels in this settlement are distinguished by the fact that everything you need for a pleasant stay is within walking distance from them, and you can also reach Anapa at any time in a minimum period of time. And Cruise is no exception to this rule.
The hotel has 50 rooms. All of them are beautifully decorated and furnished with ergonomic and elegant furniture, and from their windows offer wonderful views of the sea or the pool. Rooms are cleaned daily and bed linen is changed once a week. Each room has a TV, telephone, hair dryer, refrigerator, set of towels and a split system.
On the territory there is an outdoor swimming pool, parking, playground. Transfers can be arranged for an additional fee.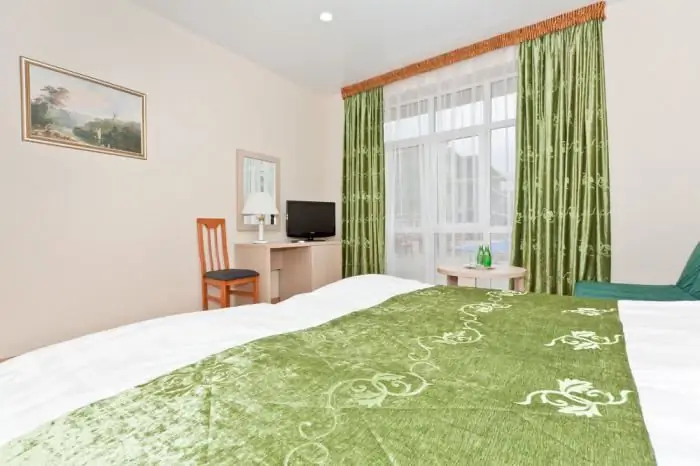 Southern Night Hotel
Southern Night is another noteworthy hotel in Dzhemet. Hotels located on the second coastline are not always less convenient, and this rule applies to this hotel. The entire courtyard of the hotel is in the shade of the vine, which is its indisputable advantage, especially on hot summer days. There are also many rose beds and a bar.
The hotel is represented by 4 buildings, in which there are 69 standard rooms and studios. There are double and triple rooms equipped with all necessary furniture and household appliances. The hotel offers three meals a day, swimming pools, sunbeds, parking, a playground, as well as a transfer order.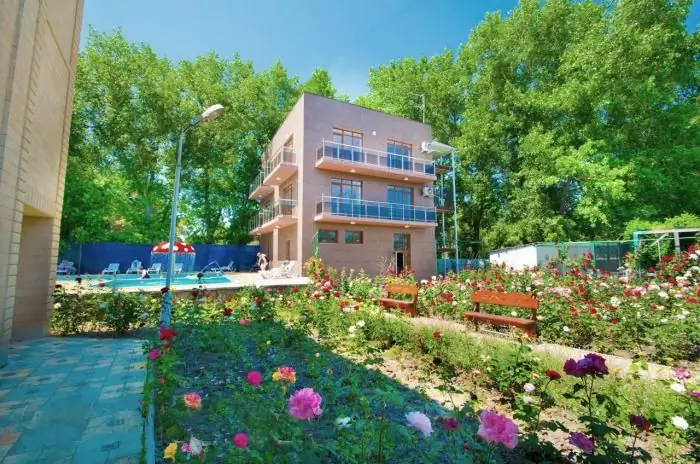 Jennifer Hotel
Hotel "Jenifer" means comfortable rooms, hospitable hosts and proximity to the famous Black Sea resort of Anapa. The Dzhemete hotel has been on its territory relatively recently, but during this time a lot of tourists have already managed to relax here and be satisfied with the living conditions in it.
Jenifer Hotel is a four-storey building equipped with an elevator. The beach is located nearby, thanks to which hotel guests can visit it daily as many times as they like. At the same time, they have the opportunity to enjoy the clear water and the abundance of the sun, which distinguishes Dzhemete. The hotel reviews are extremely positive, as its owners spend a lot of effort to ensure that every guest is comfortable here.
Jennifer offers only 21 rooms for accommodation, which also has a positive effect on the quality of rest, because thanks to the small number of tourists it is never too noisy here. All rooms in the hotel are equipped with the necessary amenities, some of them have access to a balcony. The hotel territory is guarded around the clock and has everything for a pleasant pastime - a cafe, billiards, a swimming pool, table tennis and a sauna.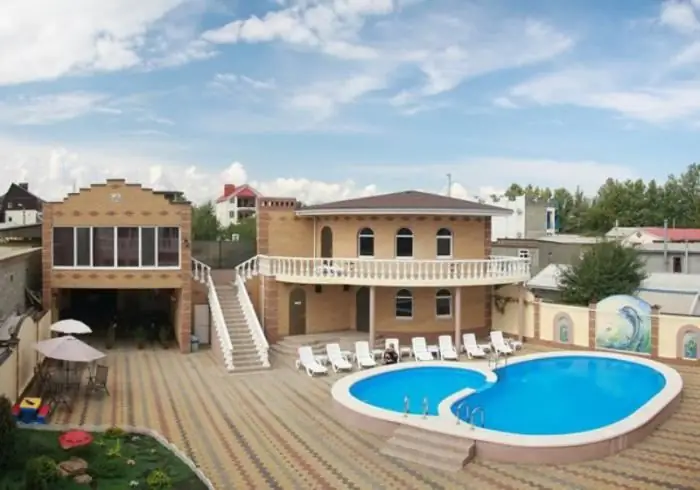 Reviews of travelers about hotels in Dzhemete
All tourists who prefer a less noisy place for their vacation than Anapa (Dzhemete hotel), leave only positive reviews about it. After all, most of them went to the village of Dzhemete and opted for one of the hotels, aboutwhich were discussed above. At the same time, there is practically no negative about any of them. Everyone was satisfied with the modern rooms, comfortably furnished areas and location. Only a few tourists complain about the lack of food in most hotels in the village, which would be included in the cost of living. Because they think that in the case of a separate payment, it is too expensive.
Popular topic