Table of contents: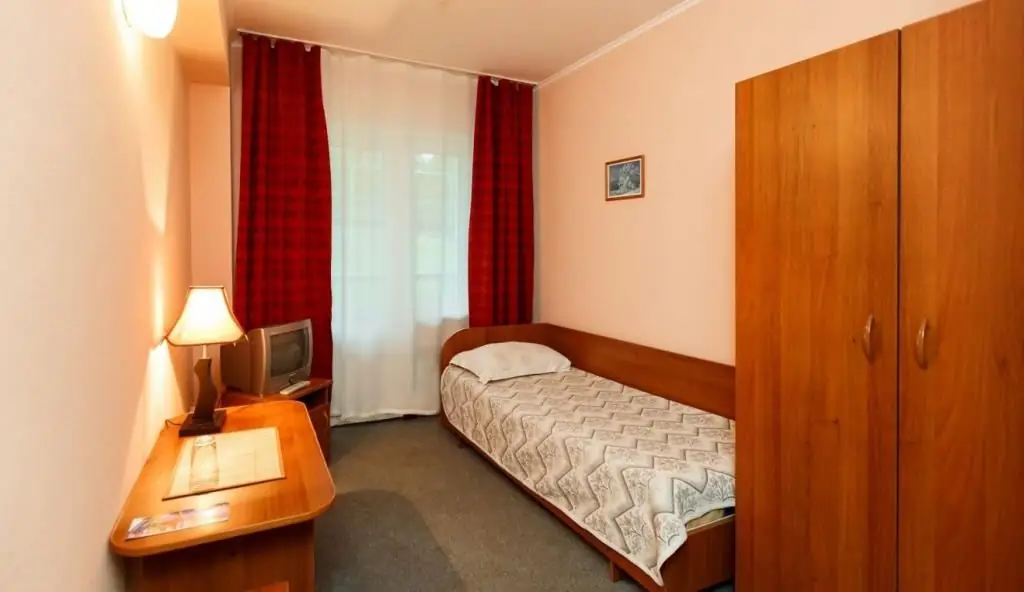 Listvyanka is one of the most popular villages near Irkutsk. A large number of tourists come here, because the village is located an hour's drive from the city in a forest. Listvyanka is also known as a place of rest. For example, the hotel complex "Pribaikalskaya", located on this territory, pleases its guests with various entertainment and recreational activities. It will be discussed in the article.
Hotel complex "Pribaikalskaya" (Irkutsk region): address and location
The hotel itself is located on the 62nd kilometer of the Baikal tract, in the village of Listvyanka. However, in the city of Irkutsk itself, on Timiryazev Street, house 5B, there is a reservation department, which you can contact to reserve vacation spots.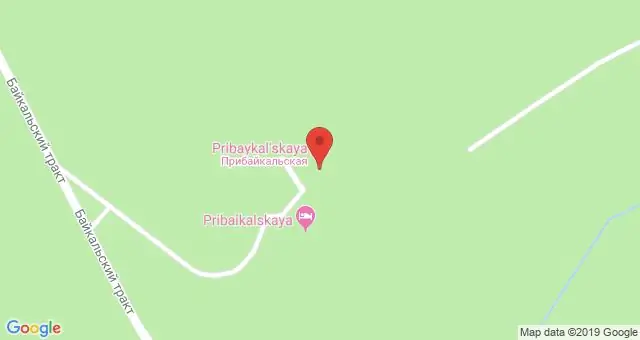 The hotel complex "Pribaikalskaya" is not only comfortable accommodation in rooms, but also various kinds of entertainment. There are also several eating places on site. There is a tourist office herewill help organize leisure activities for families and friendly companies.
Rooms
The hotel is designed to accommodate a large number of people. There are apartments with different levels of comfort and different price categories. Check-in is possible in the main building of the recreation center and in the additional one (located nearby).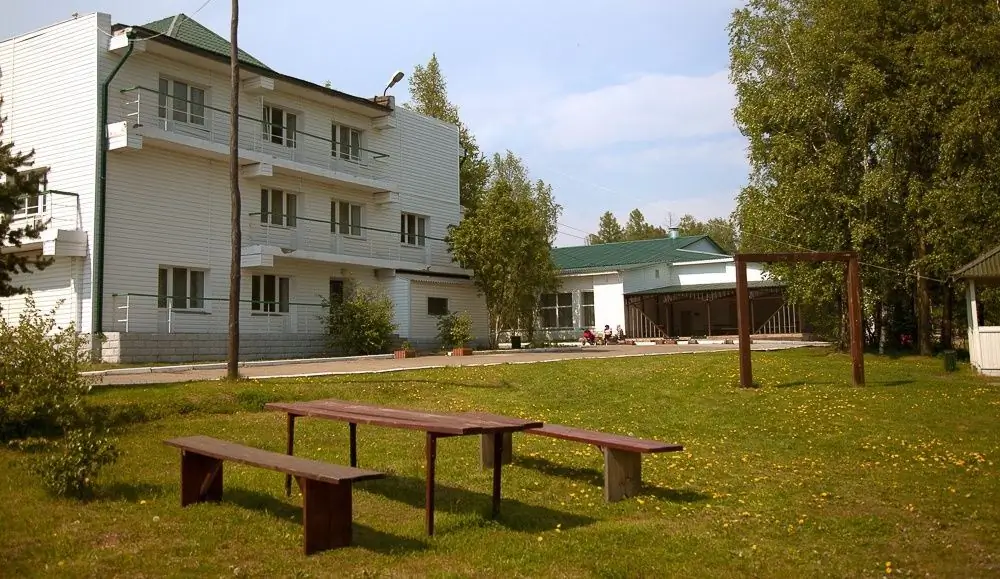 "Standard" Single
These comfortable rooms are located in the main building, on the side of the hotel, offering breathtaking views of the ski slopes. In total, guests can occupy 14 of these apartments with a total area of 11 square meters each.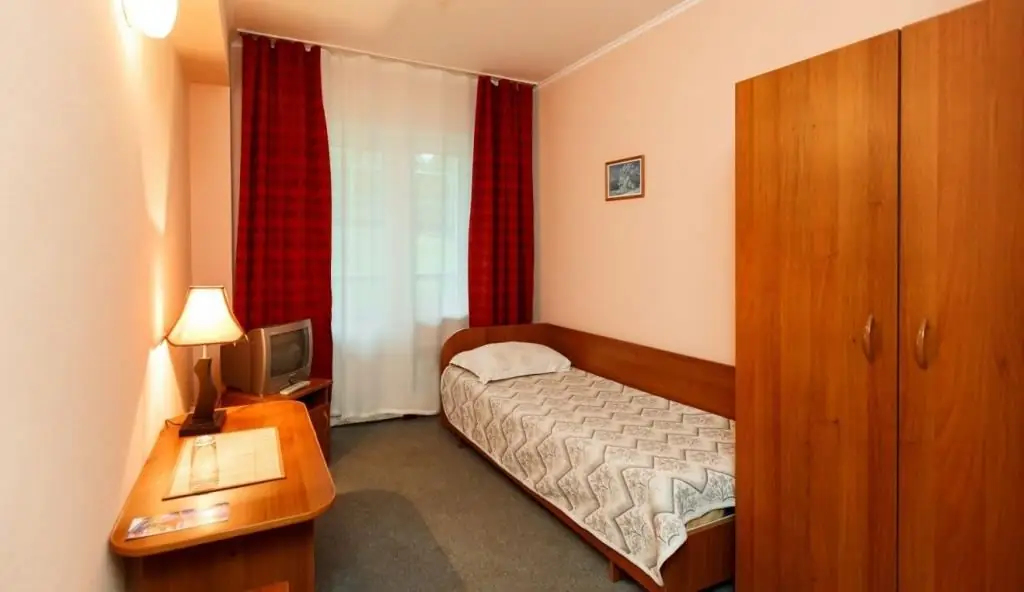 All rooms are equipped for guests. Inside there is a bed, a coffee table, a wardrobe, a TV, a telephone and a bathroom. The Pribaikalskaya Hotel provides guests with the necessary personal hygiene products and bedding. The price includes breakfast in the main restaurant.
Check in is daily from 14:00. Guests must vacate the apartment by 12:00 on the checkout day. By prior arrangement, guests can check out later, while they must pay 50% of the room rate for check-out after 18:00 and 1/24 per hour for check-out before 18:00.
Single room costs 1000 rubles on weekdays and 1400 rubles on holidays and weekends. Payment is accepted by cards and cash.
"Standard+" Single
Hotel complex "Pribaikalskaya"in Listvyanka is equipped with single rooms "standard plus". All of them overlook the source of the beautiful Angara River. Each apartment has a total area of 11 square meters.
They are designed for one person. The cost is similar. The service package does not differ from the "standard" number.
Double rooms
This category includes "Standard" and "Standard+" class apartments. Their cost varies and depends not only on the number of residents, but also on the day of the week. So, on weekdays, guests can count on the cost of living from 1200 to 1600 rubles, and on weekends - 2100 rubles.
The number of such rooms in the complex is 31. Each apartment has an area of 13 square meters and the necessary furniture. A bathroom with cosmetics and hygiene items is available in every room.
The interior of the apartment is classic - wood furniture, light walls and curtains. The size of the room allows you to put an extra bed in it in the form of a folding bed or a baby cot.
"Family" room
The cost of living in these apartments ranges from 2100 to 3100 rubles on weekdays and up to 3800 rubles on weekends. In total, 8 such rooms are organized for guests at the Pribaikalskaya Hotel in Irkutsk. Each of them consists of a bedroom and a living room. That is why it is convenient for families with children to stay in them.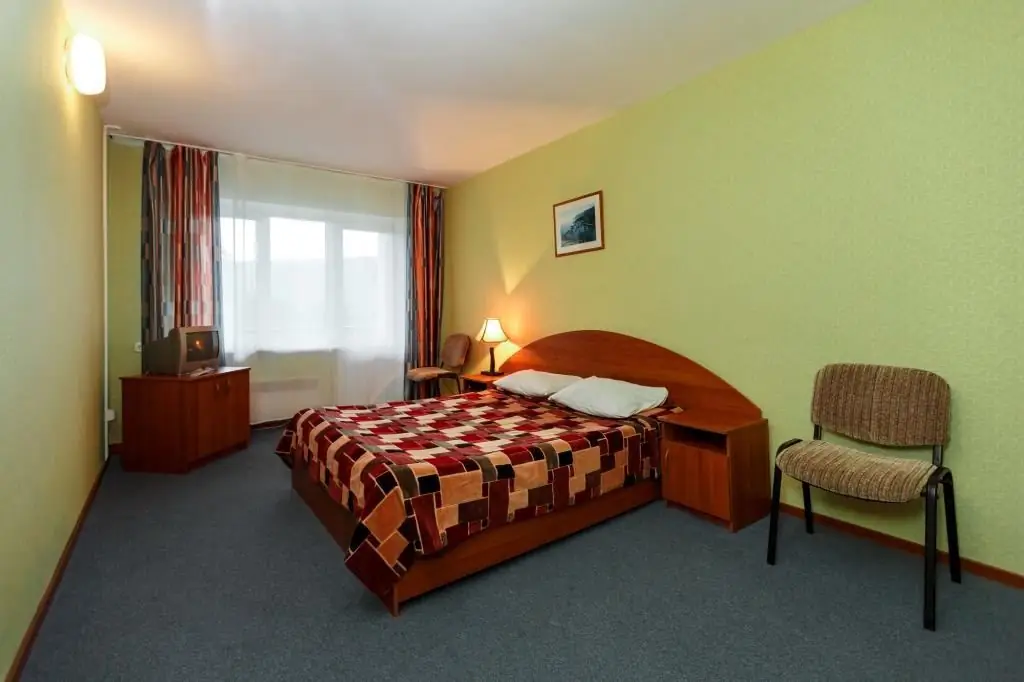 The apartments are located in the main building on the 3rd and 4th floors. Each, in addition to the necessary furniture, has a bathroom.room with everything you need. Also in one of the rooms there is a balcony with a beautiful view of nature and the forest. Breakfast is included in the price. The number of breakfasts depends on the places paid.
Business
The cost of "business" rooms is from 2100 rubles on weekdays and 3500 on weekends. In a spacious room there are two single beds that can be moved into one family bed. Rooms of this type are located in a separate building. The apartment consists of two rooms with extra beds. They are convenient for guests because there is a sauna nearby.
Comfort
Category "comfort" - a spacious bright room. There are 8 such apartments in the complex. Each of the rooms consists of 2 rooms. The bedroom has a bed (one large or two single beds). Extra beds are available in the living room.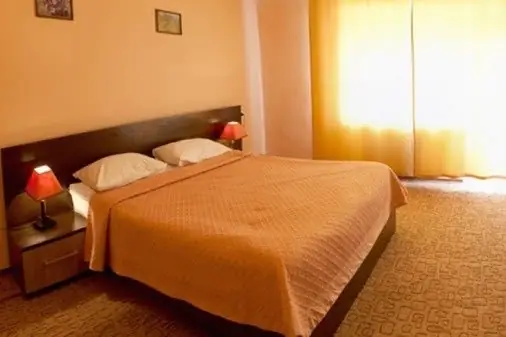 The cost of living in a room of this type is from 2500 rubles on weekdays (per person) and about 3200 on weekends. Breakfast included.
Food
There are several catering points on the territory of the recreation center. The hotel complex "Pribaikalskaya" offers its guests to eat in the main restaurant with the same name or in an open summer cafe. There is a bar menu in the billiards room, and there is also an express cafe in the main building.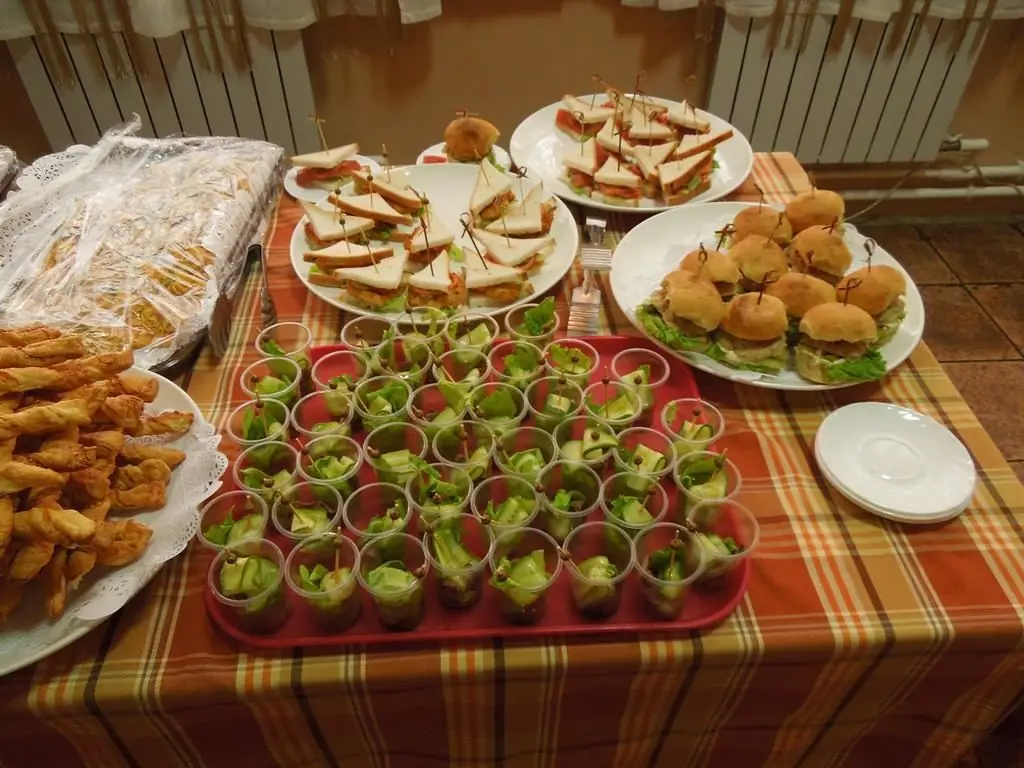 Restaurant "Pribaikalsky"
The institution is open daily from 09:00 to23:00. The spacious hall can accommodate up to 200 guests. It opens its doors to guests and guests in the main building of the recreation center on the ground floor.
Siberian cuisine is represented here by a wide range of dishes. Chefs try to make the food he althy and clean. Therefore, natural products grown on these lands are used in cooking.
The restaurant has been delighting tourists for over 10 years. Weddings, banquets and celebrations are held here. Many organizations come here for corporate events and business meetings.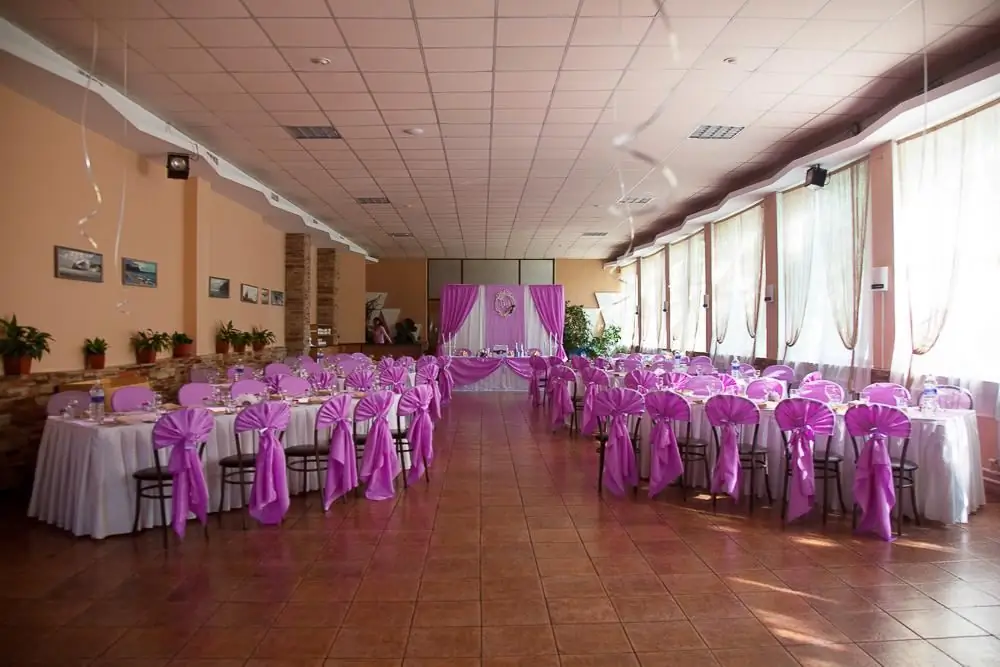 Grill-bar "Panorama"
This establishment can be found on the 6th floor of the main building of the recreation center. The total capacity is up to 80 people. The cafe is open daily from 11:00 to 01:00. Bistro offers its guests a secluded room that is suitable for celebrating celebrations or just evening family gatherings.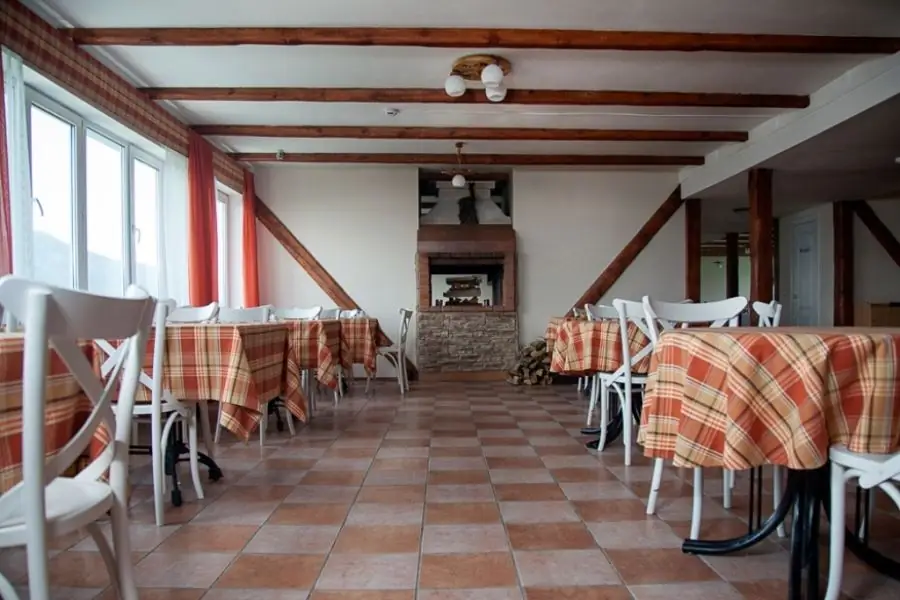 On the menu, everyone will find a dish to their liking. A wide range of spirits and non-alcoholic cocktails leaves no one indifferent.
The bar is made in a classic European interior with Scottish touches. Wicker furniture combined with stained glass windows and wooden floors create a wonderful festive atmosphere. From here you can admire the beauties of nature from a bird's eye view.
Express Cafe
During the period of a large "influx" of visitors, this food option is in great demand. By and large, this is a small canteen with a distribution line. Here you can eat tasty and inexpensive, as well asdrink your favorite soft drinks.
Entertainment and Leisure
Many guests come to the recreation center in Listvyanka to improve their he alth. Sauna and cedar phyto barrel are known to many tourists. Guests can use two spacious Finnish steam rooms, and then plunge into the pool with Baikal cool water.
Together with these procedures, many order herbal medicine in a cedar barrel. With the help of this method, the body is freed from toxins and accumulated unnecessary substances. The skin is saturated with beneficial substances from herbs, and regeneration processes are launched in the body. In the sauna you can order food and drinks from the bar. Steam rooms are open around the clock.
An extreme park has been organized on the territory of the recreation center "Pribaikalskaya" in Irkutsk. Here visitors can have fun and spend time usefully. This way of rest is perfect for companies and families.
In winter, all guests are offered organized ski runs, skates, sleds, tubing and snowboards. All equipment and equipment can be rented. The rental office is open daily from 10:00 to 18:00, except Monday (day off). A ski pass will cost guests from 300 to 600 rubles.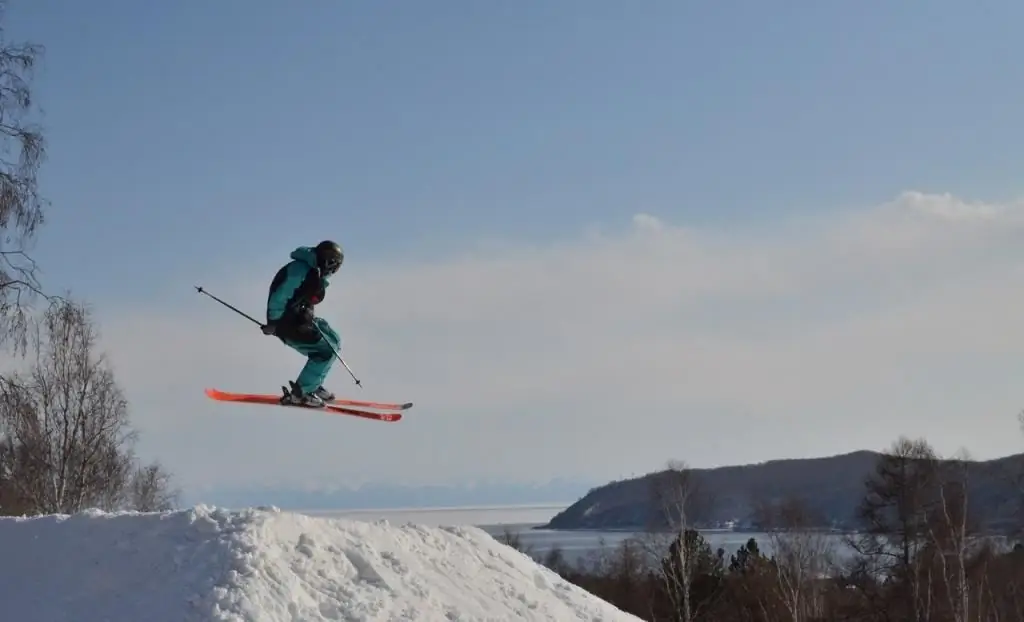 There is a stadium at the recreation center "Pribaikalskaya" in Listvyanka at the address: Baikalsky Trakt, 62 km, which serves as a football field in summer. In winter it turns into a skating rink. Skates and protective equipment can be rented. The complex also organizes hockey tournaments in winter at this stadium. Skate rentalfrom 200 to 600 rubles. Entrance to the skating rink - 250 rubles per hour.
For a comfortable summer holiday, the complex has an outdoor pool. It is fenced and has a water heating system. There are sun loungers around, there is a slide for descent. Children under 5 years old can swim for free, and from 5-12 years old you can pay only half the price.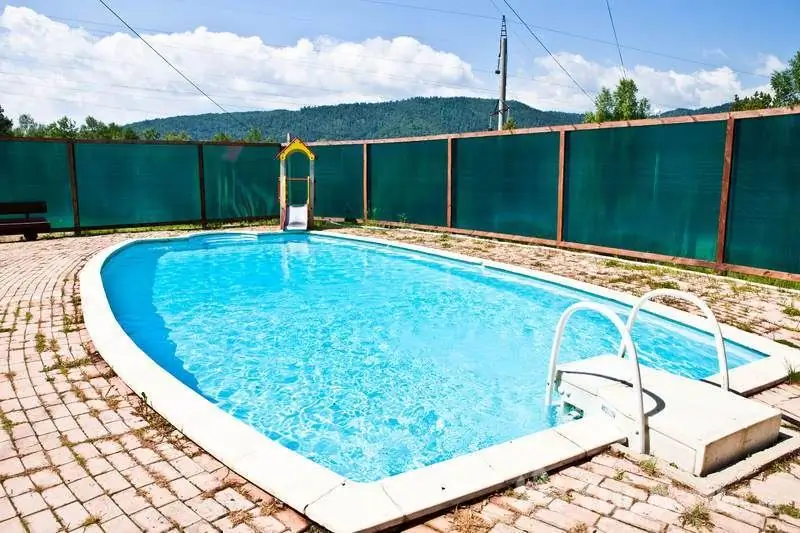 Conference rooms
The complex can hold negotiations and business meetings. For this, the administration specially equipped several halls of different capacities. There is a room with a panoramic view on the 6th floor. Its capacity is up to 30 people. This room does not have its own heating system and can therefore only be used during the warmer months.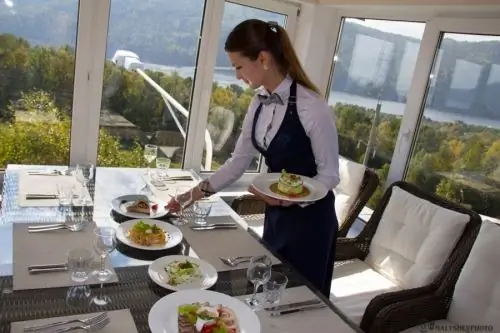 The hotel complex "Pribaikalskaya" offers a large hall with a total area of 154 square meters. It has two entrances. Furniture can be arranged at the request of the customer.
Small hall (capacity 50 people) and meeting room for 9 people are also popular. Renting halls during the day costs from 3,000 to 8,000 rubles. You can rent equipment for conferences or celebrations.
Hotel complex "Pribaikalskaya": guest reviews
Guest reviews of this place are divided. Some people liked their vacation here, and they enthusiastically remember it with the whole family. Visitors especially note the good service, delicious food and cleanliness of the rooms. People also like the fact that the complex has a lot of entertainment that allows the whole family to come here. But other guests were not satisfied.
They argue their bad reviews by the fact that there are no refrigerators and water in the rooms, and the TVs are too small in size. Also, some people are outraged by the fact that they were brought cold food to the sauna or pool.
From the photo of the hotel "Pribaikalskaya" in the Irkutsk region, you can see that the most beautiful thing about this place is nature. And good service and delicious cuisine only add charm to this place.
Recommended: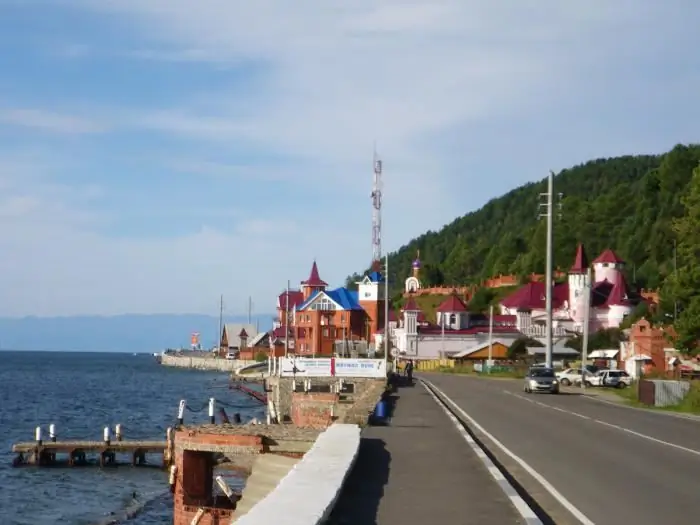 Lake Baikal gave rise to many legends, mysteries and myths. Some of its secrets were revealed, but many of them are still filled with mysticism, sometimes bordering on historical reality. Interest in the lake does not dry out, rather, on the contrary, every year it attracts more and more travelers from all over the world. Many of them go directly to the tourist center of the Baikal region, which Listvyanka has been recognized for many years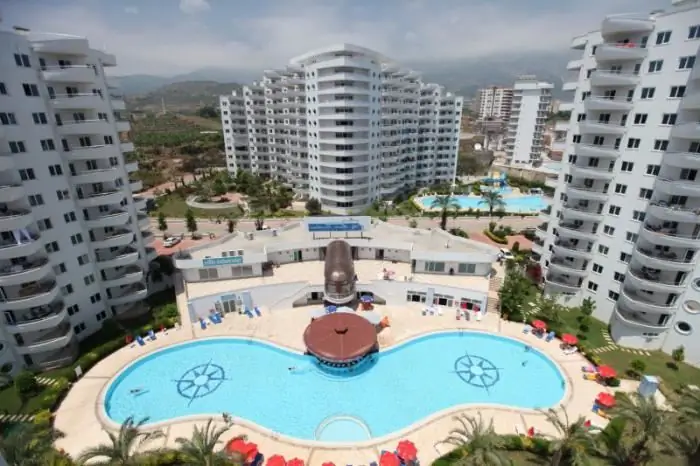 One of the most economical and comfortable options is Mahmutlar. Turkey is full of such inconspicuous towns, but most tourists tend to large resorts. Here, due to the relative remoteness from international communications, prices are relatively low even in high season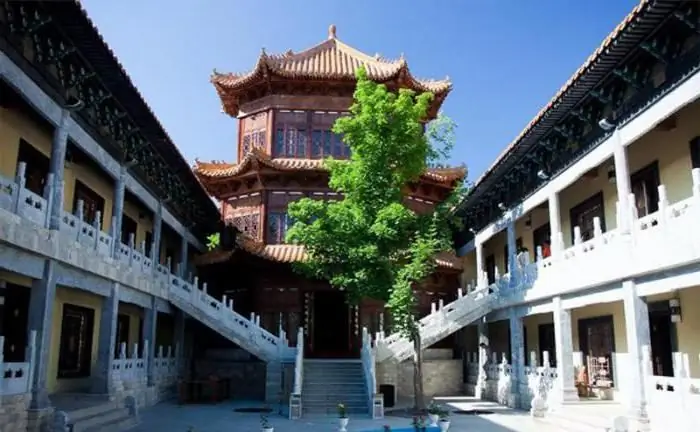 An old estate, from visiting which there is a subtle, barely perceptible feeling of the transience of everything that happens - this is the Golden City complex, located in the Tula region. A wonderful antiquity that takes visitors and vacationers into the past with just the sight of its architectural ensemble. The rarest case when all the signs of a traditional Russian estate are combined in one place and elements of Eastern Chinese buildings are present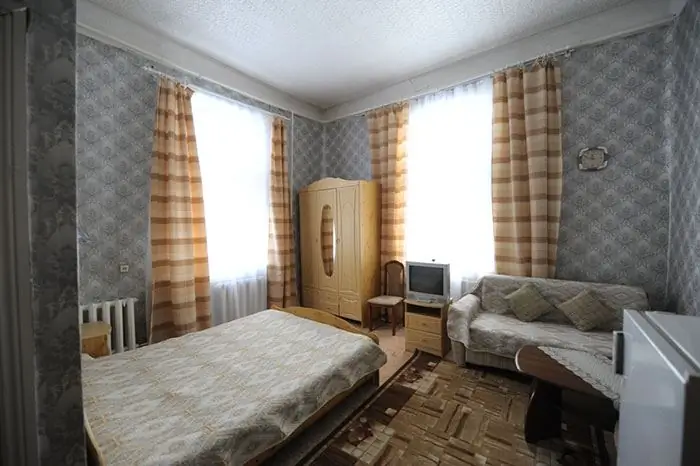 The resort "Usolye" is a world he alth resort located in the Irkutsk region. It has a very rich history. Many famous people have vacationed here. Every year, thousands of residents from different regions of the country are treated at the resort. Here you can not only undergo treatment and rehabilitation from various diseases, but also visit interesting excursions and enjoy the beauties of the region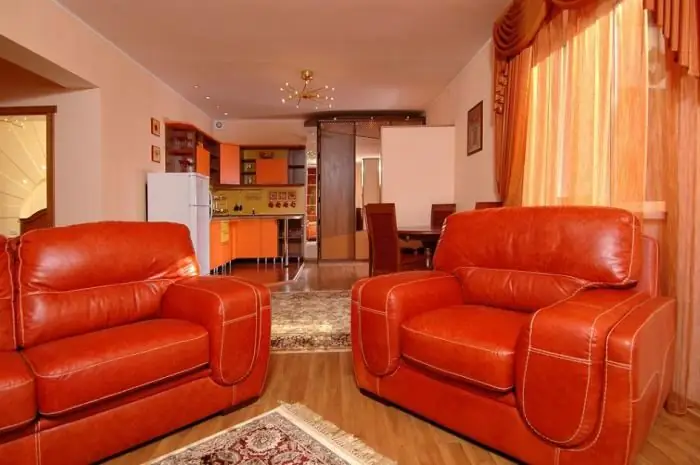 Snezhnaya Dolina boarding house (Krasnoyarsk), a popular holiday destination for the local population, invites you to visit. Why is it so remarkable, let's find out