Table of contents: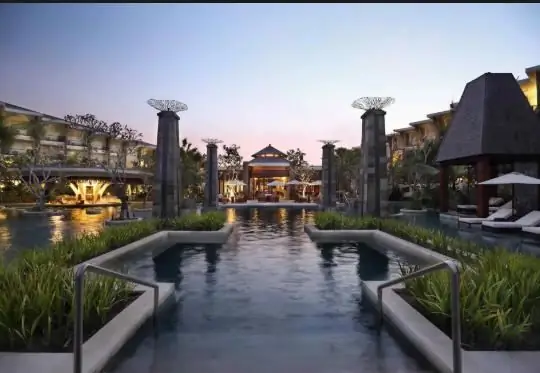 The island of Bali always remains a dream both for those who have already been there and want to return, and for those who are just about to explore it. For the ultimate resort experience, stay at the stunning Sofitel Bali Nusa Dua Beach Resort, which impresses with its exquisite combination of French elegance and unique Balinese culture.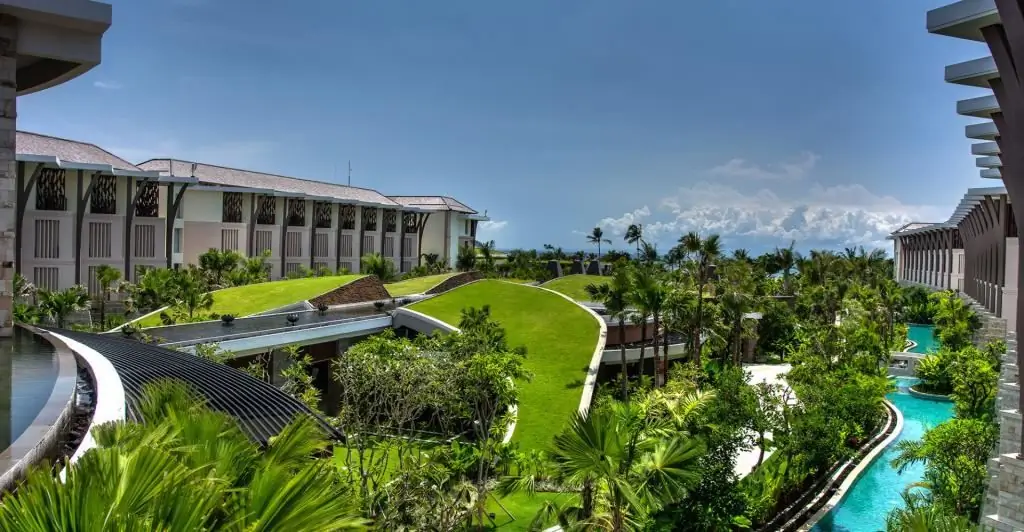 It is located in the south of the island, in the prestigious and expensive area of Nusa Dua. Sofitel Bali Nusa Dua Beach Resort is surrounded by tropical greenery, from which sculptures, fountains and cozy gazebos protrude, you can take leisurely walks along the paths to refresh yourself in the clear water of the pools at any time. The nearest airport, Denpasar, is only 13 km away, which can be covered in 10 minutes by car.
Features of Nusa Dua
Perhaps not everyone knows that Bali has rainy seasons. It is not only short-term precipitation that causes discomfort,how high is the humidity of hot air. At this time, the waves in the ocean intensify and it's time for lovers to ride on the board.
Quiet and peaceful Nusa Dua is strikingly different from other cities in Bali. This is a very quiet resort, compared to other cities in Bali, where music blares at night, and crowds of tourists loiter in search of adventure. There are no attractions in the town itself, but you can always explore the island on your own or take a tour.
Description of rooms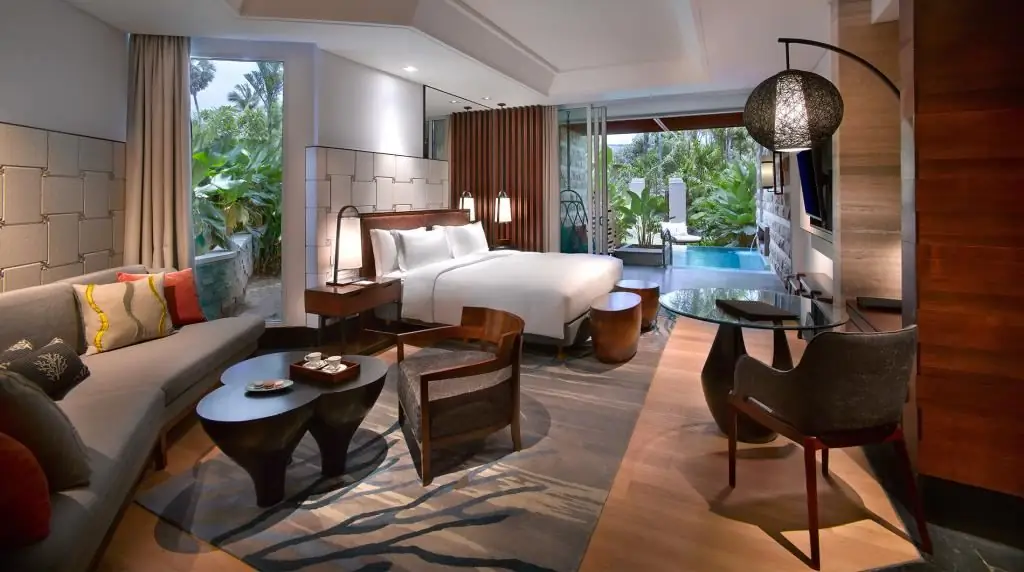 Sofitel Bali Nusa Dua Beach Resort has everything you need to enjoy your stay in one of the 376 luxurious rooms, 22 suites or 17 villas. Spacious suites and villas have the necessary comfort for an exceptional holiday. All rooms are air conditioned, minibars are stocked with complimentary bottled water, and rooms are spotlessly cleaned. 46-inch TVs are also installed everywhere.
Come with the kids
The conditions created for couples at Sofitel Bali Nusa Dua Beach Resort 5 allow you to leave the children in the room or on the playground for a while. Children can swim in a special safe pool, and a baby cot will be placed in the room for the child.
Hotel services
It is very popular in Bali to rent cars and bikes, staying at the hotel, you can use the parking for free. There is free Wi-Fi on site, although, according to tourists, one can only dream of good Internet in Bali.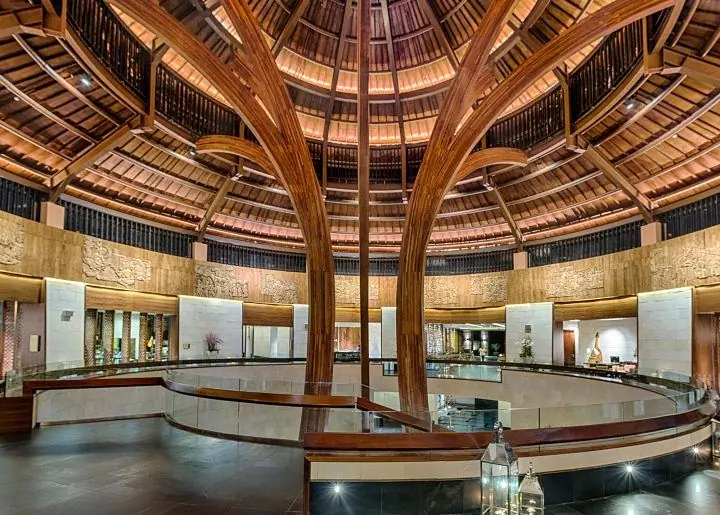 BeforeThe shopping center and back from the hotel runs a free shuttle bus, and the hotel shuttle can pick you up from the airport and take you at the right time. Very close to the Sofitel Bali Nusa Dua Beach Resort is the International Conference Hall with modern facilities.
You can always quickly put your things in order in the laundry and dry cleaning.
Smoking at the hotel is only allowed in the designated area.
Pools and beaches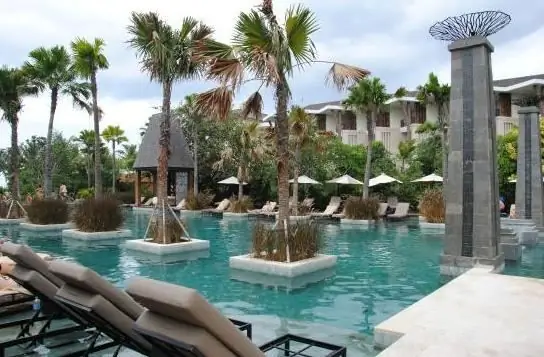 There are four outdoor pools on the territory, which delight the eye with their mirror surface. This is a reservoir in the form of a lagoon, with hydromassage, wellness. The hotel has its own beach.
Nusa Dua Public Beach is 15 minutes walk away. On the beach, animation will invite you to play volleyball, do water aerobics or learn a few elements of belly dance.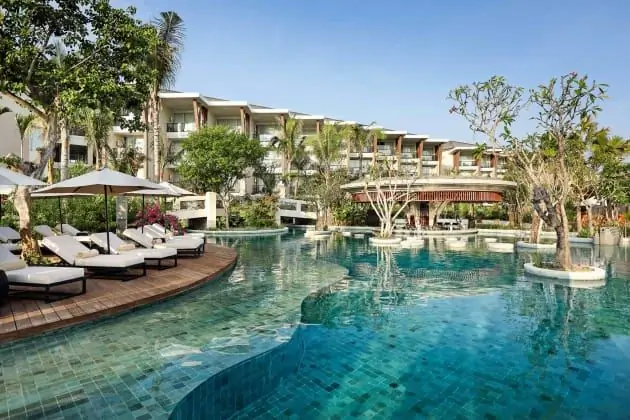 There you can also do a variety of sports, go scuba diving, watch the sunsets.
Spa
It is especially nice to visit a spa on vacation or invite a massage therapist directly to your room to relax, immediately and take a nap in your room. You can spend time with soothing treatments at SoSPA; rejuvenate at the CellScience Solitaire Bali Aesthetic Clinic or stay in shape at the SoFIT fitness center.
Food
From reviews of Sofitel Bali Nusa Dua Beach Resort, food is well organized here. Food is served at the hotel in three restaurants, and between breakfast, lunch and dinner, you canrefuel at 3 bars.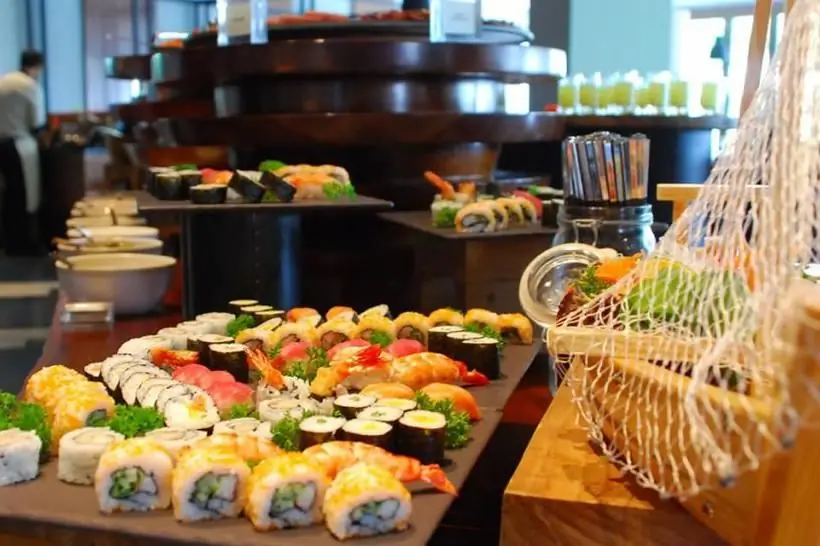 The hotel's restaurants offer a journey through French cuisine with a focus on local flavors and speci alties. Sofitel chefs guarantee unforgettable gastronomic adventures, while stunning dining rooms invite you to a leisurely meal. Cucina Osteria E Enoteca invites visitors to enjoy sumptuous wine and dining.
On the beach you can enjoy refreshing cocktails, endless champagne and an extensive menu of delicious dishes.
Inspired by the food market concept, Kwee Zeen offers Pan-Asian cuisine in a casual setting. This is an interactive boutique restaurant that is open 24/7.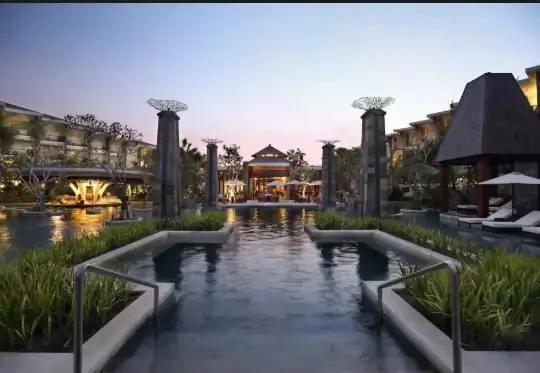 Guests of the hotel note the high quality of service, comfortable pillows and beds, excellent food and luxurious territory. Most consider its location ideal.
Recommended: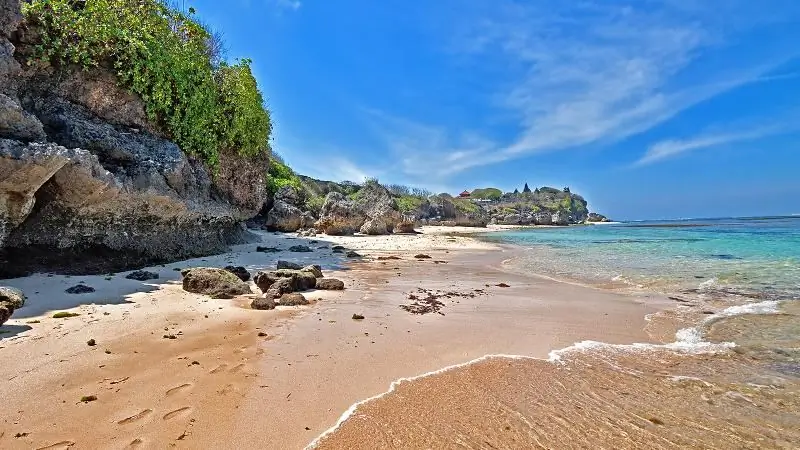 Bali resorts are very popular among beach lovers. Nusa Dua is considered the most elite place on the entire island. The resort is aimed at the most demanding tourists. The most luxurious hotels with good internal infrastructure are built here. The resort began to develop in the eighties. Only hotel residents and their employees can get to Nusa Dua beach, this creates a certain level of security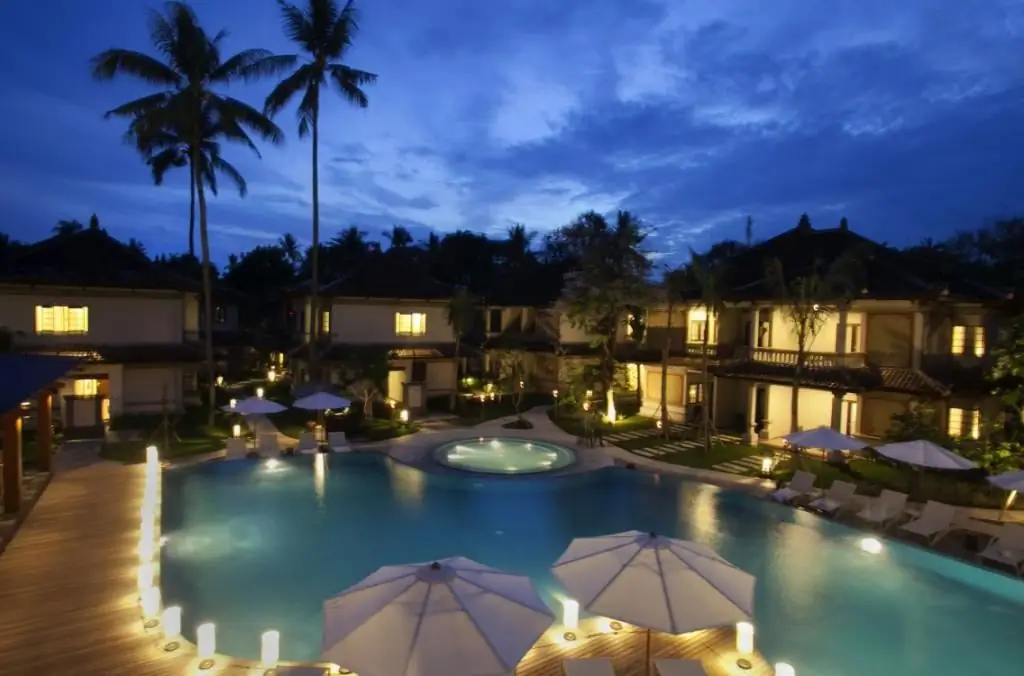 Bali is an island in the Malay Archipelago, the most remote part of Indonesia. Nusa Dua is a resort area where the Grand Visa Hotel is located. Vacationers from all over the world come here for vivid impressions. After all, radiant waves, white sand, quiet warm evenings and inexpensive hotels impress guests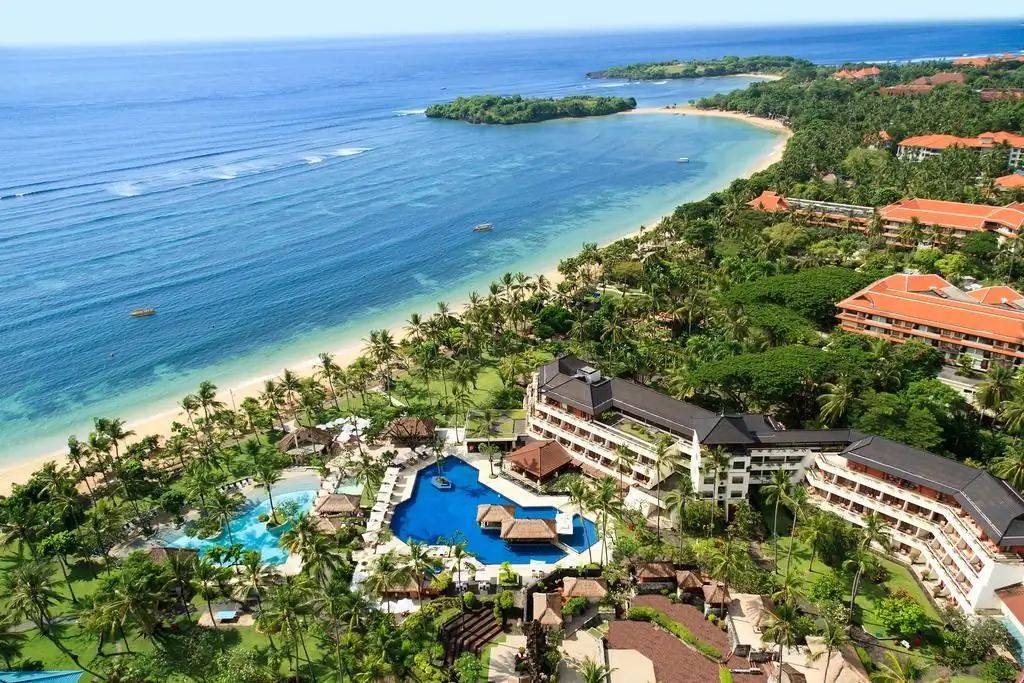 If a we althy tourist wants to have a high class vacation, he goes to Bali. And not just in Bali, but in the resort of Nusa Dua. The most luxurious hotels lined up along the ocean. And the best of them is Hotel Nusa Dua Beach Hotel & Spa. Don't believe? Then walk along the beautiful paved path that runs through all the coastal hotels in Nusa Dua. There is something to compare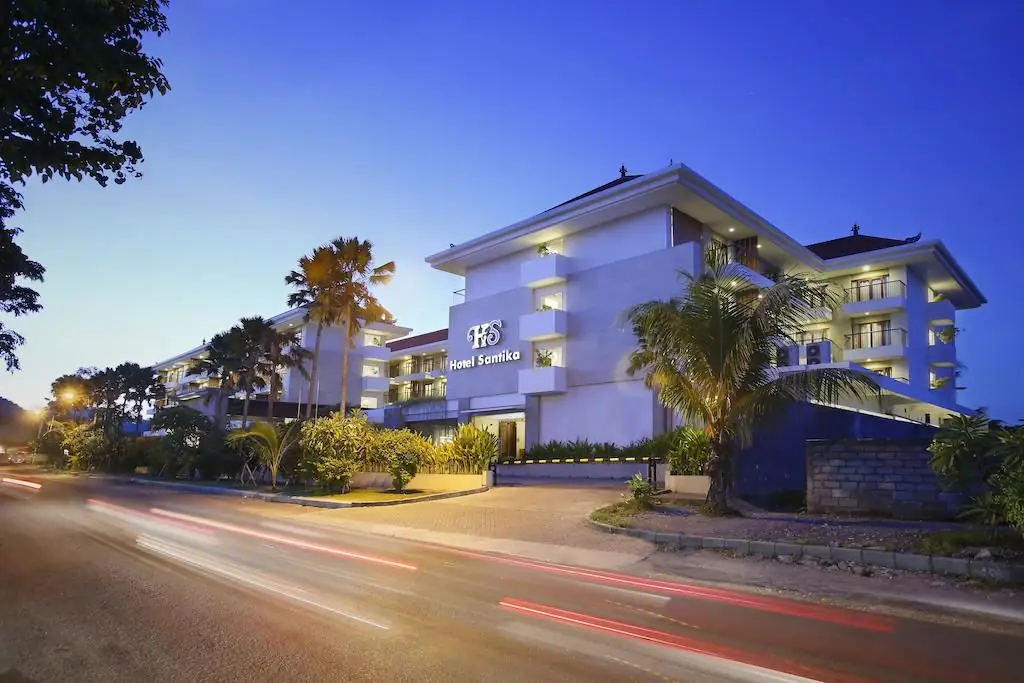 In recent years, the island of Bali has become closer to Russian tourists. Not in mileage, of course. It's just that in 2015 the tourist tax from foreigners was canceled. And this significantly reduces the cost of travel. It is expensive to fly to Bali, but all tourists call holidays there fabulous. Should we assume that the country of Indonesia is designed only for we althy travelers? By no means! There are also budget hotels. Let's see what tourists say about Santika Hotel Siligita Nusa Dua 3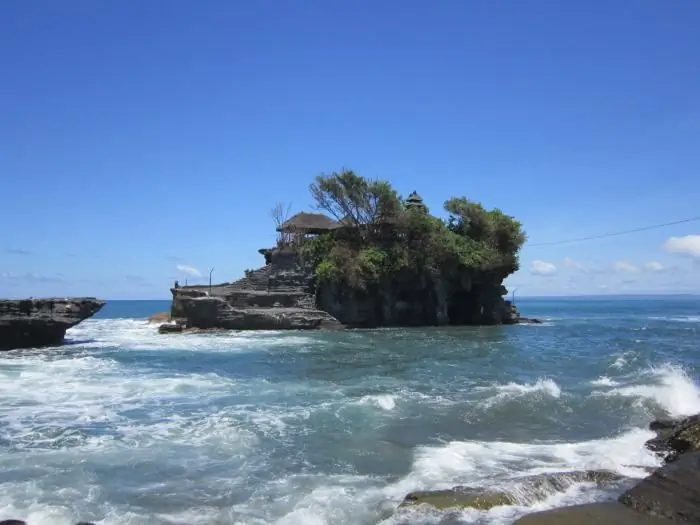 Bali's resorts amaze tourists with their diversity. On this relatively small piece of land, it is interesting and comfortable for almost all categories of people. There are quiet, peaceful places ideal for family holidays and relaxation, there are bustling cities where life is in full swing