Table of contents: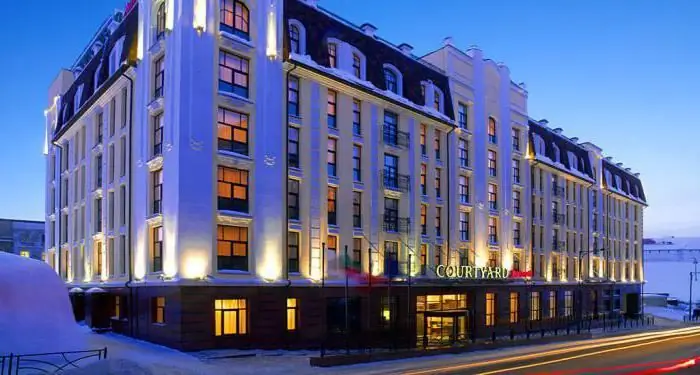 Tatarstan is famous among tourists for its sights, architectural ensembles and beautiful landscapes, original culture and developed infrastructure. Due to a number of major sporting events, a huge number of tourists come here. But not everyone knows where you can stay here for the night. In this article, we will look at the most popular hotels in the Republic of Tatarstan.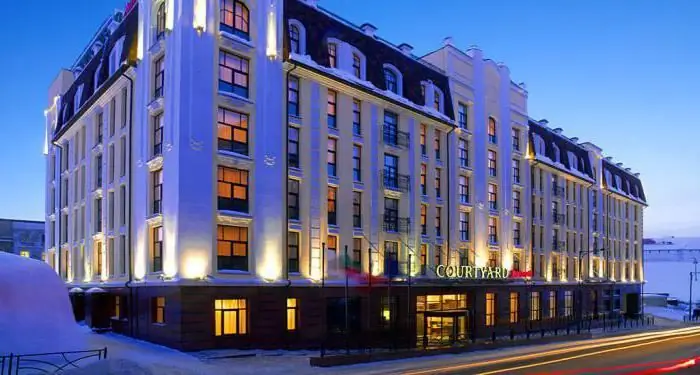 Hotel "Tatarstan"
In the center of Kazan there is a hotel "Tatarstan". Prices for living in it are quite democratic - from 1950 rubles. A magnificent panorama opens from the windows to the central street of the city - this is Bauman Street, which is also called Kazan Arbat.
The thirteen-story building of the hotel allows you to check into any of the 211 rooms. Judging by the reviews, there are also superior rooms. Hotel "Tatarstan" (Kazan) invites guests to visit a restaurant with a bar, which accommodate 120 people, 2banquet halls for 10 and 24 seats. In addition, there is a pool table with service.
Cost - from 1950 rubles/day
Gulf Stream
In the Sovietsky district of Kazan there is a hotel complex "Gulfstream", built in 2007. You will need only 10 minutes, and you will find yourself in the historical center of the city. The hotel is located half an hour drive from the airport, not far from the equestrian center, next to the Mega Kazan shopping center.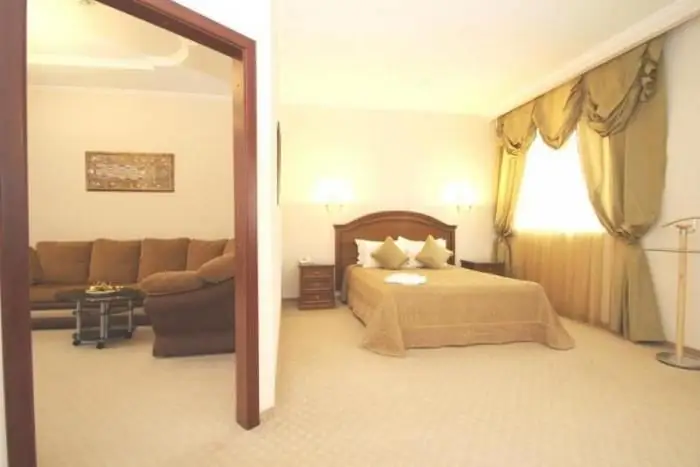 This hotel in Tatarstan has different options for accommodating guests of the city. This is a business class hotel, which is a full-fledged apartment of two and three rooms. The restaurant of the institution offers meals with several types of cuisines, including national Tatar, European and Russian. There is also a conference room, bar, fitness center, saunas, swimming pool and jacuzzi.
Cost - from 3150 rubles/day
AMAKS Safar Hotel
Thanks to the high level of service, a wide range of opportunities and the professionalism of the staff, in the category "Best Hotels in the City" the AMAKS Safar hotel (Tatarstan, Kazan) deservedly occupies the main positions. It has 191 rooms of several comfort levels. It should be noted that among other hotels in Kazan, it compares favorably with the possibility of using various complex services of the hotel, entertainment complex and business center.
Judging by the reviews, the complex has four conference rooms equipped with modern presentation equipment, in addition, a business center thatequipped with office equipment. This hotel in Tatarstan has another advantage - it's banquet halls, the total capacity of which is 350 people. They are perfect for corporate events, business lunches and wedding parties.
Cost - from 2100 rubles/day
Open City
The new Open City hotel is located in the center of Naberezhnye Chelny. Here you will find a combination of convenience, simplicity and modernity. Nearby are a variety of shops, large shopping malls, restaurants and cafes. The room stock of the institution is represented by 216 rooms of several categories.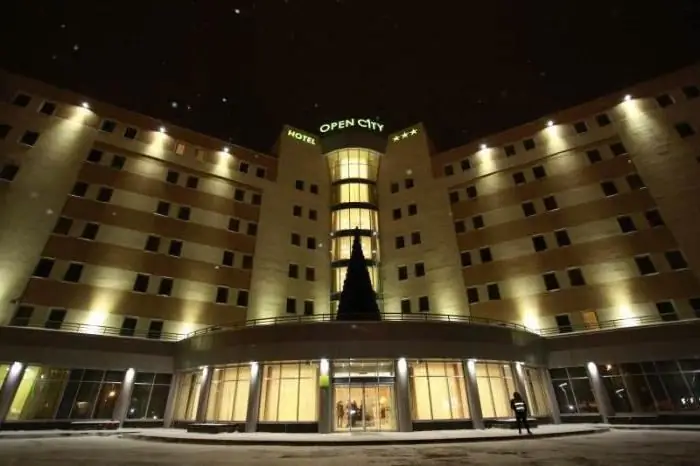 All rooms have LCD TVs, telephones, comfortable furniture, private bathrooms and safes. It offers guests an exquisite restaurant complex, where you can enjoy various cuisines from several countries of the world, as well as a cozy lobby bar, karaoke room, billiard room, as evidenced by numerous reviews. For people who come to the city for work, there is a conference room with the necessary equipment. In addition, secure free parking is available on site.
Cost - from 3000 rubles/day
Kama Hotel
Kama is a hotel (Naberezhnye Chelny) that has been in existence for a long time and is always glad to welcome its guests. You have the opportunity to book a room of interest to you at a convenient time for you, while each guest will be able to find something to their liking. The hotel room fund consists of 19 rooms, made in an exquisite design. All of themperfectly equipped for a comfortable, relaxing stay, as evidenced by numerous reviews. The rooms have widescreen TVs, free internet, air conditioning and other amenities. It should also be noted that the main transport hubs and a huge number of recreational facilities and shops are located near the Kama Hotel.
Cost - from 1800 rubles/day
Sakura Hotel
The Sakura Hotel is also located in Naberezhnye Chelny. From here you can drive to the heart of the city in 2 minutes. The area, despite its proximity to the center, is considered environmentally friendly. The hotel has an excellent geographical location. This allows you to easily get to the desired place in the city. Guests of this hotel in Tatarstan can take advantage of additional services, including barbecue facilities, a garden. In addition, according to reviews, the hotel has a sauna and an indoor pool.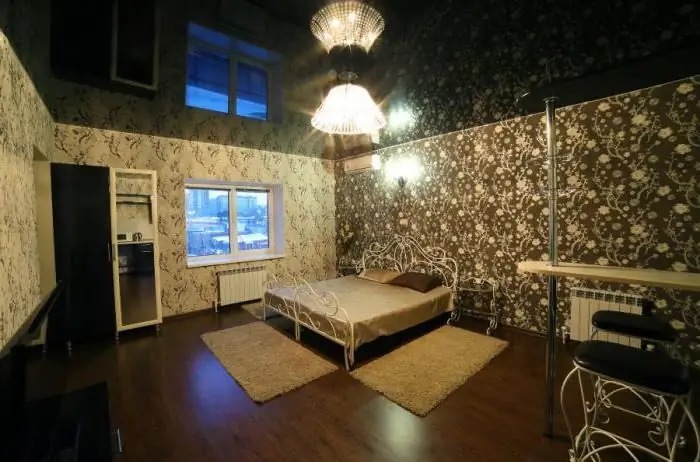 On the territory of the institution, guests can use the Internet, parking and a 24-hour reception for free. The rooms have everything you need for a relaxing stay: LCD TV, air conditioning, refrigerator, satellite TV, microwave, washing machine, kettle. Each room also has showers, a hairdryer and hygiene products. Close to the hotel are large grocery stores and shopping malls.
Cost - from 2000 rubles/day
Hotel "Tatarstan" (Naberezhnye Chelny)
This hotel is located in Naberezhnye Chelnynear the airport Begishevo. It offers a tour desk, 24-hour front desk and free Wi-Fi.
The Tatarstan Hotel (Naberezhnye Chelny) has spacious rooms equipped with a work desk, refrigerator, TV and air conditioning. Some have a seating area.
Here you can enjoy a hearty breakfast made from local quality ingredients. National cuisine is served throughout the day.
Cost - from 2300 rubles/day
Absolute Hotel
In Nizhnekamsk, on the eighth floor of a multi-storey building, there is a hotel "Absolute". These are cozy, spacious, equipped with everything you need apartments that will suit people who love a homely atmosphere. It has modern appliances, soft sofas, wide beds, as well as a stylish kitchen. Guests of this hotel in Tatarstan, judging by the reviews, do not even notice that they have settled in the hotel, because they are surrounded by a truly homely atmosphere.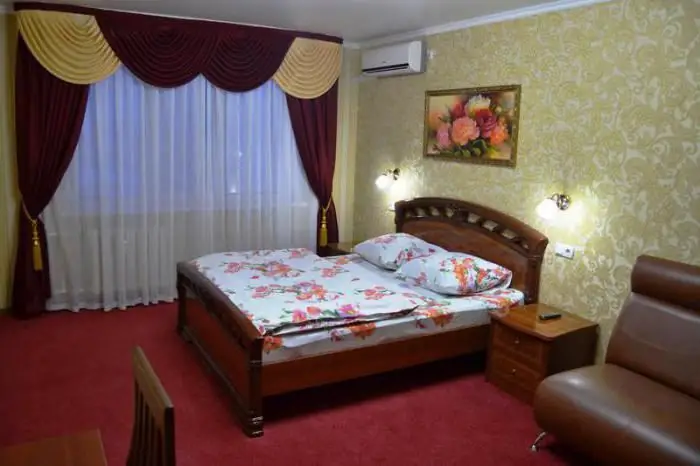 This place is cleaned daily. Nearby are restaurants, cafes, stops, shopping centers and so on. Free internet access is also available on site. The hotel always has promotions and discounts.
Cost - from 3600 rubles/day
Popular topic