Table of contents: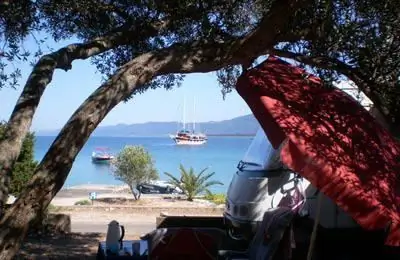 Resting in comfortable hotels will never compare with what a tourist experiences, spending the night in tents, under the stars. If you dream of the delights of a "wild" trip to the sea, then our article will be very useful. There are plenty of opportunities for such trips in vast Russia, but today the Sea of Azov is in the spotlight.
Camping is primarily a budget option for tourism. But there is another undeniable advantage. Incorrigible romantics are the only way in the modern world and can get in touch with nature, stay a few days away from civilization.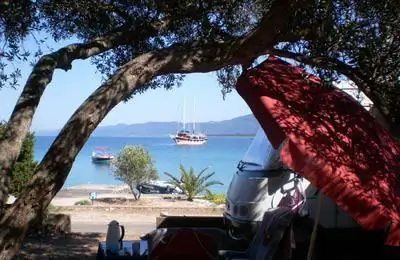 A reasonable compromise
Why did we decide to consider the Sea of Azov? Camping provides a huge number of options because almost every river or lake can become your home for a few days or weeks. On the one hand, this is true, but no one guarantees your safety. In addition, you need to carry a lot of supplies with you. In addition, it will take a long time to look for a convenient place with a sandy beach and suitable for swimming.bottom.
The Sea of Azov is deprived of these inconveniences. Camping here is comfortable and safe. All recreation centers, on the territory of which the tent camp is located, are reliably guarded by special services, which means that you can sleep peacefully. If you do not have a tent or a sleeping bag, you can rent all the equipment, which means that you can arrive here quite lightly.
If life in a tent does not seem convenient enough for you, there is always the opportunity to move into a house. It's the same with nutrition. The romance of making fires is very good, but if it's raining outside, you can safely dine in the canteen or cafe.
So, it's decided, we're going to the Sea of Azov! Camping on its shores is a very popular holiday activity.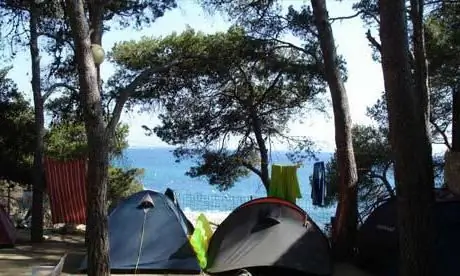 Wild Vacation
The Sea of Azov is small, relatively shallow and warm. All shores are built up with numerous bases, closed beaches, campsites. However, there are still places to put up a car and a tent. In this case, all the above inconveniences remain. The beaches are not deserted, which means that you cannot go far from your tent, since there is no one to guard your property. However, such campsites on the Sea of Azov are also popular, since they are practically free. All your expenses are gas and food.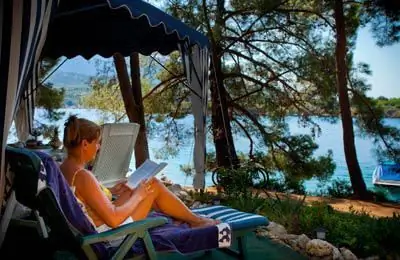 Autocamping "Rest"
This is one of the largest bases on the coast of the Sea of Azov. It is located in st. Golubitskaya, Kurortnaya street. A stunning coastline awaits you, warm and clean. Sand strewn with shellssure to please the kids. Campsites on the Sea of Azov are highly comfortable, and "Rest" was no exception. There are 40 summer-type cottages on the territory. And between them there is a large area, shaded by sprawling trees, where you can put the transport. For lovers of camping, a wide strip is separated near the beach. Here you can enjoy the sound of the surf and huge stars.
Oasis Beach
And we are moving further along the sunny coast. The next campsite on the shores of the Sea of Azov, which attracted our attention, is Oasis. It is located in the protected areas of the Slavyansk region, near the village of Achuevo. This is one of the oldest settlements in the Krasnodar Territory. The beach has been open since 2007. Since then, it has become a favorite vacation spot for a huge number of Russians. At your service - a clean beach and a warm sea, which you will remember for a long time in winter.
Autocamping with shady awnings makes it possible to comfortably stay at least for the whole summer. The campsite is well equipped. Here you can rent all the tourist equipment. In addition, you will have at your disposal a barbecue and a socket, a table and benches, that is, everything for a comfortable stay. Renting a tent will cost 300 rubles per day. Today, the so-called hut tents have become the most popular. They are locked, which means you can be calm about your belongings.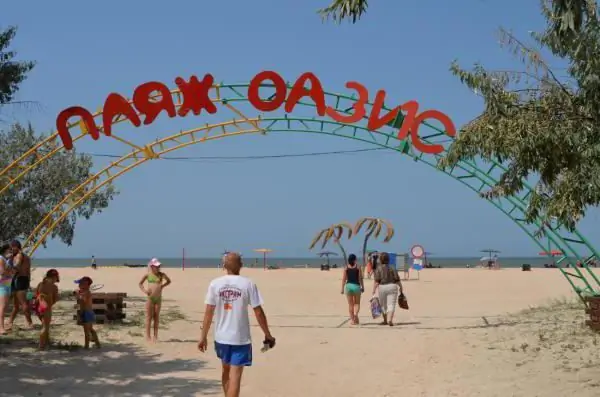 Camping "Cossack"
And we will continue to choose a place that will provide the perfect holiday with tentson the Sea of Azov. There are campsites for every taste and color. On the Long Spit there is another corner for romantics. By the way, there are a lot of options for living here. You can stay in a cottage or choose for yourself the most beautiful place on the beach. In a tent is much cheaper, and more interesting. Camping provides places for making fires. There are also outdoor toilets and showers.
Wi-Fi is available on the campsite, feel free to take tablets and phones with you. The beach here is very pleasing, it is perfectly clean, equipped with umbrellas and sunbeds, showers. A special swimming area has been prepared for children, from where it is impossible to swim to the depth. This is very convenient: parents can rest easy and not worry about the kids. There is a sauna on site, as well as sports equipment rental.
Delta Tent City
This is truly the best campsite on the Sea of Azov. The photo shows us a stunning beach with sprawling trees where you can set up tents. Only seven meters separate from the sea. In the evenings it is so good to listen to the sound of the waves here! The conditions will pleasantly surprise you. Vacationers in the tent camp can collect drinking water for free, use the shower and toilet. The whole territory is under protection. Places are divided into sectors and equipped with electricity. For car camping, a site is allocated with a width of 4 meters and a length of 8-14 meters.
On the territory there are showers and bathrooms, a medical center, children's and sports grounds, a dance floor. There are special places for making fires. Staying here requires submissiongeneral rules. In particular, the drinking of alcoholic beverages is prohibited. More precisely, they can be consumed, but in moderation. You can't make noise here from 22:00 to 07:00, so as not to disturb others. This is truly one of the best campsites.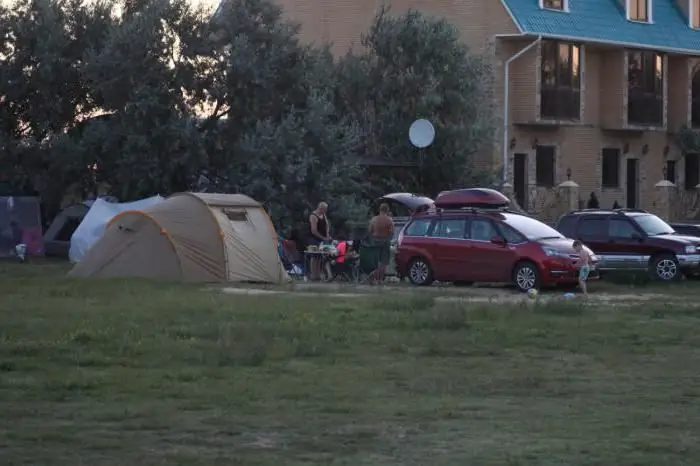 Tent City
Another option for a great holiday. This campsite is located on Fedotova Spit. Directly opposite is the recreation center "Otrada". There are places for tents on the territory of the camp. Within walking distance from it is the Sea of Azov. Recreation (camping is considered the most affordable option today) is quite comfortable, but no frills. At some distance from the tents there are two shared showers and toilets. Places to stay are located in the shade of trees. Light has been laid here, industrial water has been connected, that is, in general, everything that is needed is present. Every day, residents of neighboring villages come to the base. They bring homemade cakes, vegetables and fruits. You can go to have lunch in a cafe.
Camping "Fortuna"
This is one of the new recreation centers created in 2011. A real classic of a budget holiday with tents. Nothing superfluous - just you, a clean beach and an endless blue expanse. The base is located on the coast of the Sea of Azov, on the Peresyp spit, 79.
To the coastal strip only 5 minutes at a slow pace. There are all conditions for a pleasant stay. It is a clean and wide beach, sun loungers and awnings, a playground.
It's hard to find a more comfortable campsite on the Sea of Azov. Reviews in fullconfirm that you can spend time here very well and very inexpensively. Nearby are the market and shops where you can buy everything you need. Homemade meals are regularly brought to the base.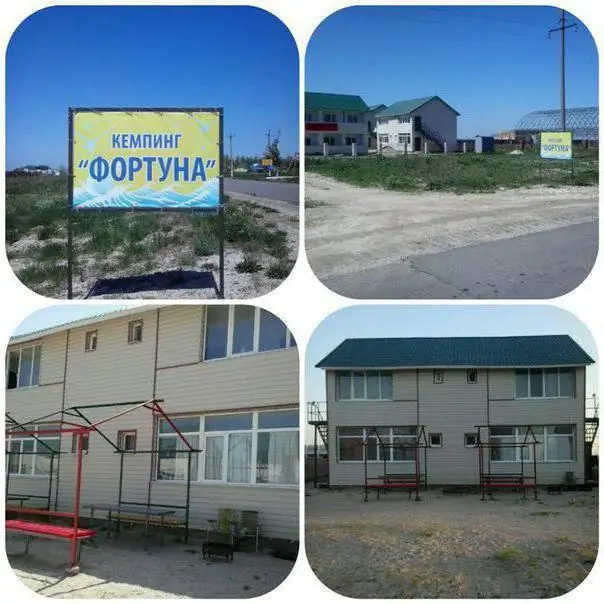 Camping on the Sea of Azov "Summer"
Very close to the village of Peresyp is this wonderful recreation center. It is surrounded by the sea and estuaries and has a special microclimate. It is very good to relax here with the family, restoring he alth and stocking up strength for the year ahead. The air is saturated with oxygen, the smallest particles of sodium chloride, bromine and iodine. The beach is sand and shell. The sea coast in these places is shallow, the water warms up quickly. In the swimming season, its average temperature is 28 degrees.
Lovers of romance have the opportunity to rent tents and other camping equipment. The base is very clean and comfortable. Drinking alcohol is not welcome here, the administration is for cultural recreation. If you are traveling with children, it is difficult to find a better option.
Arabat Arrow
Another popular campsite in the south of Ukraine, reviews of which are almost impossible to find. Arriving by car and staying in a tent, you will save the family budget, and the children will surely enjoy the opportunity to spend the night under the stars.
A feature of the Arabat arrow is the absence of trees. In fact, this is a huge beach with a length of more than 100 km. There is a hot spring near the campsite, which will be a good opportunity to get new experiences.
You will have to take absolutely everything with you: tents andsleeping bags, folding tables and chairs, as well as lanterns, blankets and, of course, mosquito spray. Think right away, because there are more comfortable campsites on the Sea of Azov. With tents, you can stay anywhere, but the amount of entertainment will vary significantly. There are few traces of civilization here, but there is an opportunity to go for medical procedures. Only 4 km away is the source of Sevash black mud for the joints. You can enjoy the procedure and improve your he alth. Another 4 km, and in front of you is a source of blue cosmetic mud. Great product for face and body. There is also a healing spring, called silver. Be sure to stock up on water. Another 4 km and you are at the hot spring.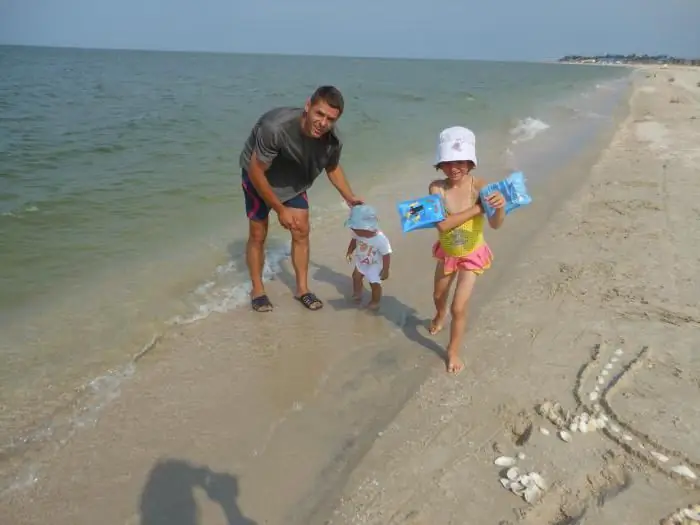 Comfortable stay in Stozhary
Judging by the reviews, this is really the best campsite on the Sea of Azov. Kirillovka is a unique balneological resort where you can not just relax, but also gain strength and improve your he alth. The whole complex consists of more than 300 recreation centers. Camping "Stozhary" is located in a cozy place on Kos Peresyp street. Getting here you understand that heaven on earth definitely exists.
There is a tent city in a green well-groomed area. The infrastructure allows you to feel one with nature, without losing a sense of comfort. While living in a tent city, you can visit nearby cafes and restaurants, discos and nightclubs. For the smallest members of the family, playgrounds and attractions, a stationary amusement park, a water park,zoo and dolphinarium. A sea of impressions, and that's all for a reasonable price. Many tourists emphasize that a standard hotel in many resorts will cost much more. Thus, saving on renting a cottage, you can spend money on entertainment.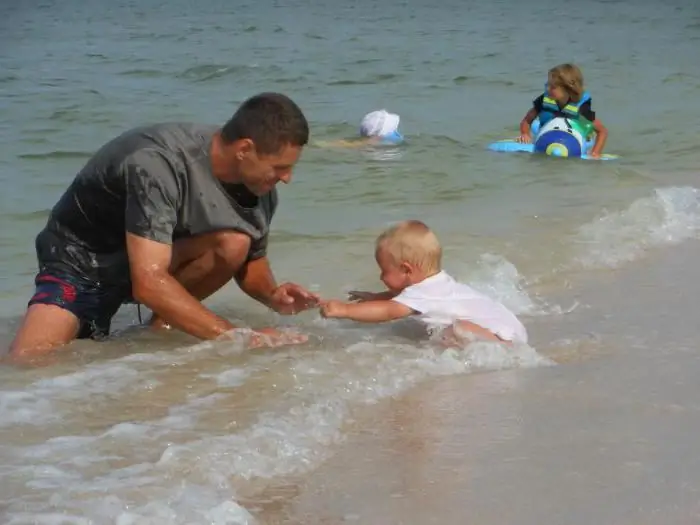 Instead of a conclusion
The Sea of Azov is the best option for a family vacation. Here you will completely abandon the hustle and bustle and immerse yourself in peace. Wherever you stay, you will find shallow and very warm sea, soft sand and serene vacation days. You can plan your vacation in detail. If you want romance - welcome to the wild beach. The option of cooking on a fire and washing the pots after that does not appeal to you - go to the dining room for lunch.
There are campsites without signs of civilization, as well as those that care about the comfort of their tourists and provide for every little thing for their convenience. The developed infrastructure of the district will not let you or your children get bored. The temperature of the air and water is sure to please the whole family. For every tourist there is entertainment to taste. Plan in advance which places you want to visit so that there are no disappointments later. Almost every recreation center will offer a number of excursions. Their cost is low, and you can get a lot of impressions. What will be the vacation - it's up to you. The main thing is that it be safe, calm and memorable.
Popular topic