Table of contents: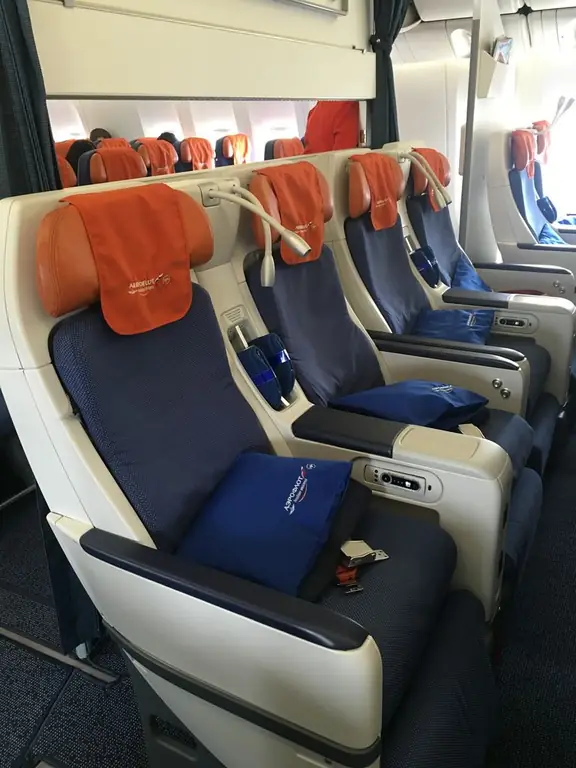 Many airlines offer customers a variety of fares. Aeroflot, the national carrier of the Russian Federation, is not far behind in this. When choosing tickets on the carrier's website, passengers can familiarize themselves with the terms of service, which differ not only in cost, but also in the conditions of carriage.
The most popular travel class is economy. Aeroflot has four tariffs in this segment: premium, optimum, budget, promo. Each of them has its own nuances, but the main difference is still in the ticket price.
Tariff difference
Premium economy is considered the most expensive fare in the economy class, and promo - the cheapest. Consider that this is premium economy in Aeroflot. The difference in terms of service and not only. This fare implies a more comfortable flight than other passengers. Yes, the cost of tickets is much higher, but in this case there are more opportunities and privileges in case of exchange or return.
Premium Economy -Features
According to reviews, Aeroflot's premium economy is a great option for those who suddenly change their plans and need to change their departure date. In case of cancellation of the flight, the passenger may demand a refund of the money spent. Moreover, Aeroflot has no time restrictions on the return of a premium economy ticket.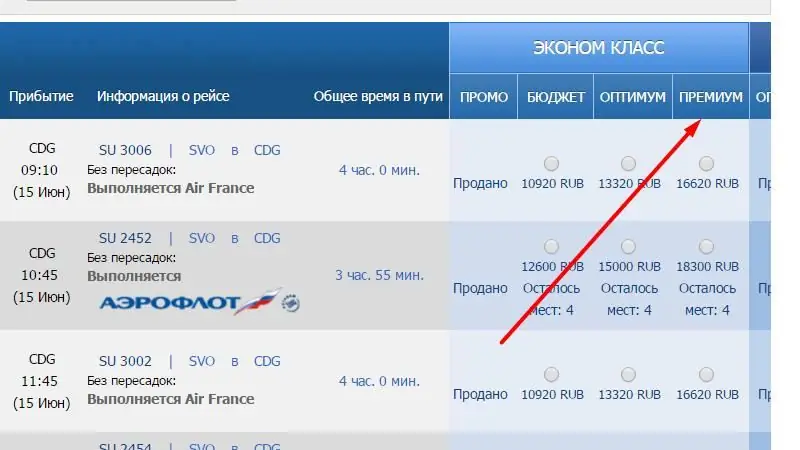 Changes to the booking are made at no extra charge, you just need to dial the call center number. The operator will help resolve any issue.
Baggage Information
A passenger can take advantage of a bonus offer in the form of an increase in baggage allowance with Aeroflot Premium Economy fare. What does it mean? He has the opportunity to take with him not one piece of luggage weighing twenty-three kilograms, but twice as much. The weight of each must not exceed the norm established by the rules of the airline - 23 kilograms. Each piece of baggage must be no more than one hundred and fifty-eight centimeters in three dimensions.
Passengers are allowed to carry hand luggage weighing up to ten kilograms on board the aircraft. Thus, you can carry a fairly large number of things.
Choosing a seat
Premium economy seats Aeroflot gives you the opportunity to choose your own in advance. To do this, you need to go to your personal account and find the section with information regarding the current booking. Go to the selection of seats and mark the one that seems most comfortable. The closer the departure date, the fewer seats available forself-selection, so the best option is to take care of this immediately after the purchase of the ticket.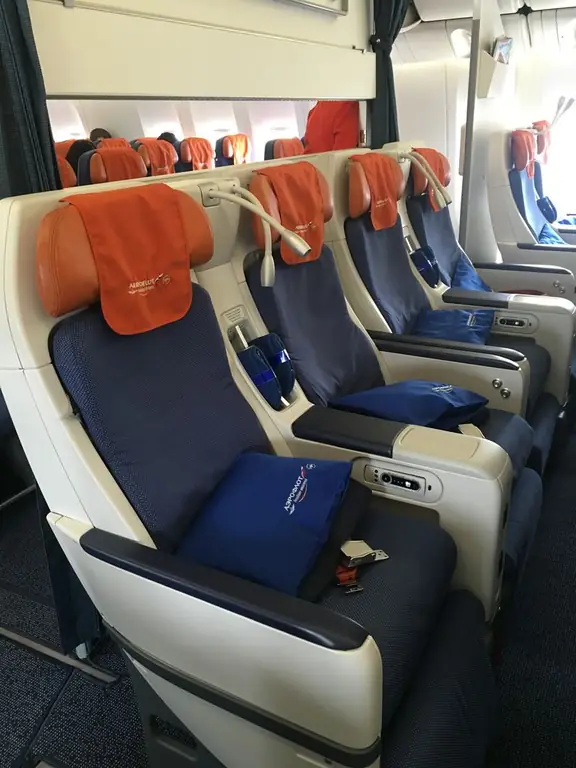 Flying with children
If a passenger plans to fly abroad with children, it will be more profitable for them to buy a ticket under Aeroflot's premium economy class conditions. What does this mean and why should you choose this particular tariff? The fact is that when flying with children, the passenger is provided with a ninety percent discount for each child under the age of two. True, in this case, the child will sit on the lap of one of the parents. When flying within Russia, a ticket for such a child is not additionally purchased, that is, he flies for free.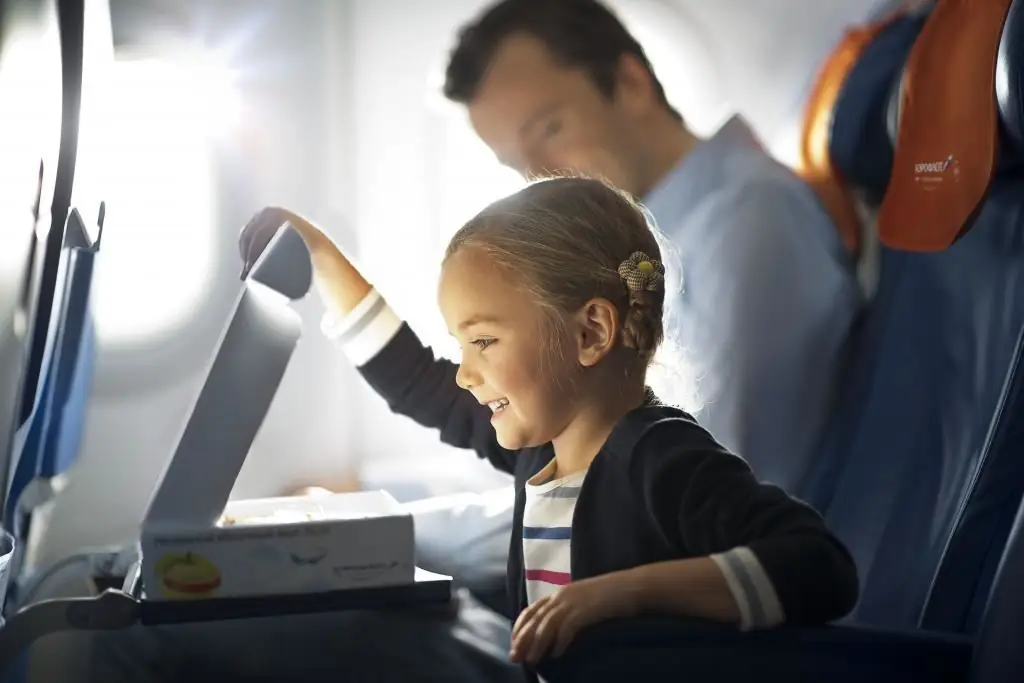 If accompanying persons are flying with children aged two to twelve years, a twenty-five percent discount on the purchase of a ticket at this fare is provided. In the absence of an accompanying person, a seat on an airplane for a child is paid in full at the Aeroflot Premium Economy fare. What does it give the child? It is constantly monitored from the moment it is handed over to the airline representative until the moment it is handed over to the responsible person at the final destination.
Pros of registering
Not only business class passengers can use a separate priority check-in counter upon arrival at the airport. This benefit is also available to those who have purchased premium economy tickets. What is itmeans? Such passengers have the full right not to check in and not to check in their luggage on a general basis. That is, they do not need to stand in line for registration at the economy class counters. This bonus saves a lot of time.
However, it should be understood that such a privilege is more expensive than for passengers flying, for example, at the promo economy fare. Ticket prices are typically twenty percent higher than other economy fares.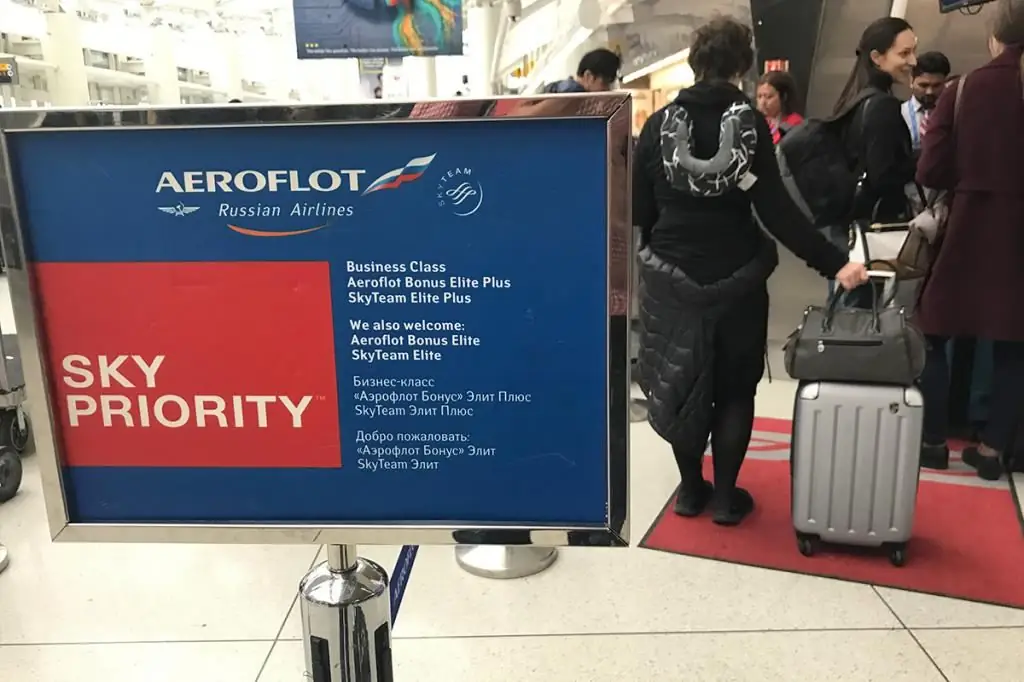 By the way, if the passenger is a member of the "Bonus" program, then with the premium economy fare, you can get two hundred percent more miles. Also, at the check-in counters, you can pay a certain amount due for this tariff, and upgrade the category of service to business class. Judging by the feedback from passengers who have used this service, such an upgrade can be cheaper than a single business class ticket.
Premium Economy Inflight Services
Passengers who leave their feedback on various forums note that when buying a premium economy class ticket, the flight is much more comfortable. What exactly did you like? In addition to the latest press, additional entertainment services and devices are provided that are not available to other economy class passengers. In general, the standard of service at this rate is almost the same as in business.
Those who need extra legroom should choose the Aeroflot Premium Economy fare. Photos clearly show the differenceseats in regular economy and premium. If you check the numbers, then the last distance between the chairs is increased by ninety centimeters, and the back of the chair can recline at an angle of thirty degrees.
Usually, seats for passengers who have purchased a premium economy class ticket are located behind the business class section. Service starts immediately from these rows, which is very convenient. Near such places, there is most often no toilet, which means that there are corresponding inconveniences in the form of a queue, an unpleasant smell and noise.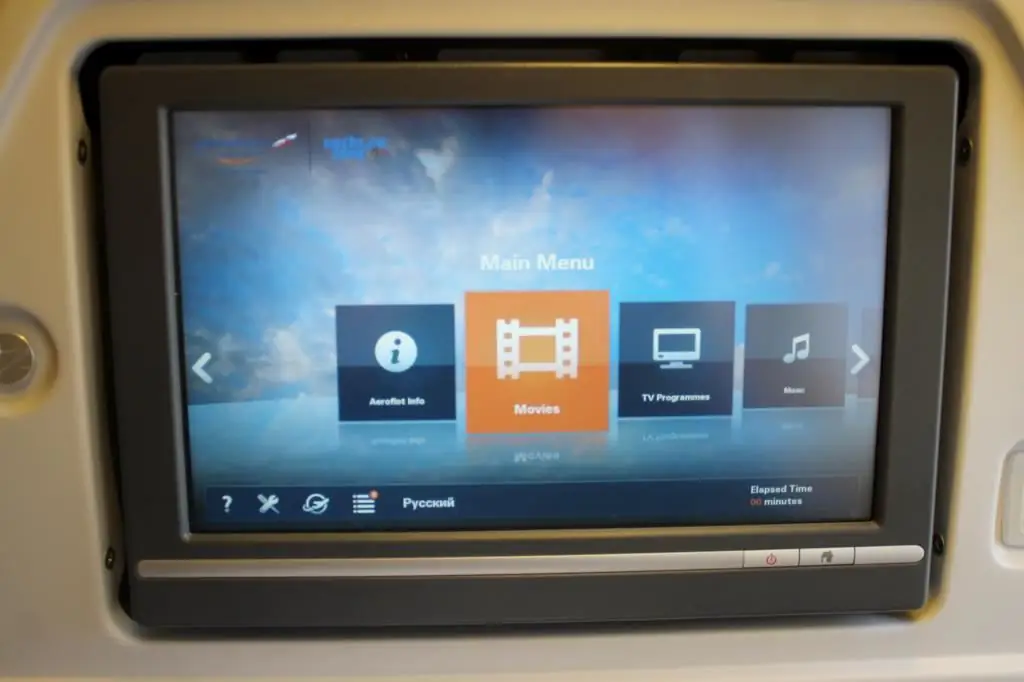 If the flight lasts more than three hours, premium economy class passengers are additionally given amenity kits with thick sleep glasses, a pillow, disposable slippers and a blanket. Travel kits with coloring pages and interesting games are designed for children, which will keep the child busy during the flight.
Meals at premium economy rate
In addition to the fact that Aeroflot offers a free service for ordering special meals (vegetarian, children's, kosher, and so on), the standard set will include supplements in the form of desserts, salads and other snacks (in the usual economy menu, the menu is not so diverse).
Device in this class of service is issued in metal, not plastic. Some passengers were surprised that in addition to the usual soft and hot drinks, premium economy class also offered alcoholic drinks.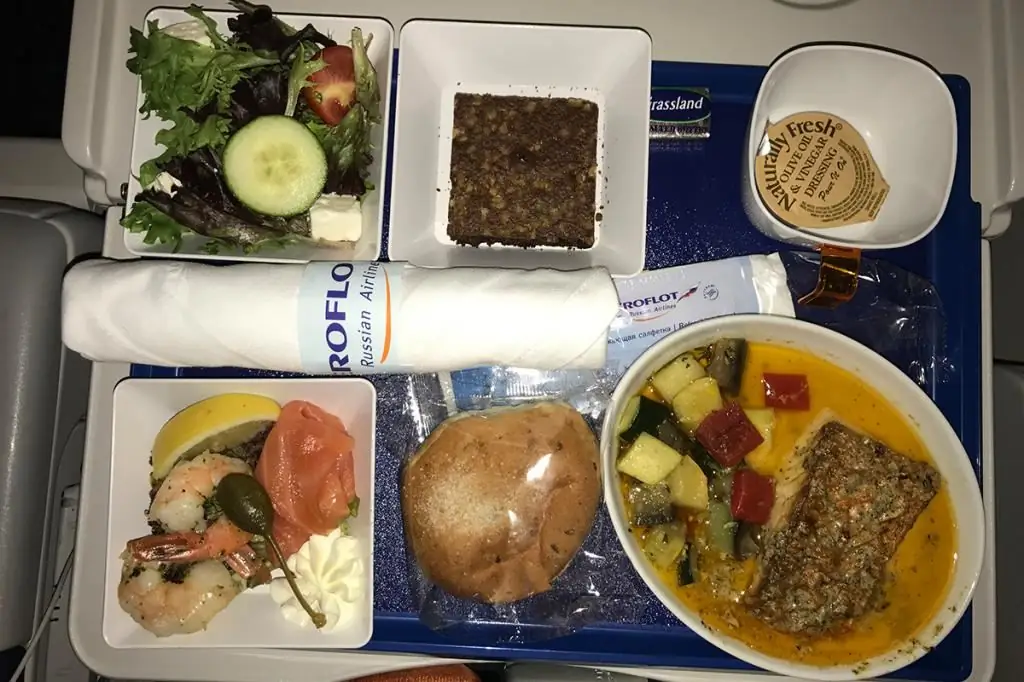 Who is Premium Economy good for?
This option is an excellent choice for those who do notwants to spend a lot of money on a long flight with an overpayment for business class. Passengers recommend it if it's more than a three-hour flight to your destination.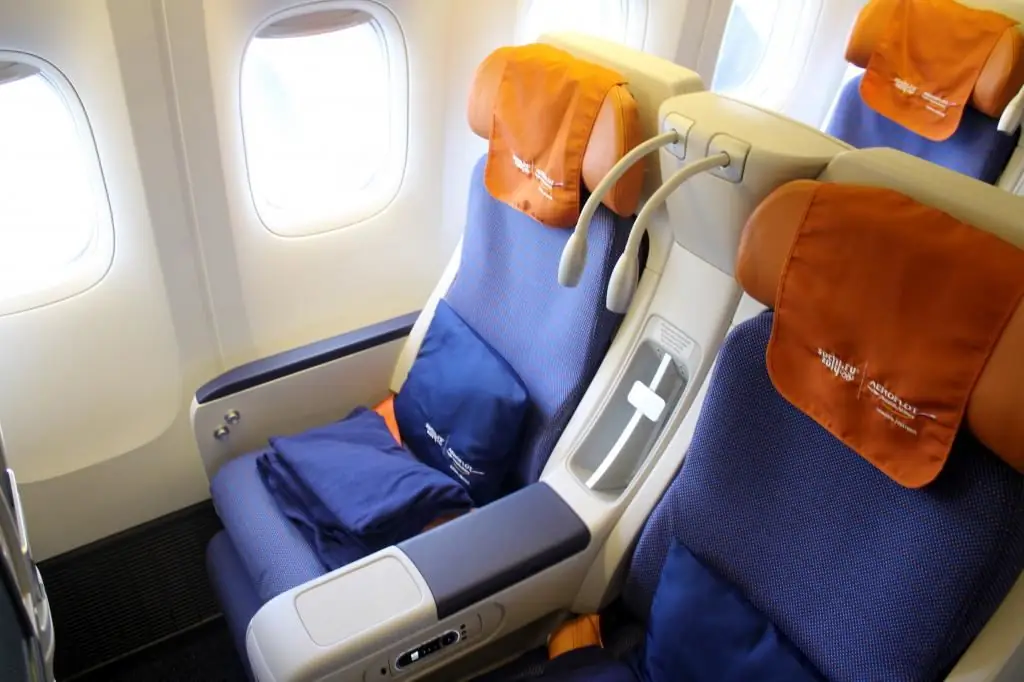 If a person is going on a business trip, buying a premium economy class ticket will be a great option. After all, he will be able to have a good rest during the flight, without overpaying for comfort, and come to the conference fresh and rested. Premium economy is a great solution for travelers with children and elderly passengers. Indeed, in this case, the interests and needs of everyone are taken into account.
Recommended: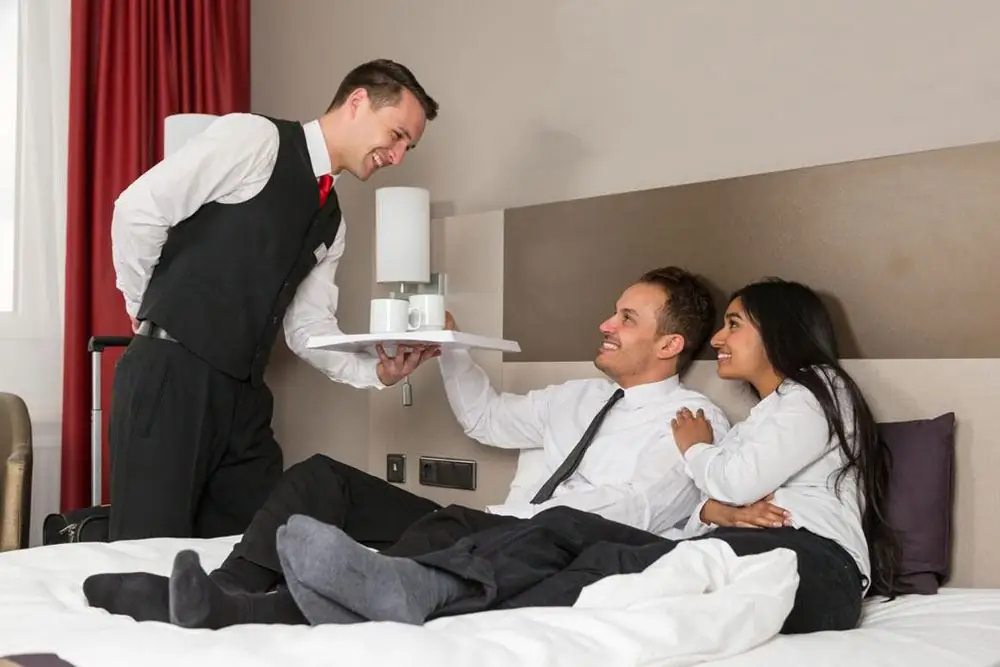 For those who came to the capital for a couple of days or for a longer time, a place for temporary residence is needed. There are a lot of options where a tourist can stay. The most famous hotels near the Kuzminki metro station for guests of various categories will be offered in this article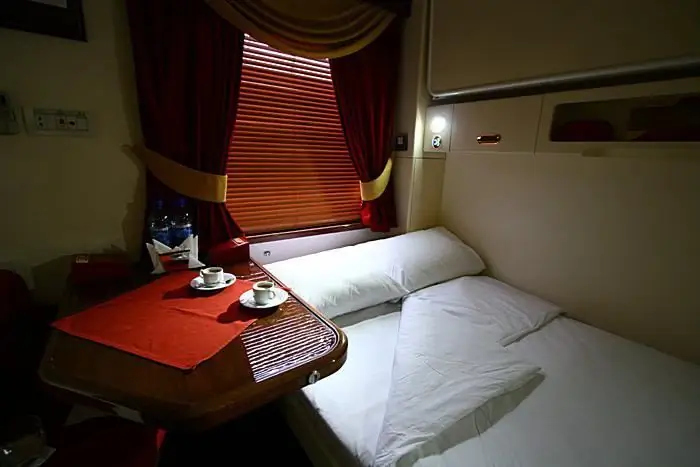 In recent years, in addition to the already known types of cars (reserved seat, seated, compartment, SV, soft), another one has been added - luxury. This is the highest level of comfort. The luxury car of Russian Railways is everything that a passenger can wish for on the way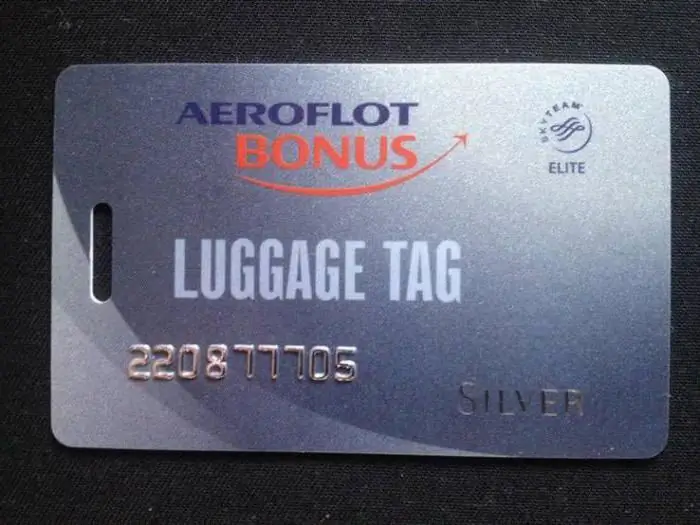 Most modern airlines have reward programs for the passengers who use their services most frequently. The national Russian air carrier Aeroflot is no exception. For almost 20 years, there has been a program called Aeroflot Bonus. What is the Aeroflot Bonus silver level? What range of opportunities does it open for its owners?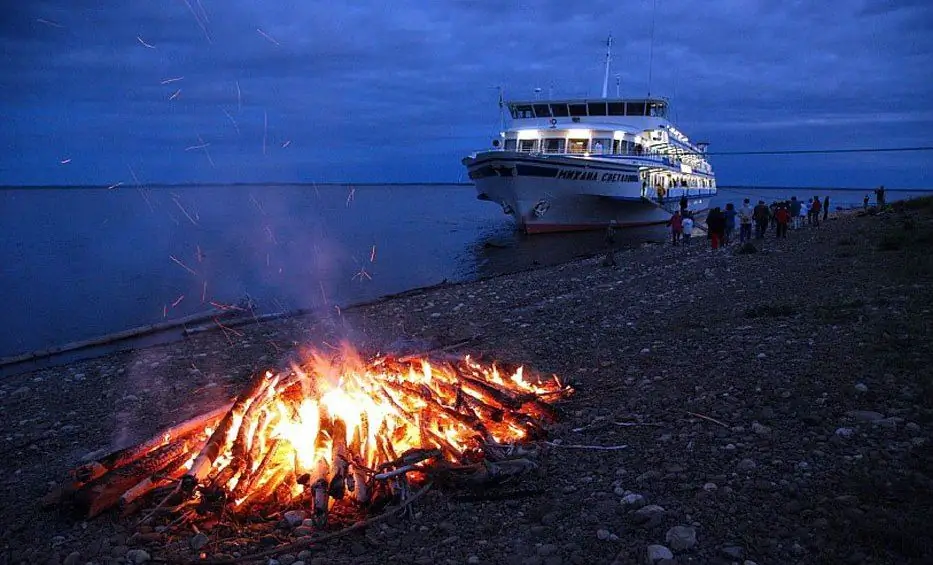 Severe and beautiful, cold and impregnable, Siberia attracts travelers. A cruise along the Lena - the great river of this region - allows you to explore the beauties of the North in very comfortable conditions - from the ship. Every day new landscapes, interesting and varied excursions on the shore, the possibility of fishing - all this can be obtained during the trip. Moreover, cruise participants do not need to think about accommodation and meals - they get all this on board the ship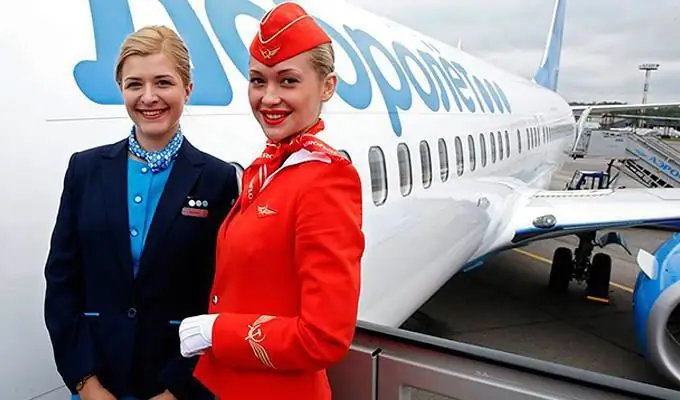 Is it time for a vacation or another business trip? Not much money for travel? Want to get to your final destination faster? There is a solution! Previously, air travel was a luxury, but now this type of transportation has become available to every person. The Dobrolyot airline, which was renamed Pobeda not so long ago, carries out budget transportation on the territory of the Russian Federation