Table of contents: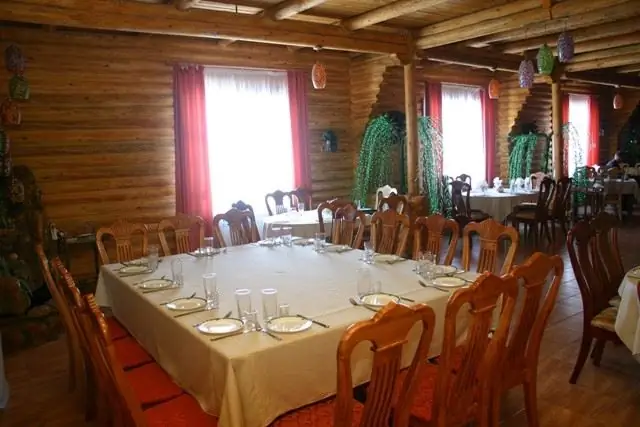 If you prefer an active and exciting vacation and plan to spend your weekend with your family away from the city noise, in an ecologically clean and quiet place, then you should definitely look into this wonderful country hotel. At the recreation center "Golden Pheasant" (Kostanay) you can perfectly relax in nature, have lunch in a cozy cafe, ride boats, catamarans or ATVs, play paintball or enjoy a hot bath with pleasure.
Here you can arrange for yourself and your loved ones a great holiday in a favorable environment, enjoy the beautiful scenery, feel all the benefits of a country holiday. The article provides information about the features of the country hotel "Golden Pheasant" in Kostanay.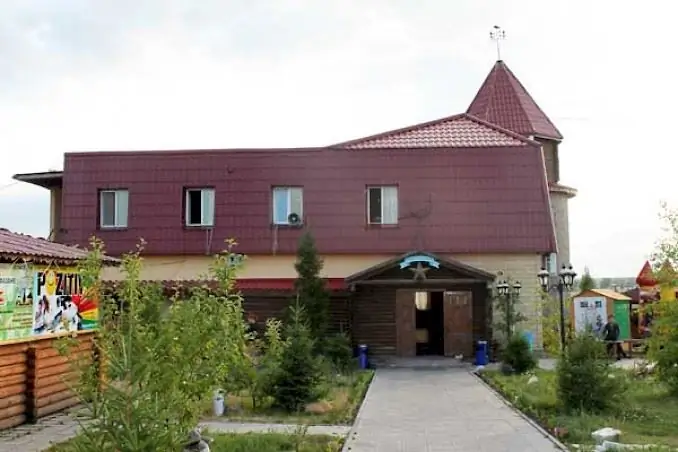 Introduction
Hotel "Golden Pheasant", Kostanay (the phone number is easy to find on the establishment's website), iswonderful place for a countryside holiday. The comfort of guests here is ensured by the presence of a hotel, a ski base, a bath complex, a children's room. Here you can have fun with a horseback ride, smoke a hookah, rent a sleigh.
All rooms in the "Golden Pheasant" (Kazakhstan, Kostanay) are built from wooden log cabins. According to reviews, accommodation for guests is quite comfortable and cozy. The hotel has a restaurant with a capacity of up to 200 people, a banquet hall which is designed for 25 guests. The interior of the institution is decorated quite original, it offers a varied and tasty menu.
About the location and features of work
Hotel and entertainment complex "Golden Pheasant" (Kostanay, Kazakhstan) is located on the highway KZhBI - Michurino, opposite the "Zhelezobetonshchik" (garden society).
The hotel and bathhouse operate around the clock, the restaurant is open from 12:00 to 01:00.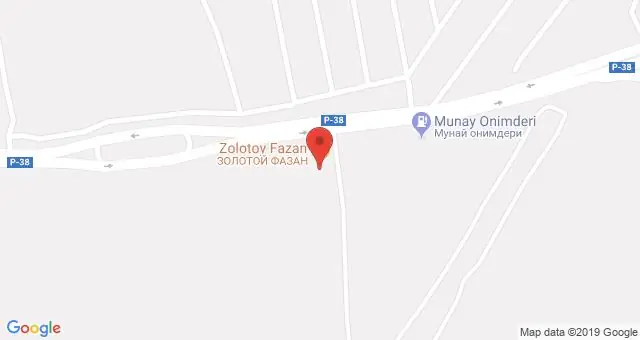 Infrastructure
In the country hotel of Kostanay "Golden Pheasant" those who wish are invited to spend their leisure time outdoors, enjoy peace and quiet, as well as the original design of rooms in country style.
Guest amenities provided by:
restaurant;
VIP billiards;
VIP-hall "Seventh Heaven";
children's playroom and playground;
animator services;
summer residence of the Golden Pheasant restaurant for 300 people;
conference hall (capacity - 50 people);
ski base.
Services
In the list of events held in"Golden Pheasant" (Kostanay) events:
Visit to a restaurant (capacity up to 200 people). Eastern and European cuisine. You can order barbecue.
Participation in a game of paintball.
Ordering a hookah.
In winter: skating, sledding, skiing.
In the warm season: horse riding.
Rest in the bath.
Using the children's playroom.
Participation in show programs (dance, show ballet, live music).
Relax in the billiard room (in the VIP room for up to 20 people).
Opportunity to play board games.
Skiing (winter).
About the hotel
The Golden Pheasant Hotel in Kostanay has:
comfortable number of rooms (7 rooms of different price categories);
three wood-fired saunas;
houses (for daily rent);
beach, pier, beach cafe "Scarlet Sails";
dash;
ski rental shop;
quad park;
equipment for playing beach volleyball.
Guests are provided with beach equipment (for rent): sun loungers, boats, hammocks, air mattresses, barbecues.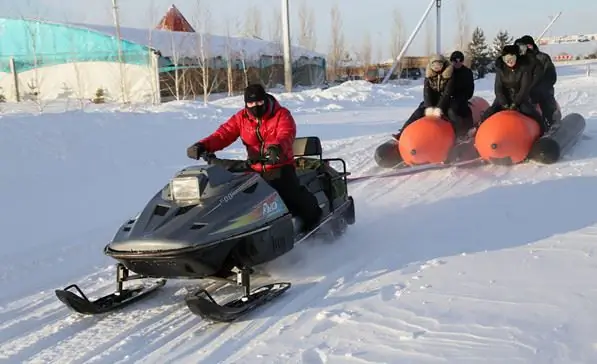 About the room stock
In the "Golden Pheasant" guests are accommodated in comfortable, cozy rooms of the category economy, junior suite and suite, built from a natural wooden frame. Suites are equipped with a bed, sofa, table, chairs, shower, toilet, TV. These quadruple rooms are preferred by guests who come to restwith family.
In junior suites, guests can use, in addition to other necessary furniture, a sofa and a bed. The difference between suites and junior suites is the presence of a bathroom in the first. Economy rooms have two beds. Check-in and check-out (check-out time) - 12:00. In addition, the hotel provides the opportunity to rent several warm holiday houses.
Prices (in tenge)
The cost of daily rental of houses (triple) is: 15,000-20,000 tenge (2668-3558 rubles). When renting houses for more than 3 days, ski rental, slides and 3 meals a day for residents are included in the payment. The cost of an hour's stay in rooms of any category is 2000 KZT (355 rubles). Price for 2 hours stay:
in junior suite (without shower) - 3000 KZT (533 rubles);
in the suite - 4000 KZT (711 rubles).
Daily accommodation in rooms costs:
in junior suite (no shower) – 5000 KZT (889 rubles);
in suite - 6000 KZT (1067 rubles);
in economy rooms - 1000 KZT (177 rubles).
Payment accepted:
About the Golden Pheasant restaurant (Kostanay)
Institution (two-level, with a capacity of 200 people) accommodates its guests:
in two spacious halls;
in the VIP-hall "Seventh Heaven";
in cabins for 2-6 guests;
in a summer residence with 300 seats.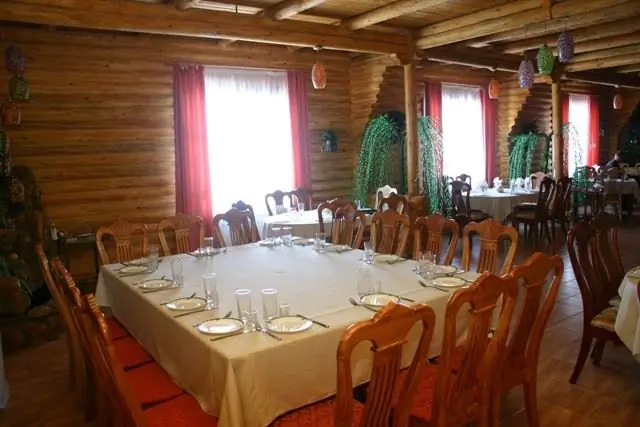 Guests are encouraged to have fun:
on the dance floor;
in the VIP billiard room.
The menu includes dishes of cuisines: European, Russian, Oriental, home. The amount of the average check - from 3500 tenge (622 rubles) per person.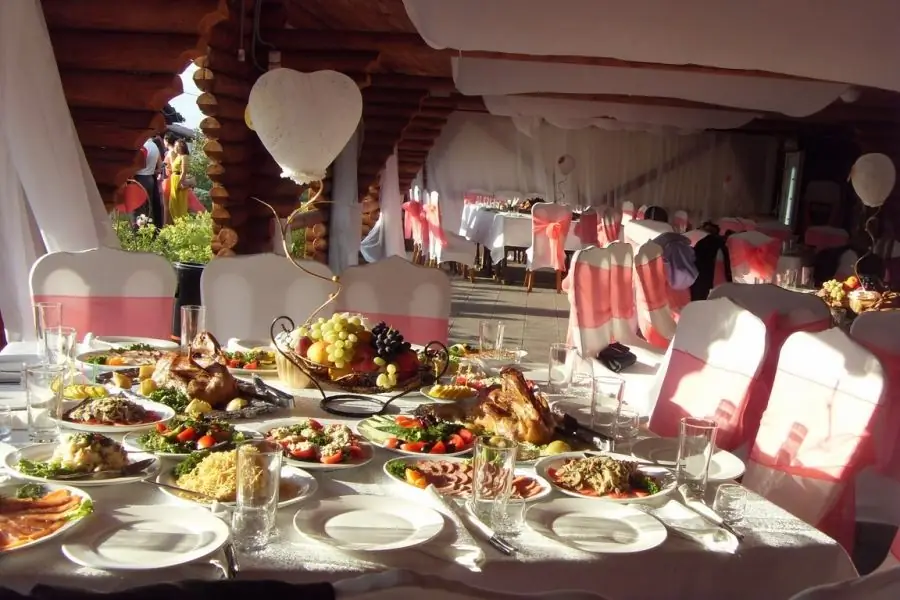 Every evening in the restaurant there are exciting show programs (show ballet performances), live music sounds (saxophonist plays). On Fridays and Saturdays, guests are invited to take part in a variety of themed parties. In winter, there is a children's playroom for children; in summer, young guests can spend time on a special playground. In addition, services are provided to customers:
assistance of restaurant specialists in organizing celebrations and banquets;
hall decoration;
Professional Video & Photography (Reservation Required)
order a taxi service.
There is parking on site (convenient, guarded).
About the baths in the Golden Pheasant
Guests are given the opportunity to relax, unwind and improve their he alth:
in wood-fired saunas;
in steam rooms: dry and wet steam;
in break rooms;
in the pool;
in "Extreme bath" and ice hole (in winter).
Massage service, pharaonic baths and other wellness treatments are available.
Impressions of vacationers
According to reviews, the recreation center "Golden Pheasant" in Kostanay (the phone number for booking rooms is easy to find onsite) can be wonderfully used for countryside family and corporate holidays. Note the presence of friendly and welcoming staff. Reviewers rate the rooms and houses as cozy, clean and comfortable. Prices at the hotel, according to vacationers, are consistent with the quality of the service provided.
Guests call the menu of the restaurant very diverse, and the dishes are simply delicious. The residents are also pleased with the presence on the territory of the base of a huge playground with many entertainments, services of children's animators, a beach, a rich range of types of entertainment. Guests call the recreation center "Golden Pheasant" an excellent place for a family vacation. Many reviewers dream of returning to this hotel more than once.
Recommended: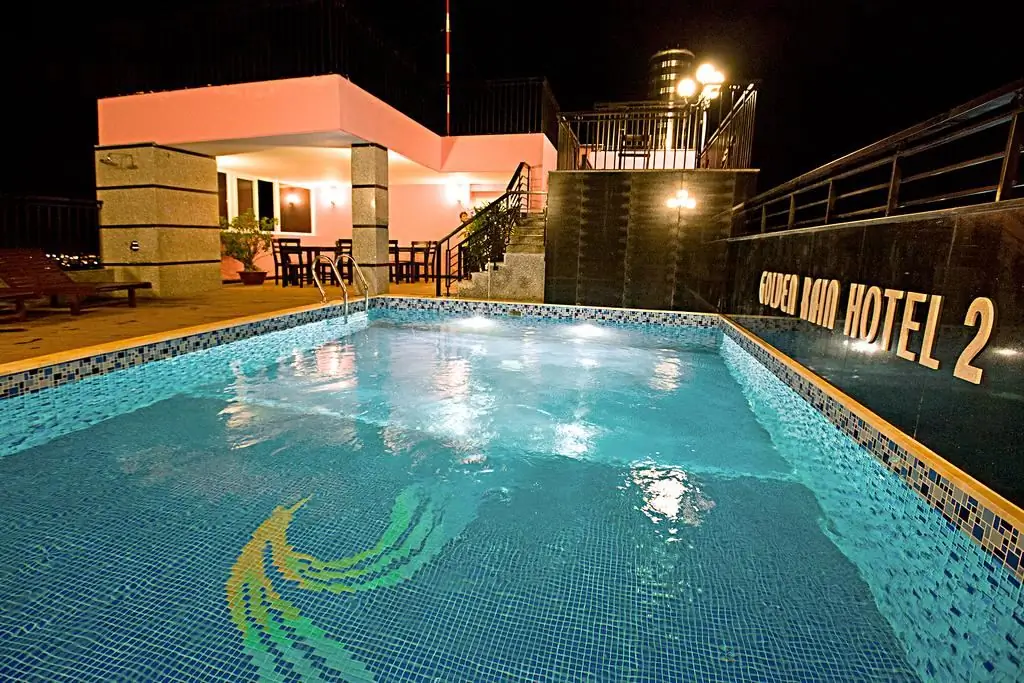 In this article we will talk about the Golden Rain 3hotel (Vietnam, Nha Trang). Photos and reviews of tourists will complement our description. It should immediately be said that in the Vietnamese city of Nha Trang there are two hotels called "Golden Rain". And they both have three stars. In this article, we will pay attention to this second hotel. Moreover, many tourists managed to live in both, and have the opportunity to compare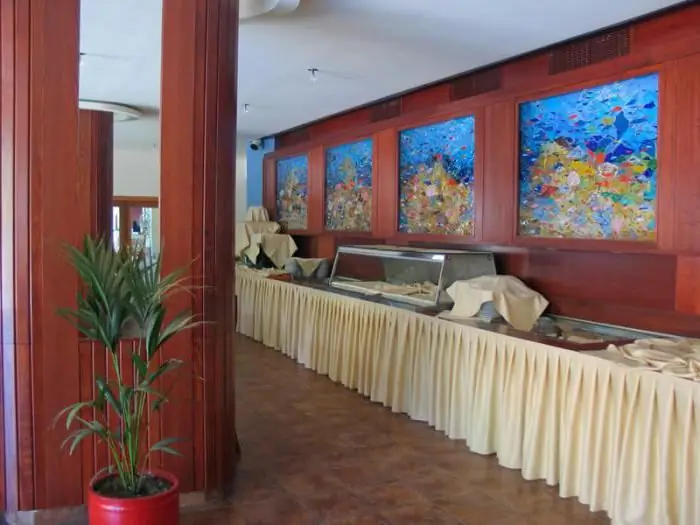 There are not so many inexpensive all-inclusive hotels in Bulgarian resorts as in Egypt or Turkey, which are familiar to Russians. Tourists planning to relax in an all-inclusive hotel should pay attention to the Perla Golden Sands 3hotel located in the resort town of Golden Sands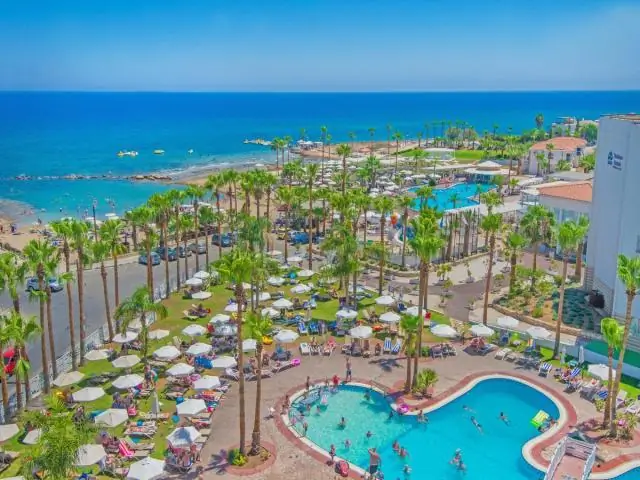 The quality of a vacation depends on two main parameters - the tourist destination and the resort hotel. When a favorable climate is combined with quality service, it is safe to say that the vacation was a success. Many travelers planning holidays in Cyprus prefer The Golden Coast Beach Hotel 4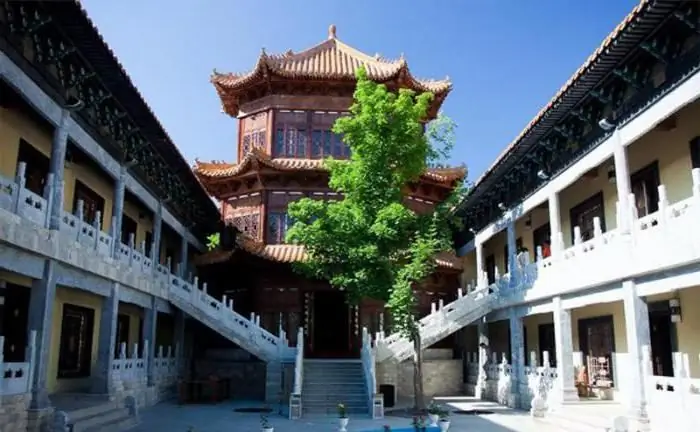 An old estate, from visiting which there is a subtle, barely perceptible feeling of the transience of everything that happens - this is the Golden City complex, located in the Tula region. A wonderful antiquity that takes visitors and vacationers into the past with just the sight of its architectural ensemble. The rarest case when all the signs of a traditional Russian estate are combined in one place and elements of Eastern Chinese buildings are present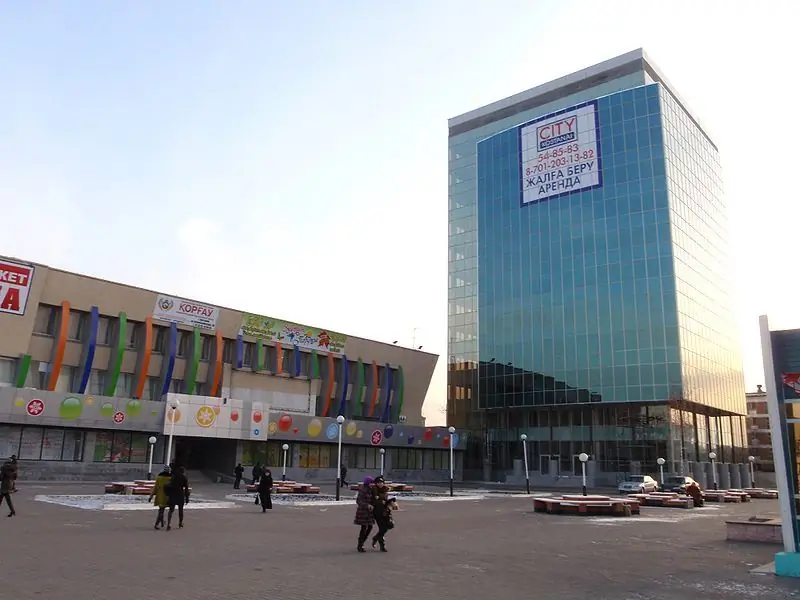 Kostanay is a city that is the scientific, cultural and industrial center of Kazakhstan. From a small settlement located near the Tobol River, in a relatively short period of time, it turned into a prosperous settlement. Its history began in 1879, when the first settlers appeared on the banks of the Tobol. They came here from various provinces