Table of contents: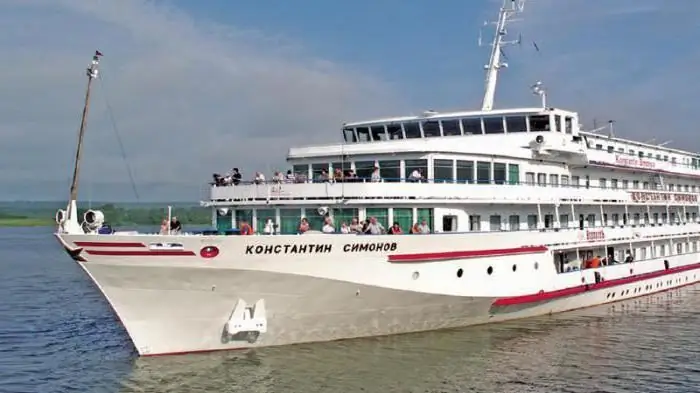 The ship "Konstantin Simonov" belongs to one of the largest and most famous companies organizing river cruises on the rivers of Russia - "Vodokhod". Four-deck, snow-white beauties with red horizontal lines on the sides - this is their fleet. It is impossible to look without admiration even at one ship gliding through the water. And when several motor ships line up at the pier of a city, the spectacle is truly magnificent.
Where does the ship sail?
The way from St. Petersburg to Moscow has long been mastered by our ancestors. Many modern cruise ships perform it during the navigation period. "Konstantin Simonov" - the ship, the schedule of which provides for the final points of these two capitals of Russia, offers its passengers and various intermediate stops.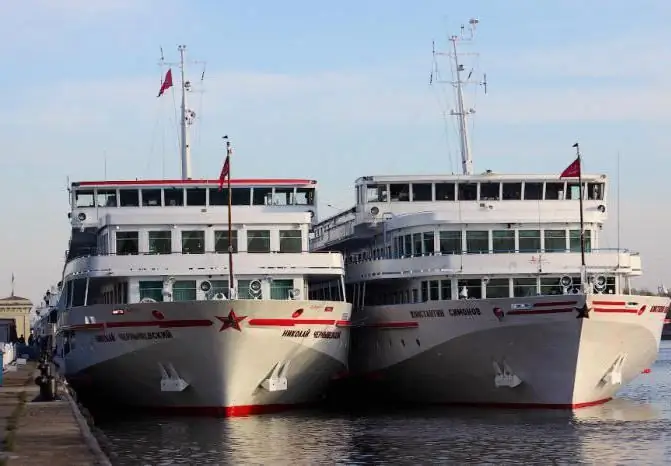 But it can also be a direct flight between cities, then its duration does not exceed seven days. For lovers of longer trips by water, there are options with a call to the capital of Karelia, Petrozavodsk, or a visit to the city on Lake Ladoga, Sortavala. But what is included in the mandatory program isparking on the islands of Valaam and Kizhi.
Everything is thought out here
The ship "Konstantin Simonov" belongs to the "comfort +" class - this means that in addition to renovated and comfortable interiors, additional amenities for passengers are provided here. In all cabins, in addition to the necessary furniture, you will find air conditioning, a satellite TV, a refrigerator, a bathroom with pleasant little things in the form of a hairdryer, shampoo, shower gel, which will be replenished periodically.
It's good to sleep in the cabin, it's generally an excellent dream on the water, but it's better to spend leisure time outside of it. There are so many interesting things around! On the ship, in addition to the restaurant, where you will go three times a day, there are two bars, one of which has Wi-fi Internet. It is worth mentioning right away: given that most of the route lies along lakes and sparsely populated places, passengers do not always get to use the Internet.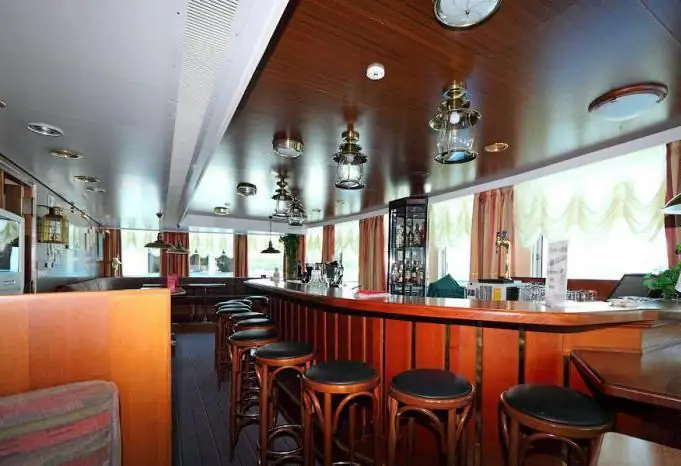 A large conference room allows all passengers to gather for various events, a souvenir kiosk will cheer up any woman, and an ironing room will help to put in order wrinkled clothes in a suitcase. By the way, there is a laundry service here.
Motor ship - boarding house
A cruise on the ship "Konstantin Simonov", judging by the reviews, will allow you to take care of your he alth during the voyage. Of course, there is a medical worker here, but I would like to hope that his services will be in little demand. But he does a wonderful restorative massage, if you wish, you can have timedo 5-7 procedures.
The sauna will be a pleasant surprise for those who like to take a steam bath, and daily exercise therapy, herbal tea and oxygen cocktail, which are waiting for you at the bar, are a very nice bonus to the trip.
If you have any dietary restrictions, all you have to do is inform the restaurant manager and special meals will be served to you. The same applies to baby food, although the proposed menu allows you to make a choice of dishes without compromising he alth.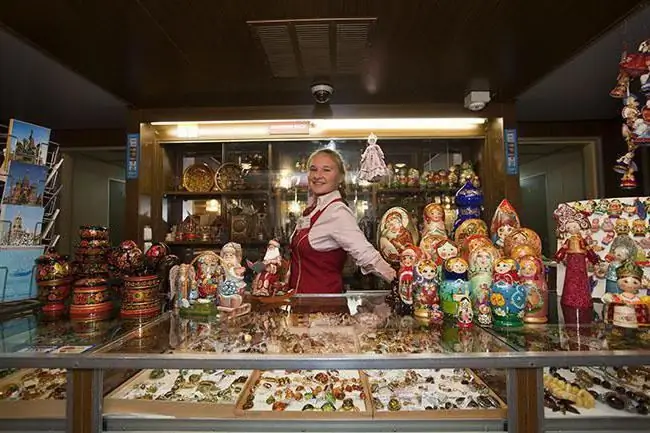 About how tasty they cook here, how beautifully they decorate and serve, it is necessary to speak separately. Although it should be mentioned that for many years the ship has been practicing a "buffet" not only for breakfast, but also for lunch. And for dinner, you will be offered alcoholic drinks or juice.
Waiting for you here
The crew of the ship "Konstantin Simonov", according to reviews, meets its passengers, as if the dearest guests. Russian costumes, bread and s alt, a daring accordion player - seasoned travelers are used to this. But the quality of service starts from the ladder. While the girls are quickly handing out the keys in accordance with the purchased cabins, the sailors will already take your things to the cabin.
The solemn departure, as passengers say, is accompanied by music, champagne and the launch of colorful balloons into the sky. And after that - a mandatory drill with putting on a life jacket and access to the deck. This is also a concern for travelers. The all-clear will sound when the employees help everyone to dress properly.
On the first day at the meeting withThe guide of the ship will tell you about the features of the route, about the planned stops, the main and additional excursions that await you. If somewhere there are several options to choose from, you will be offered to make it and hand over your wishes to the receptionist on duty.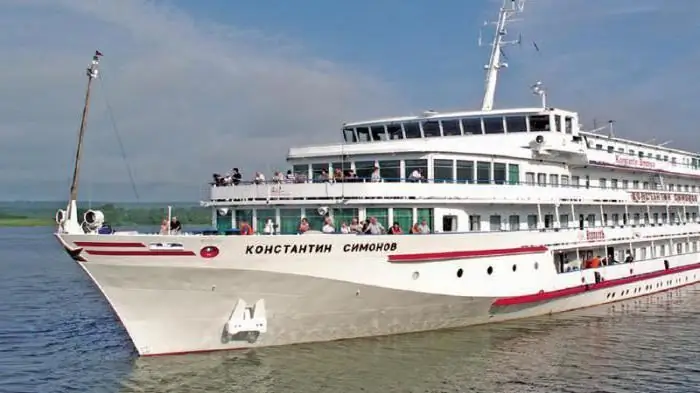 Every day you will receive a printout with the daily routine, where, in addition to meal times, cities and parking hours, all entertainment events on board the ship "Konstantin Simonov" will be scheduled.
Needless to say, you will remember such a trip for a long time. There is another very pleasant moment. Trying to keep its regular and just beginning travelers-customers, the company "Vodokhod" has developed and has been implementing a system of discounts for the cost of vouchers for many years now. There are promotions for early booking, for regular customers, honeymooners, pensioners, children, and many more additional material concessions. All of them relate to the ship "Konstantin Simonov", reviews of which on the Internet are the most sincere and positive. Thank you!
Recommended: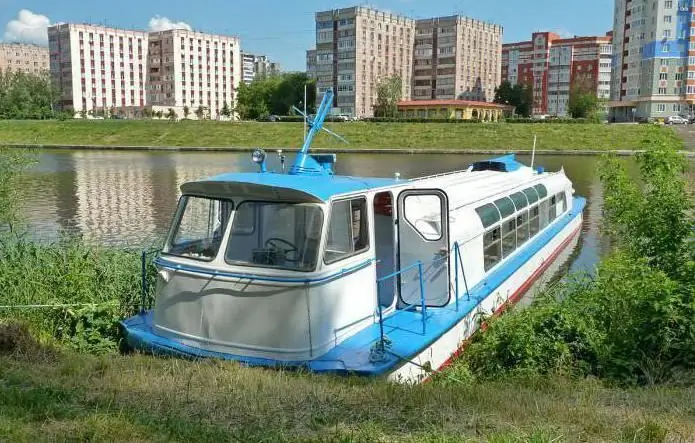 The Zarya-type motor ship is a planing vessel that transported people and luggage along small rivers, but only during the daytime. Let's take a closer look at why its design made it possible to pass in places where another ship would not even start moving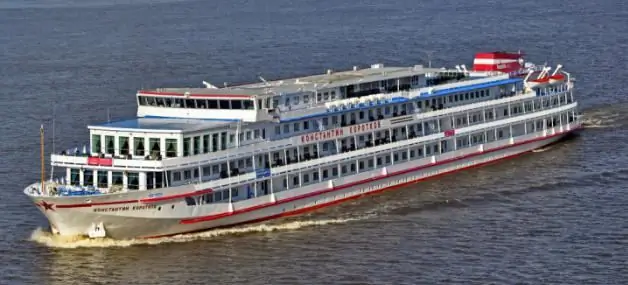 The snow-white handsome motor ship "Konstantin Korotkov" was created for river cruises with a lot of all kinds of pleasures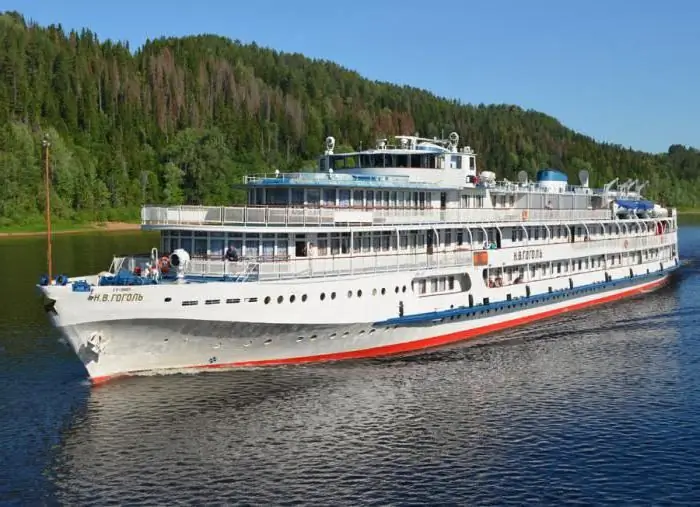 Our article will be of interest to those who are interested in cruises in Russia. Since the country is rich in natural beauties that can be seen during a water trip, it is worth taking the opportunity and going on a trip. The ship "Gogol" is just one of these ships, on board which you can make a pleasant voyage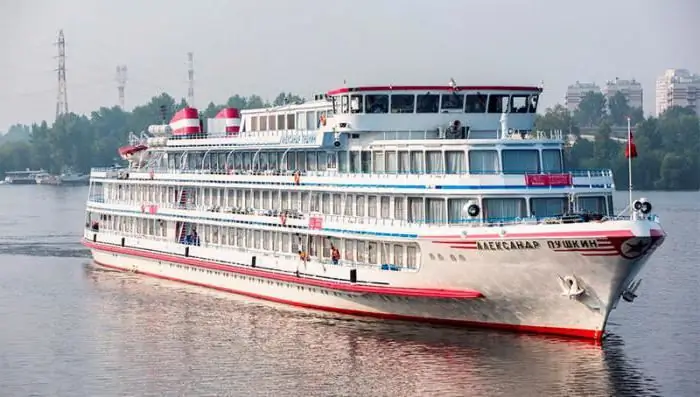 The article describes the river ship "Alexander Pushkin": its structure, what types of cabins are offered to passengers. Where the ship is headed until the end of the 2017 season. What does it offer its tourists?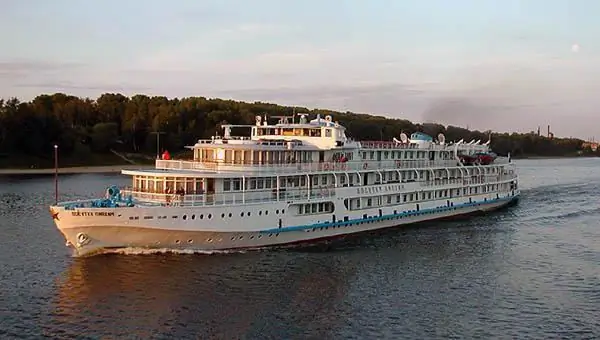 A rich entertainment program is expected on board. For children, the cruise tour management usually organizes separate activities. Motor ship "Mikhail Kutuzov" can offer guests a variety of sports equipment for outdoor activities. On the middle deck there is a lounge, which hosts a variety of shows in the evenings. Various excursion programs are at the service of vacationers. Their schedule depends on the selected cruise tour