Table of contents: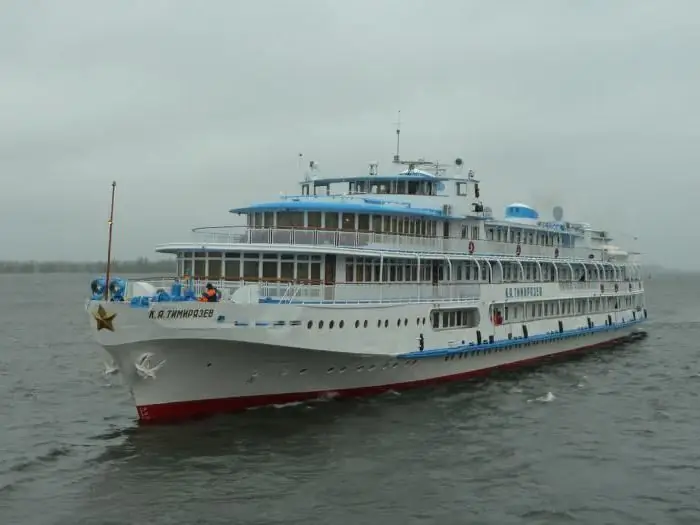 Hearing the word "cruise", many imagine a handsome ocean liner, decorously sailing along the waves along outlandish lands with golden sand beaches and monkeys screaming in palm trees. But such a journey can be made not only in ocean waters. For example, the ship "Timiryazev K. A." specializes in river cruises.
Historical background
The ship was created in the GDR in 1959. It is part of the well-known project 588. Within its framework, shipbuilding for Russia went on from 1953 to 1961. Moreover, initially 11 ships were built. After that, a number of changes were made to the project documentation: the planning characteristics of the passenger cabins, the dimensions of the superstructure and some technical data were revised. After that, another 38 ships saw the light of day, among them the motor ship Timiryazev K. A., which is the namesake of the Russian naturalist who studied the physiological characteristics of plants and photosynthesis.
After distillation from the shipyards of Germany to Russia, the ship was transferredVolga Shipping Company and assigned to Astrakhan. After quite successful operation for four decades, it was sold to a company engaged in tourist and commercial activities. His cruise destination from Astrakhan was Volgograd, Samara, Kazan, Nizhny Novgorod, Rostov-on-Don, Perm, Yelabuga.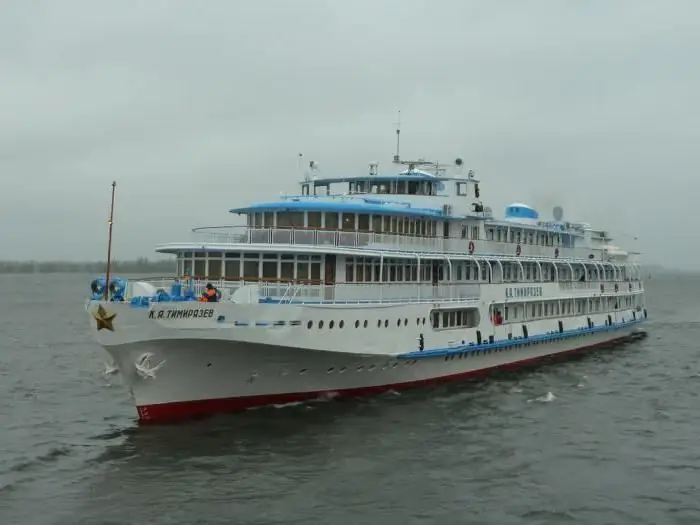 From 2013 to 2016, the vessel was not operated and was put up for sale. The new owner is LLC TK "Bely Lebed", port of registry - Nizhny Novgorod. After that, the ship was slightly reconstructed. Since April 2017, it has been cruising again.
Specifications and equipment
Motor ship "Timiryazev K. A." has the following dimensions:
length - 95.8 m;
width - 14.36 m;
draft - 2.45 m;
displacement - 1548 tons;
carrying capacity - 145 t.
This is a three-deck river boat. It has 3 engines and can reach a maximum speed of 25 km/h. It is served by fifty people.
104 cabins are provided for comfortable accommodation of passengers. They differ in both capacity and comfort.
Luxury. There are two such cabins. They are located on the boat deck. These are double rooms of superior comfort. They have a bathroom, TV, refrigerator, air conditioning.
Junior suite. This category includes 12 double cabins on the middle deck at once. They are equipped with bathrooms, TV, refrigerators, air conditioners.
1-A. 17 single cabins on the boat andmiddle deck.
1-A. 21 double cabins on the middle deck forward and aft with single bunk beds.
2-A. Two quadruple cabins on the middle deck.
2-A. 16 double cabins on the main deck.
2-B. 8 quadruple cabins on the main deck.
3 class. 26 double cabins on the lower deck.
The last four options have two-tier placement. All but the first two have only a washbasin with hot and cold water.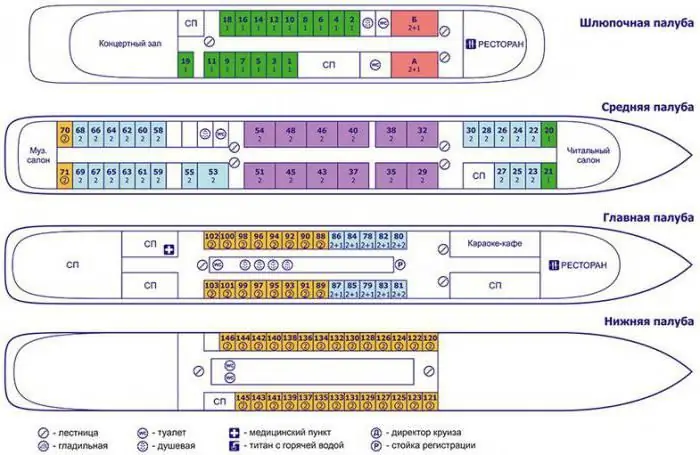 For the entertainment of travelers, there is a conference hall that can accommodate about a hundred people, a cinema, a music salon, a concert and reading rooms, 2 restaurants and a karaoke cafe, a massage room and a solarium, a small gym.
Cruise schedule
Today, flights for 2018 are already being implemented. Moreover, this is done taking into account discounts for early booking. In the schedule of the ship "Timiryazev K. A." includes cruises from three to 20 days. At the same time, the price includes not only service on the ship with entertainment programs, but also excursion services when going ashore along the route.
First flight scheduled for May 23, 2018. This will be a cruise Nizhny Novgorod - Moscow for 5 days. Navigation-2018 will end for the ship "Timiryazev K. A." September 27, 5-day route Moscow - Nizhny Novgorod. Thus, it will return to the current port of registry again.
Travel Reviews
Only warm reviews about the ship "Timiryazev K. A." travelers leave,taking advantage of the ship's hospitality for the duration of the cruise. Both single tourists and couples with children liked staying on it. Everyone notes the friendly atmosphere on board, the attention and sensitivity of the staff.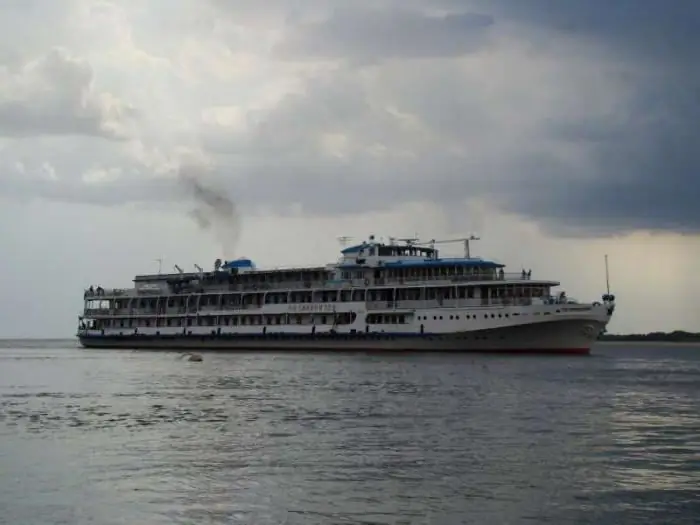 The cabins are cleaned regularly, so they are very clean. Food in all restaurants is beyond praise, very varied, and most importantly - delicious. There is animation for both children and adults, they do not let you get bored. The excursion program is rich and interesting.
Recommended: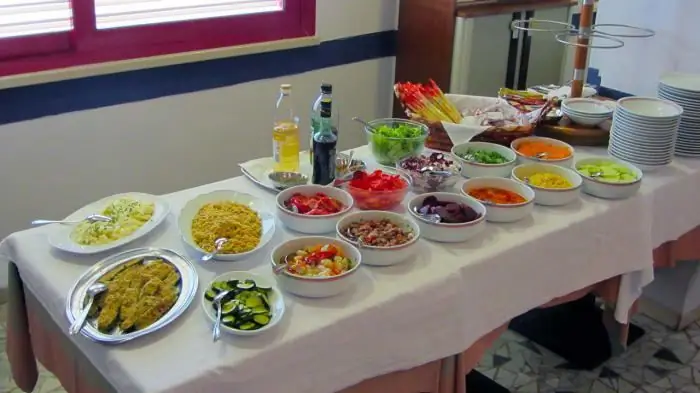 Beginning travelers, purchasing vouchers to resorts, are wondering what full board means. This is one of the five main forms of food in hotels. Experienced tourists do not always prefer full board, although at first glance this form is quite attractive. How cost-effective it is for specific travelers is worth figuring out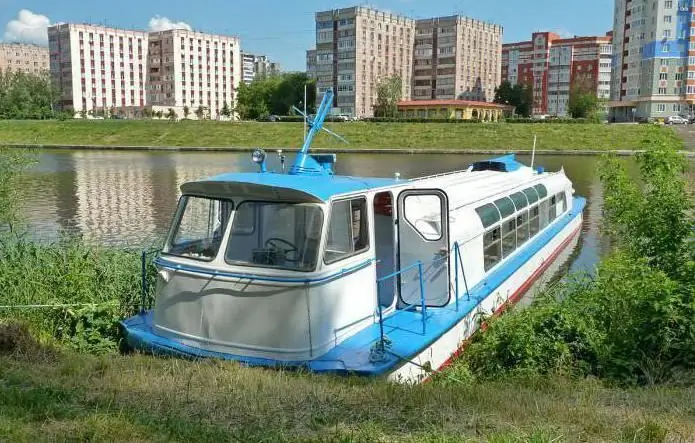 The Zarya-type motor ship is a planing vessel that transported people and luggage along small rivers, but only during the daytime. Let's take a closer look at why its design made it possible to pass in places where another ship would not even start moving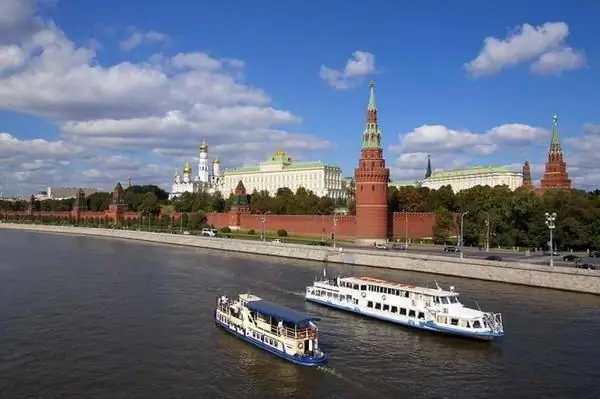 Dinner at home by candlelight is good, but too mundane. Today we will talk about dinner on the ship. A romantic adventure that involves a trip along the Moscow River and a wonderful meal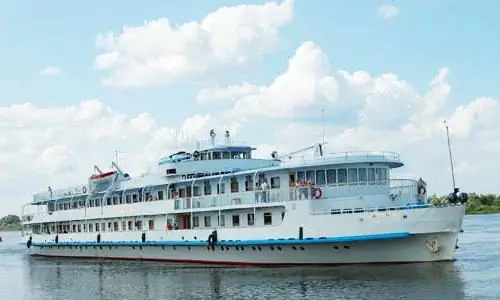 The ship "Borodino" is a modernized vessel for river cruise trips, built by Hungarian craftsmen in 1960 in Budapest. The cruise liner has a small passenger capacity compared to other motor ships (87 people), but is very comfortable for sailing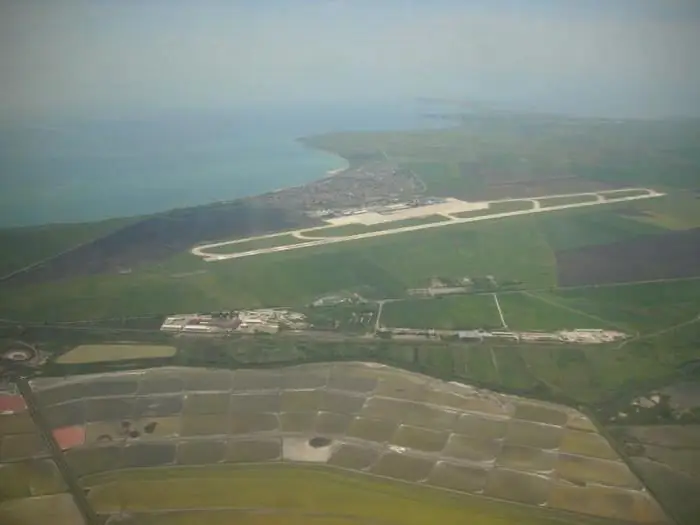 BOJ Airport in Burgas is the second largest air gate in Bulgaria. It serves domestic and international flights to 126 different destinations, connecting Burgas with Europe, Asia and South America. The most popular routes include the airports of Sheremetyevo, Prague, Varna, Domodedovo and Brussels. What is important for a tourist to know before he ends up at the BOJ airport?