Table of contents: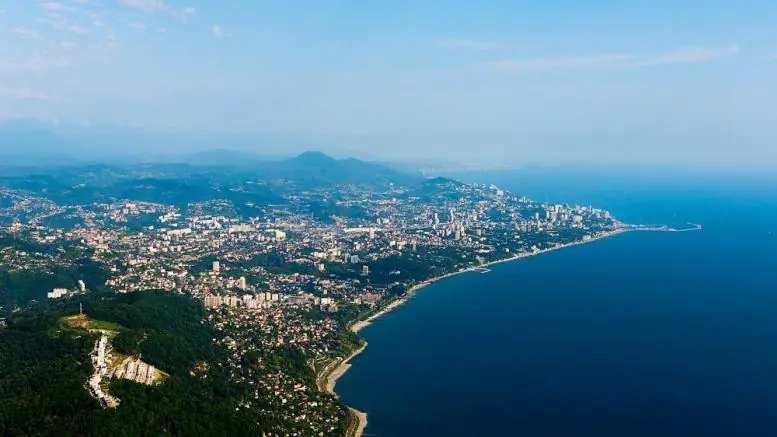 Summer holidays are very important, especially when children appear in the family. The sea climate is useful for the child, the southern sun helps to stock up on vitamin D for the whole year, the air is rich in oxygen, particles of sea s alts and iodine ions. Adults also need to change the situation, go beyond the boundaries of gray working days and get a lot of pleasant impressions. In order for the memories of summer holidays to be really positive, you need to think over the travel route in advance, calculate the cost, plan excursions and entertainment.
More and more of our compatriots are choosing resorts in the Krasnodar Territory and Crimea for summer and winter holidays. This article gives practical advice to families who are planning to relax in Sochi with children. Where is the infrastructure better developed, what are the prices in local shops and cafes, where to go and what to see?
Which area to choose?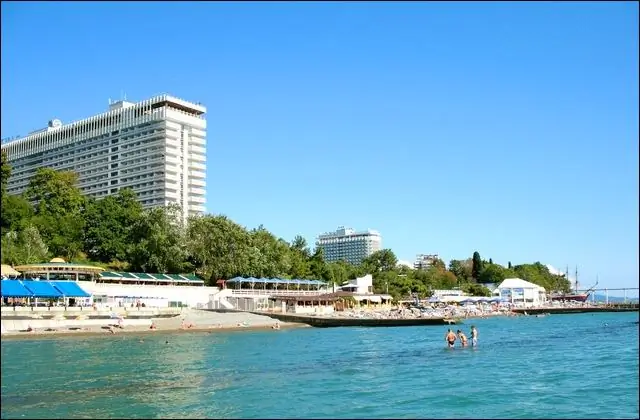 The city stretches for 105 km along the coast, as mountains prevent it from growing inland. Allthe coastline belongs to Greater Sochi. Contrary to popular belief, Adler, Khosta, Lazarevskoye, Krasnaya Polyana and other resorts belong to the city. And what we used to call Sochi is the Central District. There are four of them: Lazarevsky, Central, Khostinsky and Adler. Before choosing where you can relax in Sochi with children, you need to familiarize yourself with the different offers - not all areas of the city are equally good.
Lazarevsky district
This part of the resort town is farthest from the airport. From the point of view of accessibility, this is not a very convenient area, but the clear sea and inexpensive housing more than cover these inconveniences. The beach in Lazarevsky is pebbly, the proximity of the mountains makes the air unique in composition, which is why families with children like to stay here so much. The area lives on tourism, its infrastructure is constantly growing and developing: new boarding houses, playgrounds, water parks and entertainment centers are springing up.
Villages hosting tourists: Shepsi, Chemitokvadzhe, Magri, Vishnevka, Makopse, Sovet-Kvadzhe, Golubaya Dacha, Ashe, Lazarevskoye, Zubova slit, Golovinka, Anchor slit, Lower Beranda, Vardane, Lower Hobza, Loo, Lower Uchdere, Cultural Uchdere, Dagomys, Deep Slit. Lazarevsky is a great area of Sochi, where it is better to relax with children. Everyone will find something to do and entertainment to their liking.
Khostinsky district
This area of Sochi is famous for its nature. There are many balneological resorts and medical institutions in Khosta - medical tourism is developed here. Relic forests, unique relief and clean air attract many people. Areastarts from the Kudepsta river and ends with the Vereshchaginskaya valley. The temperature in Khost is always a couple of degrees higher than in the center of Sochi. These places seem to be specially created for sanatorium treatment, even there are a record number of sunny days here - 280 per year. When is the best time to visit Sochi with children? In Khost, you decide when to come, the season here lasts from February to November. It is not surprising that the Institute of Balneology and Physiotherapy is located in the Khostinsky district.
It offers tours, sightseeing and entertainment. In addition to cinemas, museums, discos, bars and restaurants in the Khostinsky district there is the Sochi National Park with Eagle Rocks, Mount Akhun, yew-boxwood groves and Vorontsov caves. The arboretum, divided into two zones, delights with ponds, magnolia alleys and other exotic plants.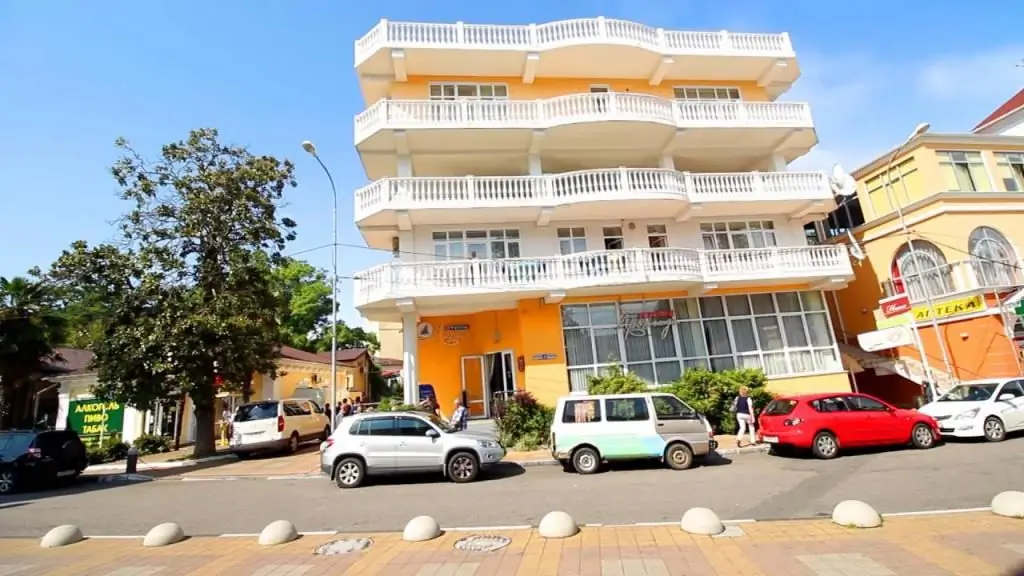 Adler District
Here are the airport, Olympic facilities, Krasnaya Polyana, an amusement park, an oceanarium and many water parks. The district includes the following microdistricts: Nizhneimetinskaya Bay, Krasnopolyansky settlement district, Cheryomushki, Central Adler, Golubye Dali and Kurortny town. Looking for a place to relax with children in winter? In Sochi, in the Adler region. You can go skiing in Krasnaya Polyana, but it's better not to stay there. In Adler, the cost of housing is much lower, and you can get to the ski resort by Lastochka or by transfer, which is available in almost all hotels.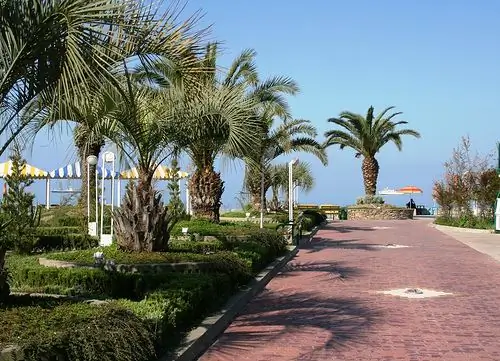 Very popular with touristsImeretinsky district. The modern infrastructure is built using new technologies and high-quality materials. Everything interesting and necessary is within walking distance. Here you can relax with children in the summer in Sochi with the greatest comfort. Recently, a convenient pedestrian embankment has appeared here, where the child is not threatened by transport - you can run or ride a scooter in the evening. Moms with strollers also appreciate the local waterfront.
Central District
The historical part of Greater Sochi. It is divided into several microdistricts, but not all of them have access to the sea. When choosing where to relax with children in Sochi inexpensively, you need to pay attention to the location of housing. You can go to the beach from New Sochi, Mamayka, Svetlana, Central and Jan Fabricius. But KSM, Hospital Town, Makarenko, Vishnevka, Donskaya, Areda, Zavokzalny, Sobolevka, Maly Ruchey are located at a distance from the coastline.
To get to the beach, you have to cross another one or two neighborhoods. It is better to choose a place in Sochi where you can relax with children in the summer without long walks in the sun. There is no sharp drop in relief, the terrain is very comfortable, all facilities are within walking distance. Attractions such as the Winter Theater, the Seaport, the railway station, the Art Museum, the Riviera Park, the Sochi Arboretum and the Bocharov Ruchey residence are located here. This is a modern well-maintained area of Sochi, where it is better to relax with children.
Accommodation in Sochi districts
The choice of housing depends on several factors:
Budget. From how many touristswilling to pay per day, depending on the class of affordable housing.
Food. If there are one or more small children in the family, it will be tiring for the mother to look for a cafe or a canteen every time to have lunch. Cooking by yourself, having a baby in your arms, is also not very convenient. For such cases, there are sanatoriums and boarding houses. For families with older children who love excursions, hiking and outdoor activities, hotels and guest houses without meals are suitable. You can walk around the city or swim, and have lunch and dinner every time in different places without reference to time.
Proximity to the sea. The farther, the cheaper, but in pursuit of low housing costs, you need to calculate your strength. Families with kids are not recommended to settle far from the coast - the road to the beach and back is too tiring.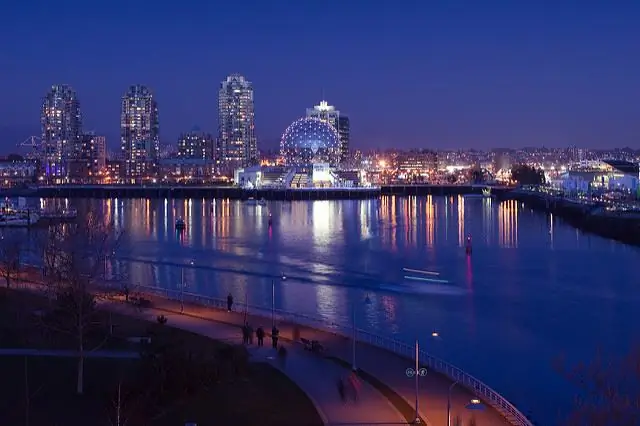 So, where is the best place to relax with children in Sochi? Choose accommodation:
Pension: a full-service hotel. Many people confuse a boarding house with a sanatorium. Indeed, these two institutions are very similar: there is a regime, meals from three to five times a day, a recreation area with a playground, often a private beach. A boarding house differs from a sanatorium in the absence of a profile and mandatory treatment, although there should be a general practitioner in such an institution. For a wellness program in a boarding house, you need to pay separately, and in a sanatorium, the course of treatment is included in the price of the tour. Where to go on vacation in Sochi with a child? If the child is small, definitely - in a boarding house. Parents will definitely be able to relax, and the child will be safe. No domestic problems duringa long-awaited vacation is a big plus. The cost of the tour starts from one and a half thousand rubles per day.
A sanatorium differs from a boarding house in its specialized treatment. The staff necessarily has doctors of various specializations - from a gastroenterologist to an ophthalmologist. The rest is the same boarding house.
The hotel or hotel is great for families with children of preschool and school age. You can stay in the room only for the night, and walk around the city all day: sunbathe on the beach, see local sights, dine at local cafes and try hot barbecue on the open veranda of a cozy restaurant. No one will lecture you about your absence from procedures.
Guest house or hostel - the same hotels, but a lower class, which means cheaper. Suitable for those who want to relax with children inexpensively. In Sochi, where the coastline is more than a hundred kilometers, it is not difficult to find housing of this level.
Rooms in the private sector. Were incredibly in demand during the youth of our parents. The only thing that was more popular was, perhaps, the rest of the savages in tents, as in the film "Three Plus Two" with Andrei Mironov in the title role. As a rule, local residents build small panel houses for vacationers on their plots. Rarely - with amenities, usually a toilet outside, and an outdoor shower with rainwater. Nowadays, this type of housing is gradually becoming a thing of the past. Prices in any hostel are similar or lower, and the level of service is higher. The choice is clear.
Camping. This type of recreation is popular not only among young romantics. Live in a tent with a fire and a guitarboth pensioners and families with children of different ages love it. The owners of campsites build gazebos with barbecues and sheds on the coast, which are rented to everyone by the day. To pitch a tent in the camp, you need to pay for a place. Car parking is also available for a fee. Where it is better to relax with children in Sochi, you need to decide on your own, based on the tastes and habits of the family.
Food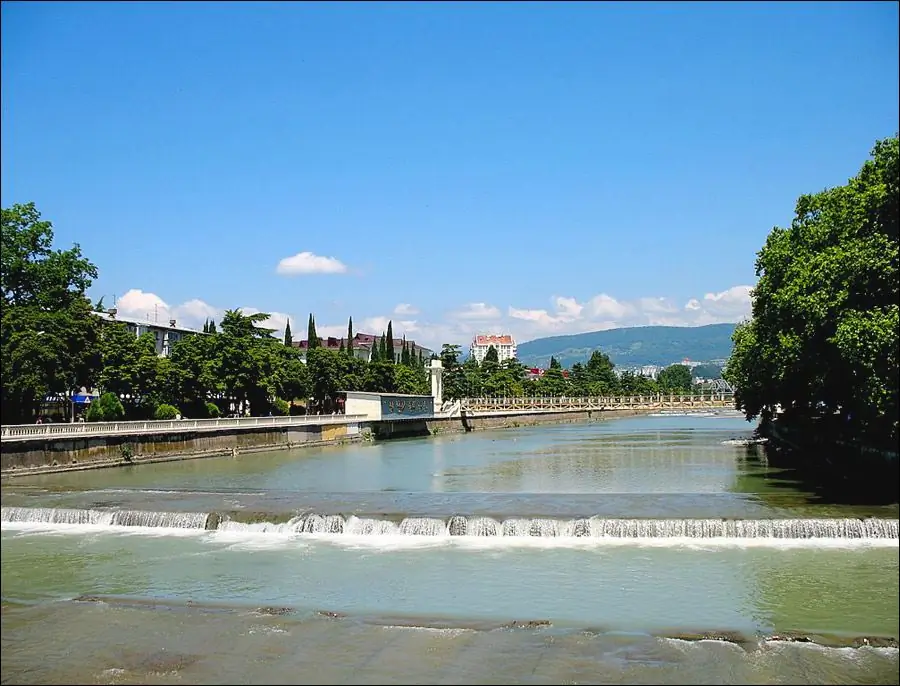 It is impossible to stay hungry in Sochi - a hospitable resort will feed everyone, from a sophisticated gourmet to a baby. If a sanatorium or a boarding house is chosen as a place of residence, then you will hardly have to eat outside it, in institutions of this type they feed very well. But if, due to an excursion or a walk, it was not possible to get to lunch, then a cafe or a barbecue house will help out, of which there are a great many in Sochi.
In the Adler district, the cozy cafe "Sail" became the leader in terms of the number of ratings and reviews. The establishment is located on the waterfront, with a magnificent view of the sea from its terrace. Author's cuisine, European, Caucasian and Mediterranean.
The trattoria "Fettuccine" has been pleasing tourists in the Central region for several years. The Italian restaurant is great for a family dinner and receives the most flattering reviews. You can come here after working up an appetite while walking through the arboretum.
In the Khostinsky district, the cafe "Luck +" deserved the love of vacationers. The establishment serves the famous red mullet, seafood, the freshest oysters and other delicacies.
Experienced tourists advise beginnersvacationers in the Lazarevsky district of Sochi, visit the cozy family cafe "Kasha". Here you can try European, Mediterranean, Abkhaz and Georgian cuisines. The cafe serves he althy food, so vegetarians like it.
Sochi has a huge number of canteens, eateries, street barbecues and fast food vendors. In order to please your loved ones with a delicious dish prepared by yourself, you can go to one of the local markets in the morning and buy fresh local products. Fruits, fish and seafood are especially good in Sochi.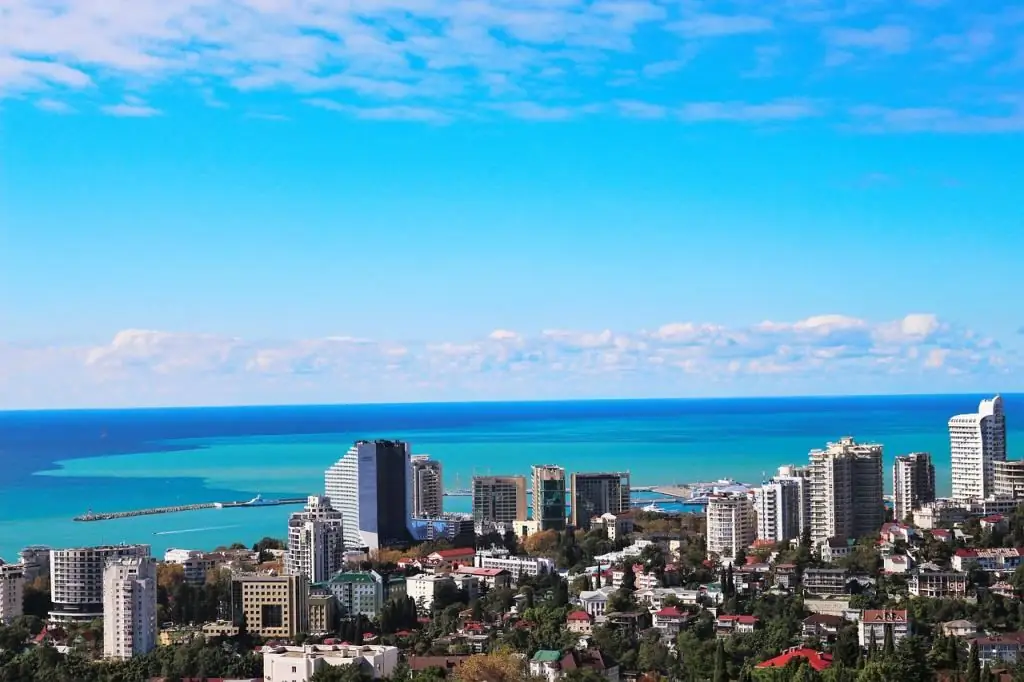 Children's entertainment
Where is the best place to relax with children? Sochi has a huge number of water parks, water slides, playgrounds and other interesting places. Children of middle and younger age will love the rides in the Riviera Park or Sochi Park in the Olympic Village. Near the Abkhazian border, the only Scientific Research Institute of Medical Primatology in our country, popularly called the Monkey Nursery, has settled. Here you can choose one of three excursions lasting about 40 minutes and costing 400 rubles. You will have to pay 200 rubles for a child.
The Ferris wheel is popular in the park in Lazarevsky. With older children, you can go for impressions to the Agursky waterfalls, visit a dolphinarium or an oceanarium, go to Krasnaya Polyana or see how tea is picked in Dagomys.
Water and air temperature
When is the best time to go to Sochi to relax with children? This resort town is suitable for relaxing at any timeyear, it all depends on the goals pursued. You can get acquainted with the culture, cuisine and sights of Sochi at any time. It is better to swim in the sea and sunbathe under the warm southern sun from May to mid-October, it is better to ski in the winter months - in December, January and February. There is almost no snow in Sochi, but a strong gusty wind makes walking along the embankment uncomfortable. Winter in the Krasnodar Territory is +9 … +10 degrees Celsius, and the water temperature rarely drops below +10 degrees. At the end of winter, mimosa begins to bloom, and with the advent of March, the spring sun shines with might and main.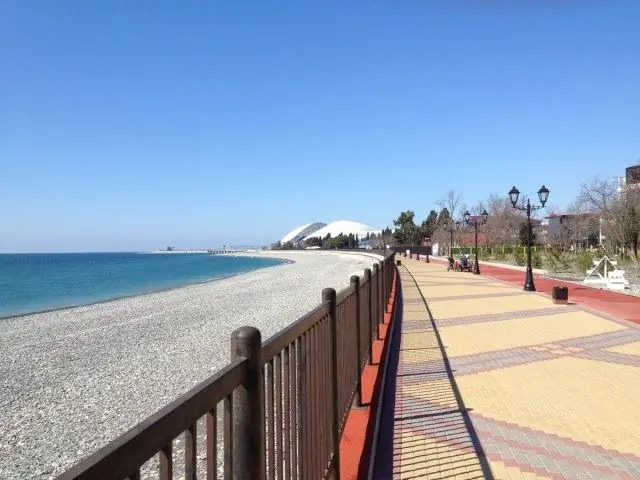 How to get there
You can get to Sochi:
By plane, travel time is just over two hours.
By bus or private car - the distance along the highway is 1622 kilometers. Travel time - about a day.
By train - the average travel time will be 1 day 15 hours.
Reviews
Where to relax in Sochi with children? Experienced tourists who are not the first time vacationers and have visited different areas cannot unambiguously say where it is better. Someone is in love with Loo and rests only there, someone likes the Khosta sanatorium, and someone cannot live without nightclubs in the Central District.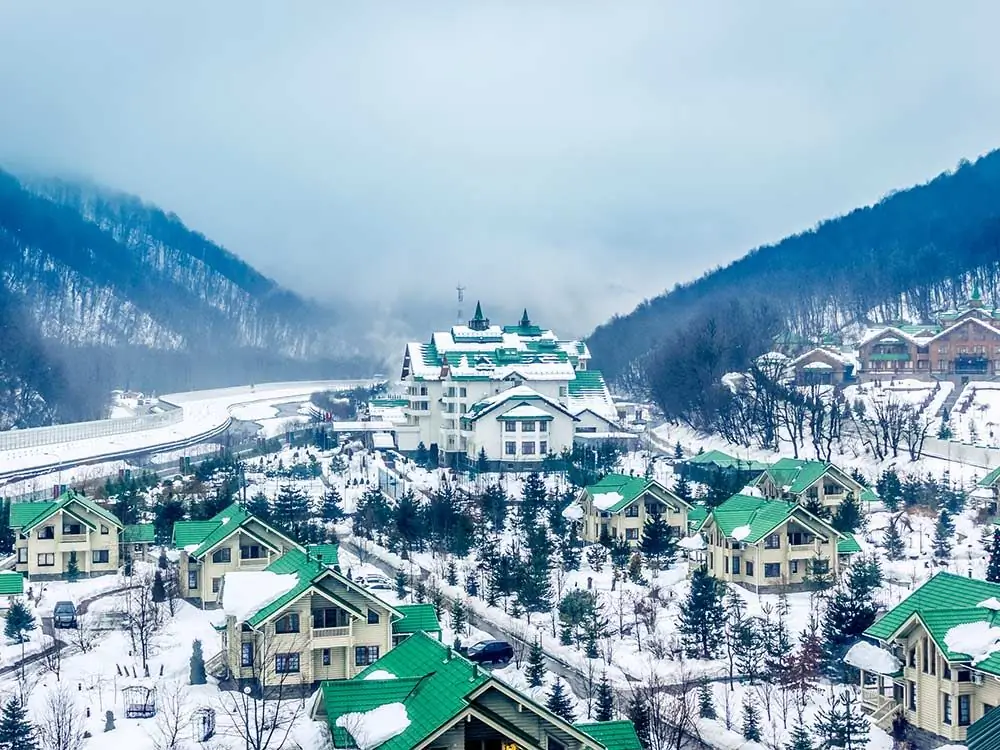 There are cozy places in every corner of the resort that you want to return to. Tip one: you need to select an area taking into account the cost of housing, the development of infrastructure and the age of children.
Popular topic