Table of contents: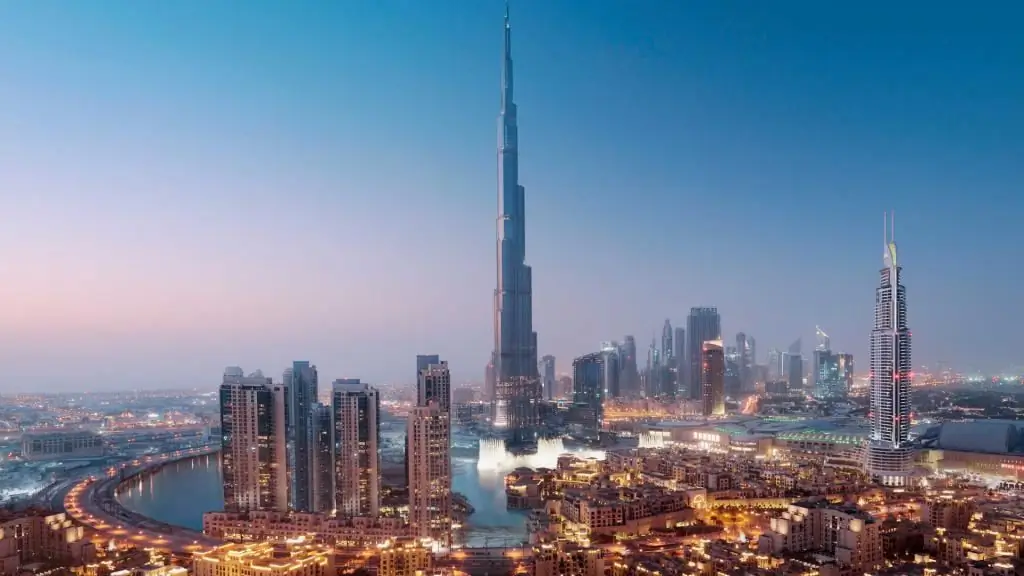 Dubai is one of the most expensive resorts in the world, overflowing with premium hotels, large shopping centers, nightclubs and many entertainment venues. The best hotels in Dubai are located in the coastal region of Jumeirah, where the pearl and symbol of the United Arab Emirates, the seven-star Burj Al Arab hotel, is also located.
Dubai is the city of the future. In the middle of the desert there are huge glass skyscrapers, a lot of greenery and perfectly smooth roads. There are so many attractions in the city that it would take forever to describe them.
In Dubai, all-inclusive hotels are not so common, and those that are, are very expensive. All hotels located on the shore meet the highest requirements of service and comfort and are considered the most popular both in the holiday season and in the off-season.
Photos of hotels in Dubai and reviews of tourists helped to determine the top five most interesting hotels with a high level of comfort.
Habtoor Grand Resort, Autograph Collection - luxury elegance
Chicly decorated rooms and suites with luxury bedding, freeInternet access. They offer views of the garden or the beach. This hotel belongs to the hotels of Dubai on the first line.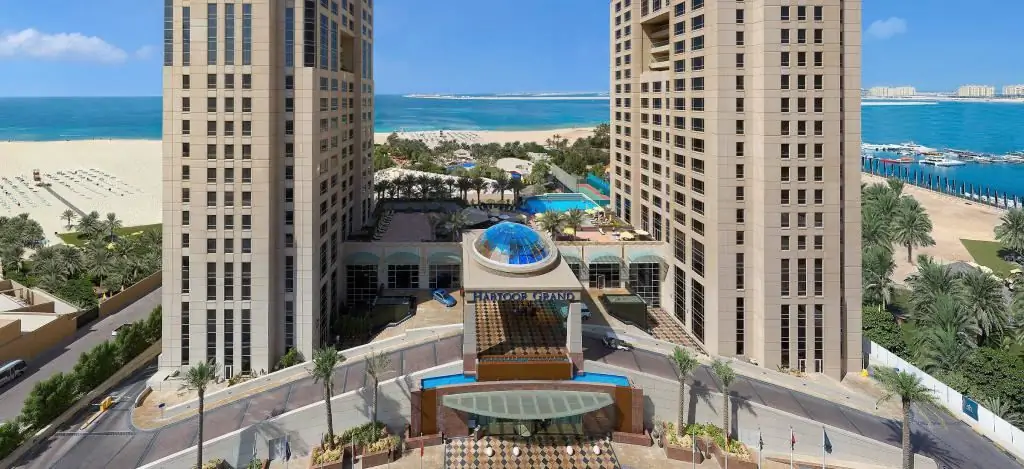 The hotel's spa offers relaxation and a range of soothing treatments:
body scrub;
wrap;
facial;
massage;
steam bath.
Room service is available 24 hours a day. This is very convenient and is often noted by tourists in the reviews about the hotel.
Restaurants and bars
Luciano is an Italian restaurant serving an exclusive brunch every Saturday.
Al Dhiyafa Grand Cuisine is an international restaurant open for breakfast, lunch and dinner.
"Al-Basha" - offers to enjoy oriental delicacies, serves Lebanese cuisine.
Steakhouse - excellent meat dishes and an extensive wine list.
Pool bar - refreshing drinks, ice cream.
The English Bar is a cozy pub where you can drink a glass of rare cognac and smoke a cigar.
Salamar Coffee House is the perfect place to escape the hustle and bustle of the city.
Beach bar - cocktails and light meals for the whole family.
Hotel Services
Beauty salon.
Car rental.
Concierge service.
Currency exchange.
Maiding the room.
Laundry.
24-hour room service.
Safe.
Pharmacy.
Room amenities:
Air conditioner.
Bottled water.
Coffee, tea.
Baby crib.
Bathrobe.
Bath accessories.
Bath and jacuzzi.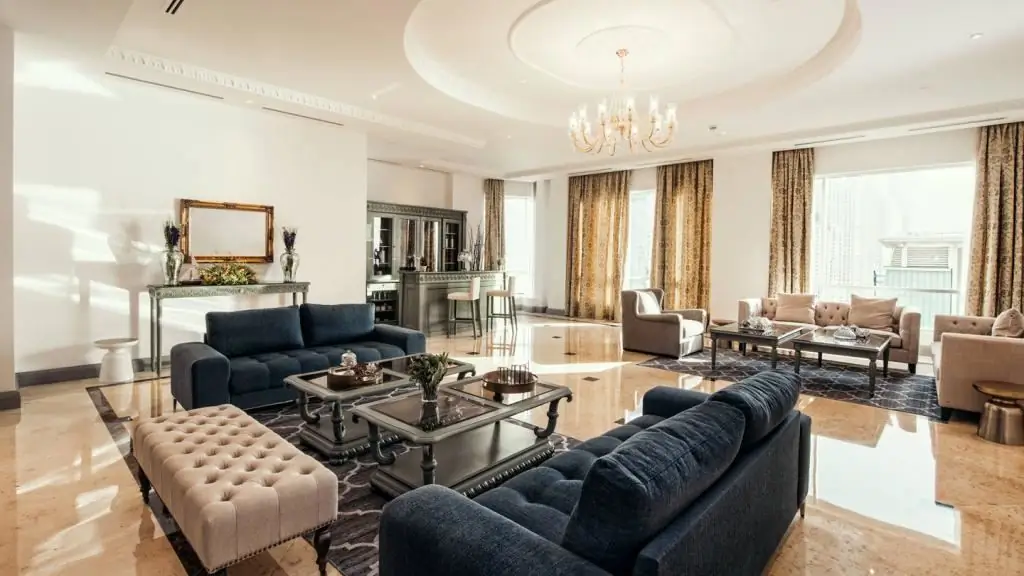 Breakfast buffet - price from 2000 rubles.
Continental breakfast - from 1800 rubles.
Full American breakfast - from 2300 rubles.
Sports & Fitness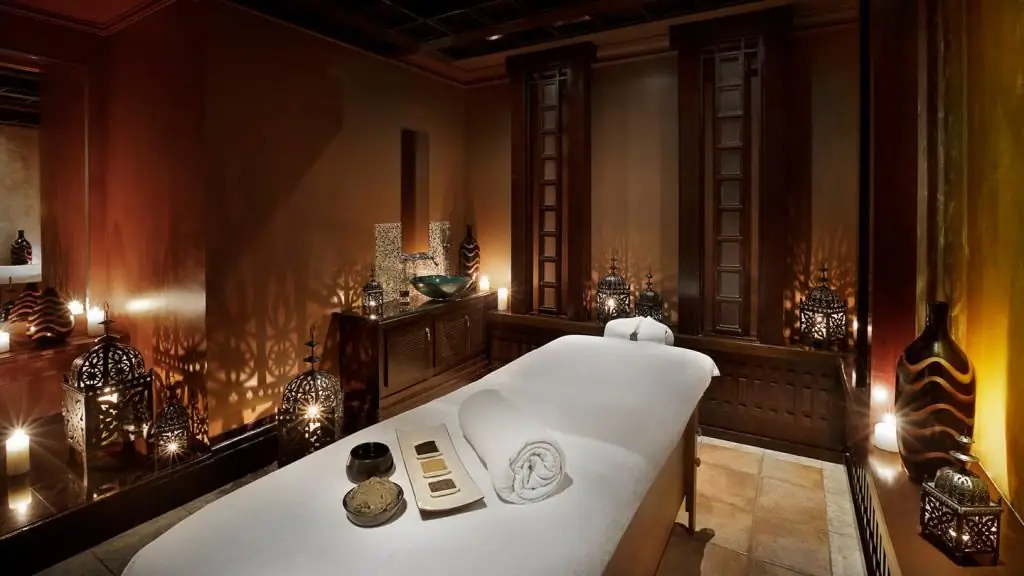 Bowling.
Horse riding.
Jet skis.
Mini golf.
Sailing.
Scuba diving.
Volleyball.
Water skiing.
Surfing.
Table tennis.
Bicycle rental.
NIKKI BEACH RESORT & SPA - exquisite service
The hotel has 117 apartments, as well as 15 luxury villas and 63 residences. All of them are ready to accept the most demanding tourists. With breathtaking views of the Arabian Gulf, this five-star Dubai beach resort impresses with unique in-room features such as MyBar and mood lighting system. The resort offers gourmet dining at five restaurants and lounges, as well as relaxation at the spa. "Nikki Beach" refers to hotels in Dubai with a beach.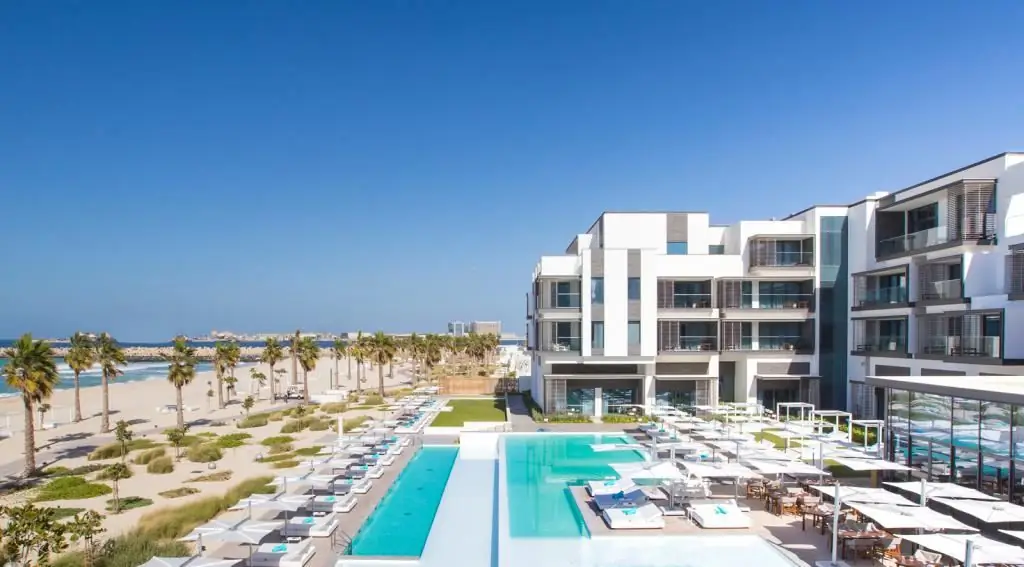 The resort is located on the waterfront of the Pearl Jumeirah, allowing guests to enjoy panoramic views from all corners of the hotel.
Restaurants and bars
Beach Club - ultra-modern architecture and snow-white design. Guests can enjoy luxurious parties in the evening and during the dayrelax on comfortable sun loungers and taste international cuisine, from freshly prepared sushi to fragrant pastries.
Nikki's Cafe is a bistro overlooking the Arabian Gulf serving the freshest ingredients.
Nikki Prive Restaurant is a unique space with a 3D ceiling, a long communal table that can turn into a podium.
Key West - Latin American cuisine: the freshest seafood, signature seasonings, grilled meats.
Lounge Bar - Refreshing cocktails overlooking the Arabian Gulf.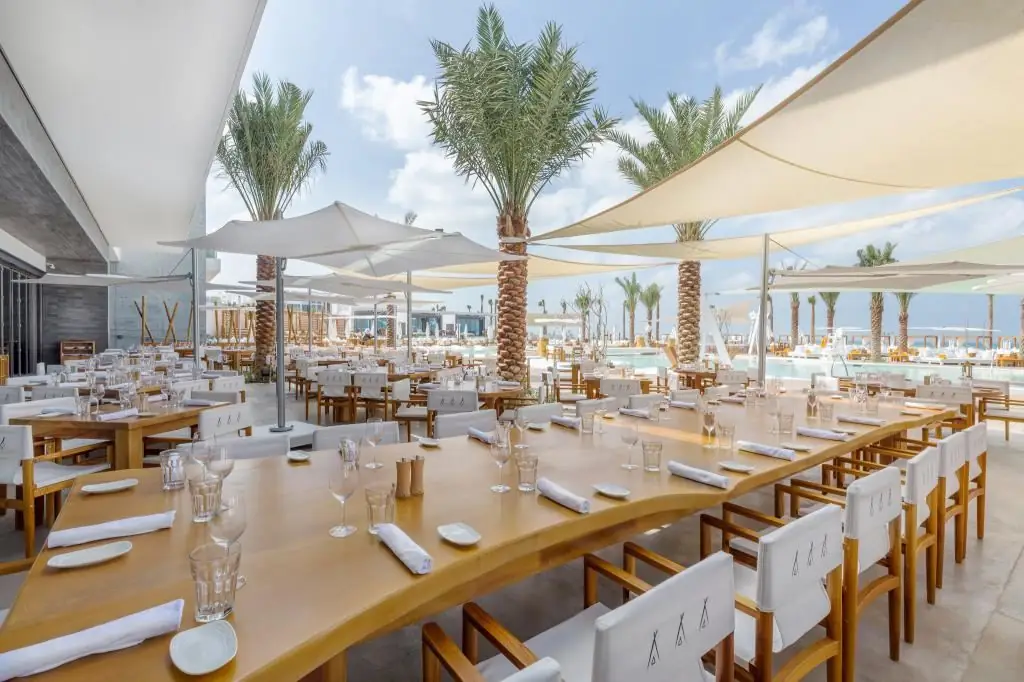 Spa & Fitness
The stylish spa consists of separate rooms: hammam, sauna, steam room, ice fountain, swimming pool, relaxation rooms. The 27 meter long pool and pool with Jacuzzi, sun loungers, private cabins - here you can relax and unwind after visiting the fitness center.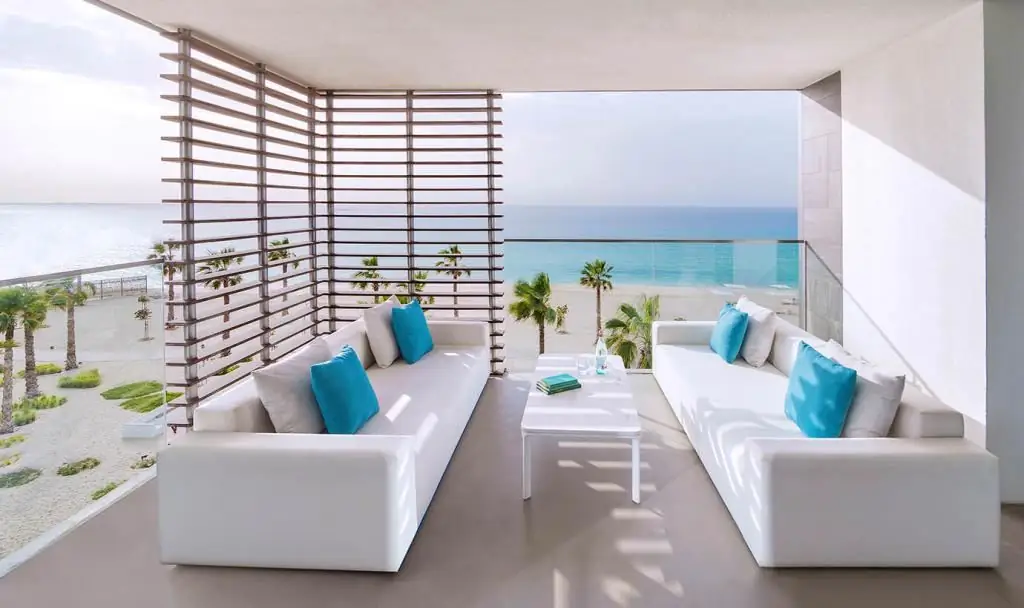 In rooms:
Latest entertainment system (news, movies, music, game play, interactive TV).
Dimmable room lighting.
Private bathroom.
Mybar - Minibar with drinks and snacks.
Coffee maker, kettle.
Custom pillow menu.
Safe in the room.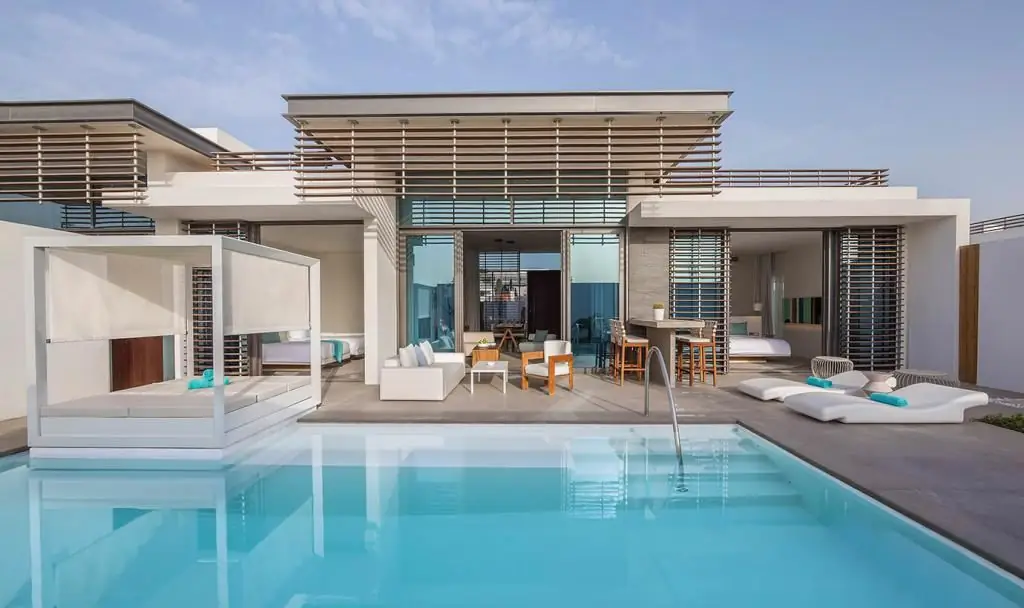 Villa accommodation includes a large terrace with private pool and seating area.
JA Oasis Beach Tower - waterfront aparthotel
This is a modern beach hotel on the Persian Gulf. The modern apartments are designed to make guests feel at home. With spacious rooms and chic interiors, this hotel is ideal for a family vacation or business trip to Dubai.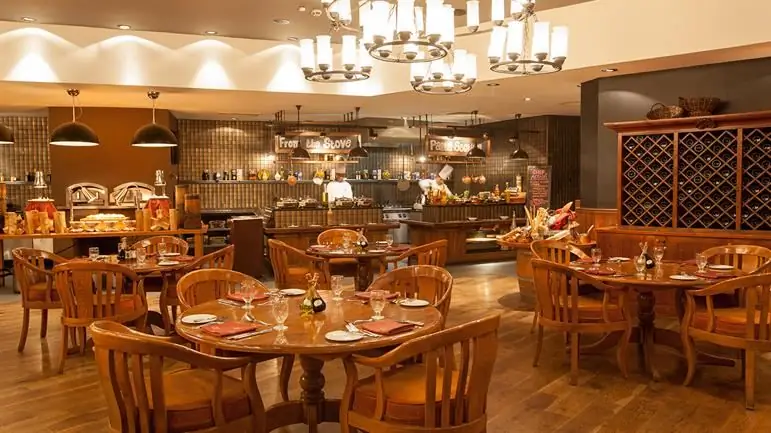 Restaurants and bars
"Thyme" - located on the first floor of the hotel and can accommodate up to 100 people.
CITRUS EXPRESS AND LOUNGE - freshly brewed coffee, cakes, muffins, juices, cocktails, sandwiches, salads and many other light snacks and hot pastries. This is a family-run cafe where you can enjoy a relaxed atmosphere and marina views.
BATEAUX DUBAI - Dinner on board a ship where gourmet cuisine meets live music and first-class service.
Leisure
The Oasis Hotel offers a wide variety of activities for all ages. On the territory of the hotel there is a modern sports complex, on the second floor there is a swimming pool with controlled water temperature. This is often noted in the reviews of guests from Russia.
Five conference rooms with high-speed internet will be an excellent choice for corporate events.
Hotel Services
Champagne for all guests upon arrival.
Kids club for children from 8 to 16 years old.
24 hour security.
Shops and beauty salon.
Pools and slides for children, jacuzzi.
Gym.
Delivery service.
Wireless internet available throughout the hotel.
Daily housekeeping.
Exchangecurrency.
Private beach.
24-hour room service.
FAIRMONT THE PALM - luxury accommodation
FAIRMONT THE PALM is a five-star hotel located on the beautiful Jumeirah. The luxury hotel features:
80 rooms and suites.
Kids mini club.
Six restaurants and lounges.
Four temperature controlled pools.
Private beach 800 meters long.
Fitness Center & He alth Club.
Conference and event rooms.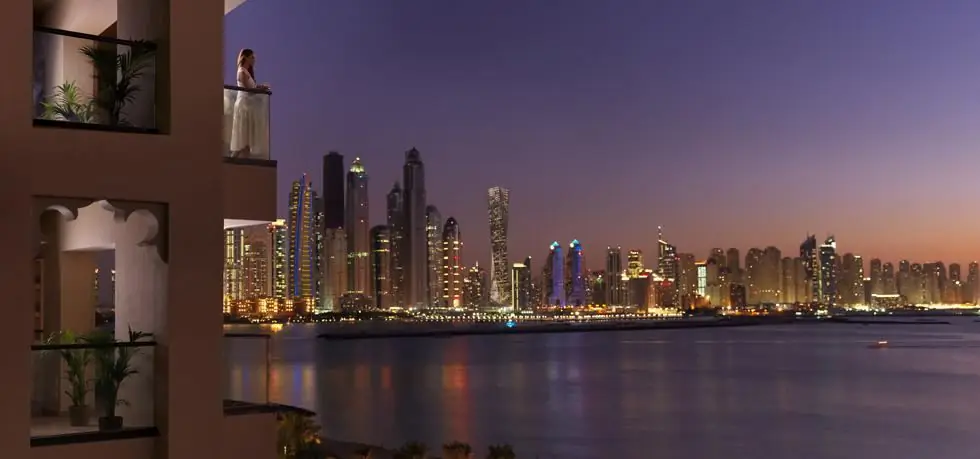 Restaurants and bars
Flow Kitchen - world cuisine.
Frevo - Brazilian cuisine.
Seagrill Restaurant & Loung - seafood, pizza and pastries.
Mashrabiya Lounge - light meals and a large collection of teas.
The Cigar Room - aromatic cigars and an extensive wine list.
Little Miss India - Indian cuisine.
BURJ AL ARAB JUMEIRAH - the legend of Dubai
BURJ AL ARAB JUMEIRAH– or the Parus Hotel in Dubai is considered not just a stunning hotel, but also a symbol of the city. The name of one of the most expensive hotels is translated as "Arab Tower", but due to its unusual shape, everyone calls it "Sail". This hotel has the status of a seven-star resort, it has no equal in luxury in Dubai.
In the comments, travelers often write that the stunning architecture and impeccable service make the hotel the best hotel in Dubai. It is here that you can get such exclusive services as an elite car with a driver, flightsby helicopter (heliport is on the roof of the hotel), butler assistance, private beach and the best dining establishments in the world.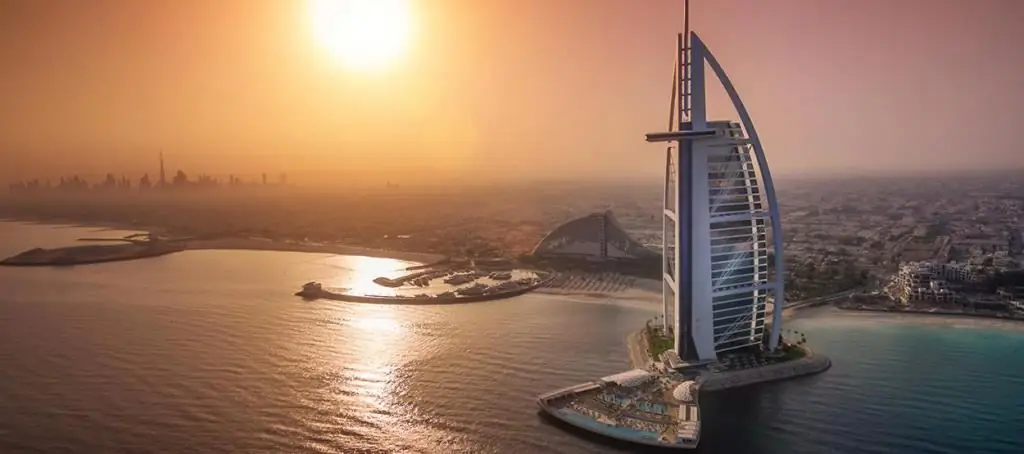 Restaurants
NATHAN OUTLAW AT AL MAHARA - only the freshest seafood.
SCAPE RESTAURANT & LOUNGE - Latin American, Asian and Mediterranean cuisine with signature drinks.
AL IWAN - exotic interiors and Arabic cuisine.
AL MUNTAHA - exclusive French cuisine.
BAB AL YAM - European cuisine.
SAHN EDDAR - Arabian teas are served in the glass atrium.
JUNSUI is a cocktail lounge where you can taste East Asian food.
BURJ AL ARAB TERRACE - this wonderful place combines a restaurant, pool and beach.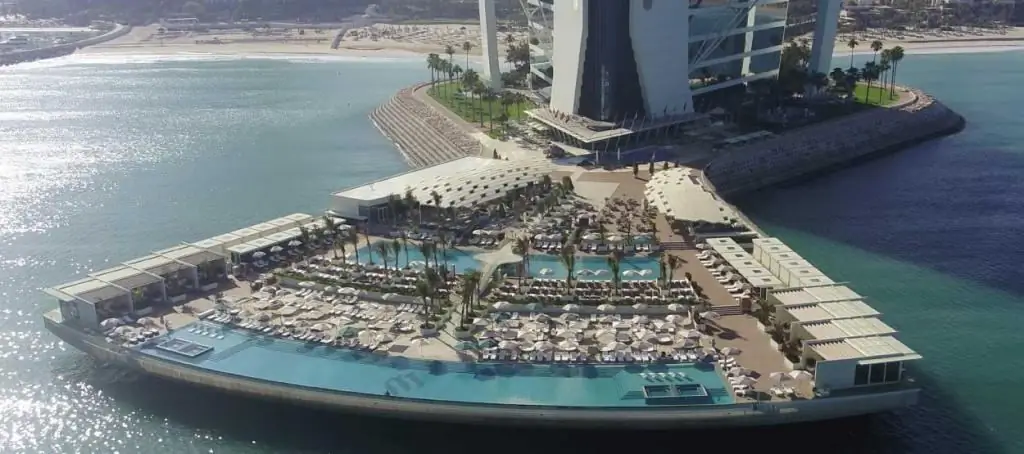 Spa, Fitness & Exclusive Services
Guests of the Parus Hotel in Dubai have free access to WILD WADI, one of the most impressive water parks in the world.
The spa is 150 meters above the bay and is the perfect place to enjoy, relax and rejuvenate. The recreation areas have separate indoor pools, jacuzzis, steam rooms. Additional amenities include a squash court, fitness center with aerobic equipment, cardiovascular equipment.
Transfer by helicopter or luxury car with a personal driver. You can also book a helicopter tour over the Persian Gulf and Dubai.
Private Butler available 24/7hotel.
Ride the streets of the city in one of the rental cars, including Aston Martin, Ferrari and Lamborghini models.
Journey on a luxury yacht with private service and a highly trained crew including butler, chef and maid. For added relaxation, a spa therapist can join in to provide body treatments while on board.
Kids club accepts little guests from 3 to 12 years old. Children can play in the spacious playroom, watch cartoons, play computer games, do drawing and creative activities. There is also a cozy quiet bedroom for the youngest guests and a private restaurant with a children's menu.
Tourists note that photos of Dubai hotels cannot convey all the beauty and luxury. You need to see this modern eastern metropolis with your own eyes so that impressions and emotions remain in your memory for a lifetime.
Recommended: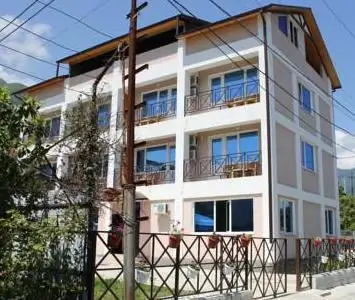 The city of Gagra is one of the most beautiful in Abkhazia. Hundreds of tourists come here every year to admire the local sights and soak up the gentle sun. Gagra is located near the famous resort town of Adler. It stretches along the coast for several kilometers. It is good for everyone here: young people, families with children, the elderly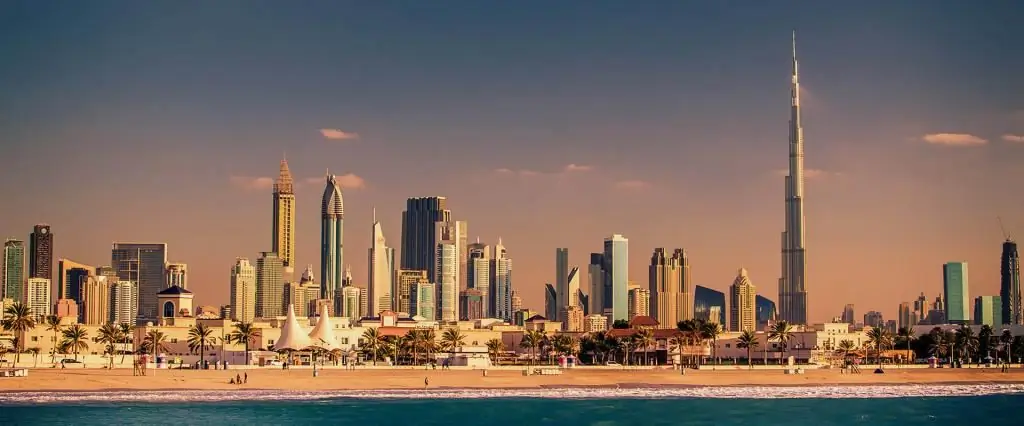 How many hotels are there in Dubai? There are more than five hundred of them. From student hostels and guest houses in the city to luxury luxury hotels on the coast of the Persian Gulf. Millions of tourists come to the city of oil tycoons and sheikhs every year, and everyone is interested in which hotel is the best in Dubai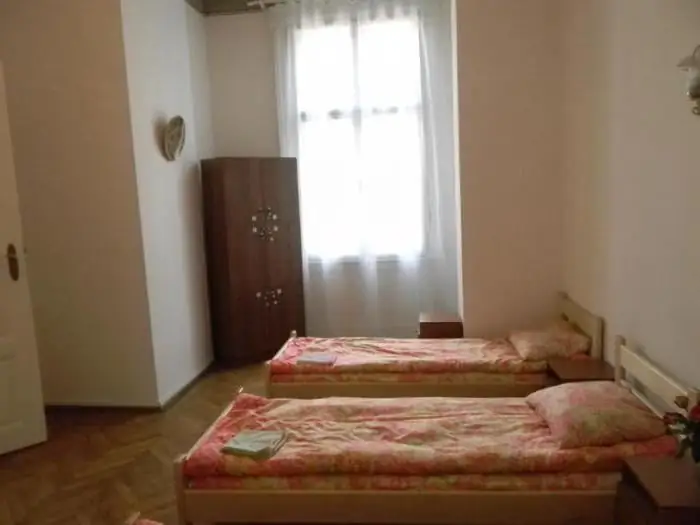 Lviv is an incredibly hospitable colorful city. This is an ideal place to get acquainted with the culture of the Ukrainian people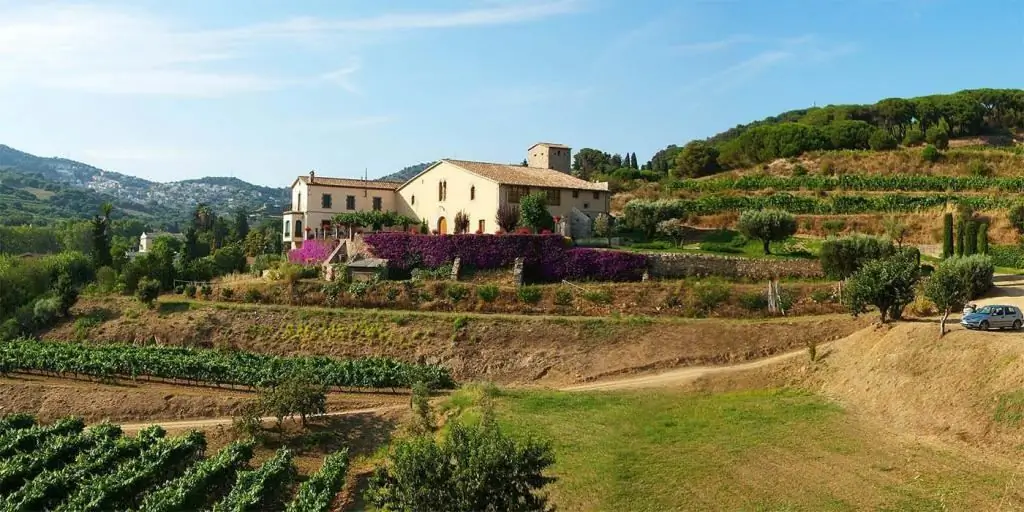 The charming capital of Catalonia is a true tourist paradise. One of the most impressive places in Europe remains forever in the hearts of admiring tourists. Romantic, daring, headstrong, Barcelona is a holiday city with a great vibe. However, the suburbs, located a few hours away, are of great interest to travelers seeking to get to know as many sights as possible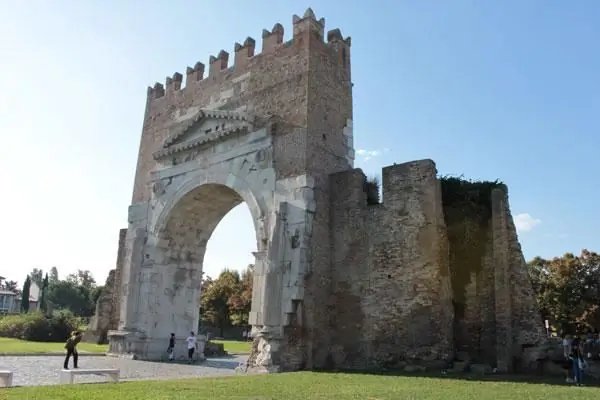 Rimini is located in the northeast and is considered the largest settlement in Italy on the Adriatic coast. And although the resort is primarily famous for its pristine sandy beaches, there are many interesting places that will be interesting to see. In this article we will talk about the sights of Rimini and reviews of tourists about them